--OPENING UPLINK TO DATABASE - AUTHORIZATION CODE: ********* --
--AUTHORIZATION CODE ACCEPTED. ACCESS GRANTED.--
--WELCOME COMMANDER--
DESIGNATION: 42nd T'drios Hunter Cadre. "Comets Fall"
LOCATION: T'drios sept
FOUNDING: 998.M41
COMMANDING OFFICER: Shas'o T'drios Shas'r'vhana "Commander Starfall"
OFFICERS: Shas'nel Sa'cea Mont'yhe "Cadre Fireblade Beastslayer", Shas'el Vior'la Nars'syl "Coldstar pilot CometTrail"
PERSONNEL: 1x Shas'o in Commander Battlesuit, 1x Shas'el in Coldstar Battlesuit, 1x Cadre Fireblade, 22x Strike Team Shas'la, 2x Strike Team Shas'ui, 5x Breacher Team Shas'la, 1x Breacher Team Shas'ui, 2x Pathfinder Shas'ui, 13x Pathfinder Shas'la, 1x Riptide Shas'vre, 1x Crisis Bodyguard Shas'vre in Iridium Battlesuit, 2x Crisis Suit Shas'ui, 1x Crisis Suit Shas'vre, 2x Broadside Shas'ui, 1x Broadside Shas'vre, 2x Hammerhead Pilots
HELPERS: 18x Gun Drones, 1x Guardian Drone, 2x Recon Drones
AUXILIARY: 11x Vespid, 1x Vespid Strain Leader, 10x Kroot, 3x Krootox, 1x Kroot Hound, 1x Kroot Shaper
VEHICLES: 2x Hammerhead Gunships
CURRENT STATUS:
ACTIVELY ENGAGED
CURRENT LOCATION: T'drios sector
MISSION STATUS: Part of a larger contingent, dedicated to the defence of the newly founded sept of T'drios. This Cadre is dedicated to fighting the Tyranid menace in the sector. Other targets of the contingent include the Imperial Guard, The Orks and a group of renegade humans naming themselves "The cult of chronology"
--MORE INFO ON T'DRIOS HUNTER CONTINGENT? Y/N--
N
--UPLINK CLOSED--
T'drios Battledress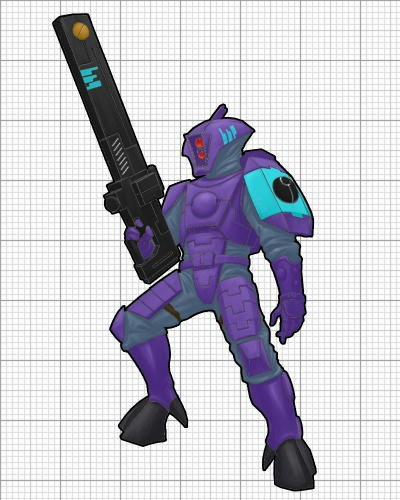 Edit: Just changing the character names to be in line with the info documented in the [urladvancedtautactica.com/viewtopic.php?f=5&t=23062&p=304373]Tau Lexicon[/url]