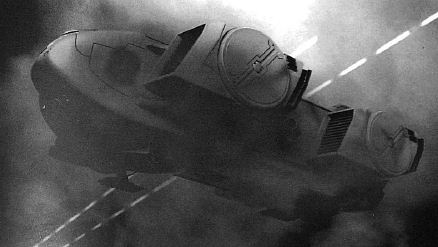 This has been floating in my head since my forces recovered a damaged Orca. Can an Orca transport an effective drop force? And at what point level? Can we call them ODF Teams? (Orca Deployed Forces)
I am going to keep adding to this as I think, from a tactic sense, it would be fun to know. My mobile assault force was always designed to be deploy-able from a Manta which offers a lot more choices for ground forces.
FORGE WORLD: Tau Dropship as featured in the computer game Fire Warrior. Includes 24 seated Fire Warriors, 8 Drones, 6 Battlesuits, 1 Ethereal and 3 crew. Complete resin and plastic kit. Master model by Will Hayes.
---
The Numbers
EDIT: 57 models, up to 6 of which can be battle suits.
So what that might look like:
24 Firewarriors in seats + 10 gun drones in racks (that is double the current racks) + 6 Battlesuits (18 spots) + 1 Ethereal + 2 Firewarrior crew + 2 dudes some where. = 57 models. The air caste pilot does not get out much I imagine.
This leaves a lot of options if one "changes" the inside of the Orca to match what they want to deploy.
Battlesuits with JSJ: Limited to 6 total models and takes 3 slots per model.
XV88 space and Orca capability: Takes 5 slots and is not limited to 6 total models.
XV104 space and Orca capability - Possible, if inside modification was made. Probably use 75% of capacity. Might be sling loadable under an Orca.
---
ATT ODF Team Types:
FW XV9 modified Orca from APOC
- Modified Orca with all of its capacity set to drop off XV9 teams to the front lines.
ODF Team - Stealth team deployment Model: 40K Meta
The role of this team is to recon and light tactical engagement of forward enemy forces.
1 Team leader:
- Ethereal, Fireblade, or Named infantry model (Darkstrider)
- for now: Ethereal
- Using the 2 Crew slots, take a Fireblade and a Shaper as Team leaders
4 - 6 Man Infantry teams
- Small light forces to cover the most ground
Option 1: Kroot team replaces 2 teams. 10 Kroot with 2 dogs, 2 6 man Firewarrior Teams
3 - 2 man special weapons Battlesuit teams, 2 teams with max drones.
- Each team is build to handle a situation.
- Death rain, Burning eye, and Fusion teams seem a good staple.
Farsight ODF - Ground assault/Recovery Model:
- You can take the entire Eight and sling load the O'vesa below for deployment. (this is a fluff deployment, for actual game play the 8 would be in the Orca and the O'vesa would Deepstrike)
6 XV8, 1 XV88, 1 X V104 so it would work. Can even load more models.
ODF Team "Whale of Fury": APOC Meta
- a Shas'Ui Nevar Tactic
- Rapid deploying strike group approach for objective seizing with the mind to play to the objectives. Use the 48 troop count max to take four full squads of Firewarriors. While it might seem like a good idea to throw some XV-8's in as well at the expense of Firewarriors, I feel they can deploy in better ways like Deep-strike and such and the transport is better served for our less mobile forces.
- Deploy a 'Whale of Furry' approach with four full squads of firewarriors boosted by an ethereal. The orca allows you to deploy all four squads at once and transport them all at once, basically taking the place of four Devilfish in a sturdy -flying- package. While your main forces engage this team can easily circumvent forward lines to deploy a hail of fire on back field objectives, or even rapid deploy into good defensible positions without having to expose a Devilfish formation to fire as it tried to get into position.
- UPDATE: this would be 4 full squads of Firewarriors + drones + Ethereal (Total 57 Models)
The "Defense Line Rush"
9-11 XV88s deployed and movable via Orca at a shifting 36"+ gap. Fly your stopping power to the perfect spot, leave with them when it get iffy. Upload and unload is 4 units, you have 4 units.
---
Conclusion
We need more ODF commanders, join your Tau ODF training team today
Think on it, we would love your thoughts and tactics.