So over at Kompletely Kroot they've been working on updating the kroot fandex to the latest edition and I volunteered myself to help them with the Backstories for their HQ characters. After i wrote them i decided to make them and so this is the Shaman character.
The grand shaman Hes'skah, a second generation shaper of the Jurraran Kindred, has become one with the spirits of his elders. Armed with a series of totems he channels the spirit energy of the land to devastating effect and can unleash elemental wrath onto his enemies.
During a battle against an Ork Waaaaagh, Hes'skah was brutally beaten by the warboss Guttah stabbah. During his recovery his slumber was haunted by their weirdboy, soon his hellish slumber became his reality. While in a comatose state he was attacked by nightmarish creatures as psychic energy seeped into his mind. The uncontrollable energy emitted from the Ork tainted the young Kroot and after coming out of the ordeal alive his body was imbued with a power he was not able to fully control. Raw psychic energy flowed through him and his kindred grew wary of him. Fires erupted around him, violent winds tore through flesh and rock and until he was able to manage his burden he left the kindred to wander the forest alone.
For many years Hes'skah was never seen, even his kindred's greatest trackers could not find him, and he was presumed dead. A great storm broke out one night, the Ork Waaaagh returned and ambushed the Jurraran kindred. The kindred fought back but the Ork's outnumbered them. Kroot after Kroot to the brutish assault until a mysterious creature appeared wreathed in ethereal energy. The mystical being was adorned with small totems and charms, an elegant headdress of exotic feathers hung from his head and crystallised quills protruded from the back of his skull. Hes'skah had returned. Wielding a staff made from a mysterious wood, which shimmered in and out of reality, he rained fire down on the Ork horde and rescued the remaining Kroot of his Kindred.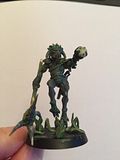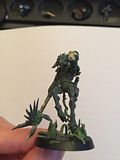 Really not looking forward to painting him
C&C welcome.