So as I attempt to avoid as much painting as possible I decided to work on number 2 of 3 named characters for the fandex. So this is Sii'ers'kerahkt, say hi kids!
Sii'ers'kerahkt had spent most of her life alone. There was no Shaper to guide her, no kindred to nurture her. Her life was a means of entertainment, a trophy of an Archon that pitted her against slaves and abominations. Sii'ers'kerahkt had known no other life than fighting in the pits of Commorragh. She was a phantom of her race; others of her kind came and went as they were slaughtered for the merriment of the lithe sadists – Some of those lives were taken by her own hands. Her speed and agility were her greatest weapons in the pits and these traits granted her promotions within the ranks of slaves. The Archon saw something in her and was fascinated with her ability to almost submerge herself in the shadows, her flesh reacted with the light making her almost seem invisible at a glance.
During a spout with a rival Kabal she was smuggled onto their flagship and spent months in hiding; stalking the Archon and slowly taking out his retinue. She revelled in the paranoia she had created in him and the delight her master would feel for the exquisite suffering she would inflict. In a state of panic the weakened Archon fled to the eastern fringe, hoping to settle his nerves by enslaving those within the Tau Empire. Sii'ers'kerahkt naturally hid within his vessel and followed him to Au'taal. The Archon had chosen a perfect time to raid the planet as a grand celebration was underway and his bounty would be plentiful. After capturing a vast supply of new slaves the Tau suddenly staged their counter-attack; the Air caste destroyed the Dark Eldar ships and the Fire caste captured the Archon. Panicked that her task would go incomplete, Sii'ers'kerahkt snuck into the Tau's facility and, during the interrogation of the Archon, took his life before them.
With her mission over and no way of getting back Sii'ers'kerahkt was at a loss. The Tau held her at gun point, shocked at how she had snuck in undetected and her tenacity for killing the Archon in front of them. Her life as she knew it was over, only the interference of Master Shaper It'chaka saved her. He convinced the Tau to let him take her to Tawka and reinstate her into his kindred for rehabilitation. At first she was distant to her kind, she would flee into the forests for months only to return to sustenance and weaponry but It'chaka was persistent in healing her mind and over time she came to trust him. He taught her meditation and other means of cleansing her mind, body and soul – as well as readjusting herself back into the ways of her kin. Over time It'chaka introduced her to the senior members of his kindred but many of them were wary of her, a trait that would never fully leave, and so whenever she was taken out on a mission she would often leave the group to take out major targets.
Now the rules state that she has a shoulder mounted cannon, like the predator but i wasn't happy with whow it looked so i've decided to give her a small Mal'coar'vesa as it there's a bit of an empty space where the chainsword is.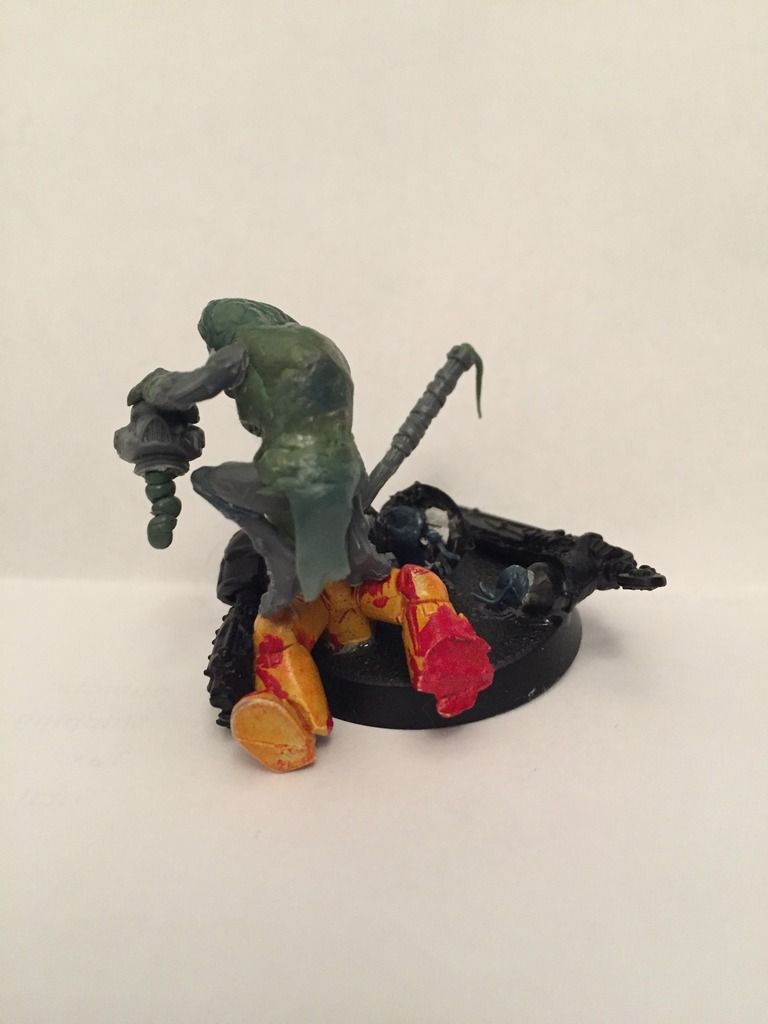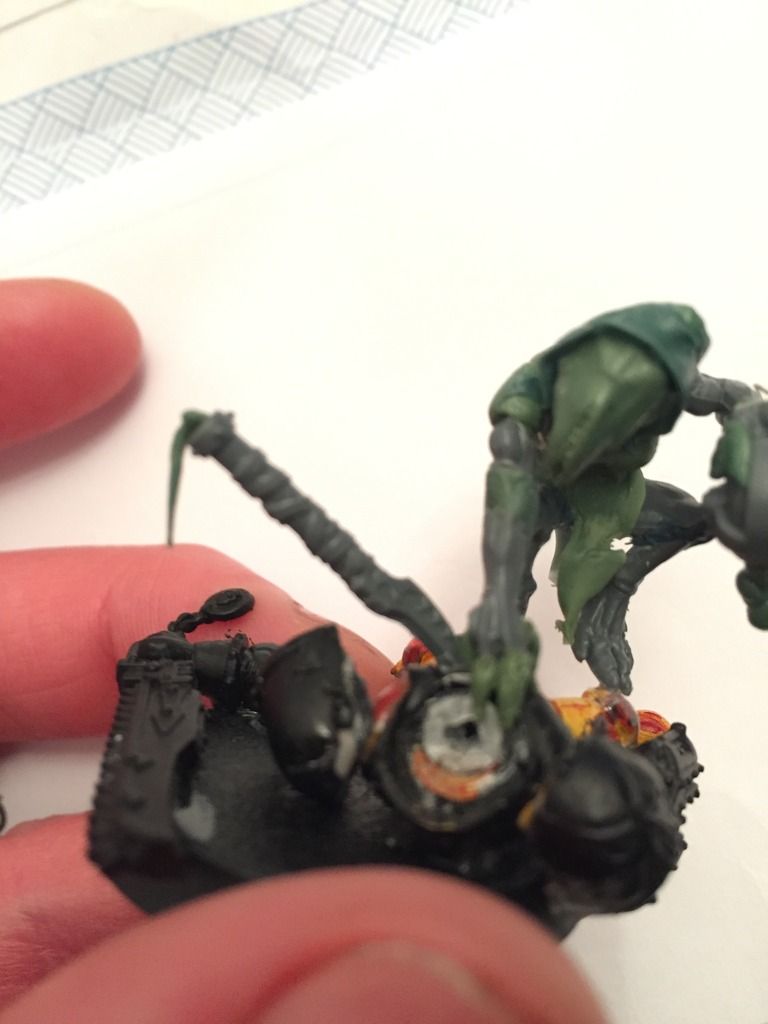 I originally had her positioned a little better but then I tore her apart to greenstuff a robe on her and wasn't able to get it back 100% the same but i doubt that it's noticeable.
C&C welcome