Second step:
I began by highlighting the armor plates with Blood Red. In some cases I want a gradual highlight so I start with a thick, watered-down lining of Blood Red then a thick final edge highlight with Blood Red. You can see I did this along some of the long & straight armor panel edges to give it a smoother effect. I have also gotten ahead of myself in that I started adding weathering around the intake/exhaust ports on the top side of the hull, and that was accomplished by laying down several base coats of the new Badab Ink, and building up an exhaust "area" to work with then simply drybrushing Chaos Black over it, being careful not to drag it too far backwards on the hull.
In retrospective, it does appear to be a little "brighter" than my Piranha, and the rest of my forces...this is probably the amount of Blood Red that I used for the highlights. So I probably will be making it a tad bit darker. I also forgot to highlight the front optics piece on the nose of the ship. Gotta go back and do that before I begin weathering, too. I will also be cleaning up the shading aroudn the recesses. It needs to be cut back a smidgen. Now that we have a
(semi-)
clean model, we can start weathering it...
Detail shot: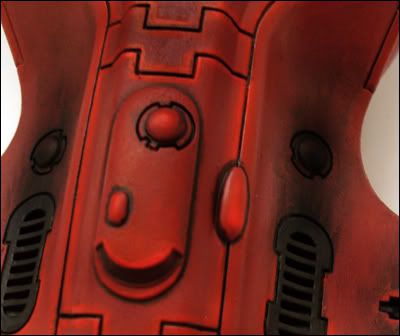 Summary:
Highlight along armor panels with Blood Red
Clean up areas with watered-down Mechrite Red
Begin preliminary weathering using watered-down Black/Badab Ink
Until next time,
-Jord