Thought it was High time I added a "blog" style army log for my Thousand sons on here.
I will update this first post with new pics of units as they are completed
I will add all the finished models as they roll off the production line.
A warning, it will take a while between updates! - these guys paint up
slow
!
So to start things off. Here is the first squad of Rubrics and the Aspiring sorcerer leading them:

And the five Lesser daemons painted so far:

Currently am working on the next squad which is
just
legal sized now (that's four rubrics and aspiring sorcerer).
Here is the second squad thus far:
I have to say with these models taking 6hours+ per model to paint I am getting sick of "basic marines" (if you can call 20 odd point models "basic"), so I will be allot happier when, after the last four models are complete in this squad, I can move onto some more interesting models like the Forgeworld Dreadnought and a slightly converted Vindicator.
So here is a full army shot thus far: (EDIT: must get a new shot showing updated army.)
The screamer model is being used as a mount for my sorcerer, disc of Tzeentch. One day I might paint a full squad of them though as count as raptors, they could add in allot of useful close combat ability to the army without going out of character that way.
UPDATE:
Here is the sorcerer lord mounted on his screamer. Having got to this stage I will be playing a little more on him just to get him looking "right" currently there are a few bits I am not happy with on him. Also these pics do show the base incomplete, I will upload fresh images once the lord has been "tweaked".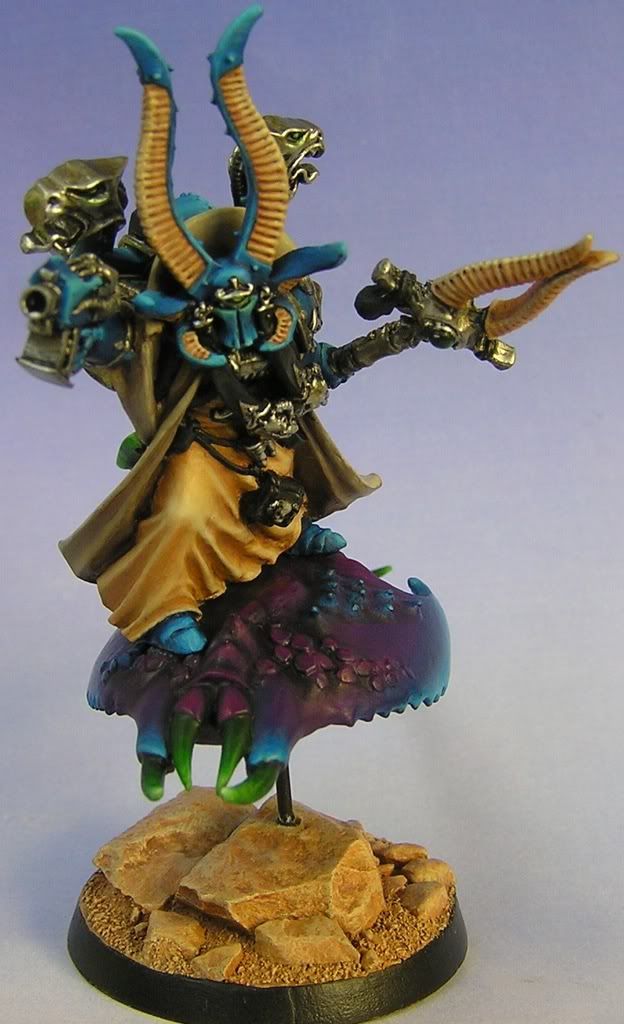 C&C are highly valued!
Sam.