After owning my army for over a year (almost fully painted) i decided i to create a kroot mercenary army. After talking to some of the guys at GW i decided it would be simpler for me to stick with the Tau rules as, in my opinion, i'm still lacking enough gaming experience to do something i concider something advanced gamers do. As you all know kroot's have gps in their DNA to store significant data i order to aid them in battle and stuff. This lead me to creating kroot hybrids, i've not sorted out the background story yet but basically they turned on the Tau (Including vespids) and ate them, thus gaining their skills.
This is my first go at converting anything and also the first time i've used greenstuff, so be warned that they aren't amazing looking.
Kroot FW (better name to be given later)
I tried to give the Kroot the actual FW helmet but i felt that it just didn't look right so instead I greenstuffed the top of the head and stuck the lense from the helmet on, i decided to give them hoods as i am trying to have a 'rogue' style to them as they are scavangers (hence the boltgun attachment), this will become more evident through more units. I also tried to mould the kroot legs to look more Tau like but I failed so instead i used Beastmen and i kept the fur on just because i like the look of it.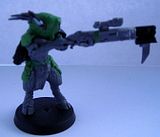 Kroot Vespid
With these units I intend to show more of the mutation that occurs and i thought it'd look cooler if i had the arms mutate into the wings, I used Tyranid Gargoyle for the wings and for the back plating. The plating on the back vibrates so that is how they can use the Neuron Blaster. I originally had the arms on the bottom holding the gun but, after talking to a friend, was convindence to have a stinger to replace the legs and have a neuron chest blaster instead. I'm not 100% happy with the stinger and the chest blaster so any ideas are very welcome.
All comments are appreciated, good or bad. Also if anyone has any ideas for colour scheme i'm more then happy to take suggestions