Please view the following entries and vote on your favourite based upon execution, background and paint work. Thank you to all who entered, giving the community a swathe of new ideas and modelling inspiration.
In no particular order:
---
ENTRY ONE - The Prax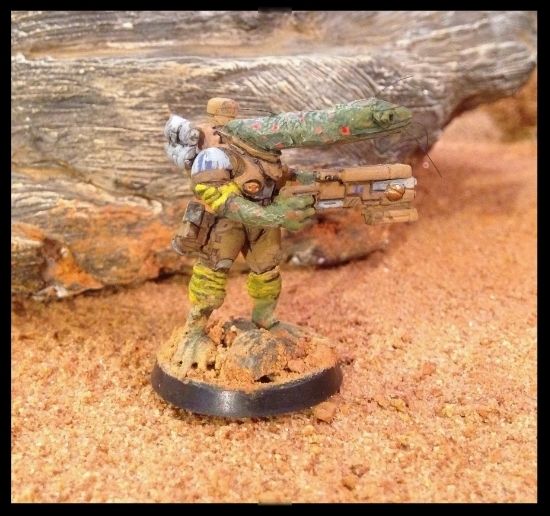 Prax'La Maydoros
The Prax
are a reptilian, bipedal race that were encountered during the second sphere of expansion. When they were discovered by a deep space reconnaissance drone, the Prax were developing a fledgling interstellar civilization. They had recently colonized their first planet outside of their home system, and had recently entered into a unified planetary government, overcoming centuries of violence against one another and a deep-rooted warrior tradition. The Prax were quickly identified as a strong candidate for peaceful incorporation into the Tau Empire. However, all diplomatic and economic overtures were rejected by the Prax government, and after decades of failed negotiations, the Water Caste stepped aside and allowed the Fire Caste to begin the forceful incorporation of the Prax into the Tau Empire.
The Fire Caste was able to quickly conquer the Prax's colony, but was only able to defeat the military forces on the Prax homeworld after a hard-fought campaign despite a clear technological edge. On their homeworld, the Prax continued armed resistance through successive guerrilla campaigns across the planet for two generations, taking a toll on the Fire Caste that proved greater than the initial conquest. The Prax's colony, with its smaller population, was integrated without any significant resistance after the initial invasion and their speedy capitulation remains a sore spot between Colonial and Homeworld Prax. The deeper green tone of Homeworld Prax's skin, caused by stronger sunlight in the Homeworld Prax system, serves to readily identify Homeworld and non-Homeworld Prax.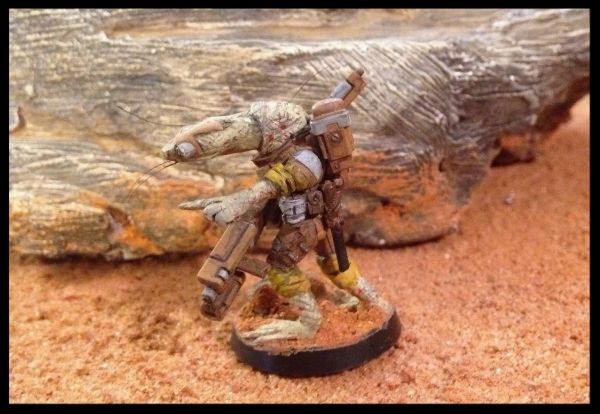 Prax'Ui Eio'Ka'Mesa
The Prax evolved as social ambush predators, and benefit from several physical advantages that allow them to operate as effective scouts in the Tau Military. Long, thin whiskers are one of the most noticeable features of an adult Prax, and are extremely sensitive to scent and low-frequency sound. They can suddenly extend their necks to nearly a meter in length, to peer around corners or inspect cramped areas. Prax eyes operate independently of one another; and while this can be disconcerting to other species trying to hold a conversation with a Prax while one of their eyes darts around the room, the Prax can switch instantly between nearly 360 degree vision and a smaller field of view with predatory depth perception. Small teams of Prax, known as 'Whisker Scouts', operate in a similar role to conventional Tau Pathfinders.
Leading this team is a young Prax called Prax'Ui Eio'Ka'Mesa, who was orphaned long ago and raised among the Fire Caste. Trained as a Fire Warrior, he fought as a bonded member of a pathfinder team during an encounter with an Ork Warlord, in which he was the sole survivor from his team. With substantial bionics (including his left eye), he now leads his own team of Prax 'Whisker Scouts', although he still carries his old bonding knife. Among his new team, there are two 'Homeworld' and one 'Colonial' Prax. Their motivations for joining the Prax Auxiliaries serving alongside the Tau Fire Caste include a deep sense of Patriotism, pride in the military traditions of the Prax, and a search for retribution.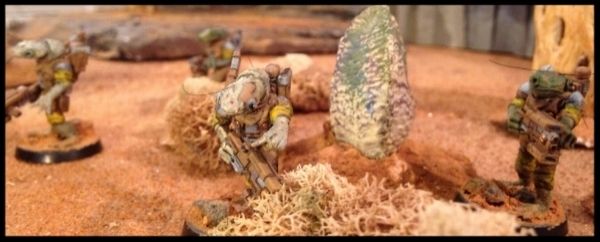 Prax'La Maydoros hails from the Prax Homeworld, and was raised in a family with a long and proud military tradition. His ancestors fought in every major conflict in modern Prax history, and he plans to continue that tradition alongside the Tau. 'La Talafir is another young Prax, but from the Prax's first Colony. Talafir joined the Auxiliaries out of a deep sense of duty, and hopes to serve the Greater Good by defending it against the Empire's many enemies. Prax'La Lorentai, the eldest Prax on the team - easily recognizable for his long, wispy whiskers and the traditional Kalz knife at his side, has a darker motivation for joining the Auxiliaries. His family was killed in a raid perpetrated by unknown forces on the Prax Homeworld, and he joined for two reasons: it would get him away from the site of the tragedy, and it was the only hope, albeit small, he could ever have to avenge his family. Although he is Prax'Ui Eio's most capable soldier, his behavior can border on insubordination.
---
ENTRY TWO - The Galg
The "Galg": To be used as a "Pathfinder Team"
The Galg are a capricious, disreputable species who's home system lies in the eastern sector of the Perdus Rift. Hundreds of warbands, or 'Knots', have plied the fractious region for centuries, serving as mercenaries to any paying species or, when times become difficult, as pirates. Until the Tau brought their worlds into compliance, these amphibian-like aliens were the scourge of many a specie's shipping lanes and outposts.
Galg Knots now function as deep-cover reconnaissance operatives, well beyond the limitations of the Shas'Ar'Tol, often under the direction of the Water Caste. Utilizing Earth Caste augmented armor, equipment and projectile weapons, the Galg commit the sometimes necessary atrocities of war without leaving evidence of Tau involvement. They do this without reservation, regarding the Tau as merely employers rather than needing to believe their crimes serve a higher morality like the Greater Good.
They do this with their silent, magnetically accelerated fletchette guns, each barb tipped with chemicals that, when combined in high enough amounts, can cause targets to explode violently. The larger rifle version of this technology is, with the addition of Tau augmentation, capable of destroying light vehicles or obliterating a prioritized enemy target.
Lead by a merciless "Broodmother" gifted with a personalized XV suit, she serves as a link between her Knot and the Tau, identifying targets of opportunity that her warriors have hunted for days, sometimes weeks, before confrontation. In addition, she is equipped with gear to extract DNA from a, mostly, dead target in order to prove to her handler that an assassination has been successful.
---
ENTRY THREE - Gue'vesa Scouts
Most Gue'vesa Scout units provide infantry support for other forward Tau units, primarily Tau Pathfinders and Kroot carnivore squads, however, they support any unit that happens to be fighting in the same area. While they are one of the few non-Tau species given the honor of carrying Markerlights, they do not use them as often as Pathfinder squads. When not fighting at the main battle, Gue'vesa scouts help other auxiliary units complete their missions behind enemy lines, spotting and predicting enemy movements. When fighting behind enemy lines Gue'vesa scouts will often flank the enemy and attack them with heavy weapons, or when fighting at night or in areas with heavy cover they will use their Markerlights, if the squad leader determines that it's needed.
The primary source of Gue'vesa scouts is from Humans that have spent most, if not all, of their lives as a part of the Tau Empire. How an individual sept selects Gue'vesa soldiers to be scouts varies, many take volunteers as the main source, while others leave it up to the Gue'vesa'vre or Gue'vesa'el in charge of the auxiliary Gue'vesa in the Cadre.
Most Gue'vesa scouts are equipped with light armor, similar to that of Pathfinders. They are one of the Tau's auxiliary units that carry Tau weapons, Pulse Carbines and Markerlights. Some exceptional squads are given advanced weapons and equipment, such as Ion rifles and Rail rifles or experimental drones usually given to pathfinder squads. Many Gue'vesa scout squads are also given 4 fingered gloves in an effort by the Tau to help protect their fingers when fighting and when behind enemy lines. Some Gue'vesa scout squads chose to wear cloaks to help them blend in when fighting and when behind enemy lines.