Inquisitor Illia Verena stepped onto the bridge of the starship and spoke three words, "we are needed." The everyone on the bridge immediately fell silent, without exception those words always meant one thing. A daemonic incursion. O'J'Korst'Kha furrowed his brow, steeled himself and asked the question no one wanted to ask "Where?" In response Illia simply raised her hand, pointed out into the inky blackness of space, and the ship jumped into the warp.
Upon entering real space, several Orcas full of troops immediately launched towards the planet's surface. The situation planet below was dire. Its human defenders were currently in pitched battle just outside of a major population center. While they were holding their own on the outskirts of the battle the center of their line was getting utterly decimated by a giant Daemonic War Machine, supported by a couple of minor Daemonic war machines and several squads of Chaos Space Marines.
O'J'Korst'Kha surveyed the scene below, and gasped as the war machine incinerated an entire squad of Gue'la with the largest flamethower he had ever scene, while simultaneous turning another squad into a crater with its massive cannon. "O'D'Doran'Elro, what is that thing?" Illia met his eyes from across the shuttle, and replied, like always, in her emotionless voice. "Lord of skulls. It is an engine of war, possessed by a daemon of Khorne. We did not deploy with the necessary weaponry to destroy it. It must be stopped."
O'J'Korst'Kha looked back down at the lumbering monstrosity as it continued to slaughter its way through the gue'la below. "Has El'D'Doran'Elro made contact?" Illia stared off into space for several moments then replied "She has. Their general has agreed to our aid. He has notified his subordinates. How shall we proceed?" O'J'Korst'Kha pointed at the map in front of him, "I'll take a strike force and deploy in front of it. We'll hold these strategic points here, here and here. El'Mesa'Raik you deploy the rest of our troops to support the Gue'la at the flanks. O'D'Doran'Elro you're with me. Your sister and her troops are to support El'Mesa'Raik and cut their way through the enemy lines to us. We're stall the thing until the Gue'la to support us with their heavy guns. They should be able to take it out."
Army Lists (about 1500 points)
Tau
Commander
2x MP, Target Lock, Drone Controller, Iridium Armor, Puretide Engram Neurochip,
2x Marker Drone
Elites
Crisis Suit
2x MP, Target lock
2x Marker Drone
Riptide
SMS, Ion Accelerator, Stims
Stealth Team
3x Shas'ui Burst Cannons
Fast Attack
Pathfinder Team
6x Pathfinders
Heavy Support
Broadside Team
Shas'ui & Shas'vre
TL-SMS, TL-HYMP
Skyray
Disruption Pod
Troops
3x Fire Warrior Teams
6x Shas'la
2x Kroot Squad (Using cultist models as the Gue'vessa cadre, counts as kroot)
10x Kroot with Sniper Rounds
Vindicare Assassin (Illia)
Eversor Assassin (Karen)
Chaos Space Marines
HQ
??? - 3 wound space marine with power fist
Others
Forgefiend (auto-cannons)
Devestator Squad (2 lascannons)
Dreadnaught (lascannon/missiles)
2x Tactical Squads (no upgrades?)
Lord of Skulls (AP3 Huge flamer, instant death + AP3 Apocalyptic Blast, re-roll all saving throws)
Note: This was only the players 3rd game and he mentioned he was bring a LoW (I didn't know which one). So I figured I'd bring a somewhat tame list with lots of infantry and just try to play the objective game while he slaughtered most of my army. He brought out his lord of war and then set out a hell drake right next to it. I immediately grimaced, glanced at my 5 troop choice army list and then asked him not to bring it as it more or less hard countered everything I was hoping to do. He agreed and put in the forge fiend instead.
O'J'Korst'Kha looked around at the small hamlet thinking "This place is indefensible. We've barely any cover, in a valley and we have almost no decent lanes of fire. It was foolish of me to think this place could have any tactical objective worth defending. We're going to need to pull back and -" Illia's voice cut rolled out of com unit. Always deadpan, and yet always carrying with the worst of news. "They're here." O'J'Korst'Kha snapped out of his trance. "What?! Confirm!" He heard a crunch as his sister's riptide shifted its weight a short distance away, and his sister's voice came out of his com, "They're at the top of the hill and that war machine is fast. We're not going to be able to outrun it."
Tau Deployment
Note: All troops held in reserve, Karen and Kroot outflanking.
Chaos Deployment
Chaos has First Turn
O'J'Korst'Kha glanced around the corner of the building, to take full stock of the situation with his own eyes. "Our plan has changed. There's nothing worth trying to hold here. Hit that flank now, cut off that monster's support!"
Objective: Kill Points
Tau Successfully Seize the Initiative
Turn 1
Before he had even finished his sentence, O'J'Korst'Kha jumped out from behind his cover and he and his bodyguard unloaded a wave of missiles into the Chaos Dreadnaught destroying it completely. At the same time his marker light drones and those of the pathfinders lit up the devastator squad next to it. Vre'Oni'Dan used those marker lights to ignore that units cover and shot of a precise shot (BS7) from her Ion Accelerator. Still she'd been rushed to pull off that shot with the sudden flurry of combat and her blast went wide (12 inch scatter), managing to glance the forge fiend, but failing to wound the two marines that it hit.
The broadsides and stealth suits moved up, and together with Vre'Oni'Dan they managed to kill two of the devastator squad, one of which whom was carrying a lascannon. From her vantage point on the other side of the battlefield Illia put a warp covered round through the face of the other devastator carrying a lascannon rendering the squad rather harmless. All the suits then quickly jumped behind cover to block as much line of sight as possible.
The Lord of Skulls rolled down the hill and shot his main cannon at Vre'Oni'Dan. She was unharmed, but two of the stealth suits next to her perished. Similarly the sky ray suffered a penetrating hit and one of its missiles was rendered useless. The forge fiend opened up of the broadsides but its shots bounced harmlessly off their armor.
Turn 2
Illia sighted the forge fiend, and let lose a tank busting shot. This destructive force flew across the battlefield but was stopped in its tracks by a shimmering field of force surrounding the daemon. Unperturbed O'J'Korst'Kha unloaded onto the forge fiend but it ducked behind the tree line and only took a glancing wound. However, the broadside team also opened up using his marker lights to finally shred the daemon under a pinpoint wave of missiles.
The first wave of Karen's Gue'vessa (kroot) reinforcements came streaming in to support the right flank. They opened up on the exposed squad of tactical marines hiding in the building with their warlord, killing one. Vre'Oni'Dan turned to support her newly appeared allies and she charged up her riptide's core but it overheated and caused damage to her suit. The damage was even more significant than she had anticipated as her ion accelerator overheated and failed to fire.
The Lord of Skulls turned an bore down upon her unleashing its fire torrent of daemon fire. Her armor couldn't hold out and the fire flooded her suits circuits eating through vital connections and power. Completely rendering it useless. Roaring in triumph turned and shot its main cannon at Vre'Oni'Dan. The blast hit him dead on and filled his suits optics with static.
The Chaos Warlord and his squad unloaded on the Gue'vessa that had just appeared and killed a few. The humans turned and fled in terror.
Turn 3
With his ears still ringing O'J'Korst'Kha glanced down at his suits analytics and noticed that it had only taken minor lasting damage. Much of the enemy army had been cut to shreds, and his own army was largely untouched but the Lord of Skulls had managed position itself directly between the tau and its more squishy supporting units. There was no way to get to them without going through the lord of war. "Everyone fire on the Lord of Skulls, bring it down." The pathfinders, marker drones, and skyray lit it up and the tau army unleashed hell on it. The skyray launching its full compliment of missiles. O'J'Korst'Kha and his bodyguard shooting their tank hunting missiles. The broadsides shooting their waves of missiles. Even Illia put her tank destroying super bullet into the thing.
Under the weight of all that his army could offer, two large chunks were blown off and now it was pissed. It shot its primary cannon at the pathfinders, but scattered very wide and eradicated one of the broadsides instead. Then it turned to the skyray and unleashed a torrent of hell flame. The skyray survived under that torrent of fire just long enough to be bisected by its axe.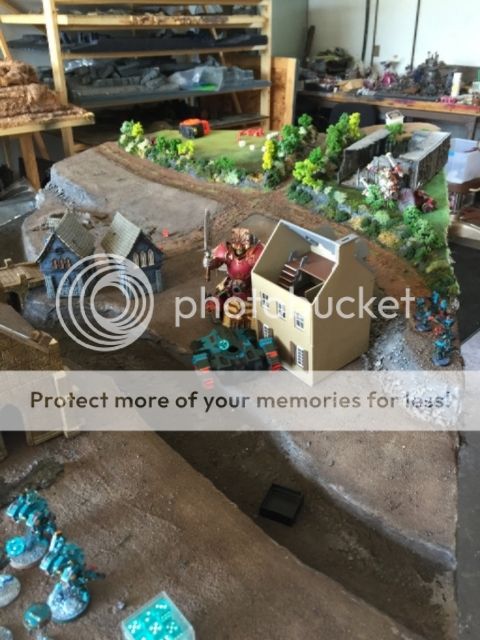 Turn 4
Illia's voice broke into the stunned silence filling O'J'Korst'Kha's suit. "My sister just arrived, she's going to kill their warlord. Let my sister and I take care of their back line. I've got fire warriors reinforcements streaming in over here. You can't kill it but try to keep its attention or its going to massacre them." He saw a round from her rifle go flying up the hill and large bulky shape drop to the ground.
O'J'Korst'Kha turned at let loose another flurry of missiles into the machines face. It rushed him and letting loose a torrent of flame, engulfing him an his squad. His body guard and three of the drones immediately succumbed but O'J'Korst'Kha's armor held out yet again.
Then it turned at shot another blast at the pathfinders. They all dove for cover, but only half of them found shelter from the blast.
Turn 5
Illia squeezed off another round. It flew across the battlefield and planted itself right where she wanted it, between the eyes of the last member of the devastator squad. He dropped heavily. She glanced back at the fire warriors streaming around her. "Get cover anywhere you can find it. Stay away from that machine or its going to kill all of you." She watched as O'J'Korst'Kha lobbed another flurry of missiles at the machines face and fled behind the church.
Across the field Illia could feel her sister's thoughts vanish as she steeled herself for combat. Illia watched through her sniper scope as Karen burst from cover and rushed the squad quickly slicing up the first marine she came across. Her enemies responses was sloppy and ineffective. After dancing away from their attacks she cut down another three with ease. However, the enemy warlord was had recovered from his surprise and brought his power fist to bear, swinging a lethal blow into exactly where Karen had been standing a split second before.
As that combat was raging the the Lord of Skull turned away from O'J'Korst'Kha tired of chasing him around the battlefield and let lose with his main cannon upon two squads of fire warriors. Those warriors dove for cover, but like the pathfinders about half of them were incinerated. The lord of skulls then turned and let lose his flame thrower upon the last remaining stealth suit and a full squad of fire warriors. The fire warriors perished to a man. The stealth suit, however, ducked behind a pillar and managed to escape unharmed.
Final Score
Tau - 4
First Blood
Dreadnaught
Forgefiend
Devestator Squad
Chaos - 3
Riptide
Skyray
Firewarrior Squad
Final Thoughts:
I had no business winning this game. The lists were horribly unbalanced, considering the mission. I had 13 possible killpoints total, and he had only 6 (one of which being the LoW I really couldn't kill).
The my board sides was also terrible for me. While my side of the board had a lot of LOS blocking terrain (which was nice), it only had two small lines of bushes (by where the fire warriors deployed) as cover from his apocalyptic AP3 blast. If he ever caught them out in the open, they'd have just died horribly. I did manage to bait him into shooting a lot of his AP3 into my 2+ armor saves. Since it was only his 3rd game and he'd never played Tau that isn't that much of an accomplishment. In addition, poor target priority while still learning rules isn't all that surprising.
Even so I still needed a ton of luck to win. I managed to seize which got me first blood. On top of that, he forgot to assault my last remaining stealth suit at the end of the game which would have tied it 4-4. Had he been more experienced and just bee-lined for my fire warriors the moment they came on almost certainly would have won.
Although, I did have some poor luck on a few things too. Everything related to my riptide really. Failed 1/2 its nova charges. Rolled 12 inches to scatter when I had BS7 Ignore cover, then got hot the next turn. She finally topped it off by failing the 2+ armor against his instant death flamethrower. Also, my Eversor assassin (karen) didn't come in until turn 5.
I made a couple of slight errors. I really shouldn't have wasted my time shooting my skyray at the lord of skulls. I should have moved 12" then use my flat out move to get even farther away. I was just getting frustrated by my lack of options for killing his back line. I could have used those missiles to kill one of his tac squads I got down to 2 members later (ones my 2nd kroot engaged on the left flank, I didn't write about that exchange it didn't really matter). I also wasted one of Illia's shots on the lord of skulls that turn. She could have killed another marine, which if on the HQ squad would have gotten me another kill point because Karen killed that squad down to only 1 HQ and 1 marine.
All in all, it was pretty fun. But I have confirmed the Lord of Skulls should probably stay at home for friendly 1500 point games.