So me and my friend met up for a 2000 points game. I fielded Farsight Enclaves and He took a Dark Angels Ravenwing force. We decided to play Way of the short sword as it seemed an appropriate mission.
I brought this.
HQ: 225
Commander Farsight
Cadre Fireblade
TROOPS - 729
Crisis Team
- 3 Suits
- 3x Plasma Rifle & Missile Pod
- Shas'vre with talisman of arthas moloch
- 2 Counterfire Defence system
- Bonding knife ritual
Kroot Squad
- 15 Kroot
- Shaper
Fire Warrior Team
- 12 Fire Warriors
- Shas'ui
- Bonding Knife ritual
- Devilfish
Fire Warrior Team
- 12 Fire Warriors
- Shas'ui
- Bonding Knife ritual
- Devilfish
FAST ATTACK - 426
Pathfinders
- 10 Pathfinders
- 3 Rail Rifles
- Shas'ui with blacksun filter
- Bonding Ritual
Piranha Squadron
- 5 Piranhas
- 5 Fusion Blasters
HEAVY SUPPORT: 240
Broadside
- Early Warning Override
Hammerhead
- Railgun
- Longstrike
- Twin SMS
Lords of War - 380
KV128 Stormsurge
- Twin Burst Cannon
- Pulse Driver Cannon
Whilst I don't have my opponent's list yet (i did ask him for it) I can make a rough approximation.
His army consisted of
2 Ravenwing Attack squadrons
- 3 bikes and 1 land speeder each
2 Squads of black knights with some kind of plasma fudgery
2 Darkshroud land speeders accompanied by several normal land speeders each
A command squad including Sammael on his jetbike
A librarian on a bike
3 Flyers of some description
As per the rules of the mission Dark Angels deployed first followed by Farsight. I decided to Deploy a gunline with farsight held in reserve. My heavy ordnance and massed pulse fire would kill enough bikers to render their charges manageable. Meanwhile farsight and his homies would appear at the rear and cleave through land speeders. Thus earning me the assault phase kills required to win.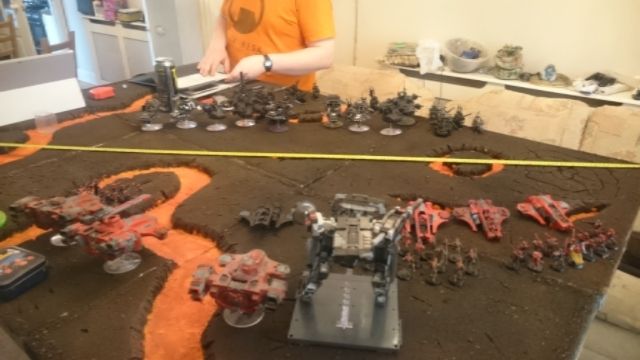 Farsight then get first turn... unless the opponent seizes the initiative, which they did.
Dark Angel Turn 1
Everything moves forwards.
The librarian casts rage on his Black knights and Aversion of my stormsurge, I fail to stop him so the Stormsurge fires snap shots in the following turn.
Over the course of the Dark angel shooting phase many heavy bolters are fired mostly at my wall of piranhas, 3 are glanced to death and the remaining 2 have 1 hull point each.
A different group of land speeders fire upon my pathfinders causing 4 casualties
Finally the dark angel bikes fire on my kroot, killing 13 of them.
In their assault phase the assault squad charge my piranhas successfully causeing a single glance and killing one of my fish.
The command squadron declare a disordered charge against my kroot and fire warriors. I can't overwatch as they charge from under a darkshroud.
Sammael issues a challenge, I accept with my cadre Fireblade
Their hammer of wrath hits kill 1 kroot and 1 fire warrior
Their remaining attacks kill the last kroot and 3 fire warriors
Sammael reduces my Fireblade to 1 wound, my shas'el fails to cause any damage in return
The fire warriors pass the leadership and hold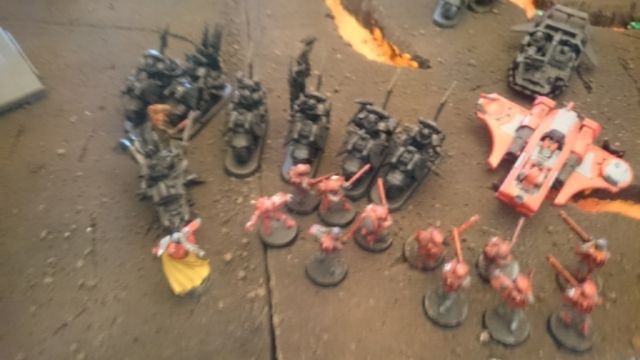 Tau turn 1
No movement
Markerlights light up the darkshroud on my left flank. the combines efforts of my hammerhead, devilfish and snap shooting stormsurge manage to wreck a land speeder and drop the darkshroud to 1 hull point.
In the assault phase Sammael's team finish off the fireblade and kill the remaining fire warriors
Dark angel turn 2
Dark angel flyers arrive from reserve. One makes a fly over my stormsurge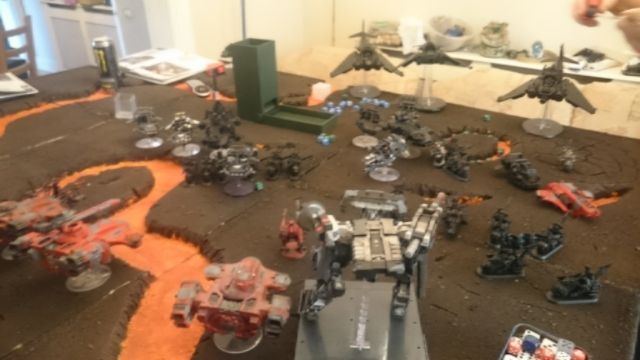 It drops a stasis bomb on my stormsurge, it wounds but I passes my armour save.
The librarian casts rage once more on his black knights and successfully uses mind worm on the storm surge.
The remaining 2 flyers cause 5 wounds of damage to the stormsurge
The black knights take its remaining wounds with plasma weapons
The group of landspeeders on the left kill 2 pathfinders
The assault squad shoot at my broadside but fail to wound it
The command squad fire on my devilfish causing it to explode. The Explosion kills a black knight and 5 fire warriors
6 more fire warriors die to dark angel shooting
Assault squad assault my broadside (still no overwatch)
Bikes kill the broadside
Tau turn 2
Farsight and his homies arrive.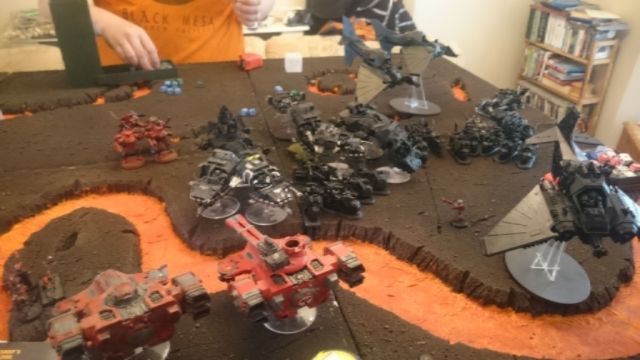 All land speeders on the board have interceptor
3 crisis suits die on entry and Farsight is reduced to 1 wound
In subsequent shooting my Hammerhead succeeds in downing a landspeeder causing it to explode. The explosion kills a Biker
With no remaining units I can use to secure kills I forfeit the game.
- Casualty List -
Dark Angels
2 Land Speeders
1 Black Knight
1 Ravenwing Biker
Tau
1 Cadre Fireblade
3 Crisis Suits
25 Fire Warriors
15 Kroot
1 Devilfish
6 Pathfinders
5 Piranhas
1 Broadside
1 Stormsurge
Victory Points for scoring kills in the assault phase
Tau 0
Dark Angels 3
In retrospect I feel there wasn't much I could have done to swing this battle in my favour. I lost the first turn which was crippling and the darkshroud prevented me from firing overwatch taking away one of my primary methods of gaining victory points.
Things I may have done differently? I would have had Farsight begin the game on the board. The talisman held by the shas'vre was of no use in reserve and could have prevented their librarian from debilitating my stormsurge.
I also didn't stick to my battle plan. I got bogged down in trying to kill the darkshrouds and forgot my original intention was to kill bikes with shooting.
My fire warriors who stayed in their devilfish were wiped out to 1 man before firing a shot. A gunline doesn't work as well if the guns are inside an apc.
Potentially the gunline tactic may have been a bad one, I fielded a lot of skimmers and didn't move them at all which was kind of a waste of potential. whether moving into flanking positions would have yielded better results I can't be sure right now.
I invite any thoughts and constructive criticism.