Hi
So the last couple of months I've been getting increasingly excited about attending a few tournaments on the bounce, which can be rare enough for me. The first two are certainly the more competitive of the lot - firstly the UK GT Heat 2 in Mansfield, England at the excellent (if cold) Sanctuary gaming centre. And the second of them the only really competitive event in Scotland - Rapid Fire, hosted by Stirling Wargamers.
UKGT HEAT 1 - Mansfield
For GT, the rules were that your list is 1500 and pretty much take anything you like as long as its battleforged - including 'experimental' FW stuff. Only restriction was Come the Apocalypse allies.
6 games, and missions would be a mix of Eternal War and Maelstrom. Actually now I think about it, only two were Maelstrom. The names escape me as I haven't played much 7th ed.
My list was as follows:
Farsight Enclaves : Commander Nightfury's Montka

Commander, XV84 suit, EWO, drone controller, missile pod, Mirrorcodex, marker drone 195pts

Troops
3 dual plasma XV8, EWO 174 pts
2 dual plasma XV8, EWO 116pts
2 dual flamer XV8 66 pts
1 dual fusion blaster XV8 53 pts
1 dual fusion blaster XV8 53 pts
- All Crisis Suit unit prices include bonding knives
10 Kroot 60

Fast Attack
4 marker drones 56 pts

Heavy Support
Sky ray, SMS, BSF 116 pts

Firebase support cadre - Tau Empire

3 Broadsides, High Yield Missiles, SMS, EWO 210 pts
3 Broadsides, HIgh Yield Missiles, SMS, EWO 210 pts

Iontide, EWO, twin linked fusion blaster 190 pts

1499 pts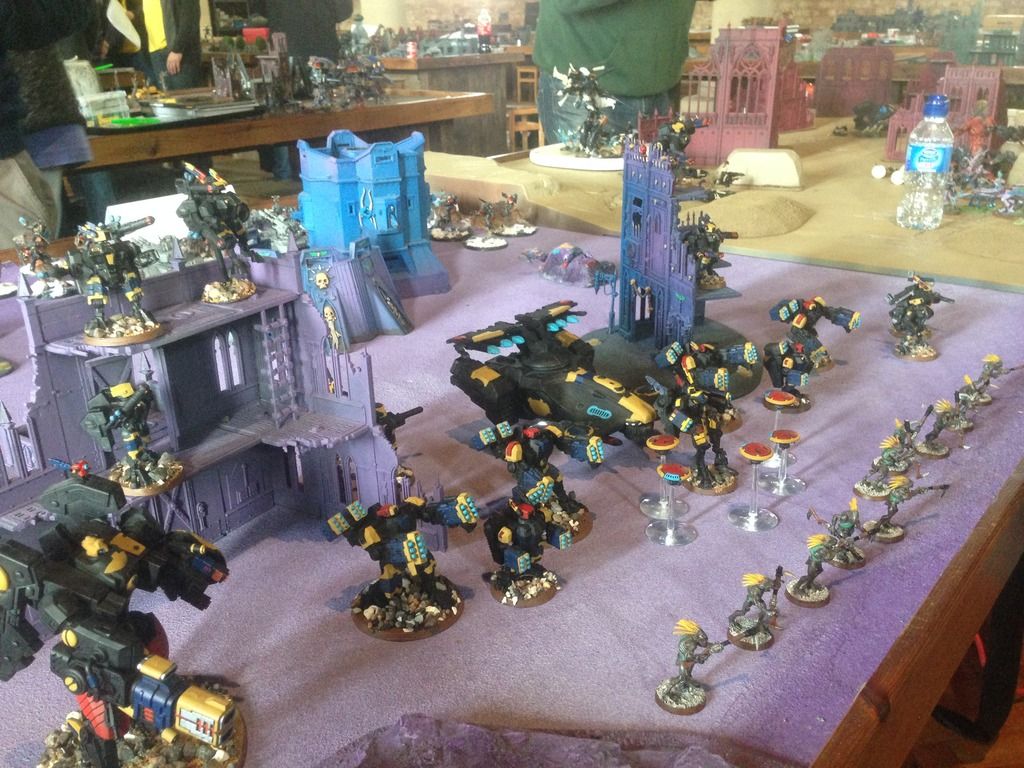 I was about as happy as I could make this - sticking to Tau. Since we could effectively take anything else you can imagine in our lists, I did consider a Culexus in a Valkyrie to nerf invisible deathstars but considered it too much pointsink. Perhaps I'd rue that decision...
Game 1 GT
Opponent: Ben, using Space Wolves CAD
Mission: Crusade
Warlord Trait: Counter Crisis
Night Fighting: Yes
First Turn: Farsight Enclaves
Ben was a great guy and easy to chat to. His list was as follows:
HQ
Rune Priest (warlord)
Wolf Guard battle leader on a thunderwolf
Troops
6 Grey Hunters, x 2 plasma guns, Razorback, TL Lascannon
6 Grey Hunters, x 2 plasma guns, Razorback, TL Lascannon
10 Grey Hunters, x 2 plasma, Rhino
Fast attack
3 TWC, x 2 storm shields, x 2 power fists
3 TWC, x 2 storm shields, x 2 power fists
Heavy
Long Fangs - 3 missile launchers 2 lascannons
Predator
Table had a good liberal spread of decent ruins and LOS blocking terrain without being crowded. I tried to give my skyray and Iontide a decent arc with minimal LOS blockers in the way, and my broadsides were on either flanks, with plasma suits and the commander with drones in the centre. Flamer suits, solo fusions in reseve with the kroot infiltrating to try and stop TWC with Battle leader's movement for a turn.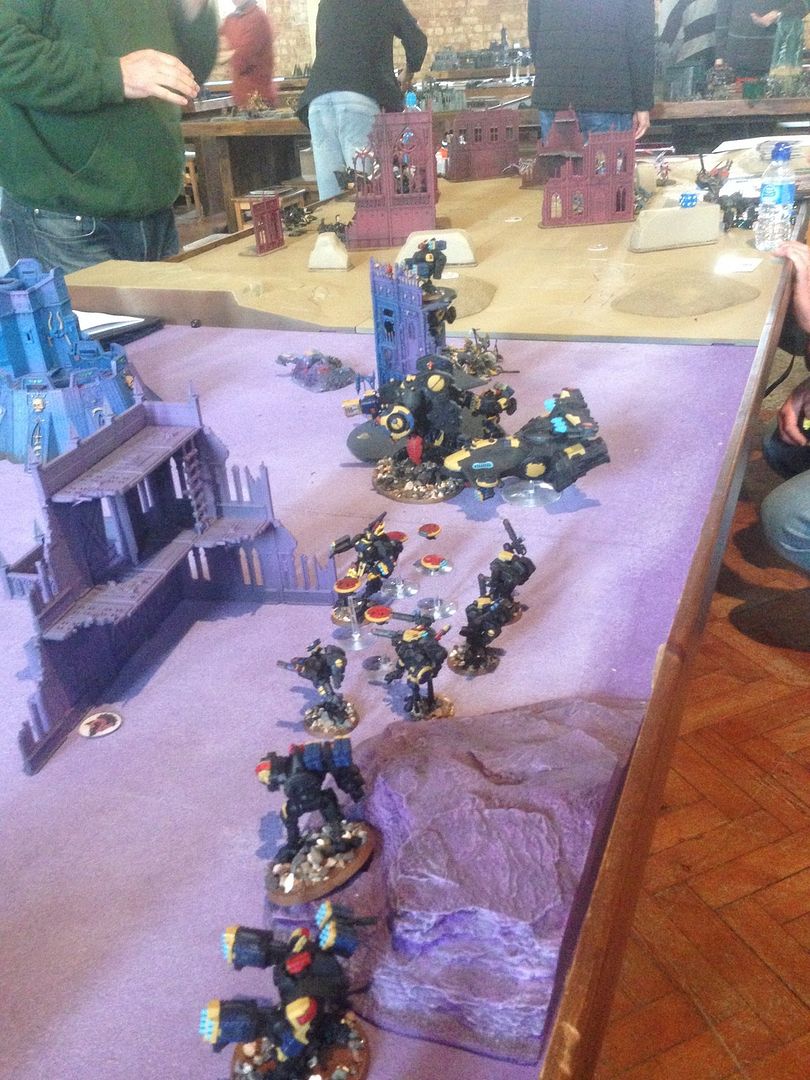 Ben deploys his long fangs with rune priest in a large building to his right flank opposite my broadsides that are in the open, flanked by a razorback mounted GH squad and the smaller squad of TWC, anchors his centre with the 10 man GH squad and Tri las predator, with 2nd razor and the character TWC squad out to his left.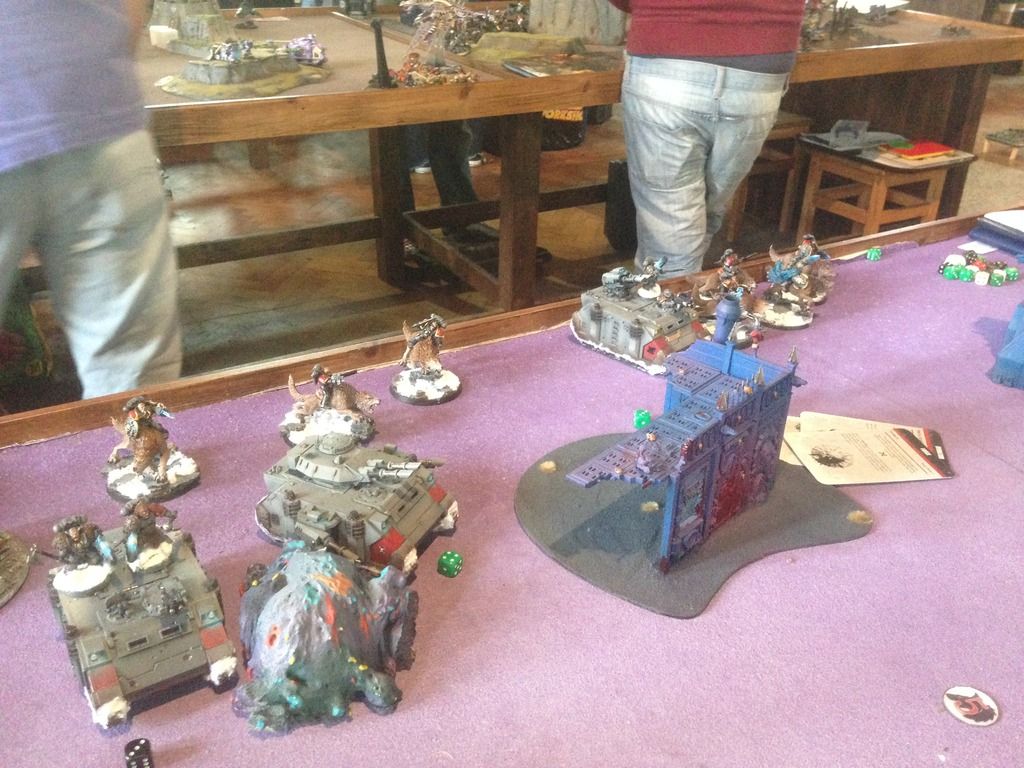 Post deployment I infiltrate my kroot out of Ben's LOS behind the big missile silo terrain to try and block some TWC moves at some point.
Early Game
First turn, my skyray spraffs the entirety of its seeker missiles and wrecks the 5 man GH razor opposite my right flank
FIRST BLOOD
. The left flank broadsides main target is the long fangs opposite, and they duly kill them all with preffered enemy missiles, leaving the rune priest by himself. The right flank broadsides utilise markers and strip the predator down to one hull point, which was slightly dissapointing that I didn't get it first time. Can't remember why I didn't finish the predator with the iontide - think I may have went for a long range shot on the rune priest to try get warlord, which must have failed. I shuffle the kroot out to the right to try and block the TWC's first turn movement, which was completely a fail idea, as you will soon read!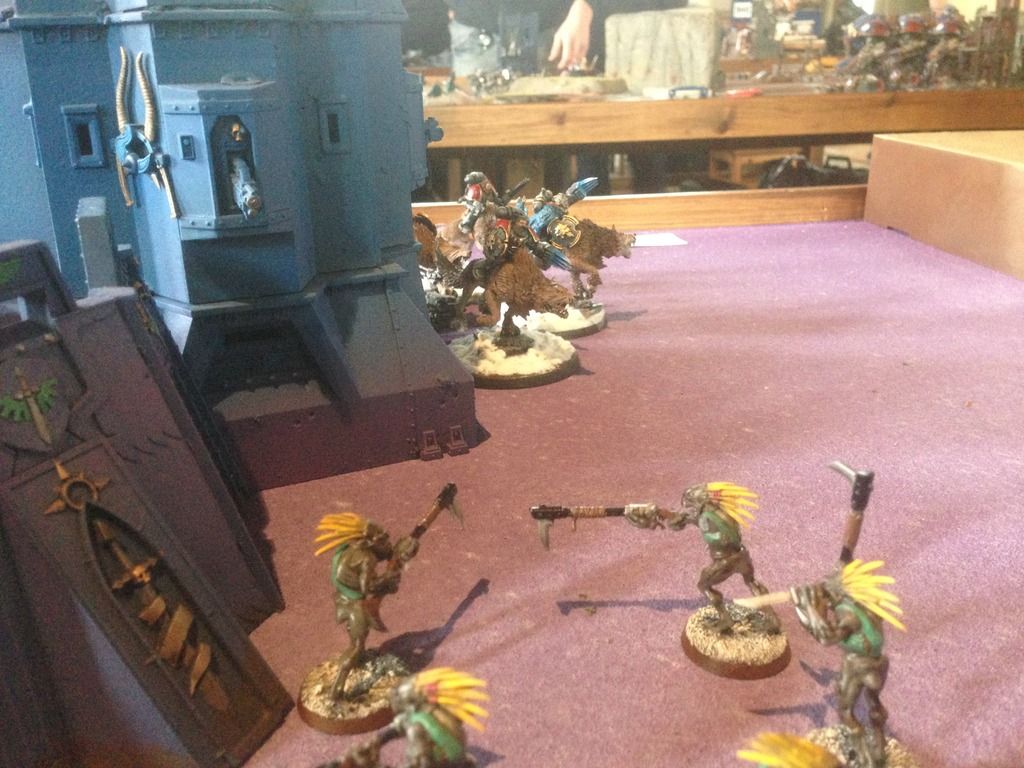 Ben's first turn and he moves his Battle Leader TWC round, and I realise I've done the new person mistake of getting the kroot in the way far too early, and they are going to soon resemble the ingredients of a Nandos kitchen. The TWC on my left/Ben's right flank also move towards my board edge at the other end of the table, to menace the position of some plasma suits and broadsides. Shooting, and the cursed predator I failed to kill opens fire and detonates the Skyray, blowing it to bits. Assault, and the TWC charge and literally decimate the kroot. I'm thinking great - run little last kroot guy, and I'll missile them to death next turn. Morale check and 1... ok then 1 again! Insane heroism! The little troll has thought 'I can take a whole unit of thunderwolves solo!' and messed me up for next turn :/
Later game
As the game progressed though, my superior firepower was mincing through the Astartes ranks. In the second turn, my two man plasma suits picked up all my remaining markers and rapid fired the smaller TWC cavalry squad to death, whilst broadsides wrecked the larger GH squad rhino and the iontide then killed all but two of the stunned survivors. The battleleader squad slaughtered my riptide (after dealing with crazy YOLO kroot guy
), but then died against both broadside units next turn. Then it was just mopping up remnants. Flamer suits reaved a merry dance through depleted GH squads, and the rune priest took some fusion shots to the face at the end. Tabled my opponent for a 30-1 win.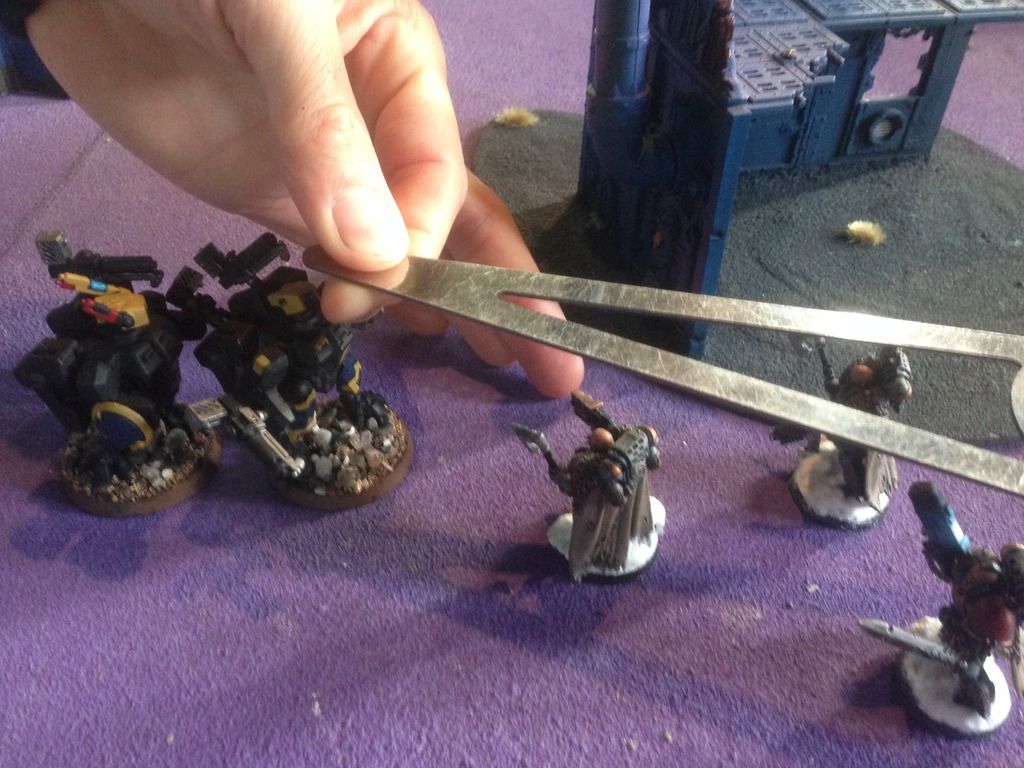 Thoughts
Ben was a great guy and we had a laugh. He even said he really enjoyed the game despite the result - we were both laughing at my daft kroot squad, and he was pleased enough he detonated the skyray and got my riptide in combat. But he said he hadn't been to many competitive events and his list was probably quite a th ed SW list. However, I knew this result would really chuck me in at the deep end next game. And so it proved.
Game 2
Opponent: Nic, using mega deathstar of Ravenwing/TWC/Inquistion/Tigurius conclave
Game: Emperor's will + kill points
Deployment: Dawn of War
Night Fight: no
First turn: Ravenwing
Warlord trait: can't remember.
Nics list:
HQ
Sammel
Deathwing command squad, apothecary, huntsman
Troops
5 scouts
5 scouts
Champions of Fenris
Iron Priest, hammer, some fenrisian wolves
Iron Priest, hammer, some fenrisian wolves
Iron Priest, hammer, some fenrisian wolves
Inquisitor, rad and psychotroke grenades
Ultramarine conclave
Tigurius
Bike ML 2 librarian
Bike ML 2 Librarian
Not the best pic of Nics force here I'm afraid: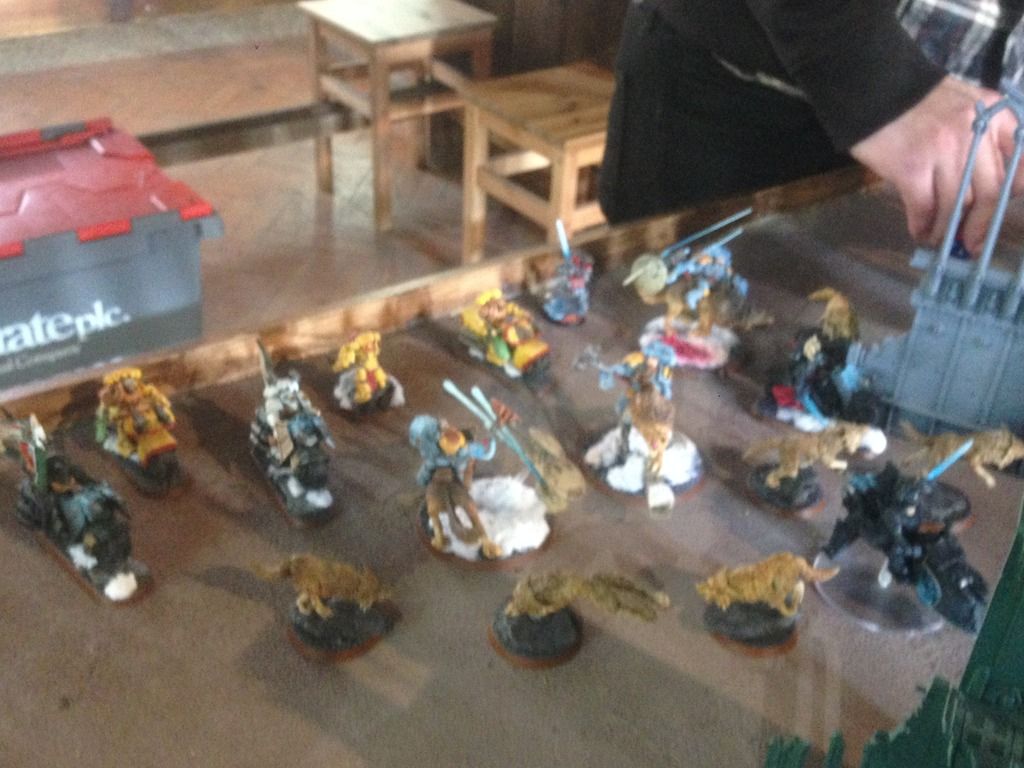 This is a nightmare match up for me, one of the worst I could have. RavenWolfstar is pretty top tier at the moment IMO. If he gets invisibilty and shrouded this is going to be bad.
I set up castling in a big ruin, which is a bit fail as I'm clustered up but I am completely cutting off his ability to get out of LOS.
Nic is set up in the open directly across from me. Powers, and he gets invisibility, shrouded, shriek and loads of other nasty.
I infiltrate my kroot in a big conga line across the front of my force as he'll have to hit that first before he can get to the juicy meat of my army, and I get lots of the supporting fire.
I seize on a 5+ with the Mirrorcodex
Early Game
Surprisingly going first to my delight and Nic's dismay, I marker up the unit. Broadsides do a fair bit of damage with the skyray and iontide chipping in to a minor degree but with FNP and lots of 2+ saves I kill a lot of fenrisian wolves one or two ravenwing guys, wound sammel and manage to kill an Iron Priest
FIRST BLOOD
. The thing is, with the scoring system being as harsh as it was, every secondary point was massive at this tournament even if you lost. So this would come into play later in the event for me big time.
Nic's first turn, and he charges forward. But he can only hit the kroot meatshield on the first turn, and I do a couple more wounds with supporting fire. Sadly, didn't get any markerlight hits or I may have done a lot more wounds.
[url=http://s1045.photobucket.com/user/NoobPwner84/media/Mobile%20Uploads/image_zpsmbjj6f2k.jpeg.html]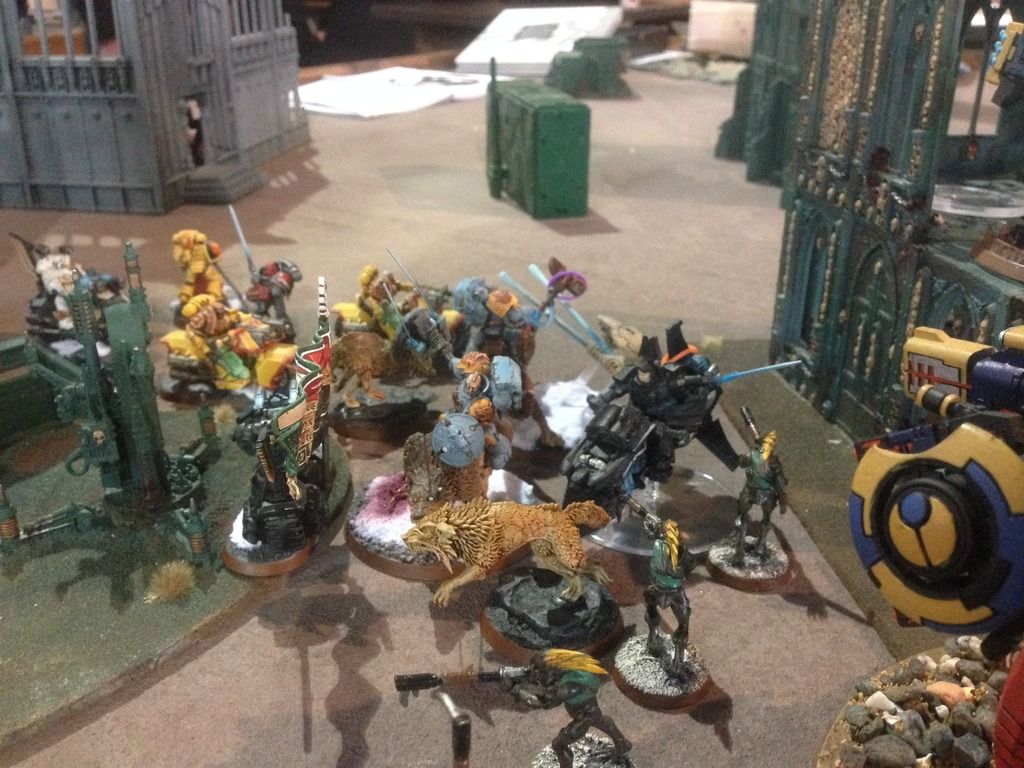 [/url]
I get another turn of shooting at him after he minces the riptide, but with shrouding and invisibility plus 2+ saves I kill only one of the iron priests and a few more fenrisian wolves.
I do my best to scatter away from my castle with riptide, suits and skyray, leaving the doomed broadsides to their fate.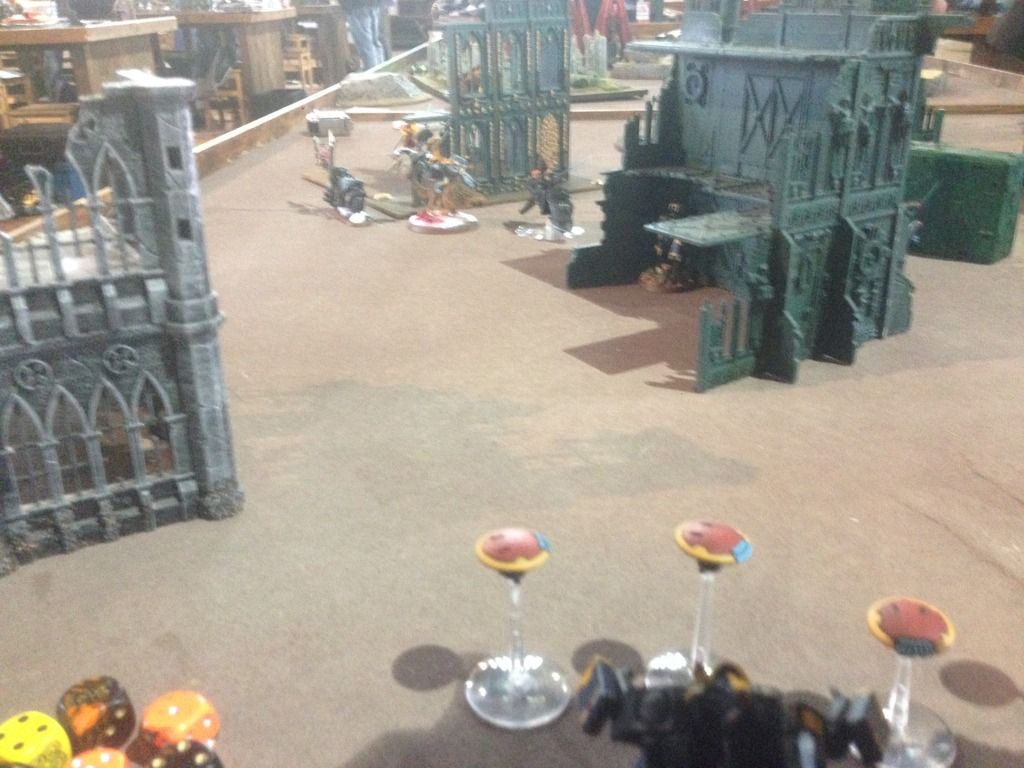 Late game
I do my best to scatter around the board, and the plasma suits and riptide do fair amount of damage on the deathstar. At the end he is left with two librarians on one wound each on his own objective and the inquisitor and a fenrisian wolf on my objective, whilst I have only my commader and his drones left. So its was a 28-3 win to him, as I had racked up the secondaries.
Thoughts
So, disappointing but felt I put a good effort in. I almost killed all his librarians on his objective with my riptide assaulting them turn 5 then it lost its last wound to a force axe. Still, think Nic's list is pretty nails.
After a win and a loss, was difinitively mid table.
Game 3
Opponent: Graeme, using Iron Hands, Eldar and some FW tanks
Game: the Maelstrom mission where you can steal your opponent's cards
Deployment: Hammer and Anvil
Night Fight: No
First Turn: Farsight Enclaves
Graeme's list as follows:
Iron Hands
Techmarine
5 Scouts
5 Scouts
Command Rhino
Eldar
Cloudstrike Falcon formation
Fire Dragons aspect host - x 3 Fire Dragons squads of 5 with +1 BS
FW tanks
Sicarian
Typhon
For those that don't know, the Typhon is a super heavy av14 all round tank with 6 hull points, that
fires a S10 AP1 Apocalyptic blast that ignores cover
. It also has ceramite plating, therefore unable to get a penetrating hit with fusion suits. Due to it being a super heavy, you can't stun it to stop it firing.
Early Game
I overcharged the ion accelerator on the riptide to try and do some damage to the Typhon, but I only managed to strip a hull point. The skyray unloaded on the command rhino and wrecked it
FIRST BLOOD
. Broadsides take out 4 out of 5 scouts, but can't get the last one as its out of LOS. The Falcons with fire dragons are in reserve.
Graeme's first turn, and the sicarian shoots and kills a broadside. Then we have this:
The Typhon starts splattering broadsides that are in ruins, without me being able to do anything about it! BOOOM!
Late Game
I steadily pick up maelstrom points, but don't particularly get the rub of the green with the missions I roll for, whilst I can't really expose any units out of LOS without them getting obliterated next turn with the Typhon. A fusion suit destroys the Sicarian whilst the Riptide makes a zoom up the left flank and tries to execute the techmarine to score warlord plus some maelstrom points, but dies before getting a proper bead on his warlord.
Here's Commander Nightfury with his drones JSJ-ing behind the 'bean can' LOS blocking terrain to avoid Typhon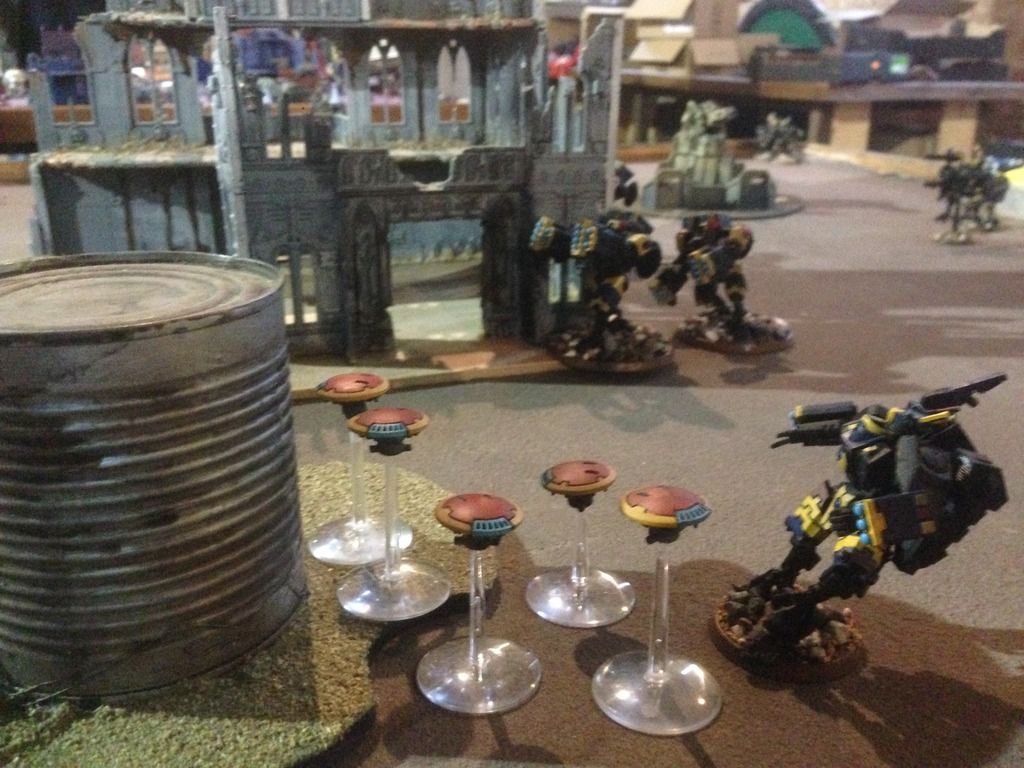 Unfortunately he did eventually get splattered
But when Graeme's Falcons and Fire Dragons arrive the tide turns and I steadily get a pummeling.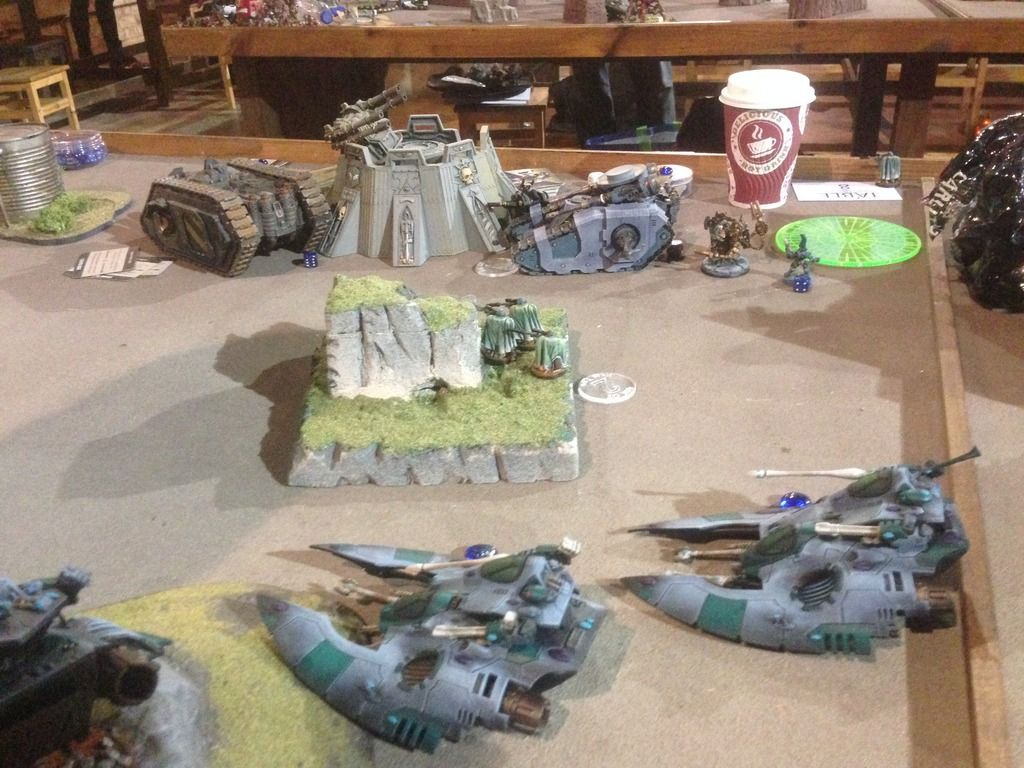 Graeme wins by two points on Maelstrom, and with super harsh GT scoring its 29-2 loss for me.
Thoughts
Me and Graeme had a good laugh, but not sure I could have done much here. Tried to play the mission, but the Typhon and Hammer and Anvil was a nasty combination, as I had quite a distance to try and cover for objectives but few places to hide. Still - not usually going to see one of those things at tournaments, so difficult to plan for. Anyways - day one over. One win & two losses. I will be on the timmy tables on Sunday!