So this was not officially my first Warhammer 40k battle ever. But it was the first time I played since 2004(approx), so it has been a while.
Also both armies used are still in production. Some unpainted, some painted, some fully glued, others are missing parts (see Ghostkeel for example).
I used a
Hunter Contingent
.
I used the following selections as part of the Contingent:
Optimized Stealth Cadre -
3x Stealth Suits. One upgraded to Shas'vre with Fusion Blaster, Marker Light, Target Lock, and Homing Beacon. 120 pts.
3x Stealth Suits. One upgraded to Shas'vre with Fusion Blaster. 105 pts.
1 Ghostkeel. Cyclic Ion Raker. Twin Linked Burst Cannon. Early Warning Override. Stimulant Injector. 175 pts.
Hunter Cadre -
1 Commander: Shas'O Fal'shia Shi'urvali Or'est'var. Gun Drone. Fusion Blaster. Missile Pod. Shield Generator. Stimulant Injector. Onager Gauntlet. Puretide Chip. Iridum Battlesuit. 207 pts.
Breacher Team. 10x. Bonding Knife Ritual. DS8 Turret. Devilfish. One upgraded to Shas'ui, with Guardian Drone, Marker Drone, Marker Light, and Target Lock. 240 pts.
Breacher Team. 10x. DS8 Turret. Devilfish. One upgraded to Shas'ui, with Guardian Drone, Marker Drone, Marker Light, and Target Lock. 230 pts.
Strike Team. 10x. DS8 Turret. One upgraded to Shas'ui with Marker Drone, Marker Light, and Target Lock. 157 pts.
3x Battlesuits. All are armed with 2x Missile Pods and Early Warning Overrides. One upgraded to Shas'vre. Bonding Knife Ritual. 184 pts.
3x Battlesuits. All are armed with Flamer, Plasma Rifle, Missile Pods. One upgraded to Shas'vre. Bonding Knife Ritual. 169 pts.
Pathfinder Team. 5x. Three are upgraded with Rail Rifles. 100 pts.
Pathfinder Team. 5x. Bonding Knife Ritual. Recon Drone, Pulse Accelerator Drone. 103 pts.
Sniper Drone Team. 1 Firesight Marksmen. 3x Sniper Drone. 58 pts.
My opponents list was roughly:
10x Death Company Jump Pack Marines. Bolt Pistols and Chainswords.
1 Vindicator Tank
2x Land Speeders with Heavy Flamers.
1 Baal Predator Tank with Autocannon and Heavy Bolters
10 Tactical Marines. One upgraded to Sergeant with Two Hand Flamers. One Marine had Flamer. Other Marine had Heavy Flamer. Drop Pod.
10 Long Fangs. 2 Missile Launchers. 2 Plasma Cannons.
5 Thunderwolf Cav. All had Storm Shields and Thunder Hammers.
1 Sanguinary Priest. On Space Marine Bike.
1 Wolf Lord in Power Armour. On Thunderwolf. Storm Shield.
5 Wolf Guard Terminators. Assault Cannon. Leader with Thunder Hammer and Storm Shield.
Scenario:
Maelstrom of War - Contact Lost. Again 1850 points.
Now, I should note (again in my case) that both my opponent and I have not played 40k in many many years. So this was out first match together, and our first match using our armies. As a result I know we made several mistakes through out and forgot several rules and special rules, even ones I may not have known we forgot.
I did however take many pictures through out the battle, 100+ to be specific. But our book keeping was not very good, so please bare with me please.
The Battle:
Here is how we set up. Notice the Warhammer fantasy terrain? That is because our 40k terrain has not arrived. So in terms of fluff, we decided that the battle was being fought on some backwater world. This also explains Contact Lost scenario because the world lacked any electronic grid to plug systems into and so it was important for both armies to set them up.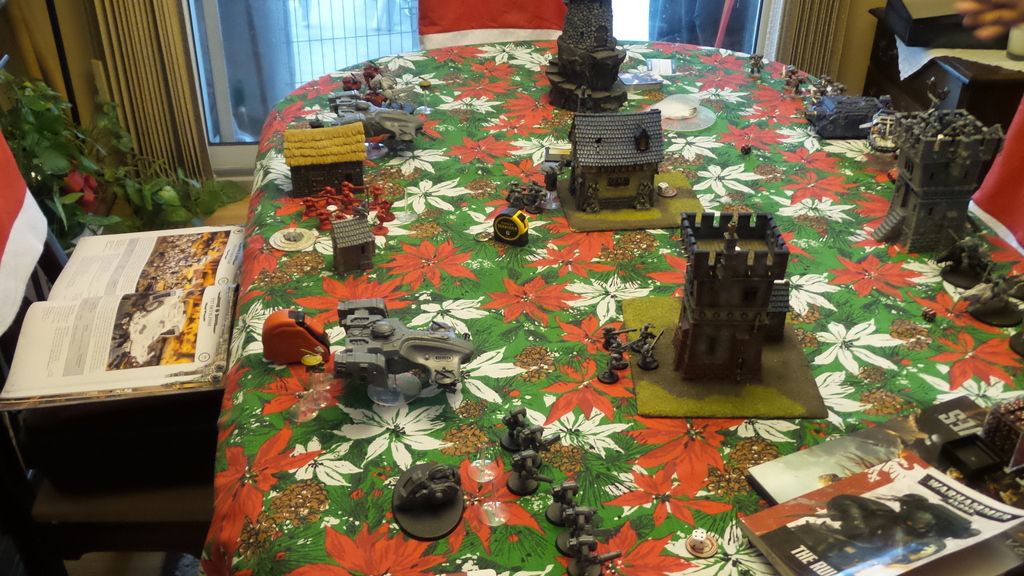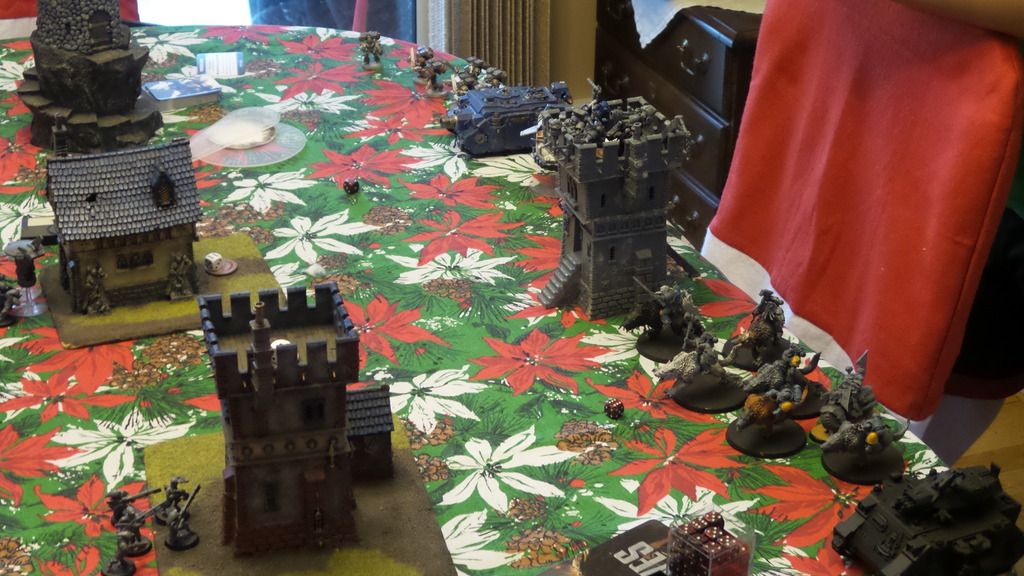 I should also mention that the Marines set up first. Tau failed to seize initiative. I did manage to pass the Night Fighting roll. (I am a bit confused about Night Fighting, because according to my opponent Night Fighting lasts only for a single turn, is this true? We found nothing that said either it does or does not in our rulebook.) My fluff for my commander is that he always insists on fighting at night if at all possible.
So space marines got first turn. The drop pod landed right in the middle...right by my Pathfinders...
http://s894.photobucket.com/user/bcw_ki ... sort=9&o=2
However Ghostkeel got to shoot at the Marines due to his Interceptor rule. We were not sure if I could, but I overcharged the Raker.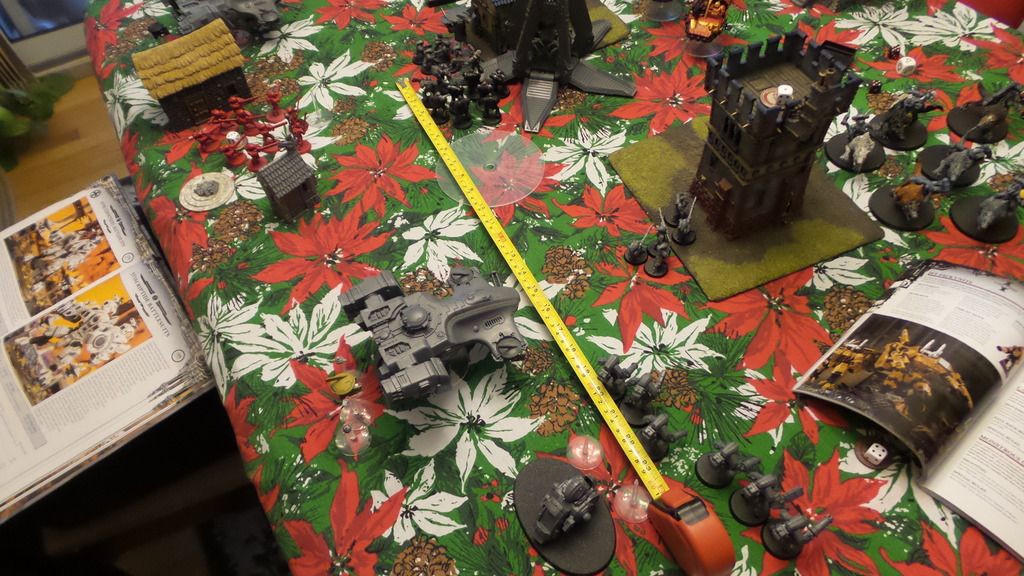 Managed to take down 3 Marines.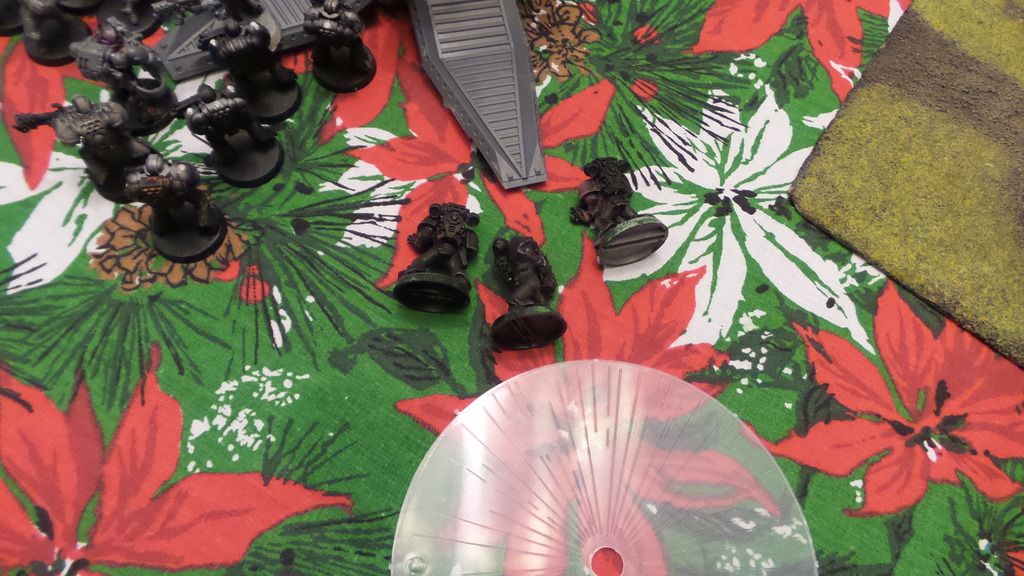 Caused the Drop Pod to lose one Hull point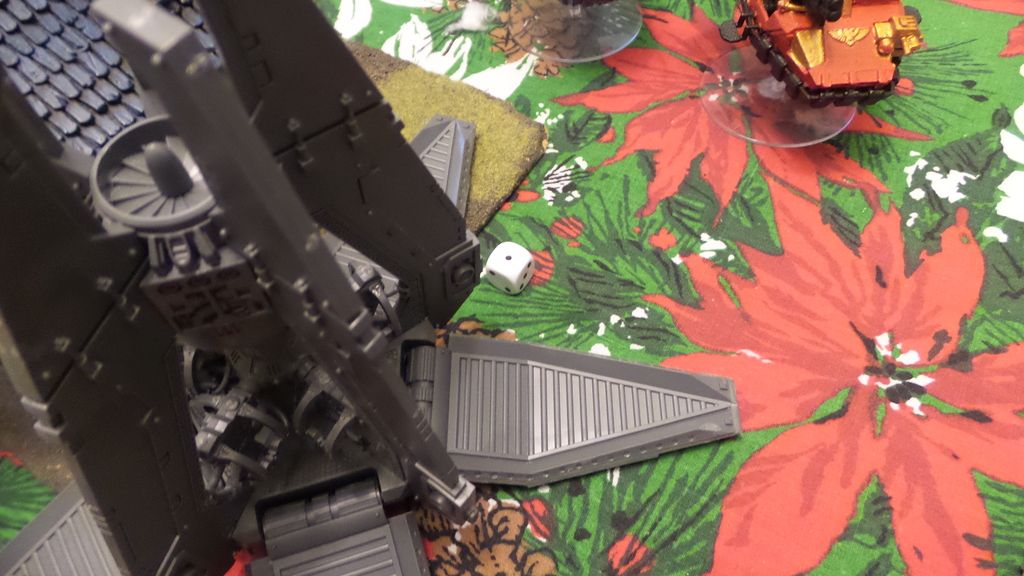 The Vindicator targeted the Devilfish across from him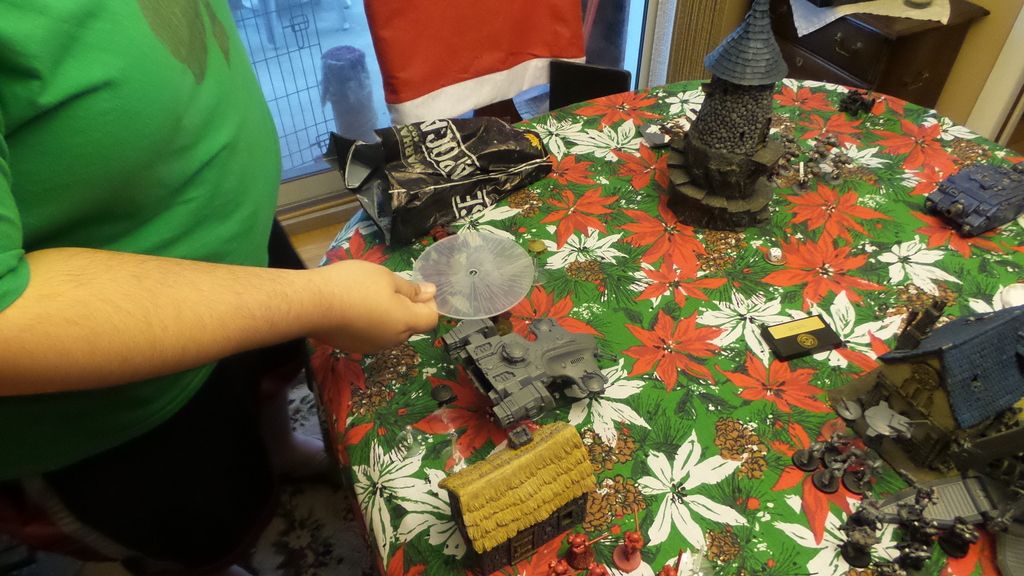 But the shot went off board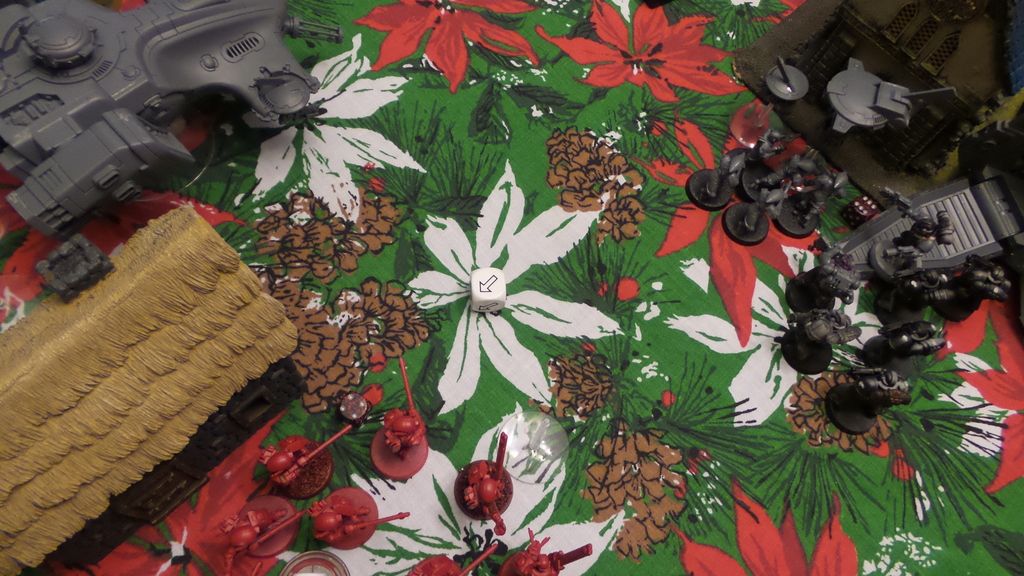 Long Fangs took shots at the Devilfish
The Devilfish however survived, only losing a single hull point.
Baal Predator shoots at the Stealth Team, but manage to do no damage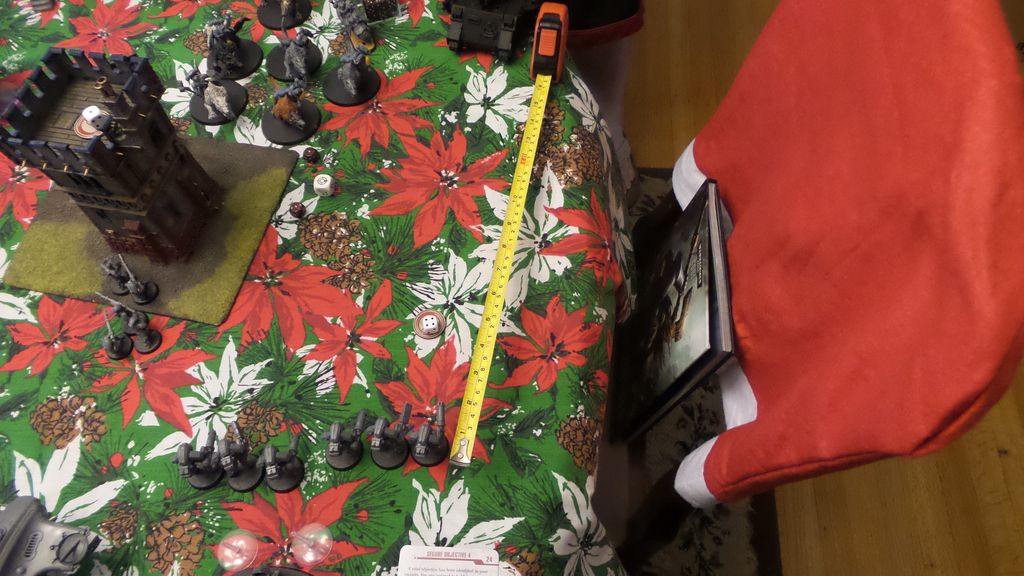 Drop Pod Marines obliterate the Pathfinders...End of Marine turn...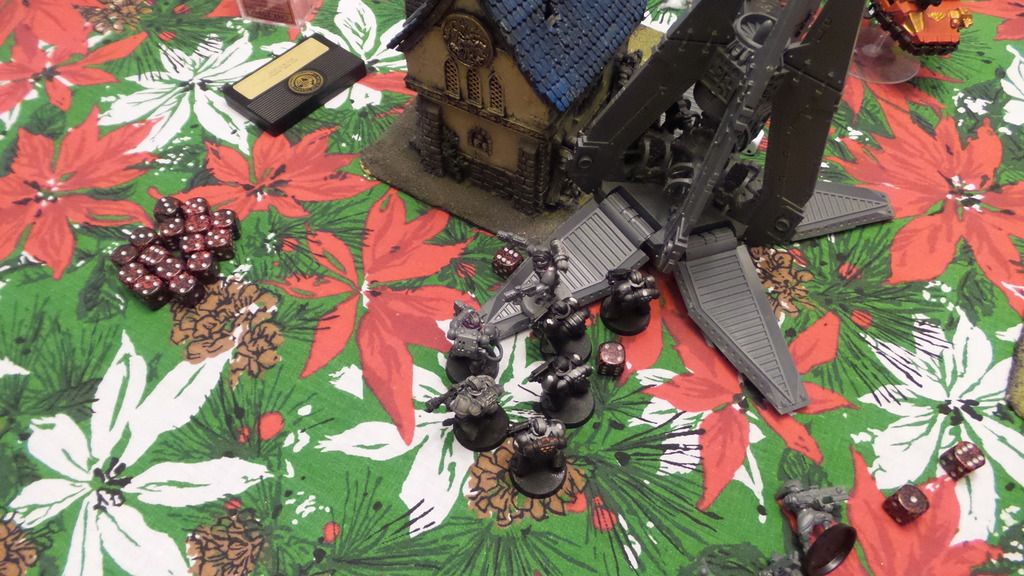 Devilfish Drops off the Suicide Squad (Breacher Team) to take care of the Thunder Wolves that moved forward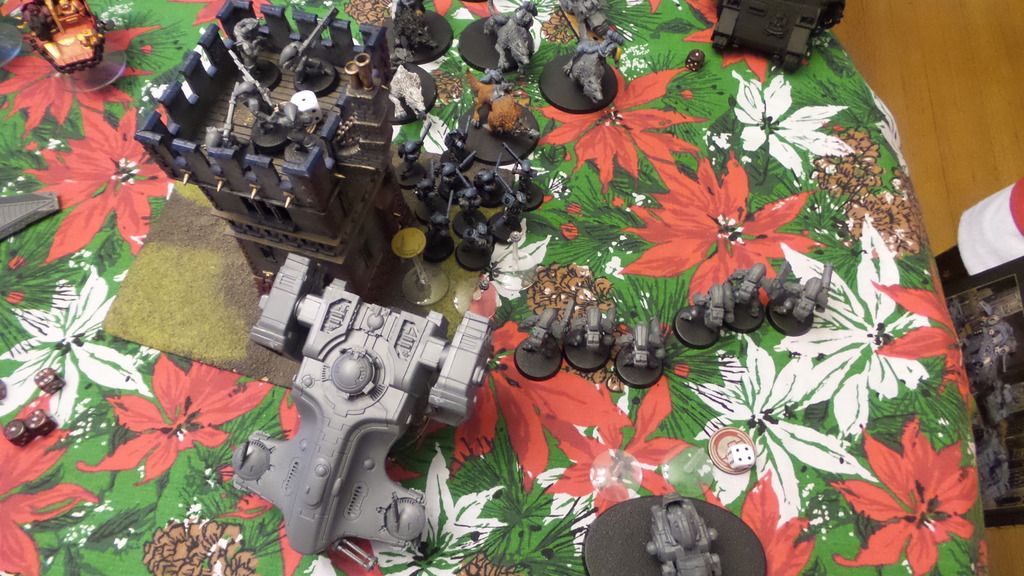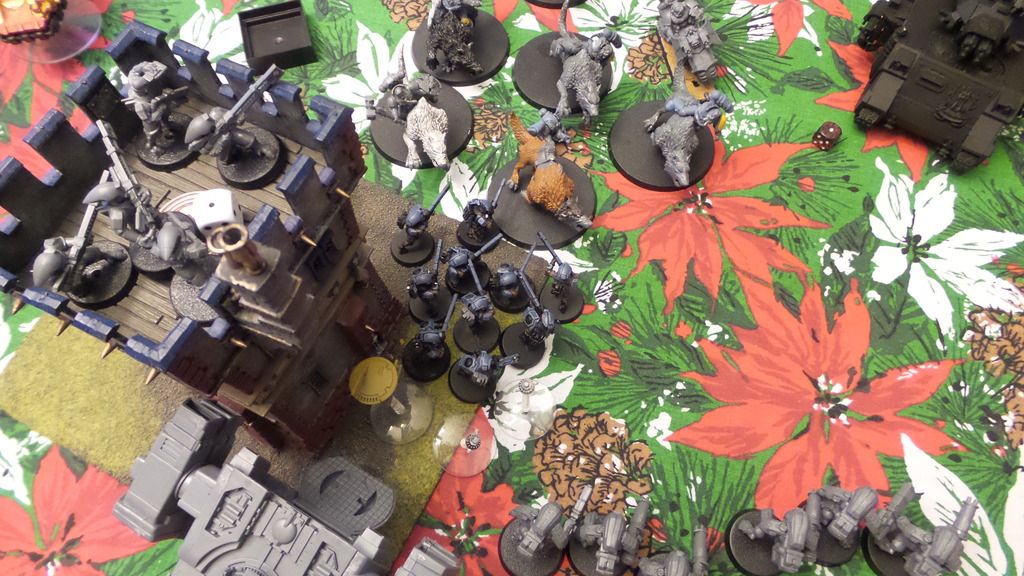 Other Devilfish Drops off the Tunnel Runners (Breacher Team) to take out the Death Company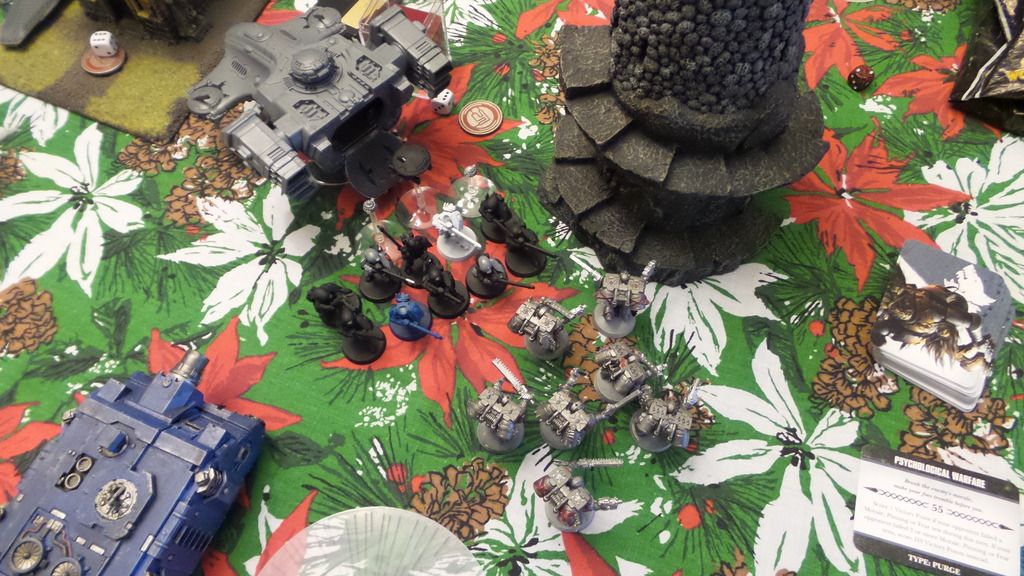 My Commander and his unit move forward (I realize it was a total mistake not to Deep Strike them...total mistake)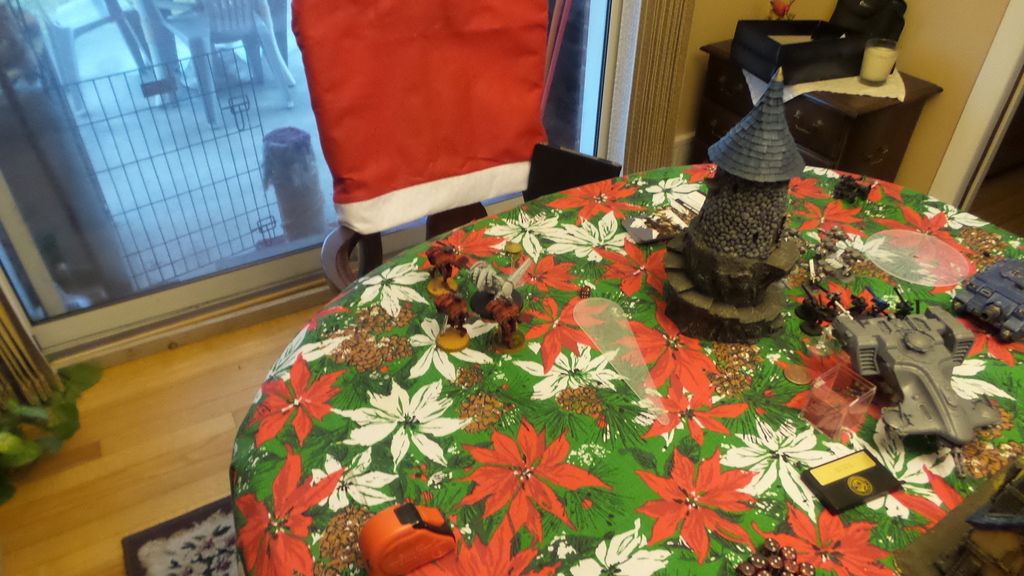 Last Remaining Pathfinders take Rail Rifle shots at the Land Speeders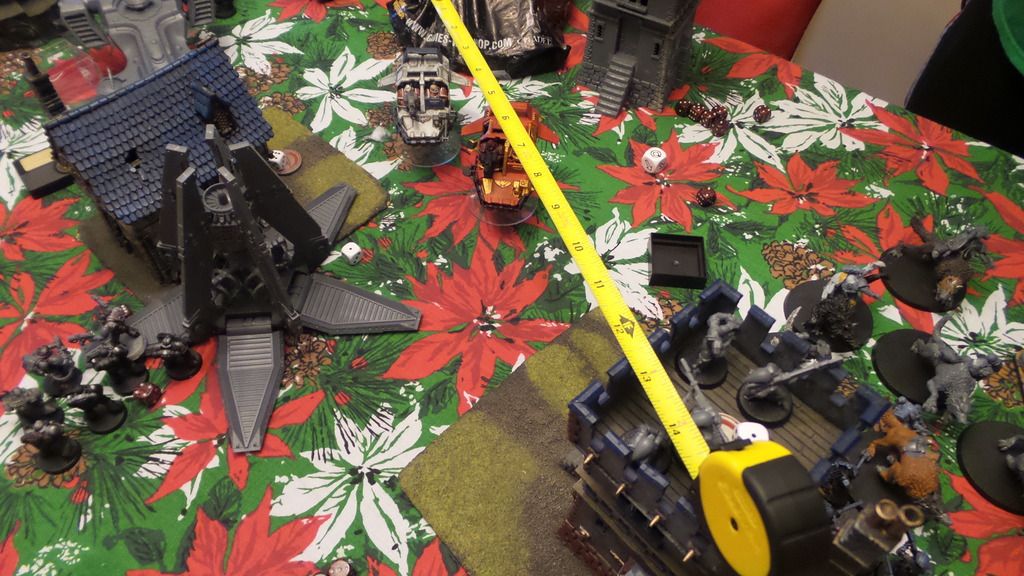 Rail Rifles take down one Speeder and cause one Hull point of damage to the other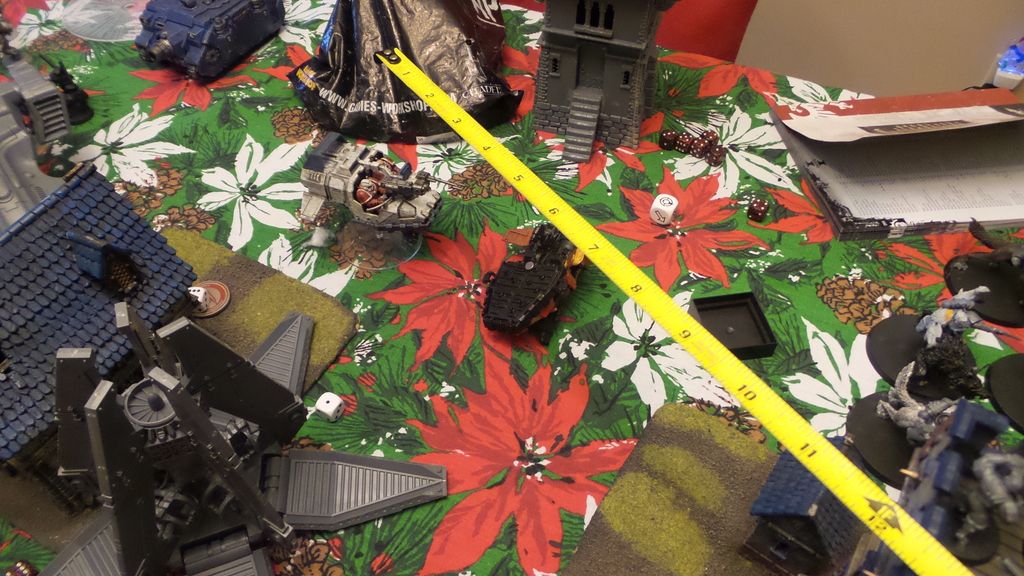 Suicide Squad Breacher Team take aim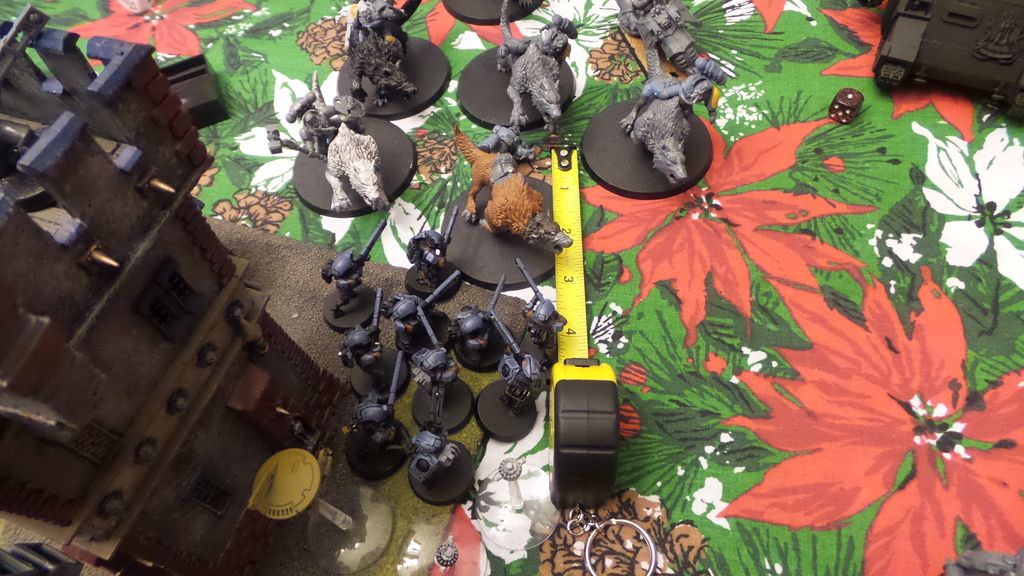 And only bring down a single Wolf and Rider (The Rider is there...trust me...)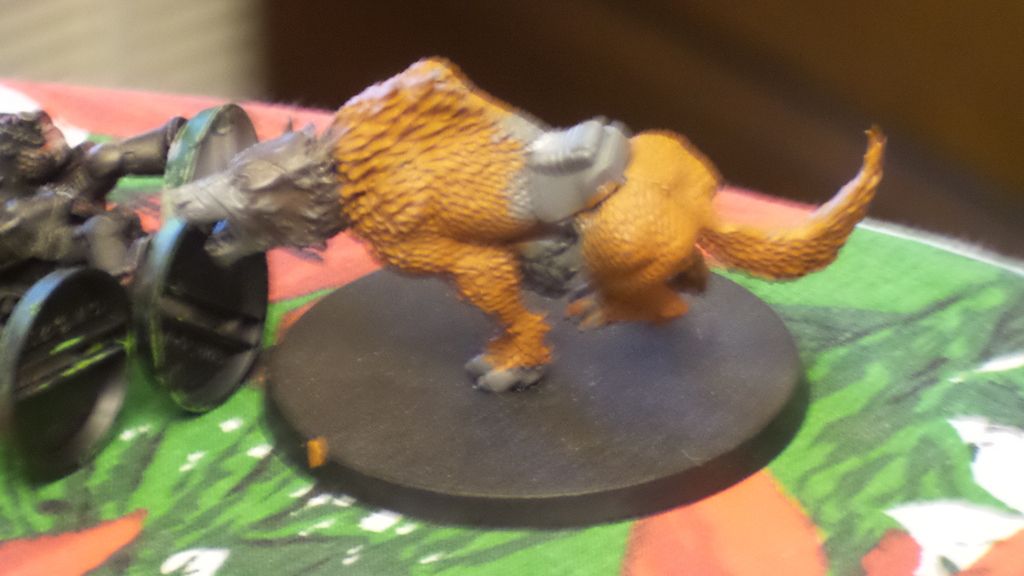 Ghostkeel fires with Burst Cannon (Raker cannot be used due to Override)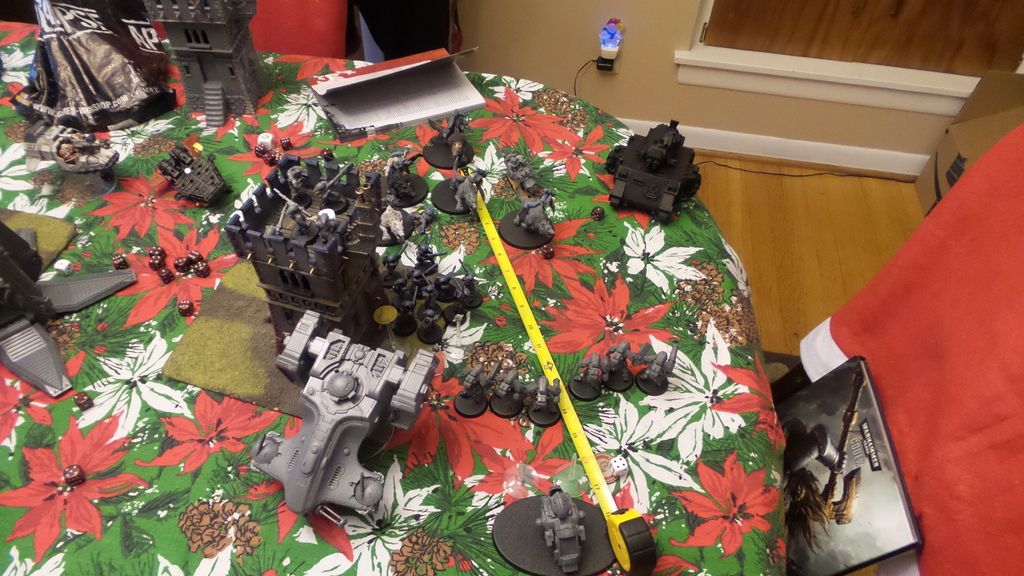 Ghostkeel causes three wounds. Rider killed. One taken to one wound.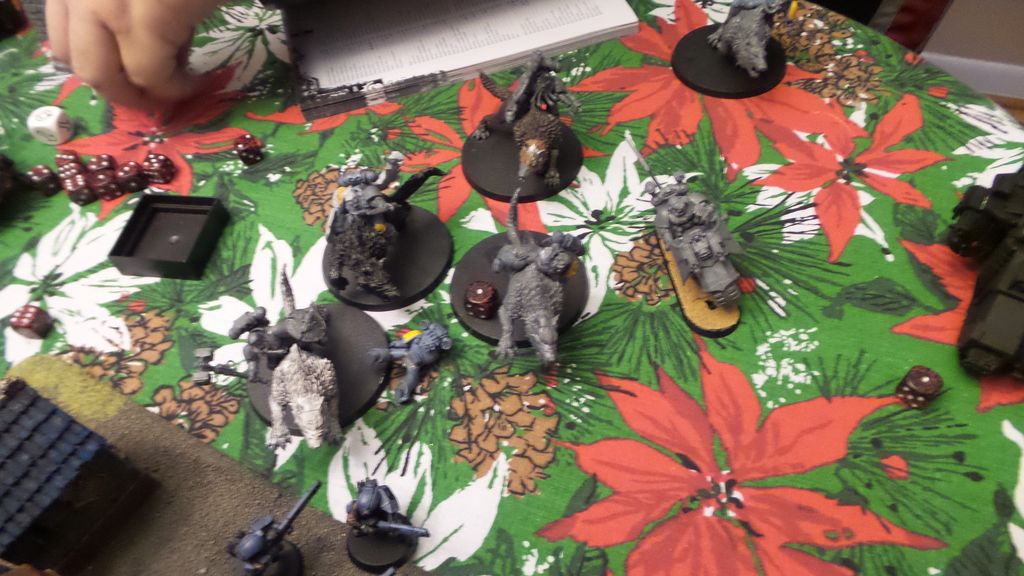 Stealth Suit unit fires, but fail to do any damage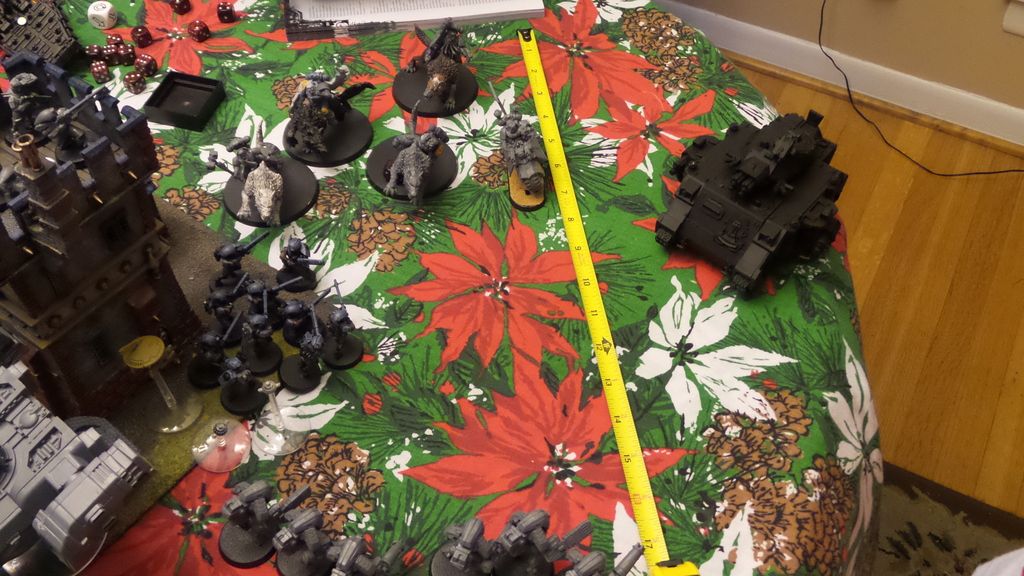 Strike Team fire at Marines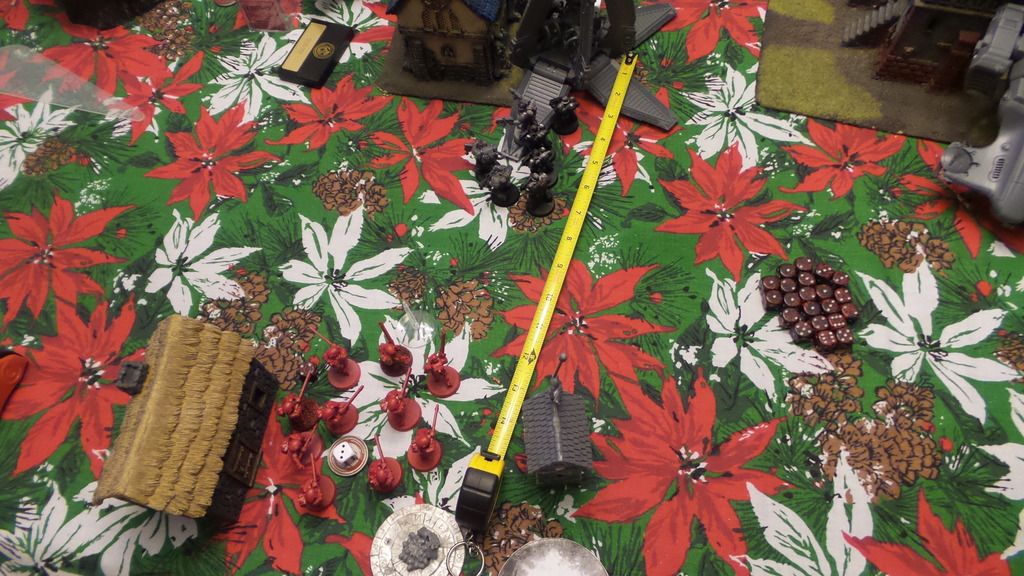 Three Marines die
Breacher team kills five Death Company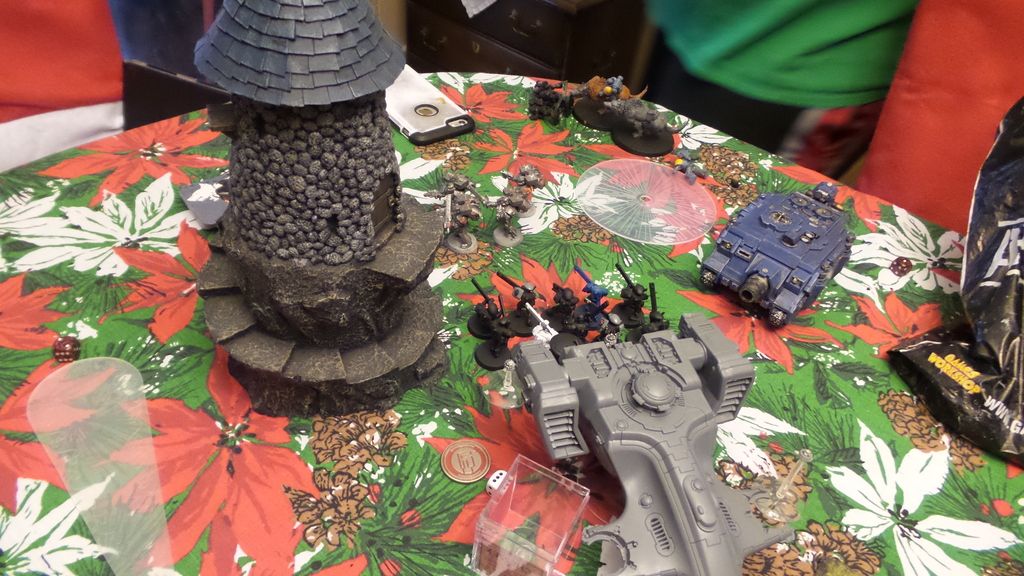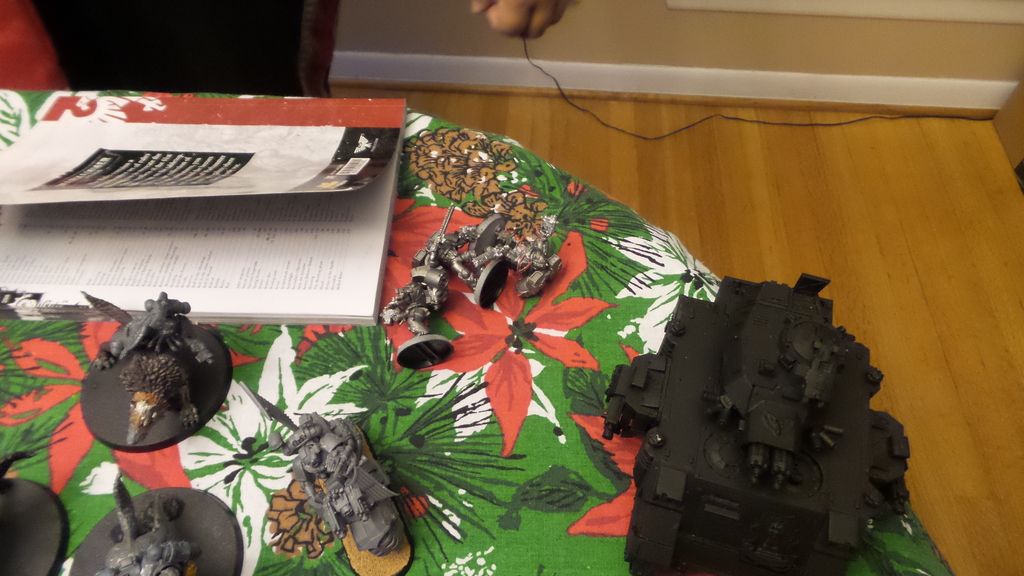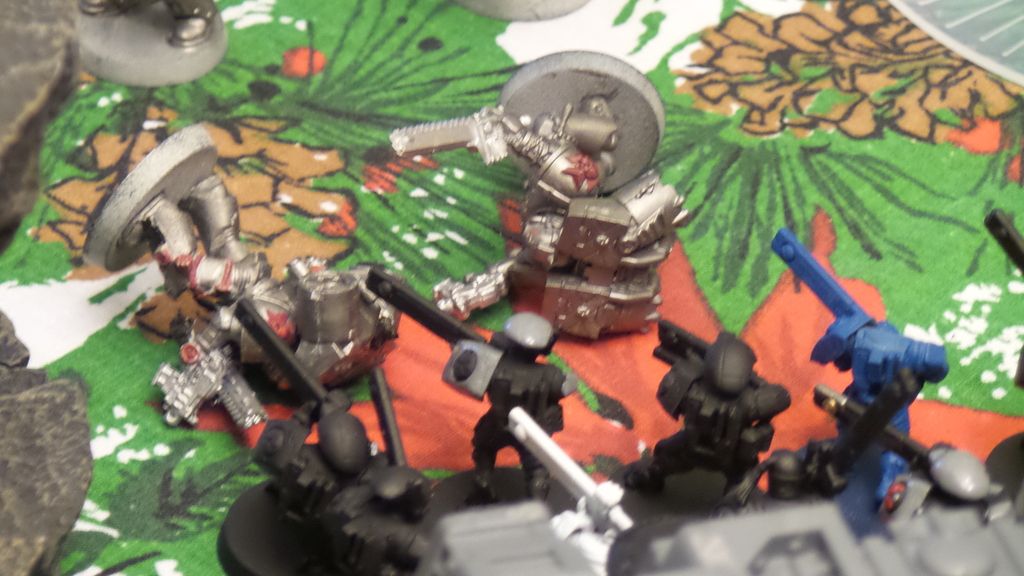 Commander takes aim at Death Company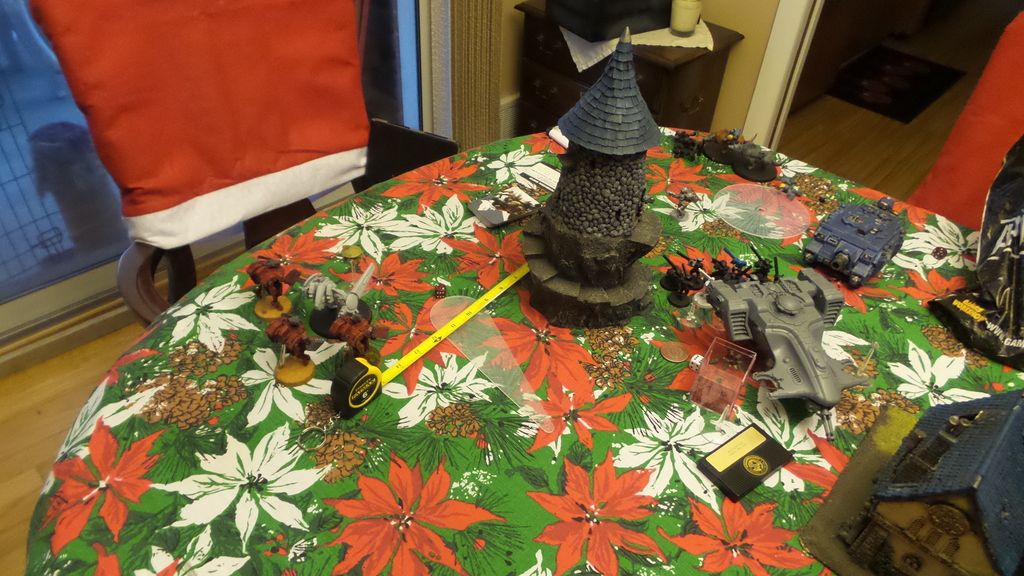 Kills the rest of the Death Company team. End of Tau Turn.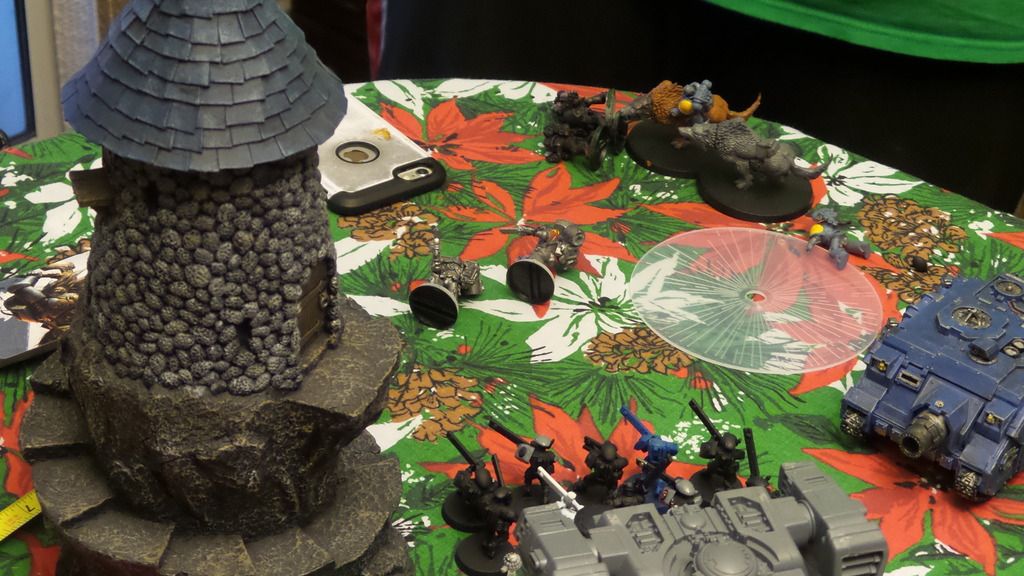 Marines move, along with Thunder Cav. And Terminators show up right on target...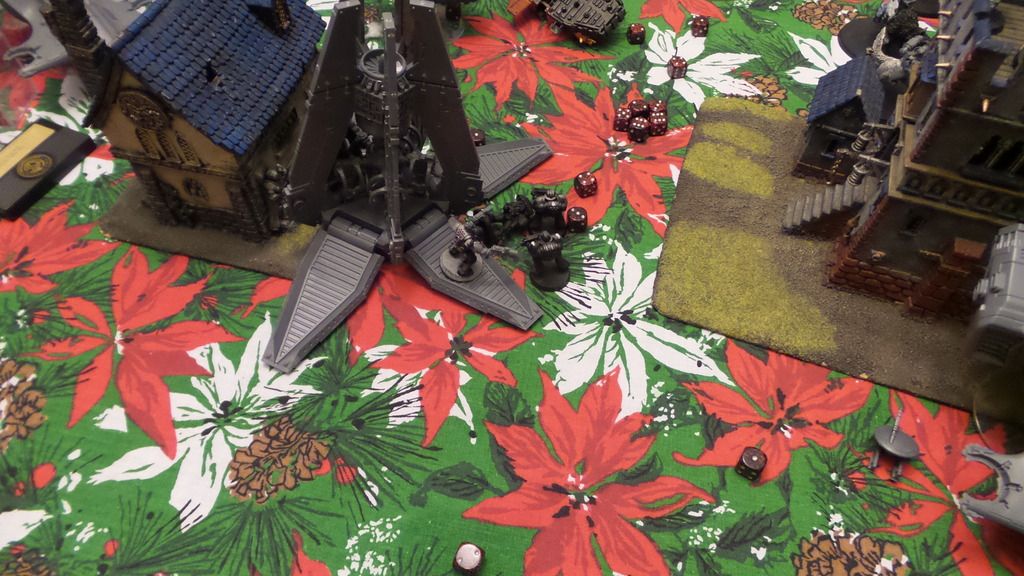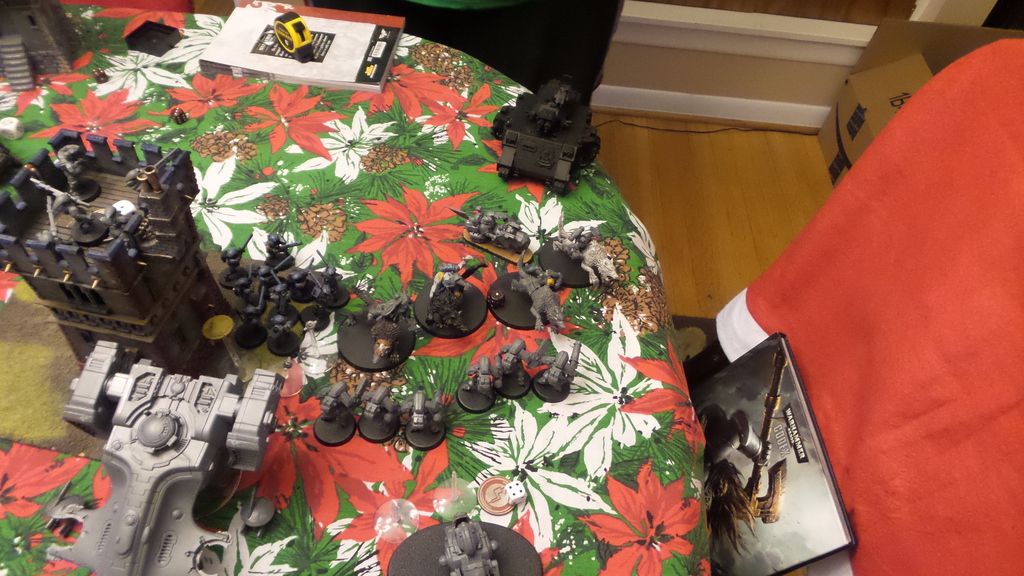 Predator Tank kills four Breachers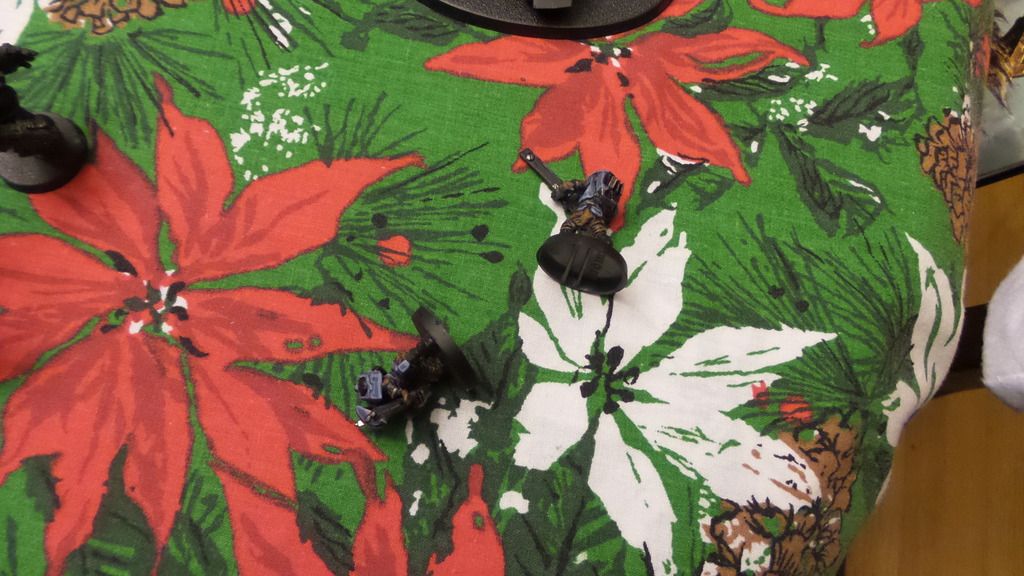 Vindicator Tank kills four Breachers and destroys the Burst Cannon on the Devilfish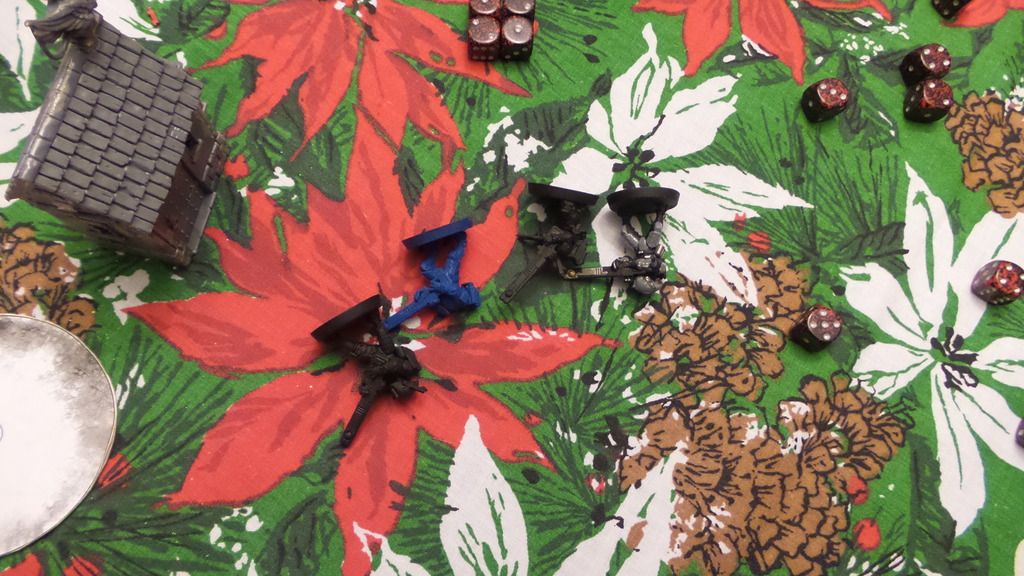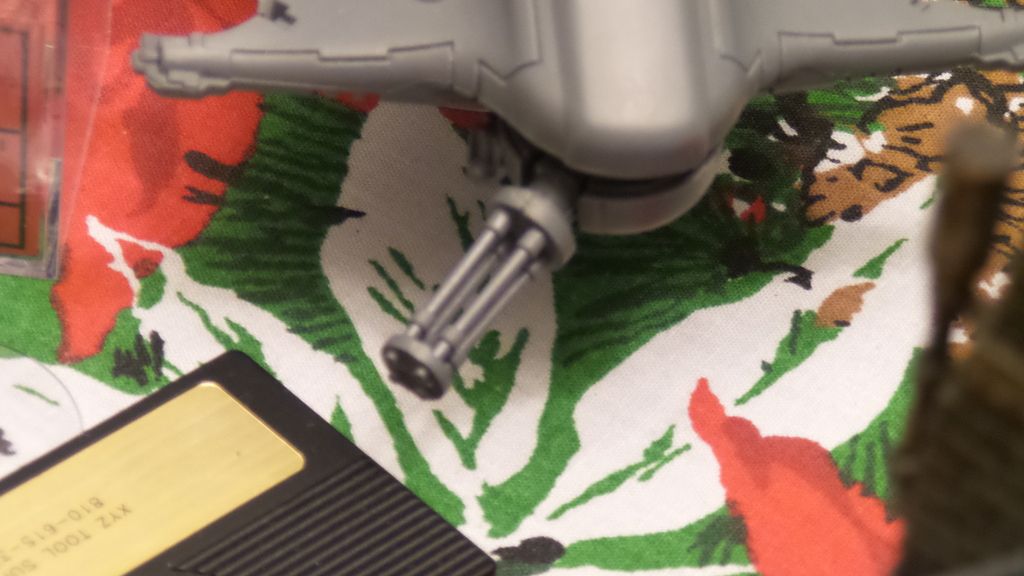 Long Fangs fire on Breachers. But one Plasma Malfunction kills a Long Fang.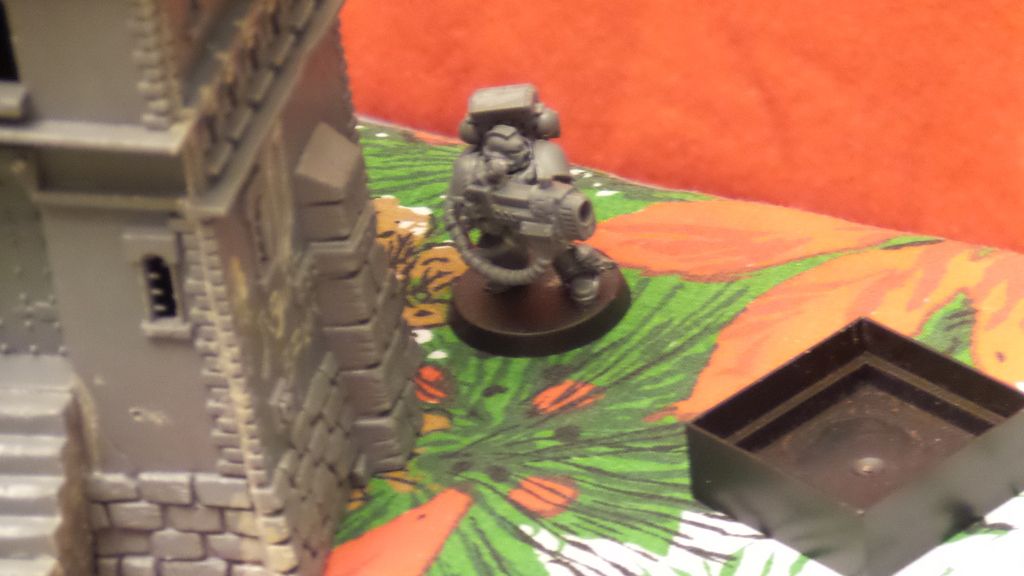 Long Fang fire kills all but two Breachers.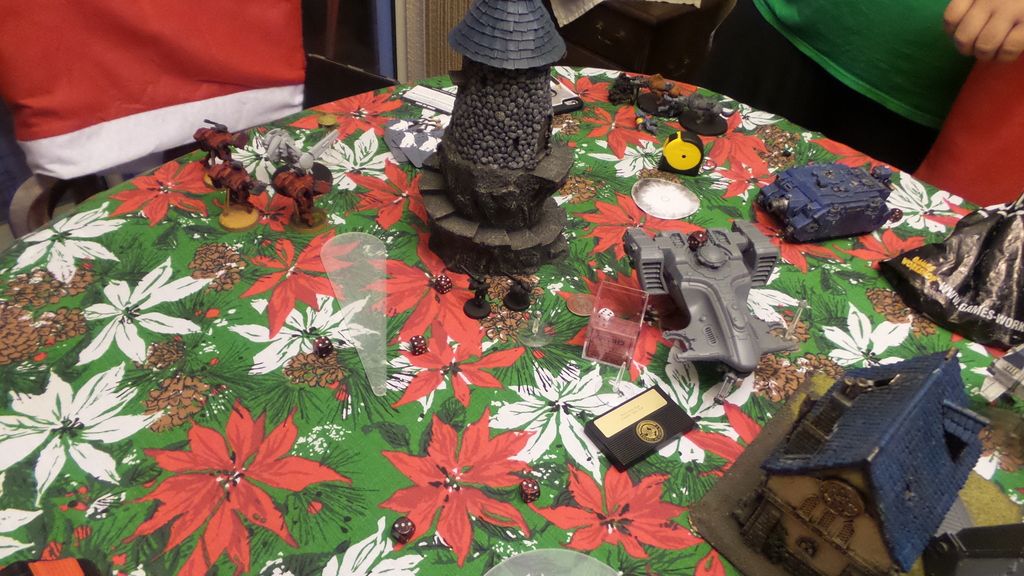 Thunder Wolf Cav charge one Stealth Team, get shot at by everyone due to Overwatch, but nothing happens. Thunder Wolf Cav destroy the Stealth Suit unit. End of Marine turn.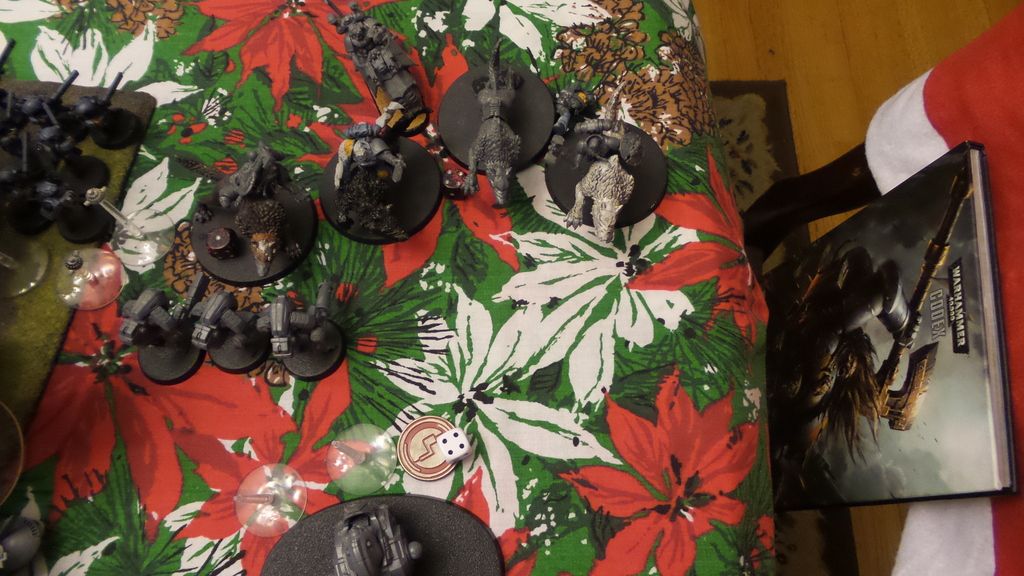 Tau Turn. Sniper Team arrives. Crisis Team arrives. Snipers pivot to aim at Terminators.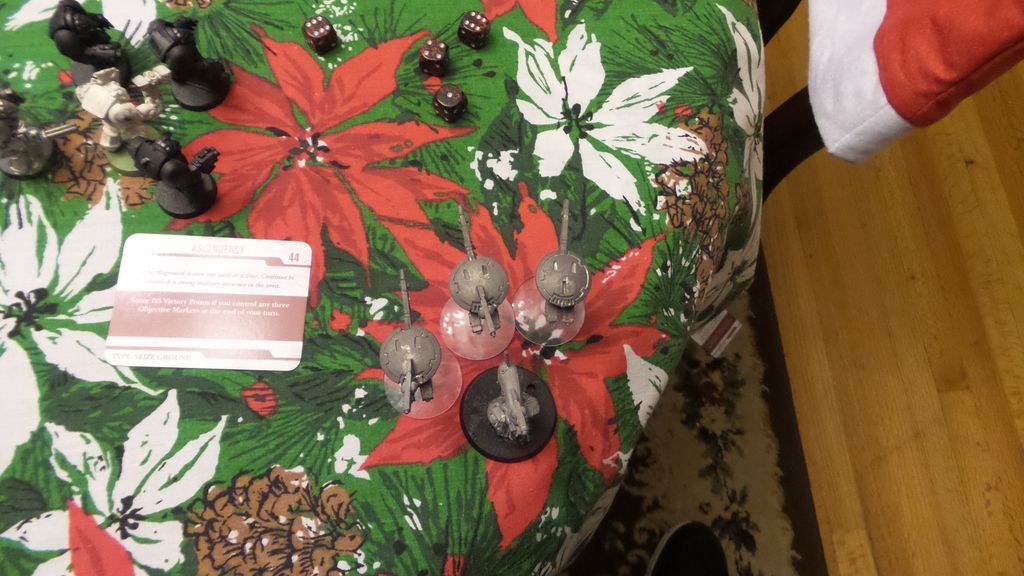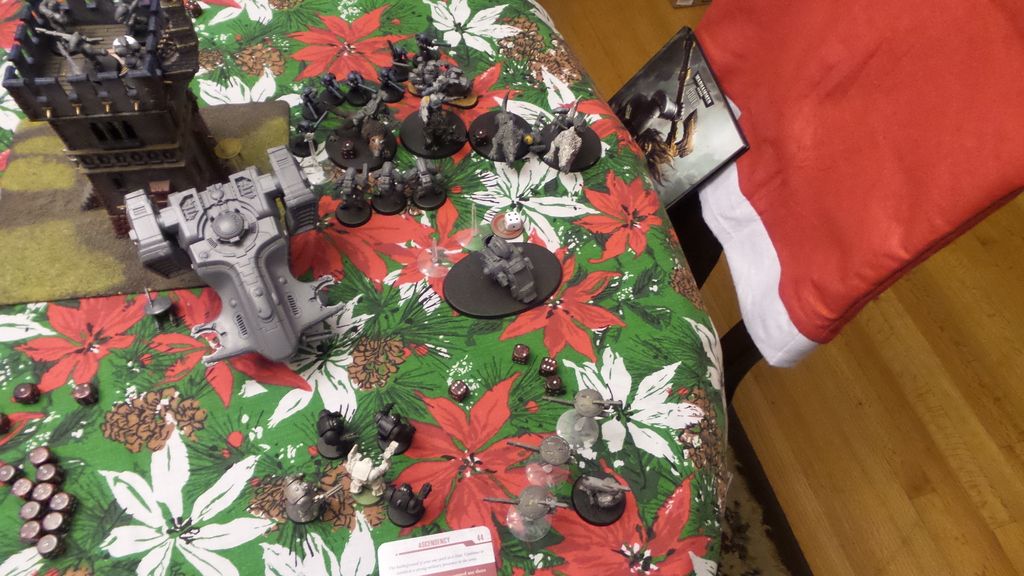 Suicide Squad (Breacher Team) swarm behind the Thunder Wolf Cav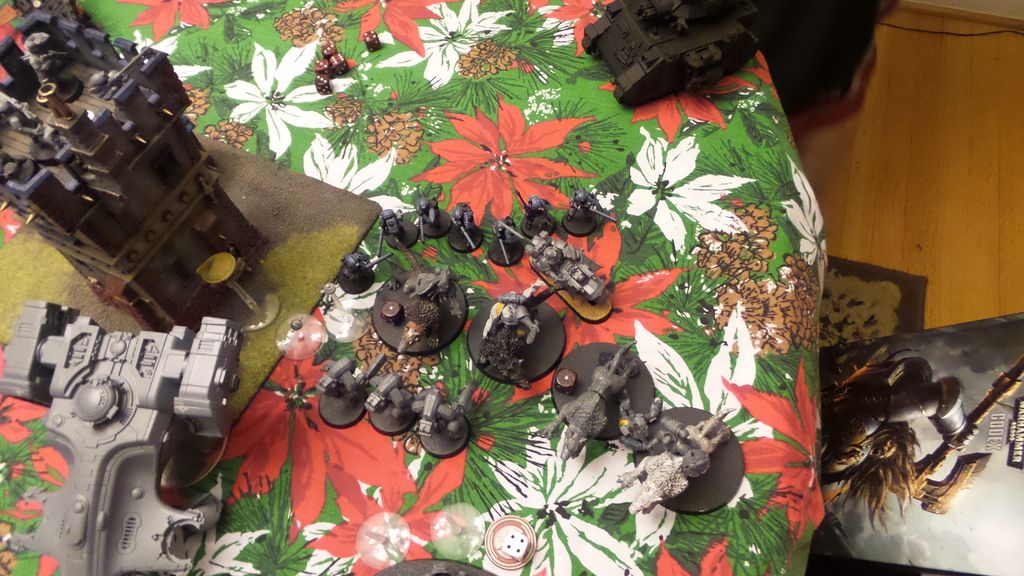 Commander and unit move forward. They take aim at Vindicator and destroy it.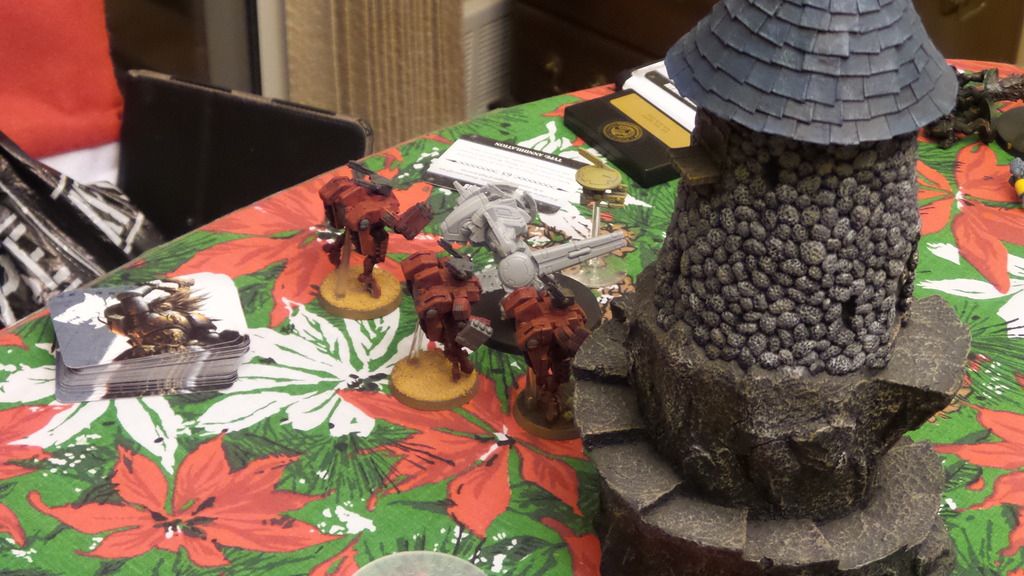 Devilfish moves forward and aims at the Land Speeder. Shockingly the Burst Cannon destroys the Land Speeder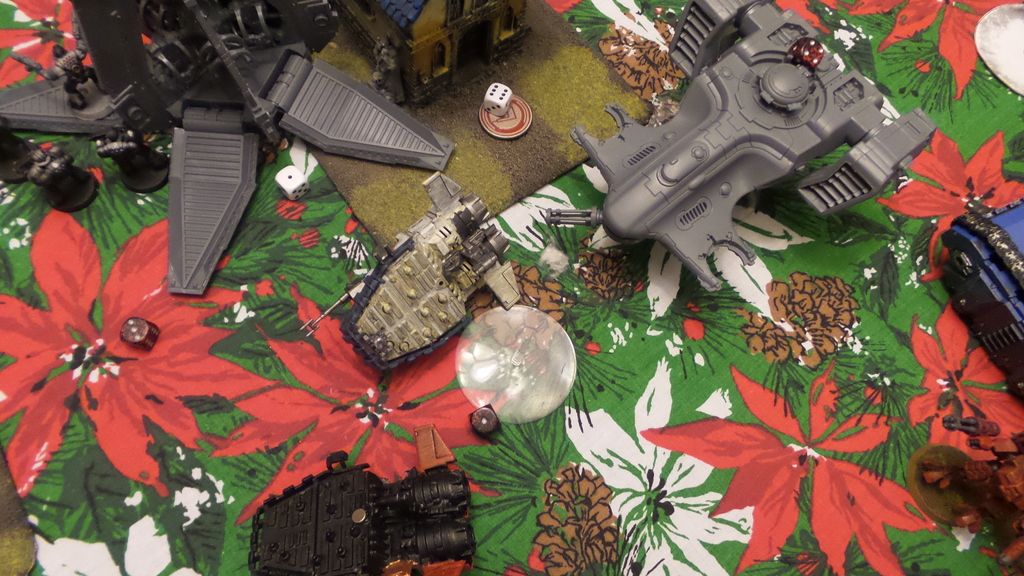 Strike Team shoot the Marines leaving only three Marines left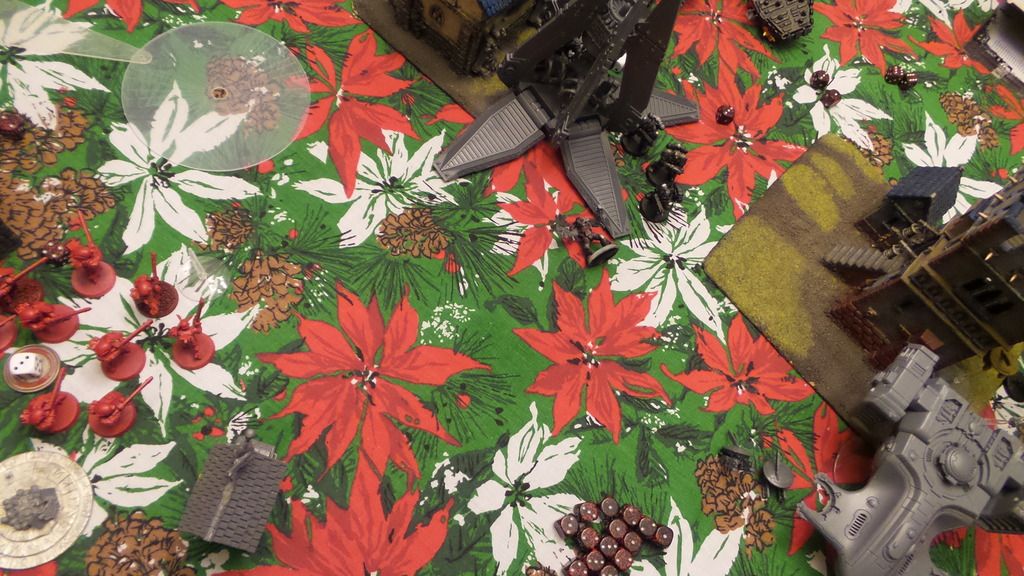 Crisis Team fire at Long Fangs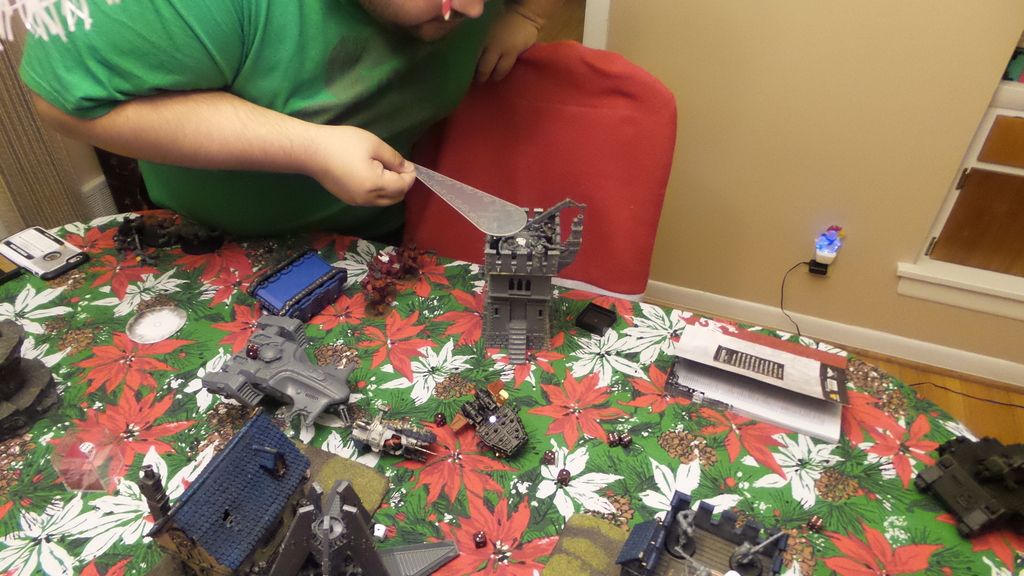 With Flamers and Plasma Rifles the Crisis Team kill all the Long Fangs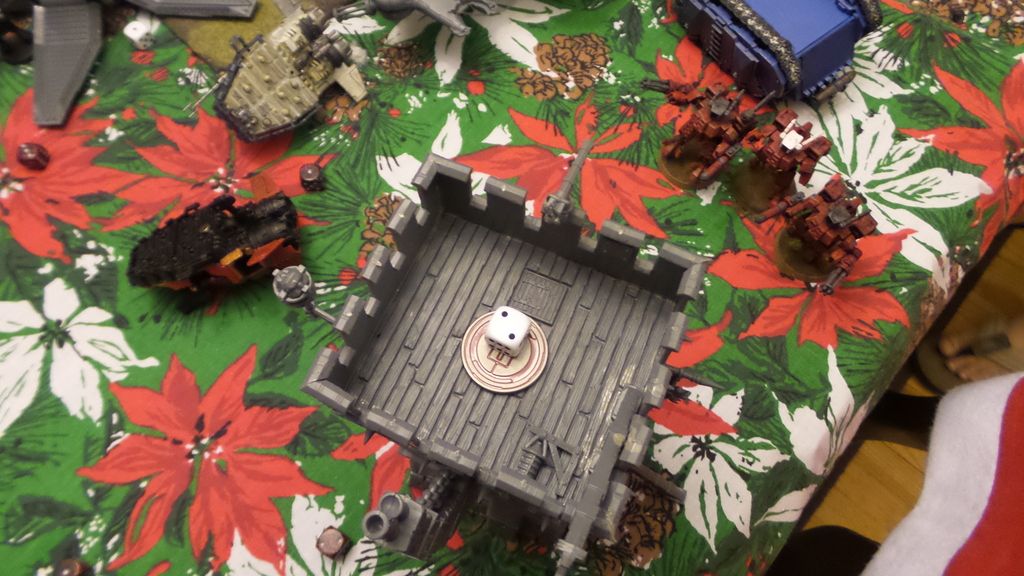 In the Assault Phase the Crisis Team takes the Tower
After the Shooting phase, only one Thunder Wolf remains, along with the Sanguinary Priest and the Wolf Lord. So I took a gamble and charged with the Ghostkeel...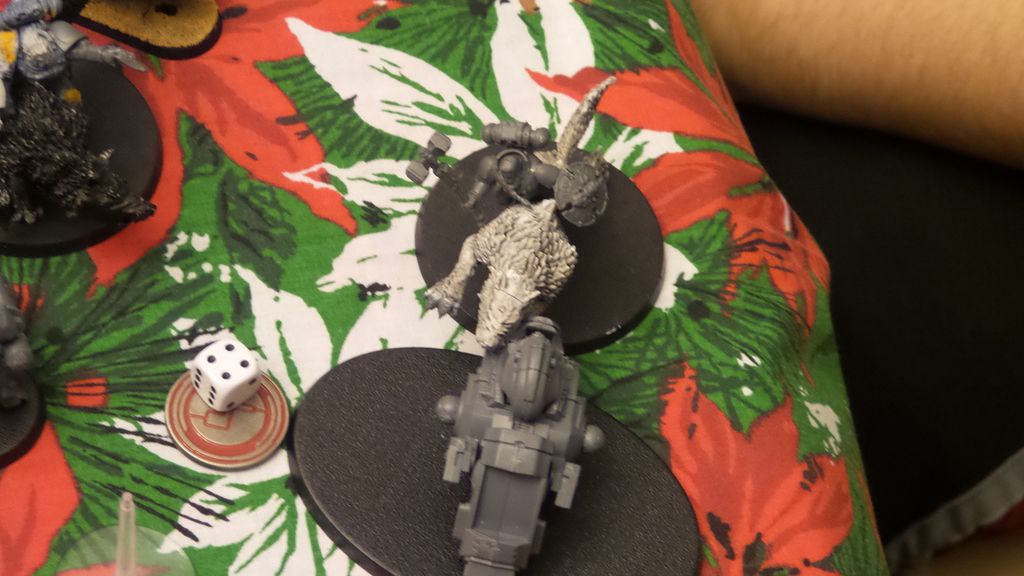 The Commander and his team move forward in the Assault phase. End of Tau Turn.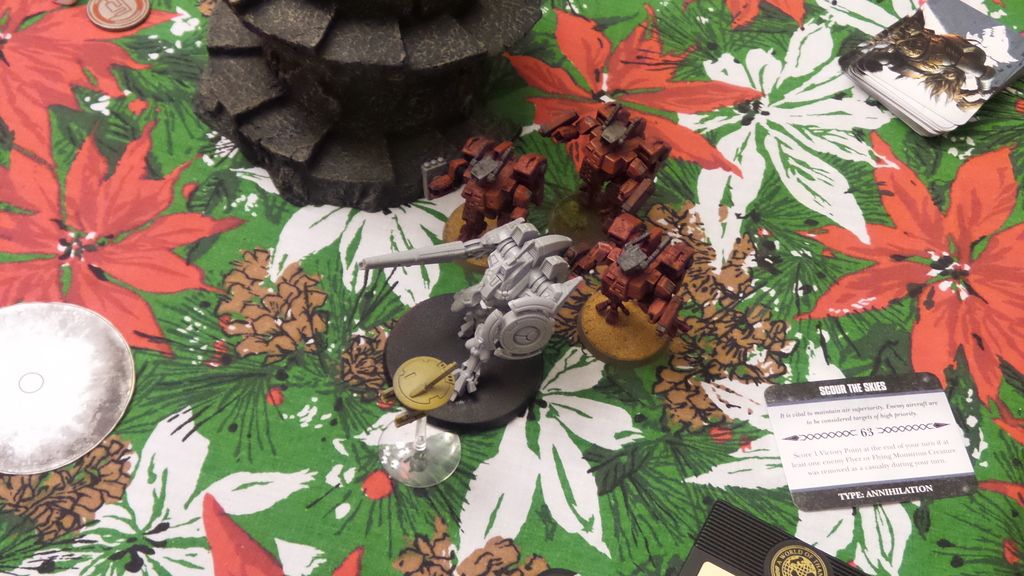 Marine Turn. Marines move forward and shoot at the Strike Team, killing one...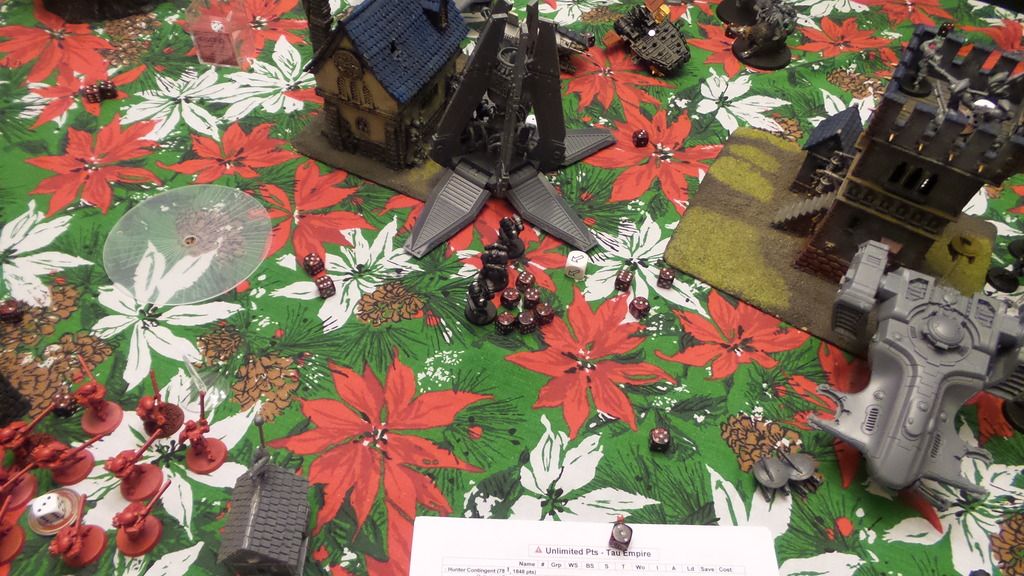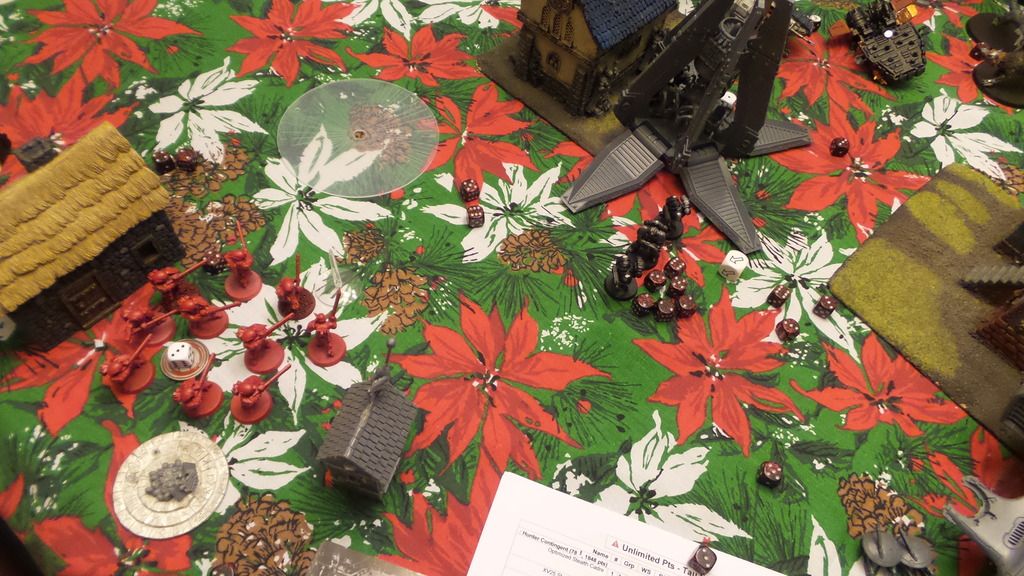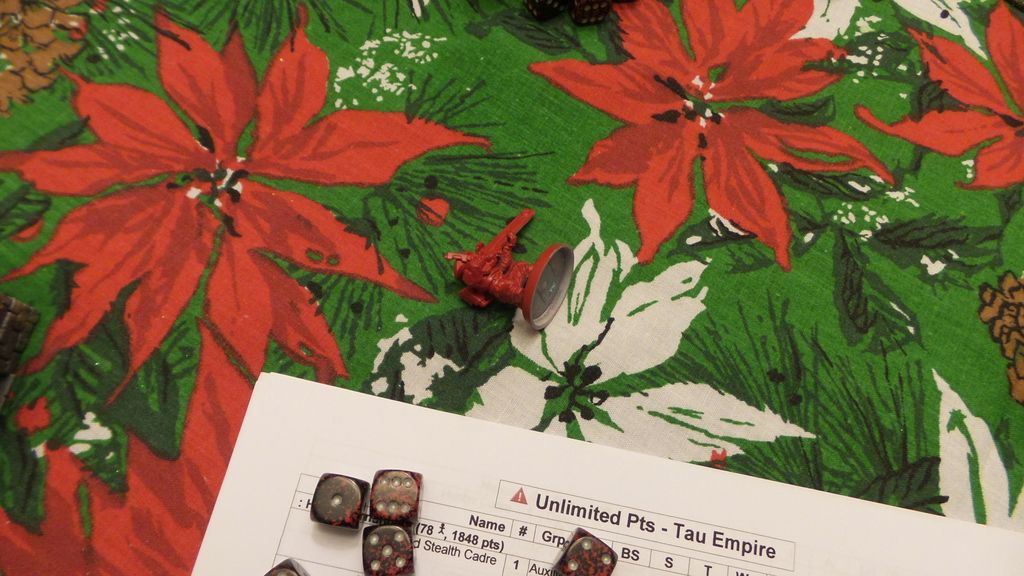 Predator shoots Breachers and kills one...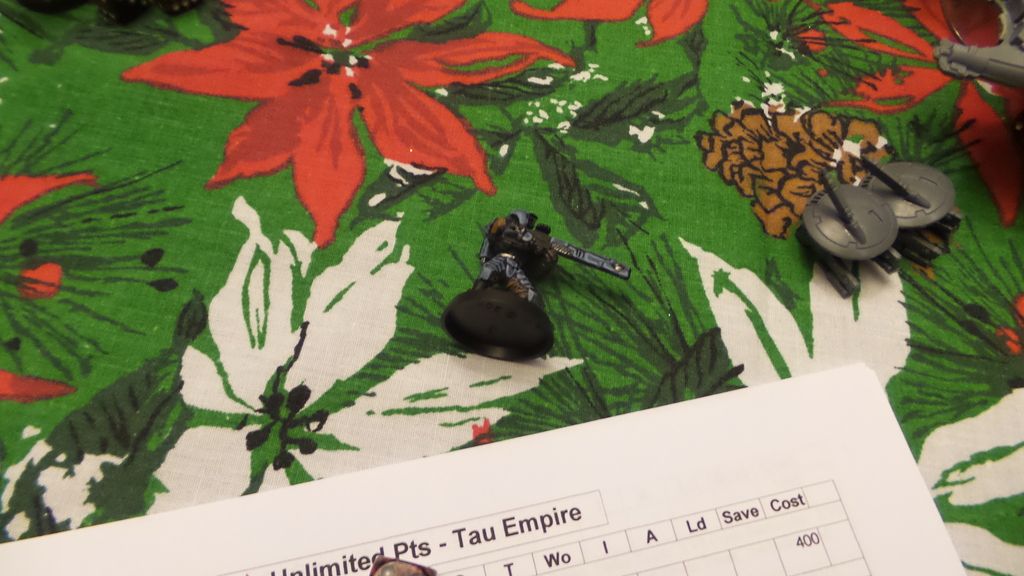 Terminators shoot and kill one Stealth Suit.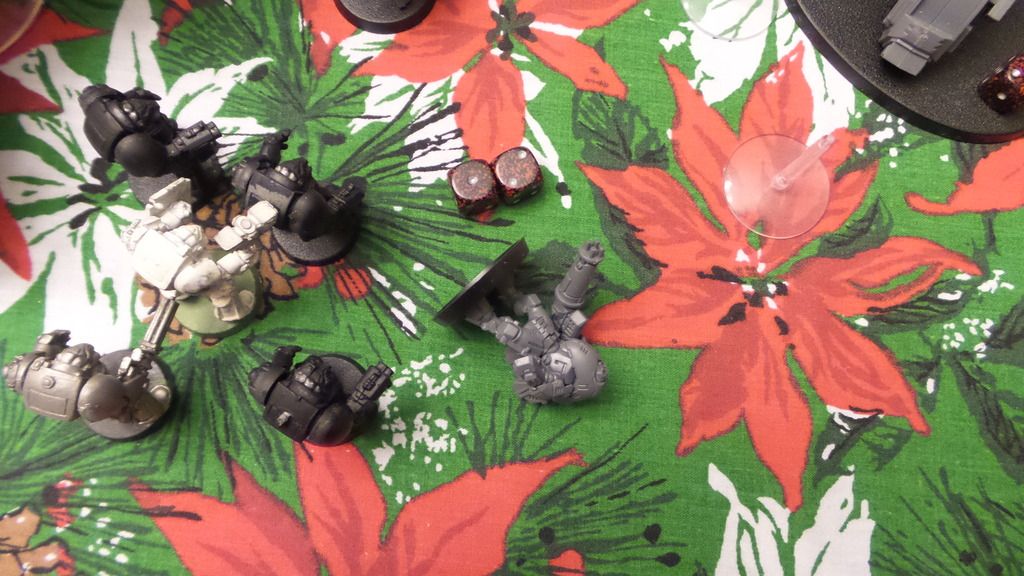 Termintors then charge the Stealth Suits. Overwatch kills two of them. But they then wipe out the Stealth Suits.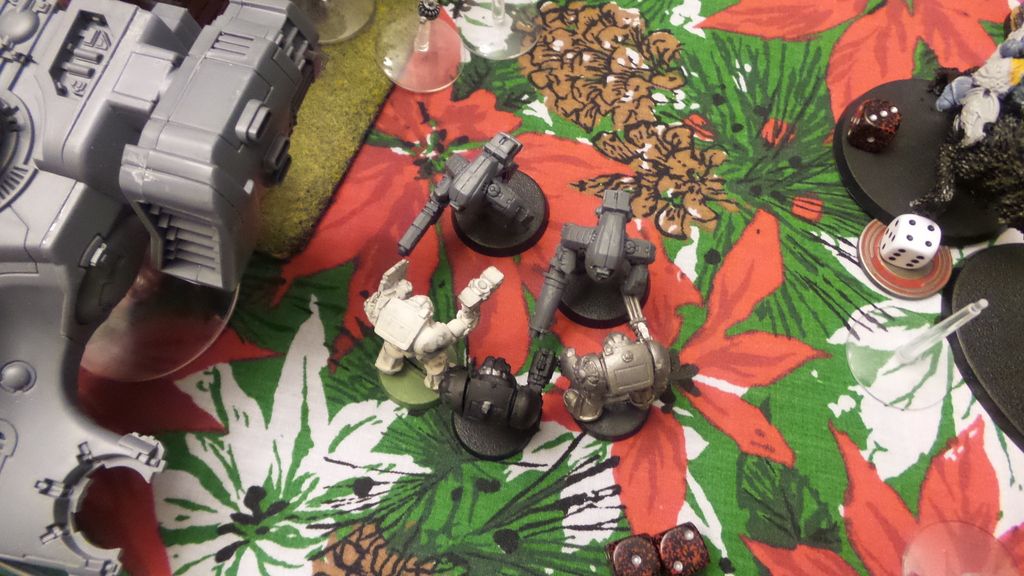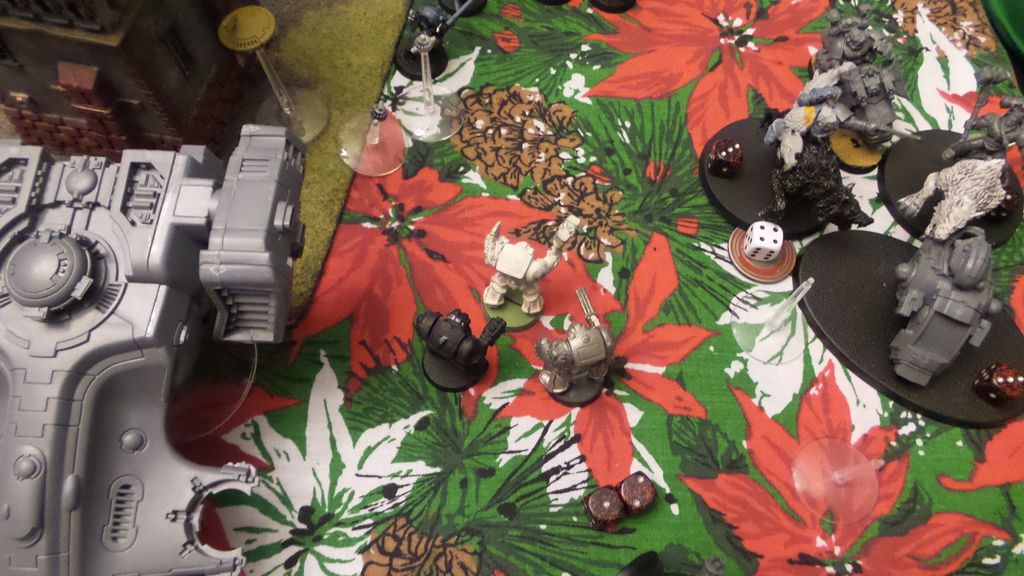 Ghostkeel kills the last Thunder Wolf Cav, leaving just the characters. Characters strike the Ghostkeel but fail to do damage. End of Marine turn.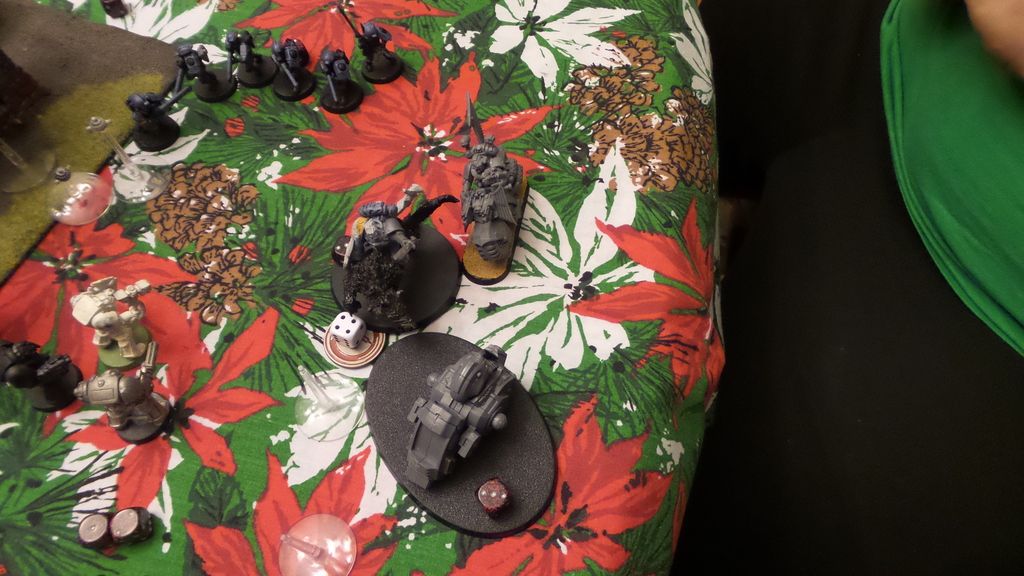 Tau Turn. Strike Team lines up to kill the Marines. The kill two. Leaving one who panics and flees.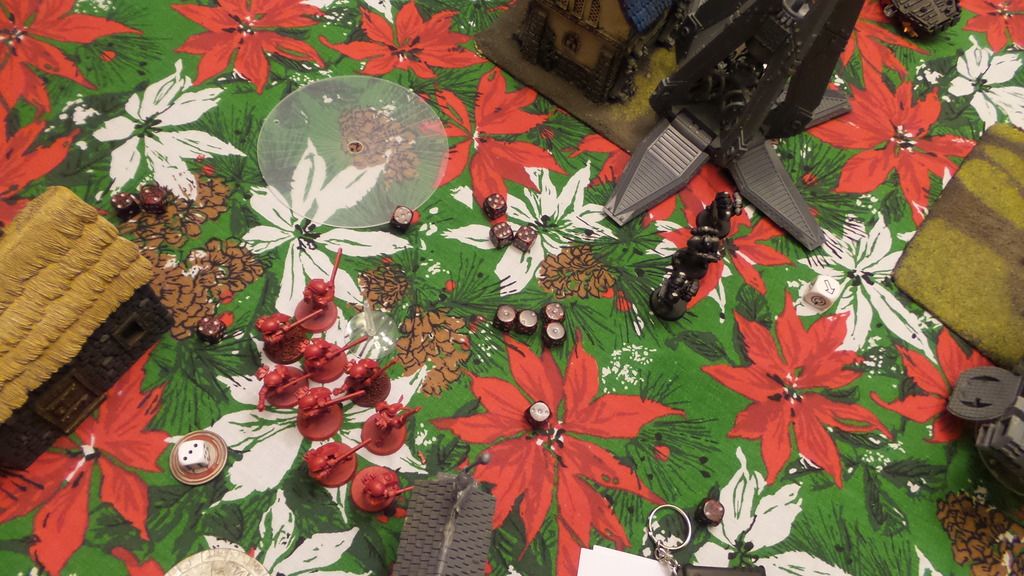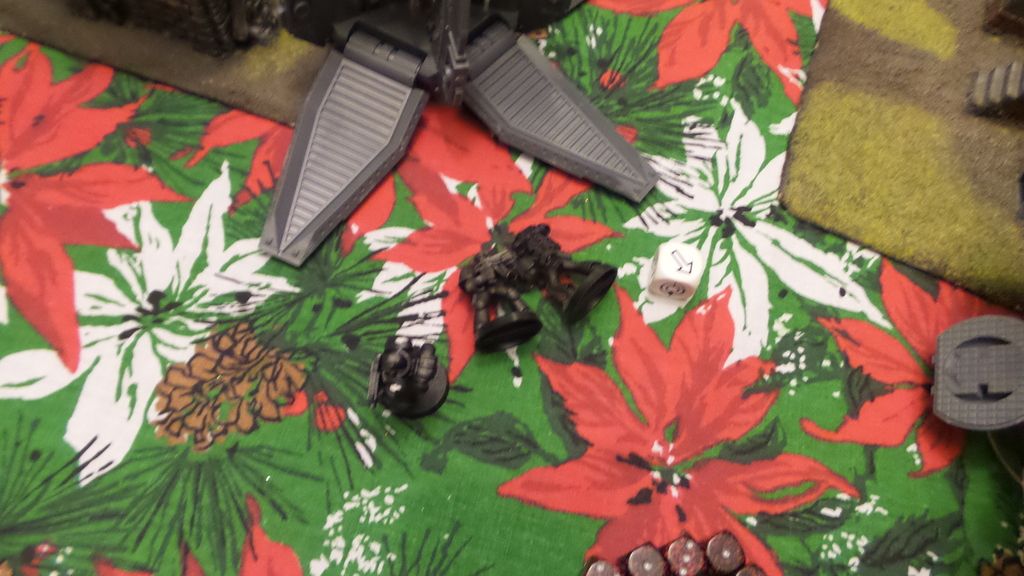 Breachers move forward, kill the rest of the Terminators
Commander and unit move forward. Only Shi'urvali is in range, and so he takes aim at the Predator.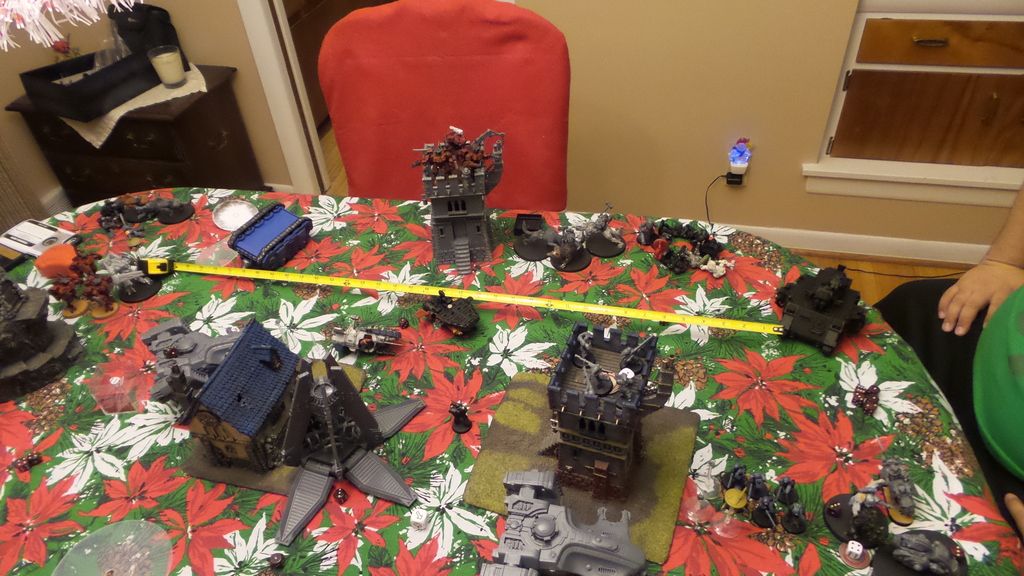 O'Shiurvali destroys the Baal Predator tank, causing the tank to explode into pieces.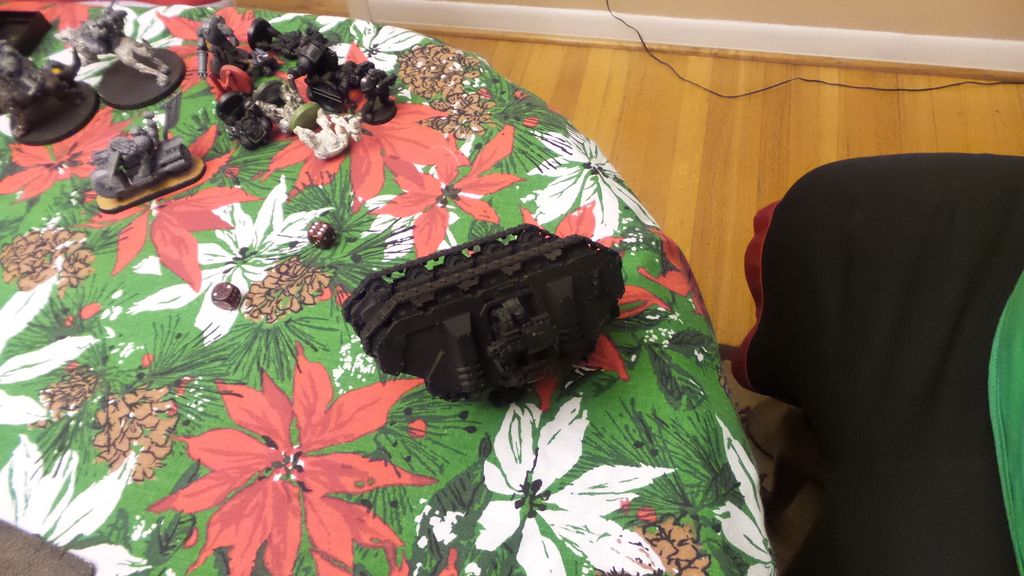 Ghostkeel kills the Priest but is damaged by the Wolf Lord in return.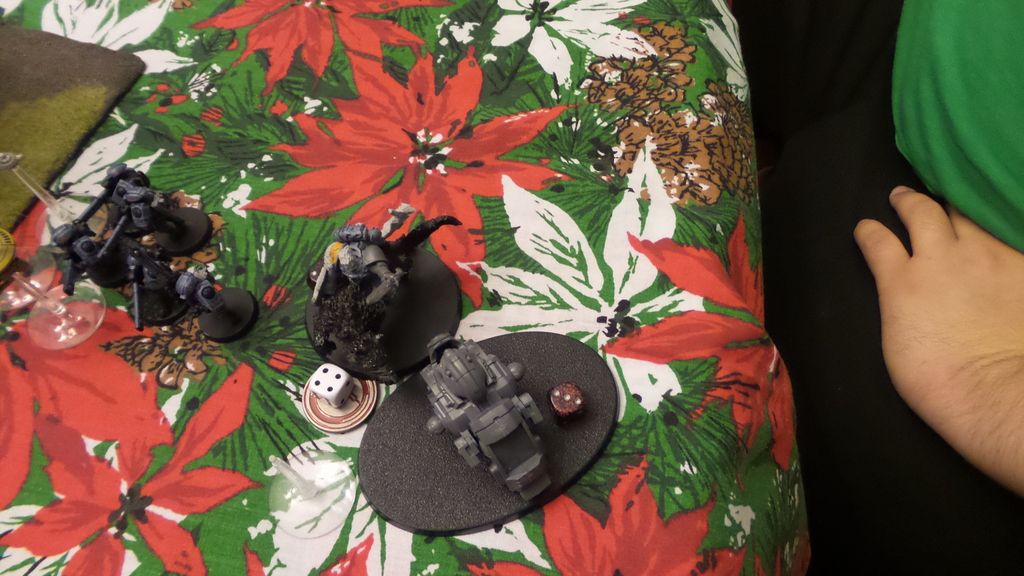 Marine Turn. Lone Marine rallies and kills one Breacher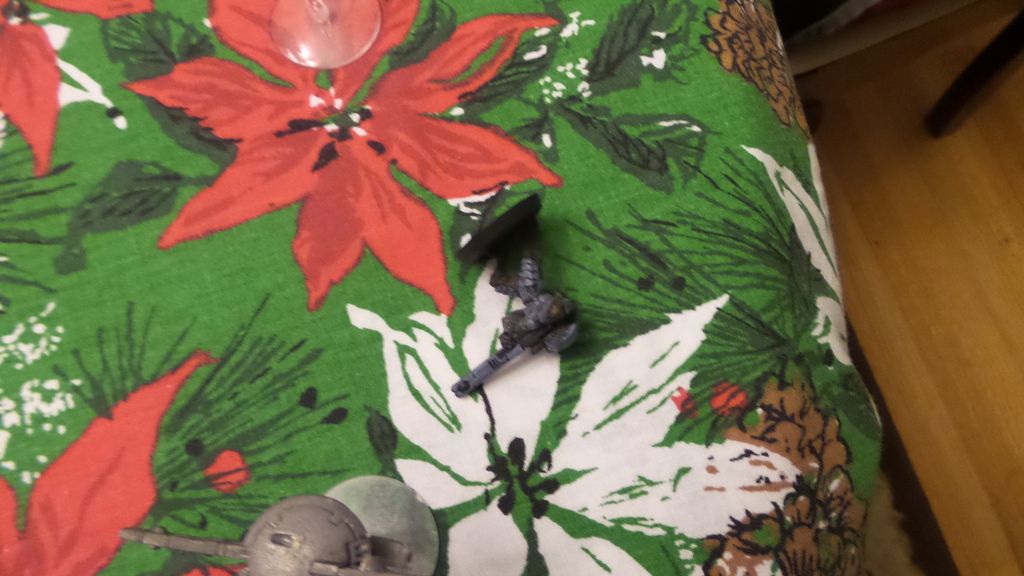 Ghostkeel is taken down to his last wound, but he manages to bring down the Wolf Lord. End of Marine Turn.
Commander moves into range and kills final Marine. End of Game.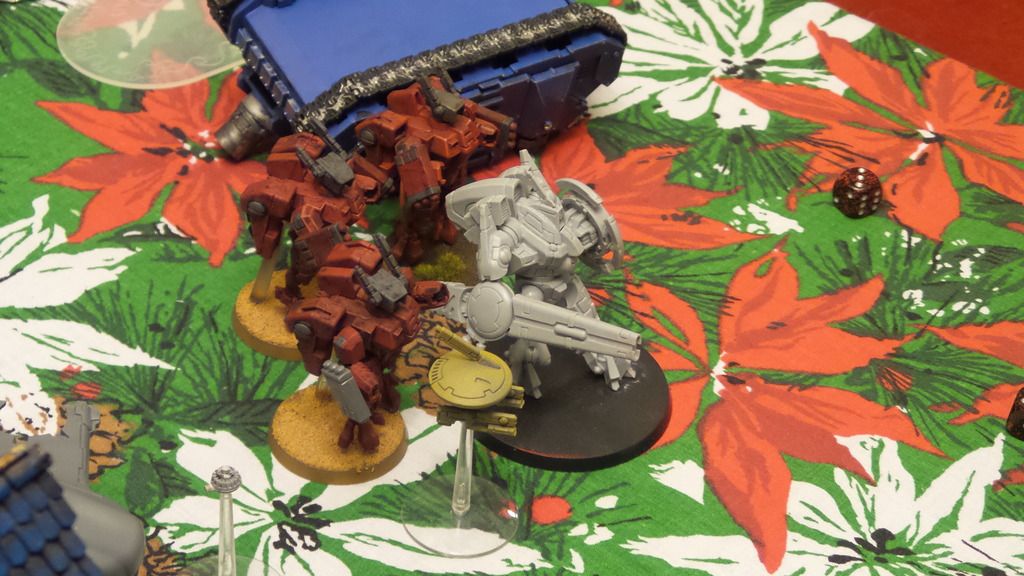 What did I learn?
Tau shooting is powerful. Ghostkeels are actually very good in combat if the right combo is taken. Crisis Suits are fantastic. Breacher teams can be devastating.
Storm Shields are very powerful. Thunder Wolf Cav are terrifying.
Blast Weapons (like the cannon on the Vindicator, or Plasma Cannons) are too unreliable.
My opponent took the wrong Tank combos.
Stealth Teams are weaker than I had hoped they would be.
Taking risks can indeed pay off.
Mistakes and so forth.
I thought the Ghostkeel had an invulnerable save, my opponent did too...so that was our mistake.
Both Crisis Teams should have Deep Struck. But it did turn out okay in the end I guess.
Forgot Coordinated Fire multiple times.