[I am going to build this post up over a few days and am hoping the TO can explain the tournament result to me as being the only 5-0 player I thought I had won it]
So me and my son went to the Torrent of War GT in Cardiff, an ITC rules tournament with some tweaks to the scenarios. The one very noticeable tweak was that from the list of secondaries each player could choose the ones they wanted to play for each game - I think that is an excellent idea and creates interesting asymmetry in the game.
Game 1 vs Ben with Space Wolves plus Imperial Knight
Cleanse and Control and Dawn of War deployment.
So the Space Wolf list had 2 units of Thunder Wolves, one with Harald Deathwolf. It had a fully kitted unit of Grey Hunters with Ulrik the Slayer. He had a venerable dreadnought in a drop pod with axe and shield and a Stormfang with an iron priest in it. The knight was an Errant with an icarus autocannon on top.
I deployed mostly castled up in my void shield with pathfinders, 2 units of kroot, the flamer crisis and some drones in reserve.
The battle report can be fairly brief. He split his forces into two prongs; Harald with thunderwolves and Knight in one and thunderwolves plus dreadnought in the other. My ghostkeel grabbing objectives drew off his second force so only the first force could try to assault me, the wolves took casualties on the way to killing some kroot and the knight failed a long charge distance. The knight was duly blown up next turn - the explosion scattering 11" onto my riptide and 6'd it out on the D table. The wolves took a hammering in rapid fire range and only the HQ was left to kill a broadside on turn 3 before being finished off. Meanwhile I used the pathfinders recon drone to bring kroot on his back line and started killing off his backfield troops forcing his other cavalry back to try to hold at least some objectives. The flyer came in and tried to hold off the impending death of his Grey Hunters but on my next turn fell victim to the skyray. I finished off his troops and last HQ and jet-pack moved onto enough objectives to win the game 17-3.
The run and shoot from Ambushes and Feints was key to taking down that knight so easily, along with the Killing Blow re-rolls. Yet again my krootox kill a Knight!
Game 2 vs My son with his Tau/Eldar list.
Relic mission on Hammer and Anvil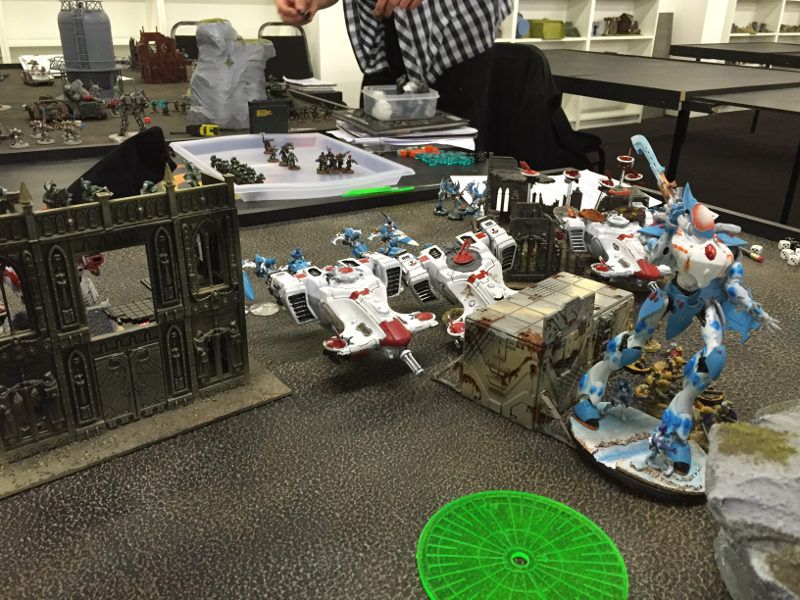 Straight up I was disappointed to be facing my son - who wants to go all the way to a tournament for a game they could have on the kitchen table at home?
I will let him post his army list when he writes up his own reports; he has a devilfish/firewarrior heavy tau contingent with classic scatterbike/wraithknight/swooping hawk eldar contingent. He has the tools to hurt me and when we play it is the most even of matches.
The long and the short of it is that Relic is the mission I am most comfortable with; as usual my infiltrating kroot burgle the relic turn 1 and pass it back to the ghostkeel who plays keep-away with it for the rest of the game. I focus fire on the devilfish because I know the combination of wraithknight to knock down my castle walls and massed firewarriors with so much as a single toe inside my void shield line is game over for me. Hammer and Anvil really helps me on this. I get ahead on maelstrom with some luck on my side and desperately hang on to the relic - it is as close as him falling 1" short on his last turn run move with the wraithknight to grab it. He wins 6/4 on secondaries but with the winner takes all format of the maelstrom it gets turned into a pretty comfortable win for the carnivores over the tau.
I have to put in a mention for the ghostkeel here because with normal move, Ambushes & Feints and then Jet-pack move it can keep that relic moving pretty fast to avoid assault and its not exactly an easy thing to stop with shooting.
Game 3 vs Drew with his Iron Hands space marines
Big Guns on Vanguard Strike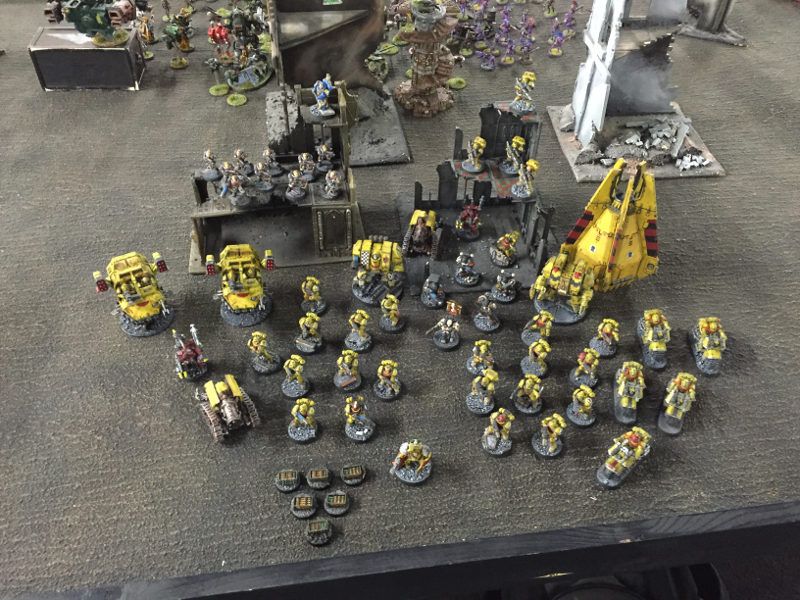 Drew had a list with lots of really strong shooting and two of the dreaded thunderfire cannon - certainly dreaded by my kroot. I decided to use the Vanguard Strike to go full ninja-kroot on him and scouted my pathfinders with the recon drone into a corner, this also gave me a standing start on the objectives with 4 from the start. A slow chess-like game commenced, my turn 1 shooting took out a tactical squad and careful placement of the riptide ion blast clipped and killed two grav bikers without letting them jink. He dropped an ironclad dreadnought in my face and his bikers tried to clear out some kroot screening my pathfinders, kroot love seeing expensive grav guns wasted on them. His heavy weapons took out my void shield but he tried to snipe out my commander with the barrage without success. I then spend unbelievable amounts of shooting to kill his ironclad but massed outflank onto his table edge began to do its job of forcing him to turn around to secure his back lines rather than be able to clear me off objectives. The game was slow and purposeful and ended at the bottom of turn 3 with me picking up maelstrom and maximum secondaries for the win, we tied primary on not much each. Oh yes, somewhere in there he brought a flyer on; the skyray took it off again. Bringing a single flyer against a list with a skyray is not good. Double oh yeah; he also had legion of the damned loaded with special and heavy weapons; they came, the drones intercepted, they went back in the box.
Although he was hugely concerned about the void shield it went down quickly and did not come back which is pretty normal against strong shooting. The outflanking nonsense is what seemed to derail his plans.
Game 4 vs Andy with Raven Guard and Ultramarines
Ambassador mission on Hammer and Anvil
The ambassador mission is a 'protect the civilian' idea but although I like the core idea it was too easy to keep him alive short of being tabled making this a very draw-ish scenario.
No pictures. I could say that this was because it was a mad rush between games (it was, uncomfortably so). If I am honest it is because after 2.5 hours of staring at identically painted marines trying to work out which contingent is which, which rhino is which I really just did not want to have to look at them again for even a moment. Having multiple contingents and chapters but with everyone painted exactly the same is something I really do not like, I spent the entire game confused. The confusion turned into distinct unfair advantage for Andy at the end, we have cleared this up and he has apologized for mis-assigning rules to models that did not have them (yes they were so identical that even he mixed up the contingents) so that is that.
So his list is a version of one that got people excited when Kauyon came out. A fairly bare-bones Demi-Company within a Talon Strike force with the only real upgrades being rhinos and a load of melta on the command squad in a drop pod. Then he has Shadowstrike kill team with a full strength highly kitted out vanguard squad with 3 minimal scout squads. Finally he has an ultramarines Skyhammer Annihilation force, just 5-man assault squads but the devastators fully loaded for bear with multi-melta and grav cannon. This thing is going to come down hard on turn one with immediate assault, crazy-powerful pinning-overwatch-denying rules and all-around alpha-strike impact.
He gets me to go first (surprise) and I castle up knowing what is coming. We infiltrate a little bit and I leave one kroot squad hanging out in cover on an objective. First turn I kill some scouts and objective secured kroot move up to prevent his pods landing on a third objective. Then his reserves come in. This takes a very long time but at the end of all this all but one squad of Vanguard land pretty much on target. Then i roll interceptor, this if anything takes even longer but at the end of it his command squad is gone, one melta squad is shattered and the last man falling back and everything else has lost one or two guys - but he managed to make all 6 or 7 pinning checks so that part of my plan did not work out. He no longer has the guns to drop my void shields so his grav cannon are reduced to plinking at kroot in cover then he charges. The vanguards die to overwatch, one assault squad kills a single kroot hound the other kills a gun drone unit.
My turn 2 shooting is a lot shorter(!) but I whittle him down some more with rapid firing kroot and scoot my piranha out with Ambushes and Feints to wreck the rhino the ambassador is in. My flamer crisis drops down next to some backfield scouts and under-performs to kill just one of them. My ghostkeel counter-assaults one assault squad and kills them off, the kroot unit are locked with 2 surviving assault marines. His turn 2 shooting is aneamic and kills a handful of kroot, the two assault marines and kroot kill one each to tie the combat and stay locked. A whole bunch of marines jump out and kill my flamer crisis. His remaining vanguard try to come in really hot, mishap and I stick them in the far corner.
Turn 3 we are running out of time so I begin my counter-attack but it is not going to matter because I only get one turn of being mobile. My last outflankers still do not come in. Shooting takes out more of his stuff and I try to join my ghostkeel to the ongoing assault but the TO rules it impossible so I miss my turn completely with the ghostkeel. The ongoing assault is inconclusive and the assault marine uses a Raven Guard rule to escape combat - this was the rules issue I mentioned above as the Assault Marines were Ultramarines so clearly did not have this special rule. Well clearly except it was just another identical red dude to all the other red dudes. He then tank-shocks through where his assault marine should still have been to grab linebreaker (2vp) and deny me the chance of 2vp had I killed that marine. The piranha in his backfield gets glanced to death.
The primary was a bit of a wash - he played shell games between identical looking rhinos while mine stood pulling faces at him with Aun Kurtz from inside my void shield. I cleaned up on maelstrom and lost out slightly (and annoyingly) on secondaries. A reasonably comfortable win against a list that I believe pretty much smashed face against everyone else all weekend.
I designed the list to do exactly what it did here. If I had managed to go a couple more turns I had a huge advantage having lost the grand total of: 10 kroot, one useless flamer crisis, one minimum gun drone squad and the piranha (sacrificed in the hope of linebreaker really as it was obviously last turn). While he had a lot of dudes left they were mostly the ones with no upgrades and I love nothing more than rampaging my monstrous creatures through armies that no longer have grav/melta/anything to hurt them. The star of this show was the fundamental list design and the synergies in it.
Game 5 vs Drew with his Iron Hands space marines. Again.
Neither of us wanted a rematch but that is what the TO told us to go and do. Some scenario with objectives and 'kill the fast attack' primaries.
I was really not in the mood to play basically the same game as we had gone through just 2 games ago. I apologise to Drew (should he ever read this) for being so very obviously bored and uninterested in this game.
I deployed. By which I mean I put some models on the table because I had to. But this is the worst, most uncaring deployment I have ever done. Not surprisingly Drew out-infiltrated me to have a head-start on objectives.
Turn 1 I went through the motions of killing off most of his long-range firepower. He replied by killing a few kroot and dropping that Ironclad dreadnought in my face again.
Turn 2 my riptide nova-charged its fusion blasters and swatted the Ironclad away. Some kroot came in but not in any sort of thoughtful focused attack and they did not achieve much. I shot out one land speeder with krootox and probably some more stuff that I do not recall. Drew then spend a looong time on turn 2, for the first time ever I had to ask an opponent to please get a move on as his indecision got a little out of hand. His legion of the damned came in, the ghostkeel and some drones sent them back into the box with interceptor fire. He assaulted 3 of my kroot units, killing the two outflanking scavenger units but the big game hunters had supporting fire and some bikers died in the failed attempt. His flyer came in and killed a kroot.
Turn 3 I was actually a bit annoyed and started actually trying to pull the game back. The skyray swatted out his flyer. The commander and friends finished off the bikers and the riptide finished off the last landspeeder. The flamer crisis dropped, scattered to the wrong place and killed 2 marines - best of the day but still ineffective other than being another body in his backfield for linebreaker. I tried to clear him off an objective but my Broadsides under-performed for the first time all weekend and the ghostkeel failed a 9" charge. Killing all his fast attack and earning a couple of maelstrom put me in a lead. Drew pulled back a couple of VP with 'last laugh' killing my flamer crisis but did not have quite enough steam to either clear out my other linebreakers or finish off the unit he had Marked for Death.
A 9-8 win. Total duffer of this game was me. I will post later on my feelings about the whole experience but what I most wanted was to meet and play against lots of new and different opponents. It is certainly not Drew's fault that I was disappointed and fed up and I hope he understood that.
So there we have it 5-0 to the Apocalypse Kroot even when their (in)glorious leader goes mentally AWOL for most of a game.
Painting contest. A couple of those pictures above were taken during the painting competition between games 4 and 5. For those of us with long and/or slow game 4 it was a mighty rush to get the models onto trays and back out on display. For fools like me with 100 models to move it barely left time to grab a bite to eat. Some really nice stuff here, I managed to get 3rd place so some people appreciate my efforts even if the skill does not always match the ambition.
A brief unit analysis. To describe how the list works as a whole will take longer and is almost an essay on how to build your army around a unit - kroot - that his such strong limitations and weaknesses so that the whole is stronger than the sum of its parts.
If all of the following seems too much of a rosy view remember that this is review of units that went 5-0. Not surprisingly I am far from unhappy with how the list worked.
Let us start with the outstanding units for good and bad. update part 1.
Flamer Crisis with 2 gun drones. Total epic failure all weekend. Basically a source of comedy pratfalls in game after game.
Game one - drop in, kill one marine. Die
Game two - drop in, do nothing, die
Game three - drop in, mishap, go for a long walk from the opposite table corner
Game four - drop in, kill one scout, die
Game five - drop in, kill two marines but in an irrelevant unit due to the scatter, then die
I have been using slight variations on this unit for a year, it has never let me down this badly but luck is luck.
Void shield generator
If there is one thing that will leave painful memories for a string of defeated opponents it is this stationary piece of scenery that never kills anything. If you are going to go 5-0 in a GT you need something special somewhere in your list and this was it. When combined with a list of this type the VSG is 100% certified high quality cave matured hard cheddar cheese. Near-indestructible kroot conga lines grinning at opponents from the objectives they are holding were very much a feature of the weekend.
The VSG is so good that I have decided that it is simply unfair to use in any form of casual or fun game. This one is purely for full-on competitive tournament play.
So after the VSG let us look at the other two main pillars of the army list
Aun'Va
He hides out of sight seemingly doing nothing. Nobody paid him any attention because I have so much else going on in their faces. Meanwhile he fixed the terrible morale problems that a kroot army has. The Ethereal buffs are nice enough but I took him to fix my morale and for his very reasonable cost in points that is exactly what he did all weekend. Table-wide re-rolls, that is what he was for and that is what he gives.
Kroot
The backbone of the list, the dominant feature of how the list works and the tricks it pulls on opponents. Also by far the major scorers of objectives. Sometimes mere disposable distraction, sometimes unexpected threat, always flexible and adaptable with their inflitrate and adeptness at moving through cover. When properly supported by a list built around their weaknesses and strengths kroot are really hard to deal with and over 5 games nobody did - or at least not enough to stop me winning. The krootox (like the broadsides to be mentioned later) just sat there spitting out damage every turn of every game all weekend picking off targets that needed to be gone or hammering opponents that had come too close up to and including an Imperial Knight. I never met the lists that require the krootox to outflank but I had that trick in my pocket waiting if I needed it.
The enormous downside to kroot is also their greatest strength: their sheer numbers. The time limitations in a tournament setting and kroot do not go together well at all.
Unit analysis part 2 - the gunline
So as a piece of background the Kauyon principle of how the list usually plays works because whether or not my opponent wants to walk into my trap the combination of infiltrating kroot holding objectives and a Tau gunline behind a void shield gives them no realistic alternative. Few armies can outshoot a Tau gunline that has the advantage of the VSG, all those that cannot can either sit back and lose without trying or walk into the Kauyon trap.
The key thing here is that opponents do not walk into my trap because they make a mistake, they do it because the alternative is to get slowly shot off the table while watching me sit on the objectives racking up the win on both primary and maelstrom.
Riptide
Died to a freak scattering Knight explosion in game 1 but otherwise always performed just as we all know Riptides perform. Excellently. With ample markerlight support when it needed it and great range on the ion accelerator to win the long range shooting war this is an essential part of how the list works. Oh and its a pretty good centrepiece model too.
Ghostkeel
This made it into the list mostly on modelling and thematic grounds, I had another variation of the list without it that is almost certainly stronger but visually I was not happy enough with that list. It is a good unit but it does not really add anything unique that the list needs, its firepower adds redundancy to what I already have plenty of and could get cheaper elsewhere with other models I own.
Even so the ghostkeel was a solid enough performer and its reputation clearly precedes it because the only units to apparently target it all weekend were the Legion of the Damned with their Ignores Cover weapons. It acted as a junior riptide in places doing the Relic and counter-charge duties freeing up the big guy to concentrate on positioning for shooting.
Skyray
Sat on top of my VSG model for maximum field of fire and either launched a punishing long range strike against a priority target or waited for a flyer to come on in order to swat it straight back off the table again. When combined with the Killing Blow rule those seeker missiles get mighty work done. The SMS consistently chipped wounds off units, it is one of the best weapons in the codex in my opinion and this is a good platform to take it on.
Also a handy supply of extra markerlights, durable and pretty reliable.
Broadsides
My two conversions are so different I just had to take both. I never had the slightest reason to regret it as they consistently picked off vehicles or just forced save upon save on enemy infantry. In both interceptor and overwatch they are a powerhouse unit. My old problems with broadsides are almost entirely fixed by the Ambushes and Feints rule - it lets them shuffle around the terrain they are sitting in to get line of sight without then having to fire snapshots. The missile drones contribute strong firepower and just make a good unit better.
Running them in minimal units makes them easy to hide and unrewarding for opponents to dedicate serious resources to removing. Only one unit was destroyed all weekend.
Mark'O and marker drones
This is what elevates Tau above the mere wielders of firepower into the precision-targetting removers of key threats that they need to be. The marker drone squadron has been good for a long time but taking it in the drone net formation adds a sparkle of magic that is devastating when you want it. In game 4 the ability to put my Ion blast exactly where I want it, ignoring cover and re-rolling the gets hot instantly removed any hope my opponent had of dropping the void shield. Meanwhile the Split Fire rule let my commander pick off other priority targets. It might seem that the Split Fire rule only saves me the 5 points for a target lock but much more importantly it freed up space for an EWO.
For parts of some games the commander just hid out of sight remote-controlling his drones the other side of a wall. It is hard to kill a warlord who is out of sight behind the multi-layered defences of kroot, drones and void shields and despite attempts nobody took a single wound off him all weekend.
Part 3, the utility all-rounders.
I am always happy to dedicate a few points to all-round utility units that may not be the most points-efficient thing at any one job but by their flexibility give me redundancy in many areas. This redundancy is not just against losses but also in positioning. Positioning a drop-pod or charge attempt to avoid the twin-linked fire of a couple of broadsides is possible for a clever opponent, having multiple gun drone units that can fill in for the same role makes that task exponentially harder.
Gun drones
The drone net formation has transformed gun-drones from an also-ran choice to a strong choice for competitive play. Twin-linked BS3 is pretty good and that base S5 AP5 profile will consistently force enough saves that you can be sure models will be getting removed. Interceptor is the single best rule they could have been given and in a massed assault out of reserves you need every interceptor shot you can get. In other games they intercepted lesser attacks out of reserves such as the Legion of the Damned freeing up the broadsides to hit other targets better suited to their S7 main guns. Sometimes they had to be sacrificed as extra screening units against charges but they are a cheap MSU choice and even when making a suicidal stand their overwatch remains solidly worthwhile.
Pathfinders
Taken as much for the Recon Drone as anything else they switched role from game to game. Sometimes outflank enablers, in other games simple extra pulse firepower and at time a couple of extra markerlights where I needed them. I never faced Necrons so never needed the blind grenades but they were there if I wanted.
A small unit like this in a huge sprawling army dominating much of the table is easily overlooked and this is pretty much what happened. I did not pay the extra point each to put them in the Hunter Cadre which was probably a mistake, the Ambushes and Feints rule would have helped them as much as it did the broadsides when in their conventional support role.
Piranha
This has replaced the flamer crisis unit in my heart as favourite "aha, surprise!" unit in my collection. With Ambushes and Feints it dashes out 30" and delivers those seeker missiles just where an opponent thought he was safe. It also either scored linebreaker or drew fire away from the linebreaker in 3 games - which probably made it point for point one of the most productive VP winning things in my list.
It does tend to die a lot. But it's cheap and that is OK. It never died before it got work done.