Hi
Got back last night from Caledonian Uprising held in Stockport at the weekend, and had a blast. For those that don't know its an 1850 event that is viewed as one of the most competitive events in the UK. It was limited to two sources, but for instance the Hunter Contingent and other such formations like Craftworld, Decurion etc counted as 2 despite their auxillary options.
Travelled down from Scotland with a bunch of the guys, though perhaps a smaller bunch than we've had in recent years. I also happen to know that Commander Skyfall, Krewl and Embrace Your Inner Geek from this forum were there as well, and I had a few drinks with a couple of them.
Without further ado here is the list I used:
++++++++++++++++++++++++++++++++++++++++++++++++++++++++++
TAU EMPIRE - HUNTER CONTINGENT 'SUPER DETACHMENT' (FROM KAUYON) [1850] PTS IN TOTAL
*HUNTER CADRE* [745] PTS IN TOTAL
HQ1: COMMANDER , COMMAND & CONTROL NODE , NEUROWEB SYSTEM JAMMER [2], DRONE CONTROLLER 2, MARKER DRONES, TOTAL - [134] [WARLORD]
TROOPS1: 10 KROOT CARNIVORES [60]
TROOPS 2: 10 KROOT CARNIVORES [60]
TROOPS 3: STRIKE TEAM (5 MAN) [45]
ELITE 1: RIPTIDE, ION ACCELERATOR, EARLY WARNING OVERIDE,FUSION BLASTER, TOTAL [190]
ELITE 2: CRISIS SUIT, FLAMER, FLAMER, TOTAL [32]
FAST ATTACK 1: 4 MARKER DRONES, PLUS 2 EXTRA MARKER DRONE, TOTAL [84]
HEAVY SUPPORT 1: BROADSIDE BATTLESUIT X 2, SMART MISSILE SYSTEM (0), HIGH YIELD MISSILES (O), EARLY WARNING OVERIDE X 2. TOTAL [140]
*OPTIMISED STEALTH CADRE* [635] PTS IN TOTAL
GHOSTKEEL BATTLESUITS X 3 ONE WITH STIMULANT INJECTOR, ONE WITH TWIN LINKED FUSION BLASTER , TWO WITH TWIN LINKED BURST CANNONS, TWO WITH TARGET LOCKS, ALL WITH CYCLIC ION RAKERS (0), SIX MV5 STEALTH DRONES (0) TOTAL [455]
STEALTH SUITS [90]
STEALTH SUITS [90]
*FIREBASE SUPPORT CADRE* [470] PTS IN TOTAL
BROADSIDE BATTLESUIT X 2, SMART MISSILE SYSTEM (0), HIGH YIELD MISSILES (O), EARLY WARNING OVERIDE x 2. TOTAL [140]
BROADSIDE BATTLESUIT X 2, SMART MISSILE SYSTEM (0), HIGH YIELD MISSILES (O), EARLY WARNING OVERIDE X 2. TOTAL [140]
RIPTIDE, ION ACCELERATOR, EARLY WARNING OVERIDE, FUSION BLASTER (0) TOTAL [190]
[1850] PTS
++++++++++++++++++++++++++++++++++++++++
I had some major concerns about this list. Namely - no riptide wing nor stormsurge. Also, most other tau players there seemed to be using the Montka book and I was using Kauyon - was I missing something?? Regardless, I decided to have faith in my main units - namely the OSC Ghostkeels, 3 x 2 XV88's and my pair of Iontides.
Game 1 vs Eldar. Hammer and Anvil deployment, Crusade primary, Maelstrom generated from what objectives you hold (secondary) and kill points tertiary.
Opponents list as follows -
Farseer
Autarch
5 Dscythe wraithguard, serpent with TL bright lance
3 scatter bikes
3 scatter bikes
3 scatter bikes
8 Warp spiders
6 Dark Reapers
6 Dark Reapers
hemlock wraithfighter
2 War Walkers with starcannons
DE allies
Archon with armour of misery, shadowfield, webway portal
5 kabalite warriors
Some pics of set up and action as it progressed: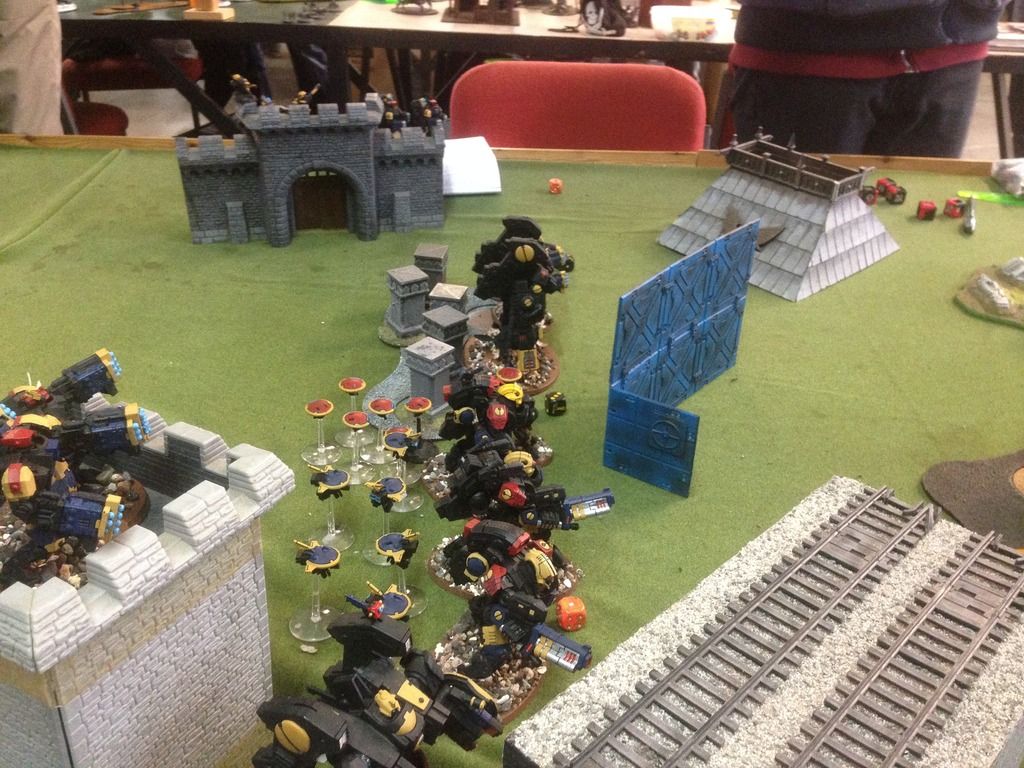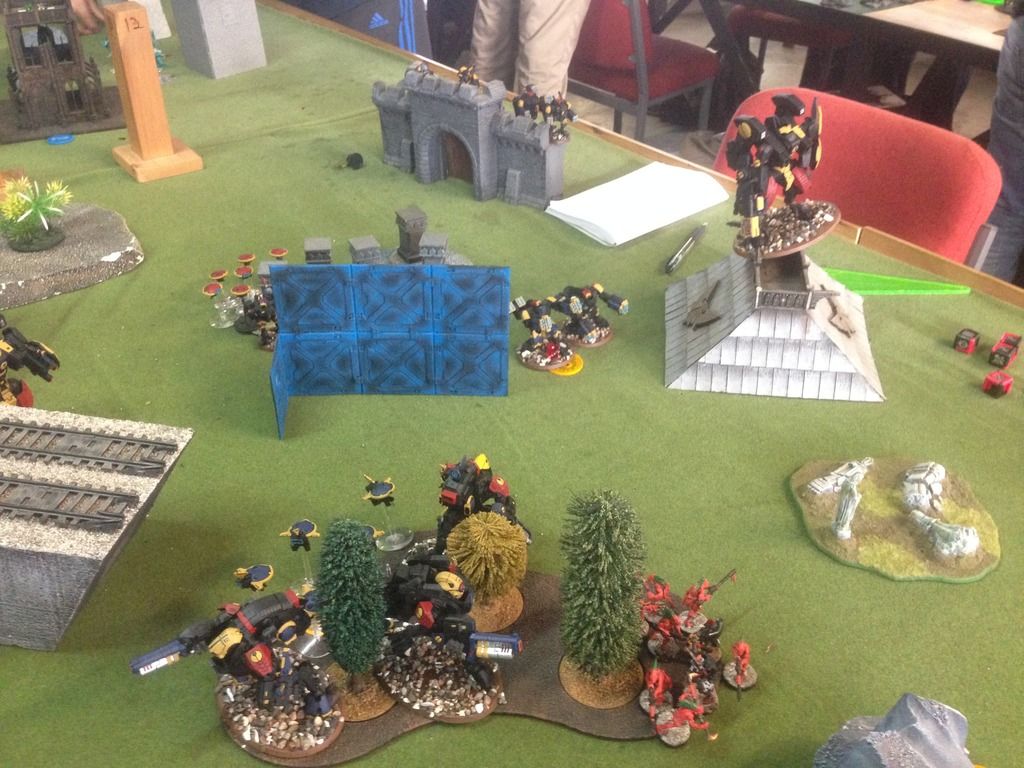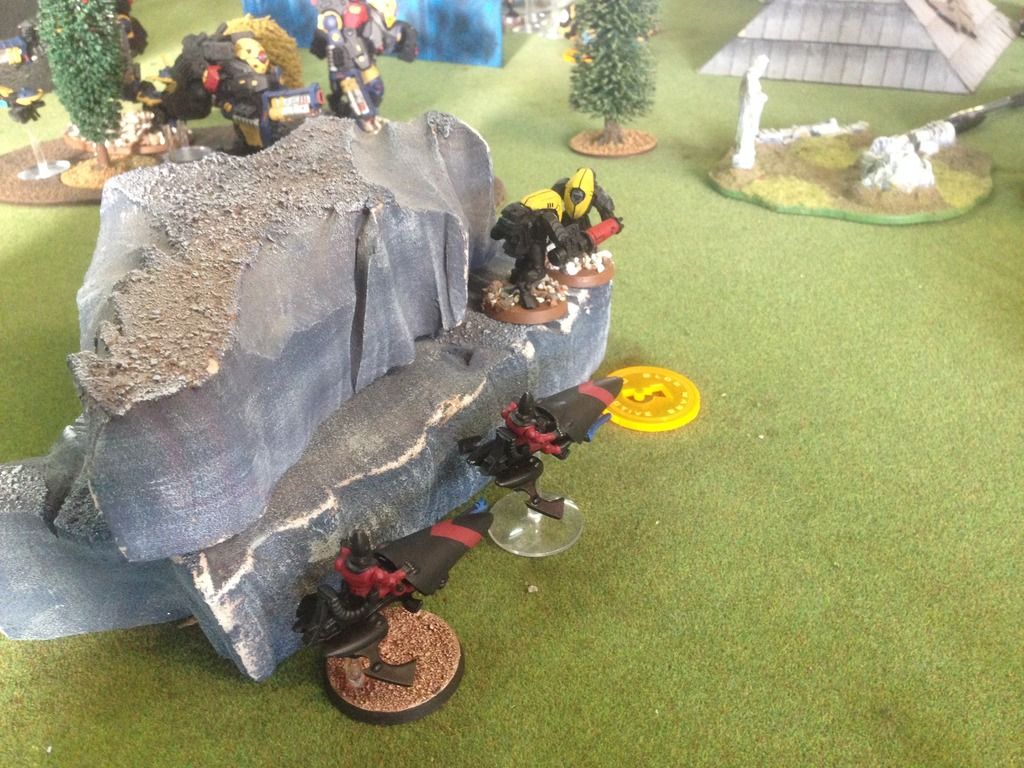 Summary:
No wraithknight in the Eldar list which was a boon. Unorthodox but good list based around D-scythe mini star with Armour of misery archon and farseer for invisibility & megalulz shriek. I was going first so he reserved a lot of stuff - not always a good tactic for Eldar against me. Killed star cannon walkers out of LOS with tank hunting SMS for 1st blood. Long and short of it is the Ghostkeels picked up 5/8 markers on the invisible D-scythe unit and killed them all. Flamer XV8 guy went on a noobpwning rampage killing jetbike unit, 4 dark reapers and an autarch. Tabled him turn 6.
Win 20-0. Tonnes of VP's
Game 2 Vs Eldar - Relic Primary with steal cards maelstrom (secondary) and kill points tertiary.
My friend's Kris's list as follows:
Craftworld host -
Bikeseer
YOLO warlock that can't join units
3 x 3 units of scatter bikes
Vyper
Warp Spider shrine - 3 x 7 spiders
Crimson death formation x 3 crimson hunters with exarch
Hemlock
Wraithknight
Pics of the game: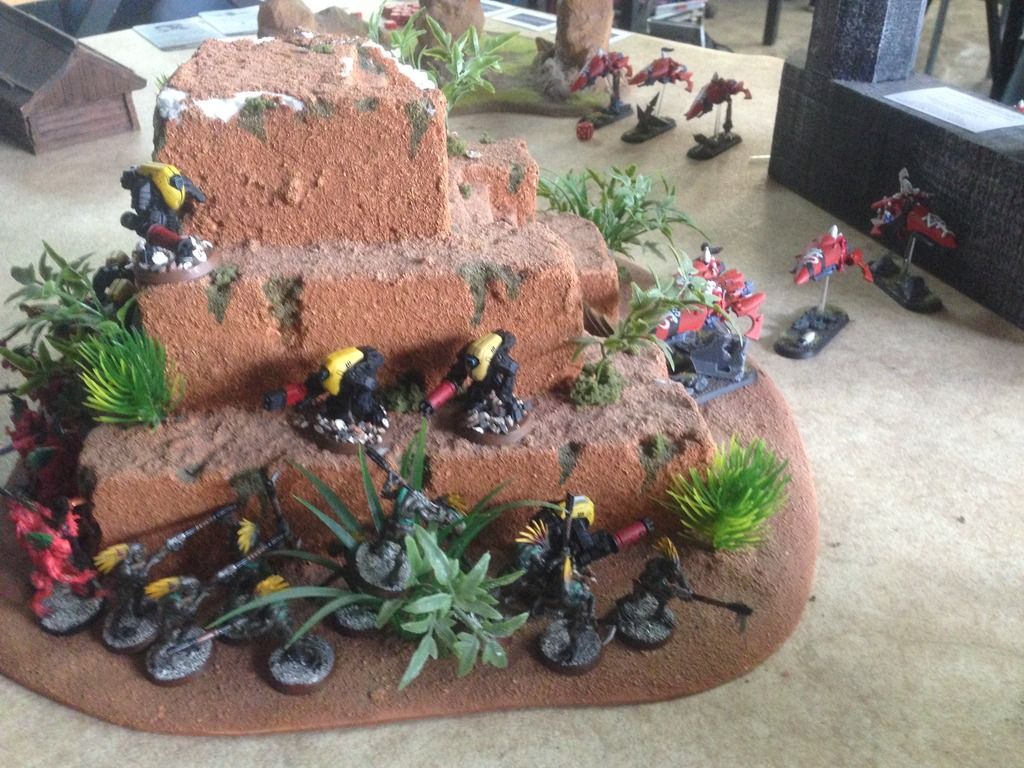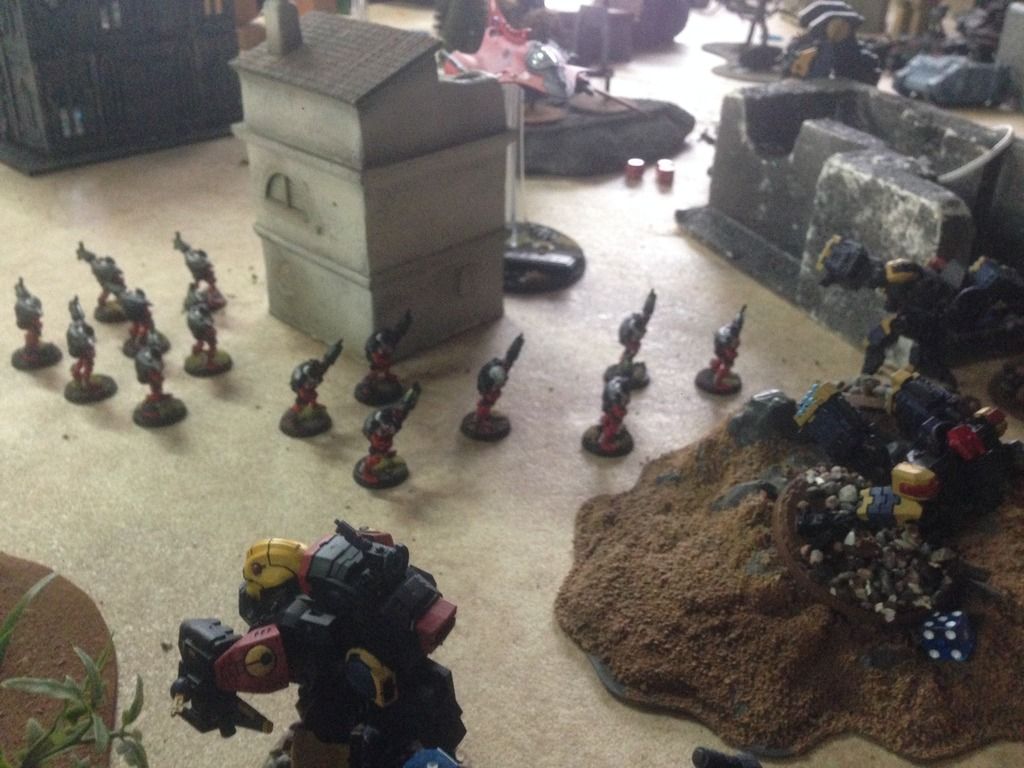 Summary:
On table 2 after big win. Played Kris who tabled stormsurge tau game 1. Kris' list based around 4 flyers, 3 spider units and a wraithknight with scatbikes. As detailed above in another post I had a big win against Kris in my only practice game. However this time he is going 1st. He also heeded my advice post our last game (and something i said to two of my eldar opponents at Rapid Fire) of keeping wraithknight in reserve. First few rounds I streak ahead on maelstrom and kill majority of flyers and 2/3 spider units. Only game really where broadsides and riptides outshine the Ghostkeels - with their short range they are not great at having the ability to kill spiders post flicker jump, and failed two charges on spiders with ghost unit.
However the wraithknight shows up turn 4 when my army is a bit depleted and I won't have the shooting left to finish it. Beats Ghosts in combat on the relic and they flee, saving Kris from a big loss. Great game, one of my fave tourney matches. MC's fighting in combat over the relic on the last turn is how it should be done.
Win 11-9
Game 3 vs Gladius marines, one of the Dutch ETC players. Scouring Primary, some maelstrom I can't remember secondary and kill points tertiary again.
Opponents list something like this:
White scars chapter tactics
Khan
Chaplain
x 2 demi companies with tonnes of grav stuff in loads of free razorbacks. All objective secured!!!
Game pics: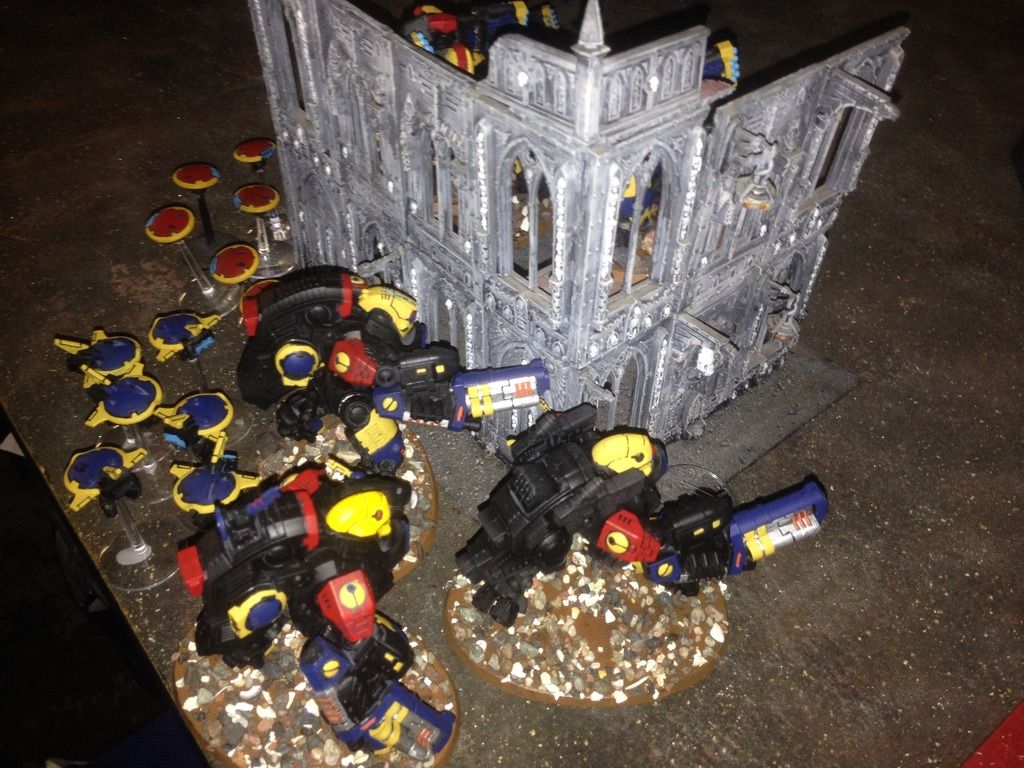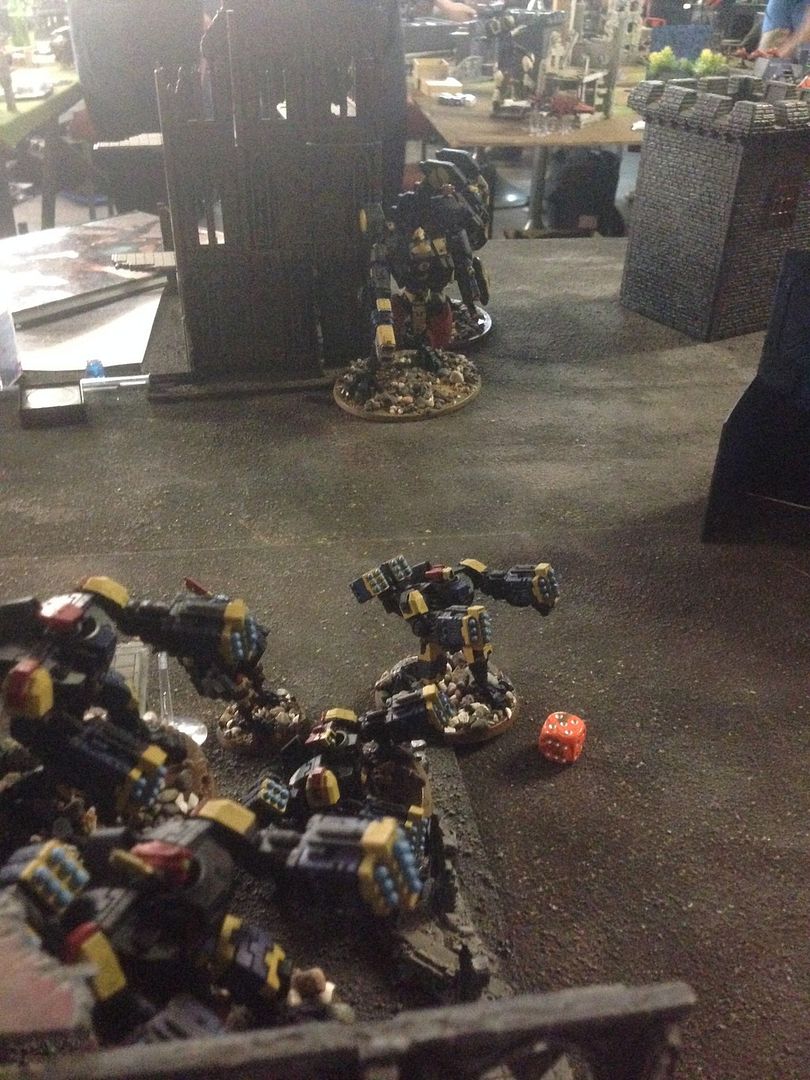 With his white scars scout he could cause me problems and he has the item of no cover save win on his chaplain so I need to not set up like a chump. But im going first, and I've also made him come at me down a wide channel with little LOS blocking for his tanks. Like Con Air Cyrus the Virus tactics I'm thinking 'we create an airtight trap full of lots and lots of dead people'.
Infiltrate and I won the roll off, conga-ing out a Kroot unit to stop his scout moves altogether.
1st turn and ghost unit with their target locks each kill a razorback, lots of marines spill out. Chaplains grav devastators eat an ion accelerator pie plate to the face, then the Kroot pick up the markers being BS8 and shoot the chaplains head off to get rid of both him and no cover relic. Broadsides kill most of the other tanks, as do a stealth team.
Short of it is I probably had him after such a devastating turn 1. Flamer guy held off about 6 marines from an objective by himself later in game, killing four with flamers & 2 in combat. Go Flamer guy!
Credit to my opponent BTW if he ever reads this. He was an example of how to accept when a game is just against you, played the whole game with a big smile on his face and laughed a lot, even though he only killed a kroot unit.
Win 19-1
So day one over and I have unexpectedly got 3 wins under my belt, two of them major wins. I was a bit concerned going into Sunday
as it could only get more horrible lists (if possible!).
Will finish the Sunday games tomorrow. Thanks for reading