Over the weekend I was playing at Dark Millenium III, one of the bigger tournaments in Scotland. Often we have to travel to at least the north of England for a competitive field, but this was well attended by the best Scottish players so turned out to be a strong roster.
So far over the last few months I had come 6th at Rapid Fire, after winning all my games on table one all weekend only to be tabled by a Tau'nar supremacy armour. Also finished 14th at Caledonian Uprising, biggest competitive event in the UK after (again!) winning all my games all weekend only to get smashed in my last match by the England ETC captain and his double Riptide wing and wraithknight. So I had been doing not too badly, but wanted to win this one, at least top 3!
And onto my list:
Eldar Combined arms detachment
Autarch, warp jump generator (warlord)
3 jetbikes
3 jetbikes
5 warp spiders
5 warp spiders
Wraithknight, wraithcannons
Secondary detachment: Optimised Stealth Cadre, Kauyon Campaign
Ghostkeel battlesuits, x3 all with cyclic ion rakers -
1 with velocity tracker, fusion blaster
1 with burst cannon, target lock
1 with burst cannon, target lock
Stealth team
Stealth team
Tertiary detachment: Riptide Wing, Mont'ka Campaign
Iontide, fusion, EWO
Burstide, SMS, EWO
Burstide, SMS, EWO
1850
Here's a picture of the majority of my army - managed to clip out one of my riptides somehow
Ok so strategy here is very simple - aggressive as possible with the Wraithknight whilst the ghosts and tides put out some pain, and stealths, spiders and jetbikes grab maelstrom points and eternal war objectives.
I help to run a podcast on the Scottish 40k scene and our last guest had grudge matched me on it! So I was up against his Eldar first round.
1st round: Crusade and Contact lost. Hammer and Anvil deployment.
Martins list:
CAD
Farseer, bike (warlord)
Baharroth
Scatter bikes
Scatter bikes
Scatter bikes
CAD
Farseer, bike
Farseer, bike
Scatter bikes
Scatter bikes
9 Wraithguard, wraithcannons,
Wraithknight, wraithcannons
Aspect host - spider shrine
3 units of +1 BS spiders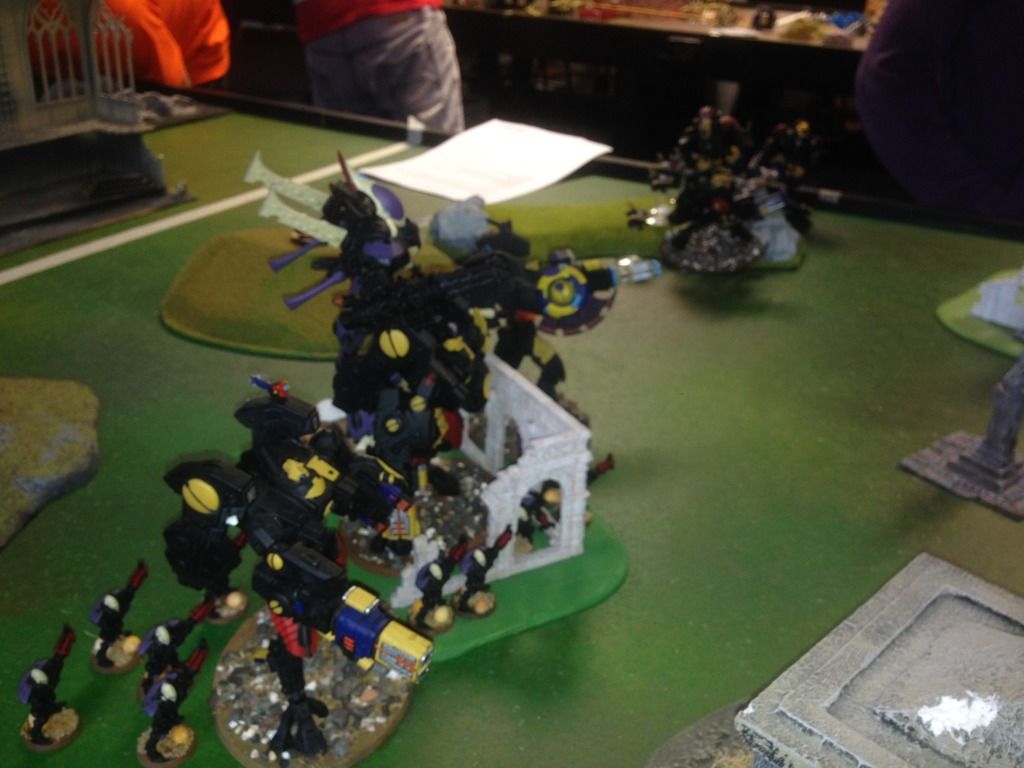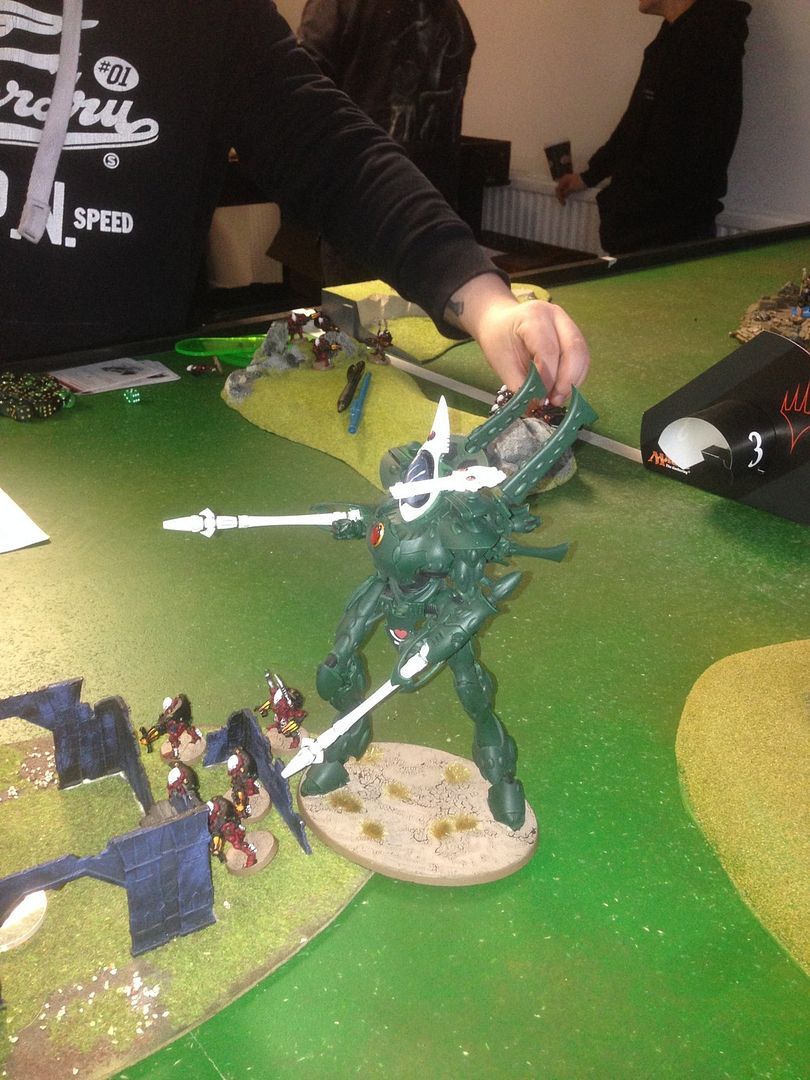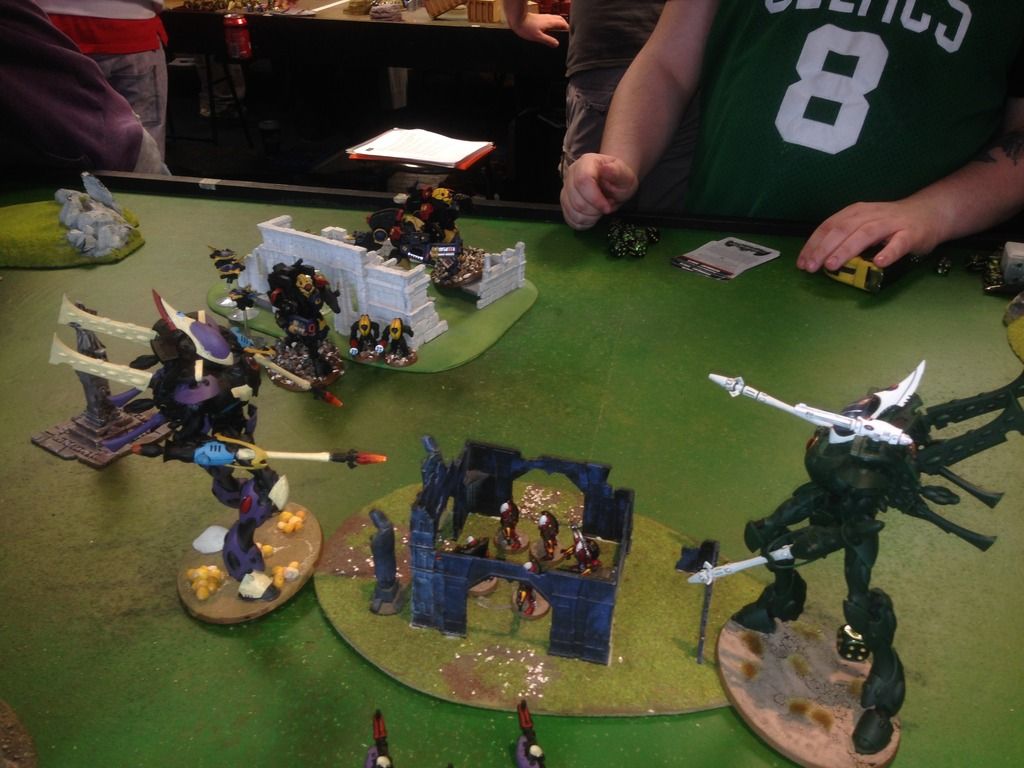 Long and short of it was that Martin wanted gate of infinity on those Wraithguard, but didn't get it on 9 rolls. Very bad luck, as if he had gotten it soon on he could have been gating around nuking riptides with them whilst his WK, scat bikes and spiders took out everything else. As it turned out, I dealt with his WK quickly, and forced his spiders against the back of the board with my ghosts and massacred them, whilst burstides dealt with the scatter bikes and kept my distance from the fairly inept and immobile Wraithguard star and pie plated them with the Iontide. Had he had a good first turn I would have been in trouble, but unfortunately he couldn't kill my wraithknight or Ghostkeels and they were what ruined him.
Tabled him for a 20-0 victory.