So onwards to game 5. Playing against another Team Scotland member, a friend of mine called Scott who was using Eldar. As some of you smart cookies may have noticed the terrain had been the same for my last few games as I had been on Table 1 the whole time, so the TO swapped around the tables for my benefit which was good of them.
Mission: Scouring, and some un-remembered maelstrom. Vanguard deployment.
Scott's Eldar
Farseer, bike
Autarch, Hawk Wings, fusion blaster, power sword
Yolo Warlock, bike
Scatter bikes
Scatter bikes
Scatter bikes
Scatter bikes
Scatter bikes
Vyper
Wraithknight, wraithcannons, scatter laser
Spider Shrine
x 3 spider units
Spider Shrine
x 3 spider units
Scott wins the roll off and choses to deploy and go first. I have a notorious rep amongst my friends for setting up to seize the initiative which sadly doesn't happen this time as I roll a 5. Scott gets super lucky and rolls both invisibility and the 4++ power (can't remember name, when you play Tau all psychic is cheating majic!) which considering he only has one farseer is good going.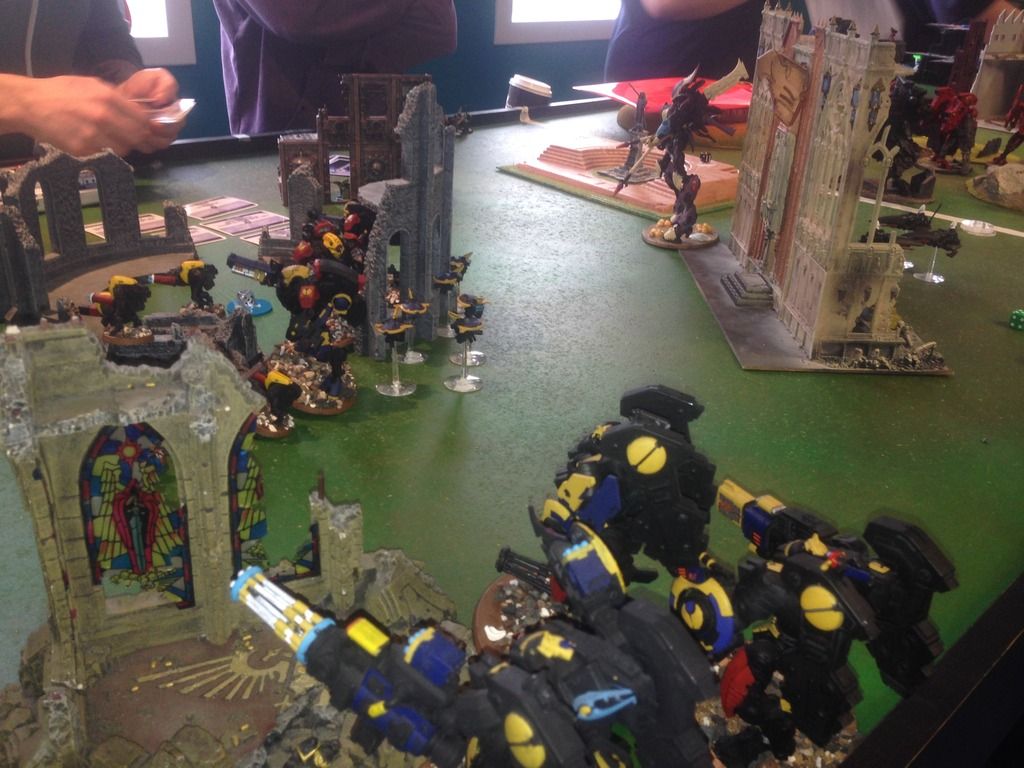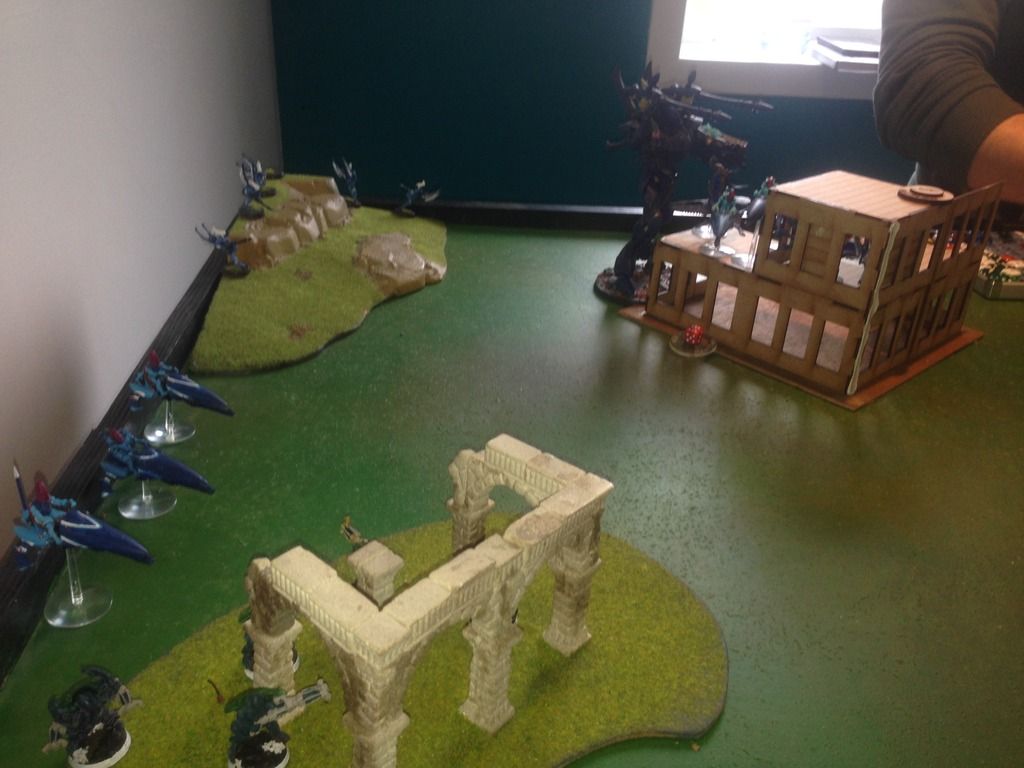 In his first turn Scott shuffles about with some warp spiders and scatter bikes, farseer makes WK invisible and gives it a 4++. He shoots at one of my burstides but does little damage. My first turn, I nova my shooting and kill a spider squad and two units of scatter bikes.
Second turn, and Scott's WK shoots and D shots one of my riptides. I also lose my WK to almost all the other shooting in his army, so its starting to look hairy. However it was in my turn that the game really went away from me - I killed his farseer with my ghosts shooting, and had I then jumped away I probably would still have had enough to take down his now non-invis wraithknight in the next turn. Instead of being that sensible though, as I'd used my target locks to shoot at some scatter bikes and some of them still remained, I went for a crazy charge that I then subsequently failed and left the ghostkeels in the middle of nowhere but within easy charge range of the WK next turn. And thats pretty much how it played out. Scott's wraithknight pummelled my ghosts into submission over two rounds of combat, finally sweeping them, whilst all his reserve spiders steadily murdered my riptides. In the end I only had my autarch and the two spider units left, but I was hanging on trying not to get tabled.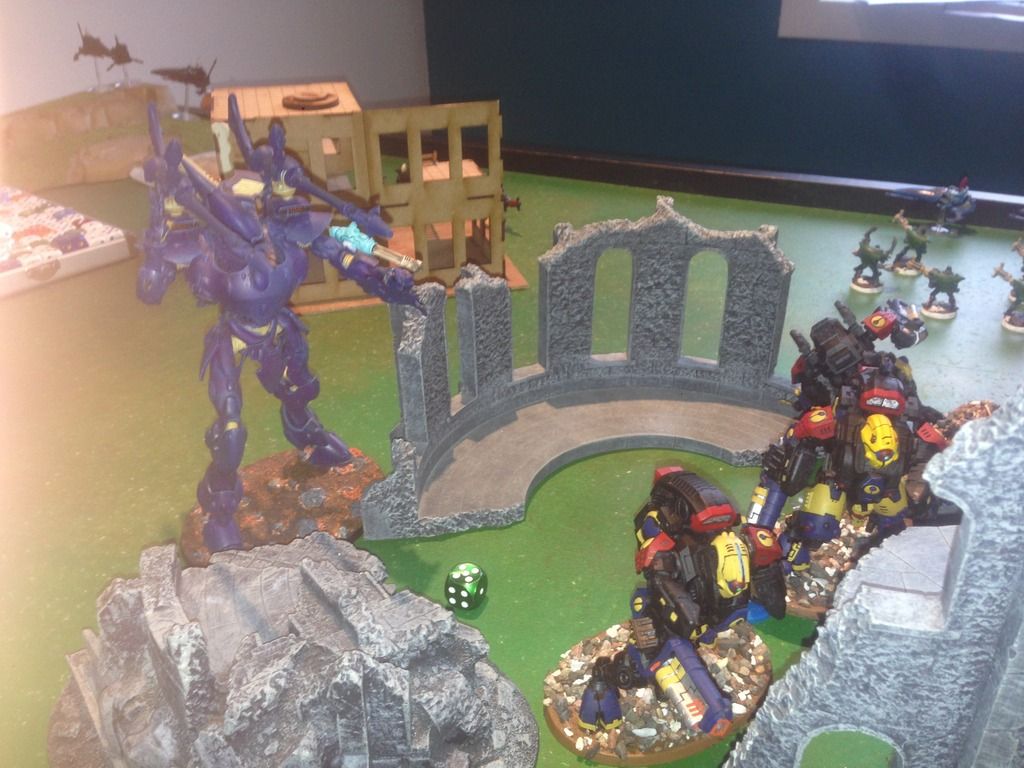 16-4 loss.
I think Scott played very well here and deserved to win. I did however absolutely ruin my own chances with a couple of very bad decisions. Primarily if I had jumped my ghosts unit away from the WK, I would have had a chance of taking it down next turn with them and the remaining riptides plus my own warp spiders, then I could have been focusing on whittling down his spiders. A long shot perhaps, but would have meant a reduced loss at the worst. I was irritated at myself for this as I had been stomping Eldar recently at events, losing only to Tau in any competitions for quite some time. Ah well, I enjoyed the game. And you learn more in defeat - namely, don't derp yourself out of the win!