The assembly is now complete: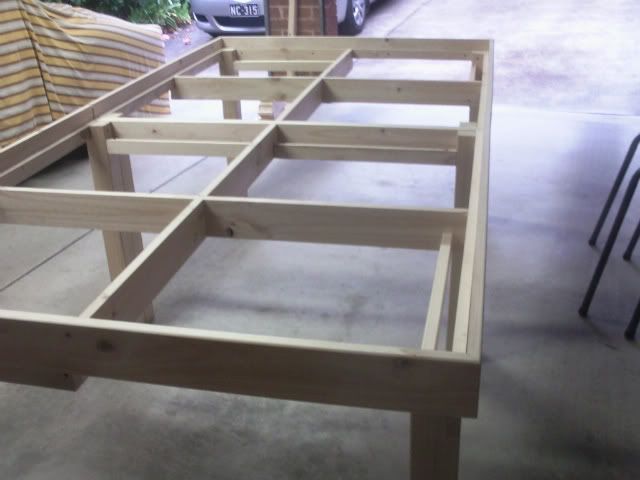 You can see I have now added the sides that make the lowered gaming surface and the supports that will hold the drawer rails.
There wasn't much to take photos of today. That is all you get.
A few issues that I was unsure of were solved today. Putting in screws at an angle so you can have a fastening where there is wood on boths sides is challenging. I have now devised a technique. Firstly, measure up and mark where you want to screw. Remember that you don't want to come out in the middle of the first piece, aim a little higher than that. Then, using a countersink, bore slightly into the top of the piece as if going straight down. This will provide a good angled place to drill from. Swap over to your drill bit and drill down on an angle. Swap back to the sink again and countersink on the newly drilled angle. Easy.
Anyone got some more questions? It seems a little quiet in here…
I'll post again tomorrow. Tomorrow will be final sanding then stain to a nice colour. If I have time left also I will buy my first top section and the material fror the drawers.
-Strobe