Right, better late than never.
This was actually done on Saturday and Sunday as I planned. The table isn't yet finished (well, it kinda is (I'll get to that)).
I started off with the base coat of the Walnut coloured stain. Results below: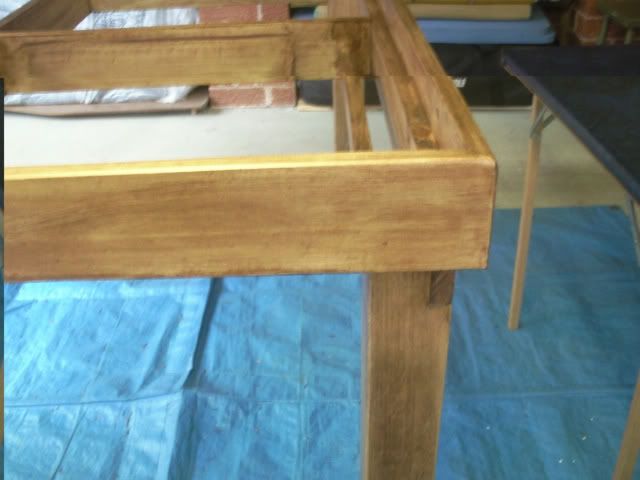 Close shot showing the decidedly honey colour.
At this stage I am worried I have ruined my table
It went on a bit patchy, sucked up heaps of stain and generally wasn't as dark as I expected.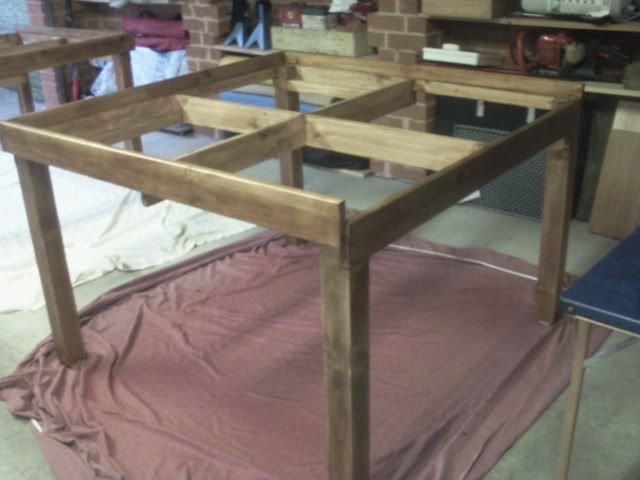 A wide shot of one completed table.
I powered on anyway and got both tables done with enough time according to the directions. The can said don't use it if it will fall below 10°C within four hours. It is winter here so it is something I have to consider. Thankfully despite it taking longer than I thought to apply I was finished with enough time.
I finished up, cleaned up the brushes and went home worried. Next day arrives and I get to work. The stain went on much better this time. It still drank it up and I began to worry again (see a theme here?) about running out of stain.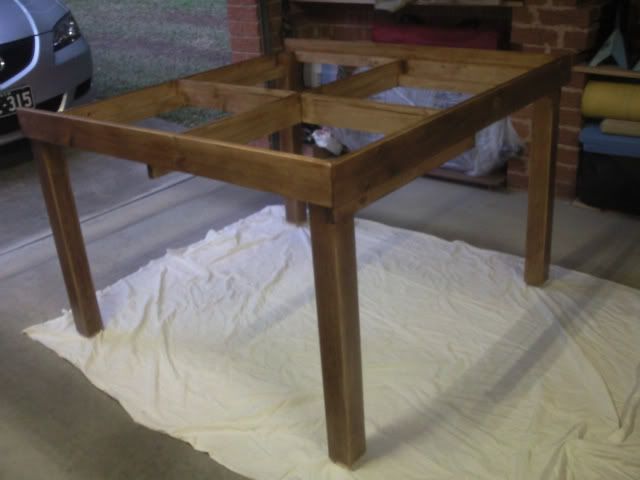 The colour is much better this time though.
I decided to conserve my remaining stain by only double coating the sections of the table you will see when you have a surface put in. I can live with a bit of off colour when you change table tops. Really, if anyone complains maybe I should be having games with 'em.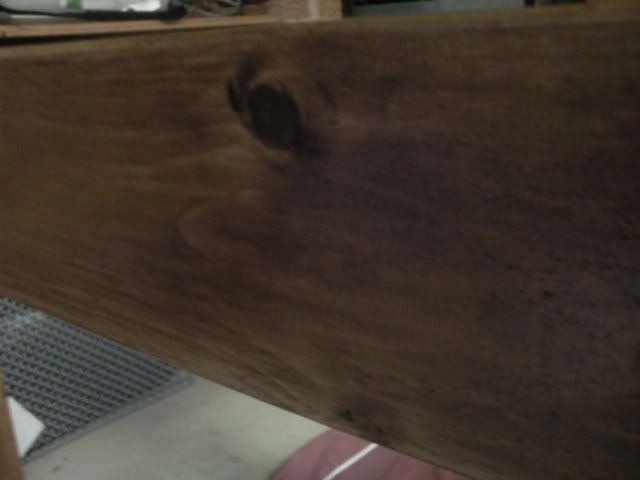 This is a close shot after the four hour touch dry time (colour should be fairly final) of the second coat. I particularly like how it has darked the knots in the pine. It is very pleasing to me.
When I finished the second coat I had probably less than 5mL left from my half liter can. Good planning? More like good luck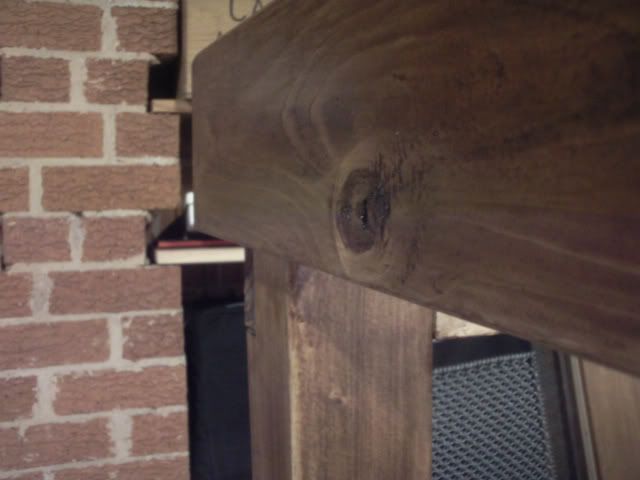 Another close up shot here with a bit of leg thrown in (I say!).
The product I used was a combined stain/varnish thing by British Paints called something Once. Brush Once, Apply Once? Something. You are meant to sand in between each coat but I didn't feel it was needed. The finish is smooth without being fine furniture French Polished smooth. It is a gaming table and my first piece of cabinet making so I can live with the little mistakes.
Speaking of little mistakes, there have been one or two. I'll highlight them so you can avoid them when I get 'round to the plans.
A quick note on that too: If you are hanging out for the plans I want to stress that they will be made
after
I have finished the table. Whilst it looks quite finished it has a bit more to do. It might be weeks until I have the plans done.
So, this coming Saturday I will be moving the tables over from the workshop to my apartment and putting them in place. I will also, hopefully, be getting the table tops and material for the drawers. I already have drawer slides to mount them so it should be all done on the Saturday if not then on the Sunday. I am back at work so no time during the week. After all that is done Sunday the 15th will be the first game on the table. D&D I'm afraid, otherwise I would have a battle report. I need to get on to some terrain but as I mentioned before I honestly play more RPGs than Wargames at the moment. I hope this will change and I want to get more into 40k on a regular basis.
A final note on what you've seen in the above post. Due to my phone camera and it being Winter the colour is actually a little washed out. When the table is in place I'll get a tripod, better camera and put some lights around to do a few glamor shots for you folks as home. Remember, it is easier to sell a table like this to your significant other if you can show it looking fantastic in another persons house. Envy is powerful
-Strobe