EDIT
: As my log has now been moved from the concourse and into the project logs, members of saal rank will be unable to post. If this applies to you but you still want to make a comment/share an idea/tell me about what you had for breakfast, feel free to send me a pm
all feedback is valued
+++ Database uplink requested - Standby... +++

+++ Routing channel through: buoy 37 East +++

+++ Uplink established, Please enter Identifier and authentication sequence... +++

+++ Querying security protocols - Standby... +++

+++ Sequence Identified, Extranet access granted+++
+++ Welcome, Commander - Please enter function...+++

+++ Database request confirmed - Querying servers for relevant files +++

+++ Data burst transmission recieved - Deciphering files +++
==============================================================================================================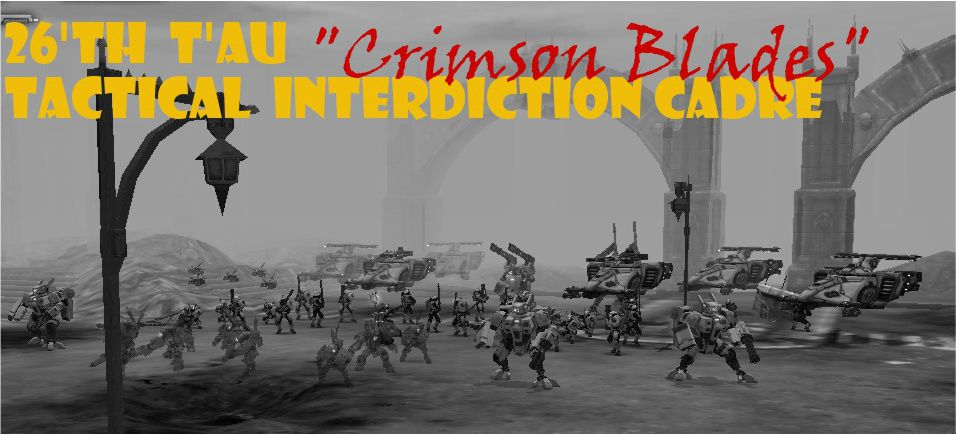 Tactical interdiction cadres
Tactical interdiction cadres are a reasonably new and specialized formation within the Tau Military. T.I.C units are tailored to perform rapid strikes into hostile territory in order to seize and subsequently hold ground, denying it to the enemy. In order to most effectively execute this purpose, Members of Tactical Interdiction Cadres are outfitted for rapid deployment and have become expert in establishing temporary fortifications in which to dig in their heels.
During their inception, Tactical Interdiction Cadres were originally envisioned capturing enemy supply routes and depots. And while they have admirably performed in this function, the formation has grown far beyond this original designation. While they may lack some of the manpower and heavy equipment of certain other cadres, their ability to quickly deploy and efficiently seize ground while withstanding counter attack has made T.I.C units among the favored choices in a variety of operations with many commanders. Perhaps the most unforeseen and succesful application of T.I.C units however, has been in the role of a quick reaction force. Able to deploy quickly and erect temporary fortifications, they are able to reinforce and anchor positions until heavier relief forces can arrive. Countless outposts, colonies and settlements have been saved by the deployment of a T.I.C cadre in order to thwart an unforeseen attack
Configuration
Mobility and firepower are the essence of a Tactical Interdiction Cadre. Because of this, standard T.I.C's rely heavily of devilfish mounted infantry, supported by Jet pack enabled battle suits with a small pool of hammerhead gunships and lighter skimmers for fire support. In this configuration the cadre is able to stab quickly into enemy territory while bringing with them sufficient firepower to hold their ground. This also gives the cadre the ability to exfiltrate and re-position entirely under their own power and without relying on extraction units.
A number of Interdiction Cadres have specialized even further; training extensively in unison with the Air caste in order to conduct airborne operations. Using XV-8's deployed from high altitude or pre-inserted stealth teams, a landing zone will be cleared as Orca dropships deliver infantry and heavier battlesuits directly onto the target. This configuration relies on the element of surprise, giving the target little to no time to react before the cadre are quite literally deployed on top of them. Exfiltration can however become more difficult during these operations as the lack of armoured transports and heavy vehicles means the cadre will either need to either hold until a relief force arrives or risk a dangerous extraction by dropship while under fire.
T'au 26th T.I.C
The T'au sept's 26th tactical interdiction cadre were amongst the 3rd itineration of T.I Cadres commissioned for the Tau military. Since its inception 22 years ago, the Cadre has served primarily along the North Eastern border of the empire. In this time the cadre has accrued an enviable service record; wresting control of planets from the grip of Orkish hordes, shielding colonies from Tyranid monsters and facilitating the annexation of a number of worlds into the Empire. The cadre's latest logged deployment is recorded as being upon the Gue'La world of "Outreach". A campaign fought in desperation which has claimed a severe toll on the cadre's personnel, resources and commander.
For the past 7 years The 26th Tactical Interdiction Cadre is has been command by Shas'O T'au Bap'rra Cova'upt Kar'tyr'Vash. The history of the cadre and that of its commander are one and the same, Vash joining the 26th T.I.C as a newly graduated Shas'La when the cadre was first formed. His entire military career has been served within the 26th T.I.C and likewise, the 26th T.I.C has played out its entire history with Vash as a part of it. As a result, the cadre and its commander have seemingly each shaped each other in equal measure, their fates inseparably intertwined.
+++ Related data packet identified - Load additional files? +++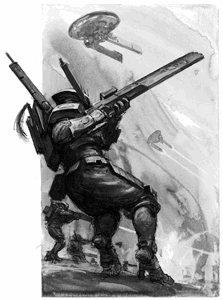 Shas'Saal BL-572 during training exercise [1]
Training
Over the years the 26th has developed a number of idiosyncrasies unique to the cadre, most of which having been inherited via the eccentricities of their commander. Recruits to the cadre are typically newly graduated Shas'La from the fire caste academies of T'au. With Fire Warrior teams being made up in large part by unseasoned recruits, strict training regimes are fastidiously maintained. To this end, Shas'O Kar'tyr'Vash maintains a team of handpicked drill Shas to oversee training exercises internally within the Cadre. As a result, the Training regime within the 26th has evolved into a non standard affair. Even more so than in a regular cadre, an all-encompassing emphasis is placed upon co-operation and synergy within fire teams. Rather than new recruits being assigned to a fire team, Shas'Ui team leaders are given free reign to select recruits that they feel will be conductive to their specific team. Conversely, Should a fire warrior prove especially disruptive or cause consistent friction within a team, the Shas'Ui maintains the authority to eject any member from his La'rua. This is an extreme measure however and is fairly rare as great lengths will be taken to successfully integrate the fire team beforehand. Great dishonor is attached to a Shas who has been ejected from his team and unless he can prove his worth and find a new place within the Cadre, he will be transferred out of the unit.
Exercises, simulations and assessments are all conducted on a group basis with team scores and accolades being given in place of individual statistics or praise. Further to this, fire teams are housed, fed and encouraged to socialize together. Over the course of their training, teams will learn to operate as one, coming together as parts of a single entity rather than as individuals.
Competition between Fire warriors of the same La'rua is viewed as counter productive and heavily discouraged. Young warriors of the fire caste naturally possess competitive spirits however and their appetite for challenge must be satiated somehow. This is facilitated with structured competition between the cadre's individual fire teams. These events play host to fierce challenges of strength, speed, skill and intelligence with one fire team vying for supremacy over the others. The one caveat of these events is that team leaders are strictly forbidden from participating. The events are a platform for the Shas'La to prove themselves against their peers and foster their drive to win as a team.
While the Shas'La compete against each other, Shas'Ui team leaders are gathered into a kind of team of their own. Just as members within a fire team must co-operate and perform with synergy amongst other members of their team, so too must each team operate with synergy among other groups within the cadre. To accommodate this, the Shas'Ui team leaders are grouped together and given a variety of tasks to accomplish. No leader is elected within the team and all Shas'Ui are considered equal regardless of age or experience. With no ranking member to claim the final word, each 'Ui must decide how best to employ the resources at his disposal in unison with his fellow team leaders. This exercise tests the team leaders ability to deploy the assets at their disposal in support of each other, whether those assets be a team of 11 trained Fire Warriors or the Shas'Ui's own bare hands.
With such great weight placed upon the value of a unified team, it is unsurprising that warriors who constantly work, live and fight together form exceptionally strong bonds. Arguably as a direct result of this structure, The 26th T.I.C possess an unusually high number of bonded teams for its size. Like anywhere else Tau society, The ritual of the Ta'lissera is treated with the utmost reverence and esteem within the cadre. Bonding knives, symbols of this sacred blood bond, are maintained with the utmost care and displayed proudly by the leaders of bonded teams. Should a team fall in battle with no surviving members to carry on the bonding knife, the blade will be transported back to T'au in order take up a place of reverence within the halls the fire caste training academies.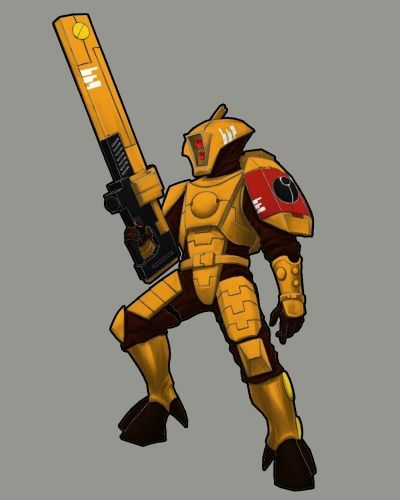 26'th T.I.C Dress Uniform [2]
Dress
Most Tau military forces will alter their uniform to better suit the environment of their current deployment. Many will also maintain a characteristic formal or "dress" uniform however. The T'au 26th is one such unit, their uniform closely resembling the standard dress uniform of the T'au sept with a few distinctive alterations. The most distinctive alteration to the uniform lies in the deep crimson armour panels painted throughout the cadre. With the high frequency of bonded units within the cadre, these deep red panels have come to represent the blood bonds with the cadre. This practice began with the cadre's commander, Shas'O Kar'tyr'Vash, and eventually disseminated through the ranks to become a trademark of the cadre and solidified feature of the uniform. This characteristic blood red panel along with the prevalence of the ta'lissera ritual inspired the cadre's informal nick name, "The Crimson Blades".
Another distinctive feature of the 26th is the inclusion of tribal warpaint markings on certain units and Armour panels. While squad and unit markings are common throughout the greater Tau military; members of the 26th T.I.C have taken the practice a step further, including complex and elaborate patterns of warpaint dating back to the ancient pre-unification fire caste. These symbols typically adorn the armour panels of team leaders and ranking officers. Again, this feature is one that has spread from the personality of the cadre's commander through his subordinates.
The final significant difference in the cadre's uniform is a subtle shift in the traditional ochre shade of the T'au sept uniform. A number of Tactical interdiction cadres including the 26th have their primary barracks within the Or'es'shi military complex located within the Suam plains of the Tau home world, an area characterized by its uniquely red coloured earth. The primary colour of the Crimson blades uniform has had its ochre colour subtly tinted a red-orange shade as a tribute to the cadres spiritual home.
Cadre Personnel and Assest files:
========= Cadre Command and Control elements =========
Shas'O T'au Bap'rra Cova'upt Kar'tyr'Vash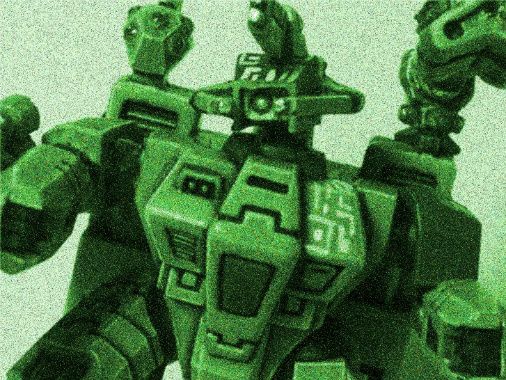 Screen capture of Shas'O Kar'tyr'Vash during a night operation
With the rapid advancement of tau technology and the integration of more and more alien cultures into tau society, it has become easy for many throughout the expanding empire to forget the old ways. With intense focus placed upon the tau's future, there still remain those who place the same importance on their past.
Shas'O Kar'tyr'Vash is an archetypal embodiment of the inevitable conflict created within an empire expanding as dynamically as the Tau's. O'Vash represents two sides of the same coin. A staunch traditionalist by nature, he is observant of tradition and customs of the ancient fire caste. Conversely, O'Vash recognises his first duty as to the warriors beneath his command. In order to preserve the lives of his people and overcome obstacles laid before him; O'Vash will flaunt tradition and doctrine, acting instead as a free thinking and radical pragmatist. This conflict within a single Shas is indicative of a tug of war taking place within the greater empire as a whole.
The struggle between the old and the new, between tradition and progress.
This internal conflict might serve as a hindrance to some or be seen as a lack of direction by others. Shas'O Kar'tyr'Vash however has taken a different standpoint. While these two doctrines may be considered as conflicting, opposing or mutually exclusive, he argues that the inclusion of two opposite schools of thought constitutes a complete and rounded view. Rather than seeing the two as opposing one and other, O' Vash believes they support and contribute to each other. When both exist in harmony one lends its strength to the other. It is around this central theme that O'Vash has based his personal philosophy. A philosophy which has earned 'O Vash a reputation as an extremely versatile leader, able to adapt his strategy to any situation rather than attempting to adapt the situation to fit his strategy.
Many of 'O Kar'tyr'vash's personal philosophies can be ascertained simply by examining his choice of equipment. His hybridization of the old and the new can be seen in the configuration of his suit. Rather than accepting a newer command variant battlesuit, 'O Vash has maintained his original XV-8 crisis suit that he was bestowed as a Shas'Ui (though it has been refurbished and upgraded many times). Mounted on this venerable chassis are a number of newer experimental class systems such as an IX-22 cyclic ion blaster,a GX-22 airbursting fragmentation projector and a stimulant injector suite. The configuration of his battlesuit is tailored toward quickly engaging, suppressing and dispatching large groups of infantry. Having spent much of his career battling Orkish hordes and holding back Tyranid swarms, this armament has proven brutally effective and brought a swift end to countless foes of the empire. This choice of armament leaves O'vash largely unable to engage heavier targets; a compromise that leaves the commander unconcerned though. Caring nothing for personal glory, 'O Vash remains focused on delivering the most efficient form of destruction upon his enemy's line infantry while leaving the larger "trophy kills" for others to strike at. Thanks in no small part to the vulnerabilities opened by Vash's efforts, many of his students have earned famed reputations for slaying monstrous beasts or destroying heavy armour, Accolades in which the commander takes great pride in watching his pupils receive.
Vash's character has been shaped by a long and conflicted past, as evidenced by his collection of bestowed titles (his full title translating to: Fire caste commander, T'au sept, Lost shadow, shatter mountain, just intervention). This remains a past that the commander has proved utterly unwilling to discuss or divulge. There is a deep seeded darkness that exists hidden within his character, a pit of seething grief and self loathing borne of great sorrow. This stems all the way back to his days as a Shas'La and mission gone wrong upon the planetoid of Embras. The records of this event have subsequently been sealed and held in extraordinary secrecy. Whatever occurred upon Embras however, Vash emerged carrying an evidently heavy burden. Going forward Vash has managed to suppress his past thanks in large part to his mentor, Aun'Vre Au'res Seech. Whether he has ever truly come to terms with it though, remains to be seen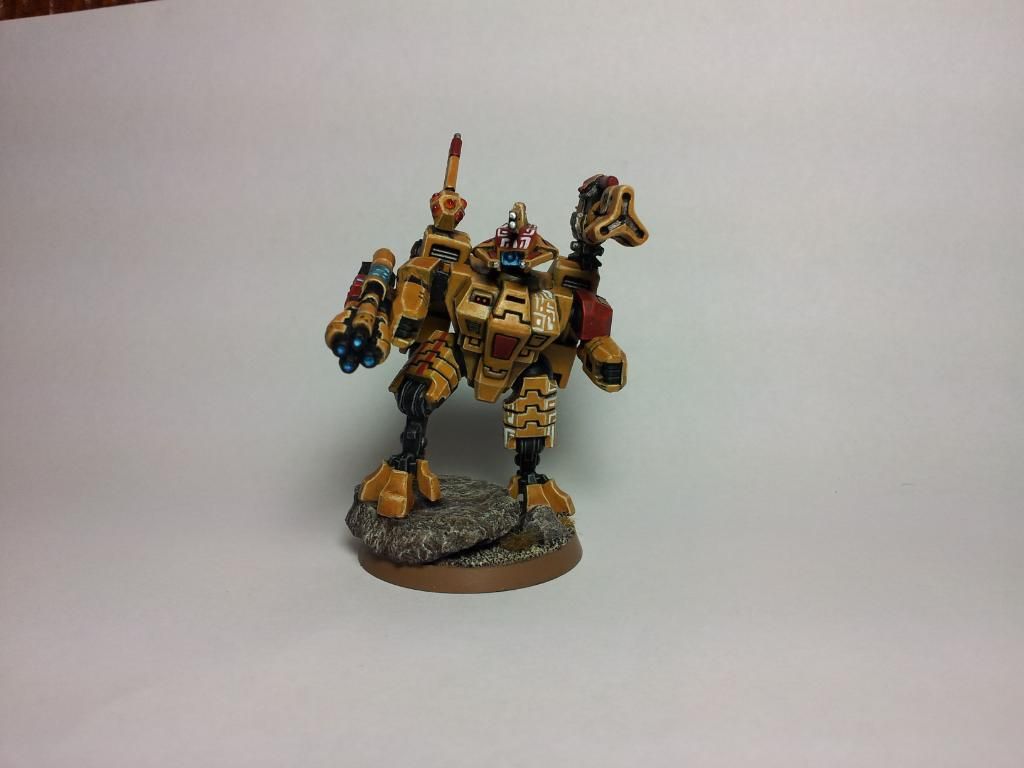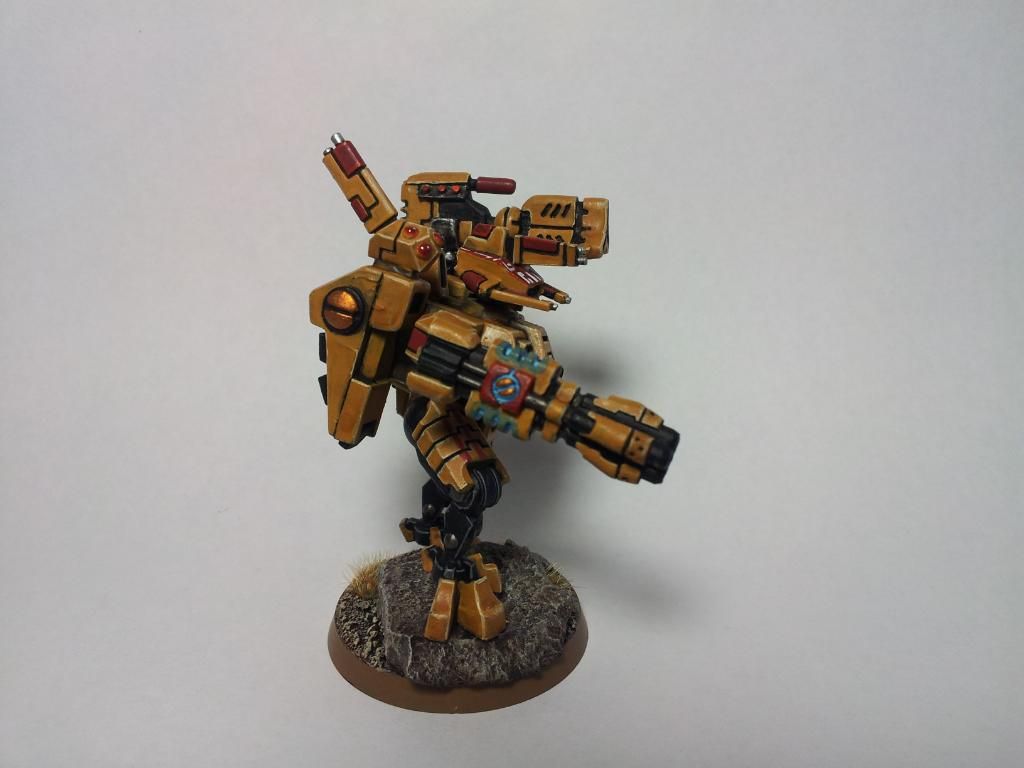 [center]

Shas'El T'au Vior Suam'Ta
Brash, headstrong and emotive, the personality of the 26th T.I.C's second in command could not contrast more starkly to that of its leader. Where O'Vash is diplomatic and lyrical, Suam is direct and blunt. Where his mentor is calm and reserved, Suam is passionate and forthcoming. It is difficult to imagine O'Vash selecting a more dissimilar student as his successor, but this decision was as carefully measured as any other that the commander makes. Suam'ta provides the cadre with a wildly different command personality and an entirely alternate perspective. Where this might seem conflicting or dysfunctional to outsiders, it harmonises perfectly into O'Vash's philosophy of balance.
Fiercely loyal to his mentor, Suam'ta serves stalwartly as Vash's right hand. Where O'Vash must often concern himself with the intricacies of a regional or even global theatre, Suam'ta remains responsible for the day to day operations of the 26th T.I.C as well as often assuming direct command of the cadre's field operations. In this role, and under the guidance of his teacher, Suam'ta has proven himself not only an immensely capable officer but also a fierce combatant. Suam'ta himself will most often be found leading strikes against the enemies most dangerous or valuable assets
Circumstances were not always so amicable however. Among Vash's numerous students, Suam'ta would easily rate as the most resistant and belligerent. Aptly named, the young Shas'Vre "fire soul" boasted a ferocity of spirit to rival that of any Vior'lan. The young warrior held no regard for any limitations, whether they be mental, physical or authoritative. Through sheer force of will, he would overcome any obstacle arrayed before him. When placed under the tutelage of Shas'O Kar'tyr'Vash, significant friction occurred. Suam'ta considered the teachings of his new mentor to be antiquated, impractical and irrelevant to modern military doctrine. The thought of studying philosophy and history while the Empire was beset on all sides by war and turmoil infuriated him. Rather than attempting to tame the Shas'Vre however, O'Vash preyed upon his insatiable drive to succeed. Presenting Suam'ta with a series of obscure riddles and challenges, O'Vash silently watched on while offering no comment or tutelage. As the the Shas'Vre failed time and time again using his conventional means, his frustration and bitterness only grew. After a period of several weeks and meeting only with consistent failure, the infuriated Shas'Vre demanded the answers to his trials. It was at this point and with a great deal of satisfaction, O'vash announced that his tutelage could begin. It was with this single moment of enraged weakness that O'Vash began to break through Suam'ta's headstrong attitude.
Owing to his tendency to lead the cadre from the front and engage only the most dangerous of enemy combatants, Suam'ta is equipped with a specially developed XV-8 "Nemesis" battlesuit. This suit is designed to be more durable than standard XV-8 suits with additional armour plating enhanced servo motors and built in redundancy systems. This gives the suit the longevity and staying power necessary in order to challenge targets whether they be enemy champion, lumbering monster or armoured behemoth. This added durability does come at a cost however; the additional weight and bulk of the suit hampering the manoeuvrability of the user. Most XV-8 pilots regard the Nemesis suit as sluggish and unwieldy as a result. To compensate for this shortcoming, large additional retro boosters have been fitted to the outside of the suit lending the pilot bursts of surprising agility. The co-ordination of such systems during a combat situation takes an exceptional level of skill however. Only the most talented pilots are able to utilise the system to its full effect. The boosters can also contain only a limited charge. They are unable to operate at peak output during prolonged engagements. For this reason, nemesis suits are often utilised against high value targets before being withdrawn to avoid operation while under peak capacity.
The most heavily armoured region of the suit is the chest cavity in which the pilot is housed. Even if the suit suffers catastrophic damage and is disabled, it is likely that the pilot will survive the encounter. Due to the construction of the armour plating though, the pilots compartment can not be opened and closed at will like in other battlesuit models. Before an engagement, the chest of the suit must quite literally be assembled around the pilot using a specialised Fio scaffold. This also means that the pilot will be unable to exit the suit without additional aid. Should the operator become trapped within the suit, the front armour panel may be explosively ejected in an emergency. Once the panel has been ejected however, the suit will be inoperable and the pilot will be unable to re-enter until the XV-8 has been recovered and repaired by a qualified technical team.
Due to its expense, complicated maintenance and difficulty to operate, the XV-8 Nemesis battlesuit has become a rare variant amongst most of the Tau military. In the hands of a capable pilot and applied to the correct situation however, its effectiveness can not be questioned.
========= Infantry Elements =========
Fireteam: Dagger 1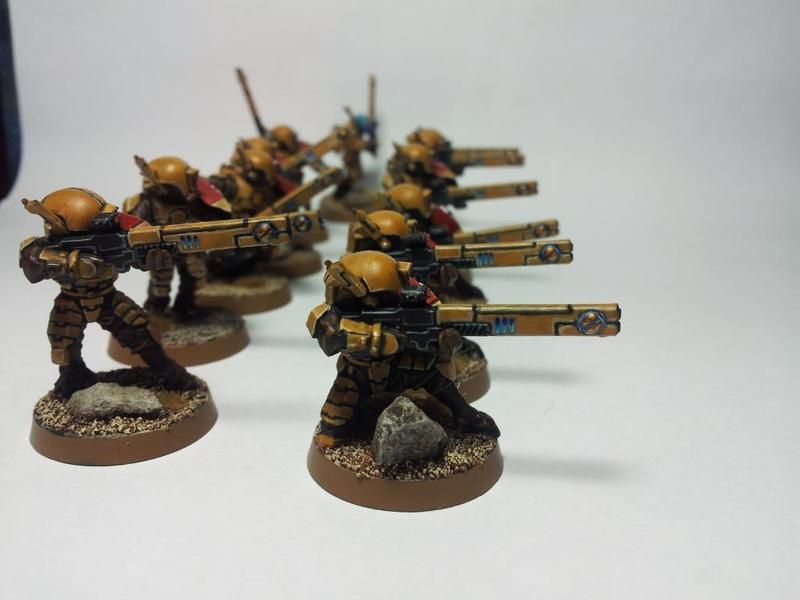 +++ Deciphering Data burst - Standby... +++
Dagger 1-1: Shas'Ui Soo'Myr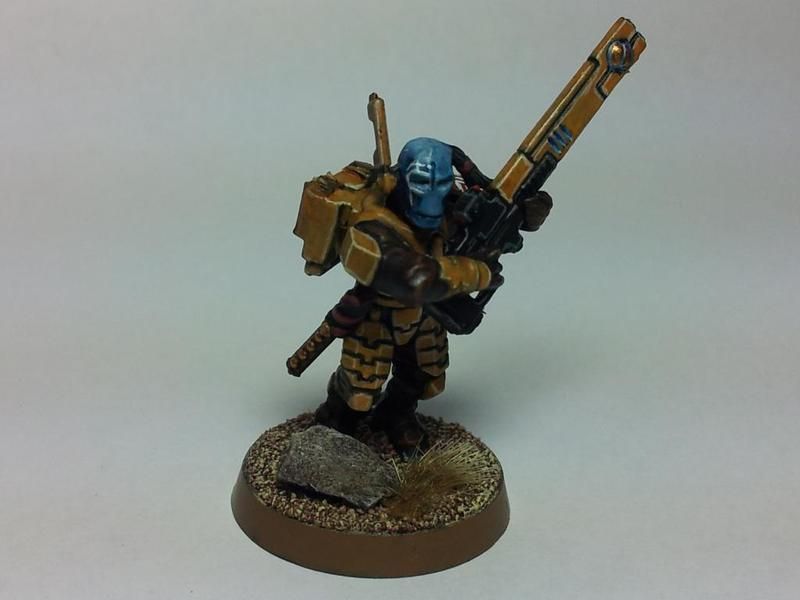 +++ Deciphering Data burst - Standby... +++
========= Xar'Vesa specialists =========
XV-8 Nova Team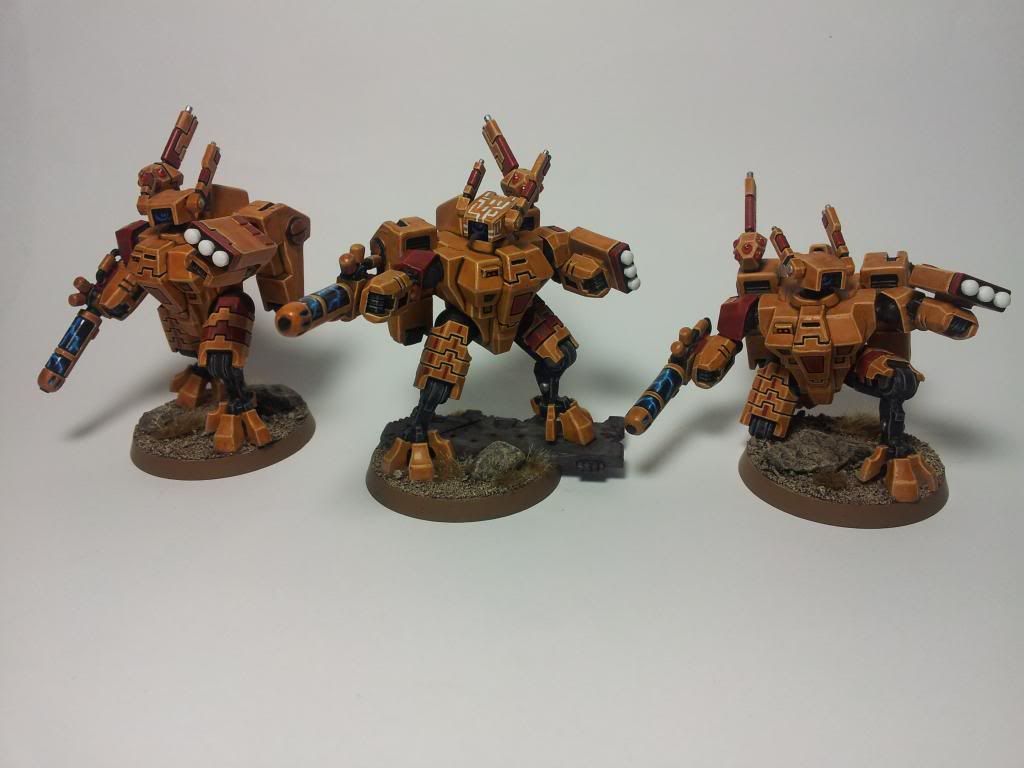 +++ Deciphering Data burst - Standby... +++
Nova 1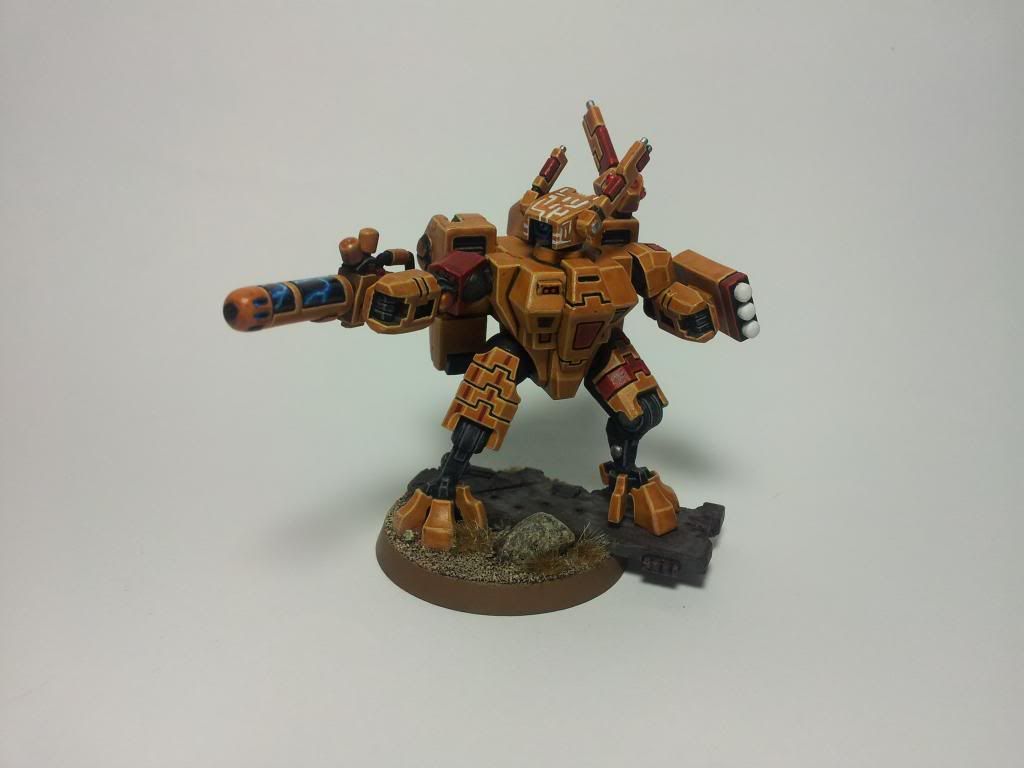 +++ Deciphering Data burst - Standby... +++
nova 2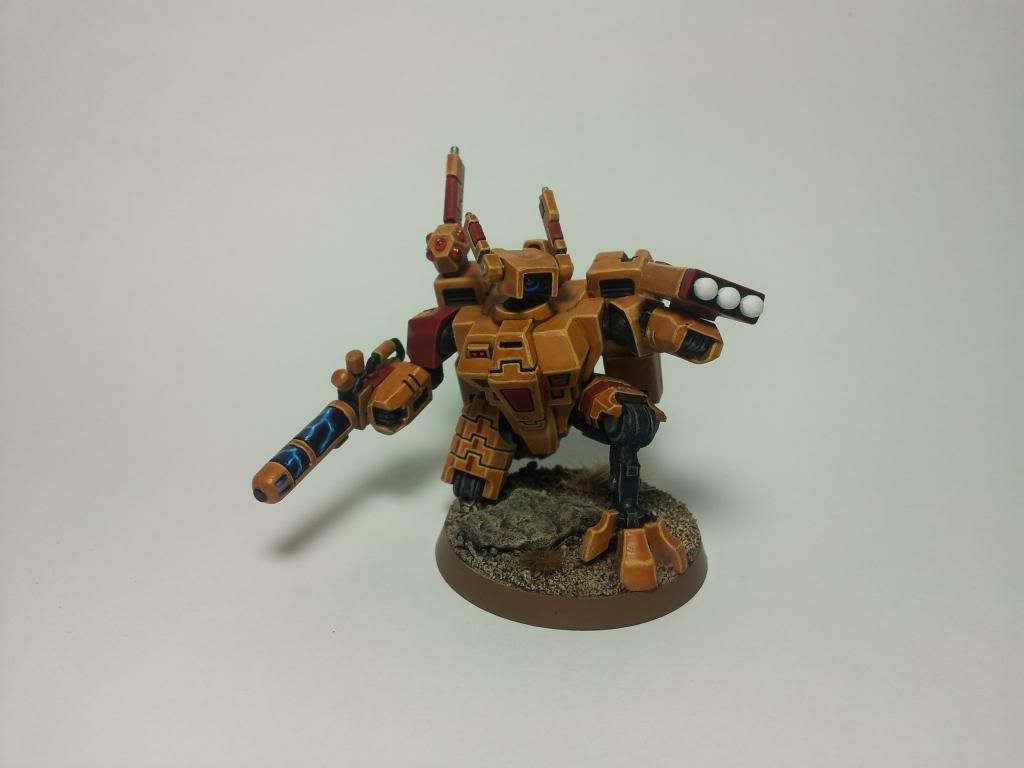 +++ Deciphering Data burst - Standby... +++
Nova 3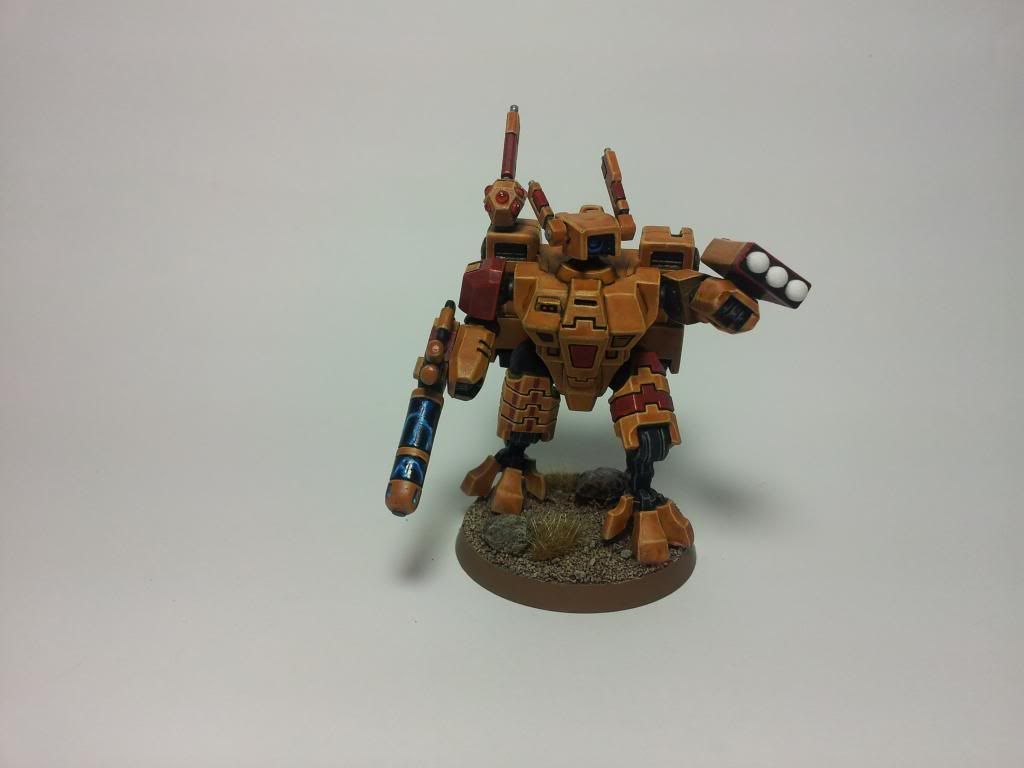 +++ Deciphering Data burst - Standby... +++
========= Light Armour =========
Pondskater Tetra Squadron
Due to the tendency for tactical interdiction cadres to operate heavily within enemy lines, T.I.C units cannot always depend upon standard intelligence assets. In order to seize and subsequently hold an objectives against counter attack, it is essential for the cadre to have accurate up to the minute information. This has given rise to increased reliance on tetra scout speeders within many T.I.C units. This is no different within the 26th T.I.C.
Unlike infantry based pathfinder teams, tetra speeders are capable of keeping pace with the mobile actions of T.I.C without the need for a dedicated devilfish transport. Tetra equipped pathfinders are capable of moving independently of external support while remaining small and agile enough to evade detection as well as fast enough to escape eventual hostile contacts. These capabilities make tetra squadrons ideal outriders for the 26th's armoured columns where they serve to identify targets and threats in the path of the task force.
Once the Cadre has reached its objective, tetra squadrons switch seamlessly from a reconnaissance element to a combat support role. Utilising high intensity marker light technology, Tetras accurately mark high value targets for destruction by the cadre's fire support units.
Once the objective has been seized the tetra squadrons will once again switch roles and return to their original reconnaissance designation. In this role they provide an early detection network against hostile counter attacks until such time as the cadre is prepared to withdraw with their objectives accomplished.
So reliant have certain Interdiction cadres become on their tetra speeders that a system of aerial deployment has been devised specifically for use during T.I.C airborne operations. Utilising externally attached retro boosters combined with the output of the skimmers over driven anti-gravatic engines, the tetra can be deployed from the rear hatch of an orca dropship while at altitude. The anti-gravatic engines coupled with the additional thrust of the boosters are capable of slowing the tetras descent enough to facilitate a safe landing. Upon touch down, the expended boosters are detached and abandoned as the tetra departs to pursue its objectives.
This type of deployment isn't without its inherent risks though. The boosters output must be carefully recalculated based on the atmosphere, gravity and myriad other variables native to each planet. There is also a precise altitude range in which this maneuverer must be performed in order to succeed. Deployed too high and the boosters will be exhausted before making planet fall. Deployed too low, and the boosters will have insufficient time in order to slow the skimmers descent. Additionally, should a single booster fail during descent either due to malfunction or enemy fire, the tetra will spiral violently and irreversibly out of control.
Because of the significant risks involved and potential for catastrophic failure, aerial deployments are attempted only by the most fearless or foolhardy of skimmer pilots. The members of the 26th T.I.C's "pondskater" squadron are regarded by their peers as resting somewhere between these two traits. Undoubtedly talented pilots, they have often been chastised for their reckless behavior. The unit earned its name for the tendency of its members to adjust their gravatic fields in order to lower their vehicle and skim lower to the ground. It has been argued by squadron members that this is in order to minimize the tetras profile during reconnaissance operations. Most outsiders maintain speculation that it is simply a custom to flaunt skill and bravado however.
Pondskater 1: Shas'Ui Ar'Raik
The pondskaters are headed by Shas'Ui Ar'Raik. A talented, albeit slightly eccentric soldier of exceptional experience, Ar'Raik stands as the 26th Tactical's longest serving active duty Shas, having been a member of the cadre before even Shas'O Kar'tyr'Vash. Many years ago, Shas'Ui Ar'Raik and his former pathfinder team came to the aid of a stranded fire team on the Ork held world of Tal'scea. As fate would have it, a young Shas'La named Vash within the stranded team would rise through the ranks to become the eventual leader of the cadre. In present times, Ar'Raik enjoys an informal relationship with O'Vash, thanks in part to the rescue on Tal'scea but also due to the fact that Ar'Raik was a close friend of Vash's former mentor, Shas'Ui Dier.
Prone to speaking in a convoluted and whimsical fashion, Ar'Raik is often described as confusing or off putting by those unfamiliar with him. His habit of referring to Shas'O Kar'tyr'Vash; his commanding officer and a grizzled veteran in his own rite, as "young one" has raised more than a few eyebrows. This Coupled with his tendency to sing or hum cheerfully to himself while in the thick of battle, has led to more than a few observers coming away dazed and confused after their first encounter with the Shas'Ui.
His tetra speeder itself is even indicative of his personality. While many team leaders within the 26th have embraced Vash's practice of marking themselves with ancient fire caste iconography, Ar'Raik has taken the practice to extremes by covering most of the hull of his skimmer with the symbols. He reasons that; as the trunk of a firax tree is decorated by rings with age, so too should his markings become more ornate with his age. There are few who are willing to argue with his sentiment. Slightly more troublesome however is Ar'Raik's love for seeker missiles which verges on the unhealthy. Nothing brings joy to the old Shas' eyes like the howl of a seeker missile in flight. It is a well-known fact within the cadre that the last available seeker missile is reserved for Shas'Ui Ar'Raik's use. Those who forget this ruling receive Ar'Raik's own brand of disciplinary action; the last incident resulting in a Shas'La's personal possessions being strapped to an outgoing seeker missile.
Despite never progressing beyond the rank of Ui, Ar'Raik has organically shifted to take place as the unofficial co-ordinator of the cadre's recon and intelligence assets. Confused first impressions aside, Shas'Ui Ar'Raik has proved himself a supremely capable pilot and team leader. Ar'Raik's skills and experience have made him a highly valued member of the cadre, his eccentricities exuding an unfamiliar charisma that pushes those around him to willingly perform acts of seemingly reckless bravery. Many a Shas'La have been saved by a markerlight guided seeker missile thanks to the actions of Ar'Raik and his team.
========= Fire Support =========
Dragon 1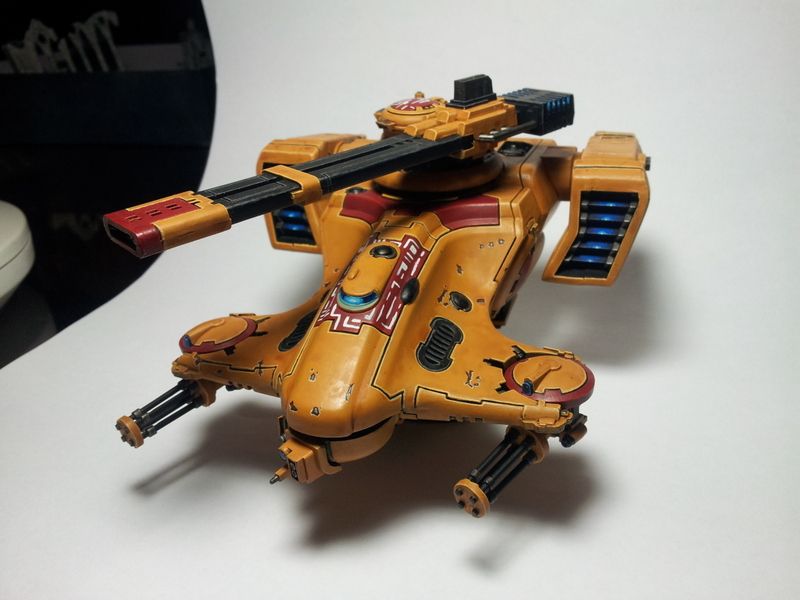 The 26th T.I.C heavily utilises hammerhead tanks as mobile fire support during interdiction operations. Spearheading these operations is the cadre's lead vehicle, designated as Dragon 1. Aswell as maintaining its role as a main battle tank, Dragon 1 acts as a command and control unit for the cadres armoured operations. The vehicle possess an enhanced communications suite and additional tactical displays to aid in the co-ordination of the battle space. Dragon 1 is also equipped with swappable hard points in the form of its turret mount. Based on the parameters of the mission, the tanks main armament can be replaced with a variety of weapons ranging from high velocity rail guns to volatile plasma cannons.
Dragon 1's chassis has served within the 26th for a number of years and in that time has developed a distinct personality of its own. Within the cadre, Dragon 1 is considered as both a blessing and a curse depending largely on whom you ask.
Fio technicians attached to the cadre have come to loath Dragon 1 for the temperamental nature of its systems. Dragon 1 has earned a vicious reputation for developing a near constant stream of problems while off the field. Unbalanced gravatic thrusters, Targeting array miscalculations, Electrical failures, Engine malfunctions, The word "Dragon 1" has become a curse word amongst numerous Fio workshops which have had the displeasure of trying to tame its systems.
Conversely, The Shas which serve alongside Dragon 1 have no such complaints. While deployed in combat, Dragon 1's technical malfunctions are inexplicably replaced with an extraordinary resilience. Time and time again, Dragon 1 has sustained damage that would have crippled any other tank and somehow managed to continue flawless operation. The vehicle's reputation for good fortune was perhaps most dramatically solidified in an incident where a Gue'La missile penetrated through the rear hatch of the vehicle but then failed to detonate, coming to rest impotently on the floor of the crew compartment. The missile has since been defused and claimed by the tank crew as a trophy.
Having proved its miraculous resilience on the field only hours earlier, Dragon 1 will then routinely resume its inexplicable string of malfunctions upon returning to the depot.
Cursed by the Fio, Praised by the Shas, the chasis of Dragon 1 has taken on as much personality as any other member of the cadre.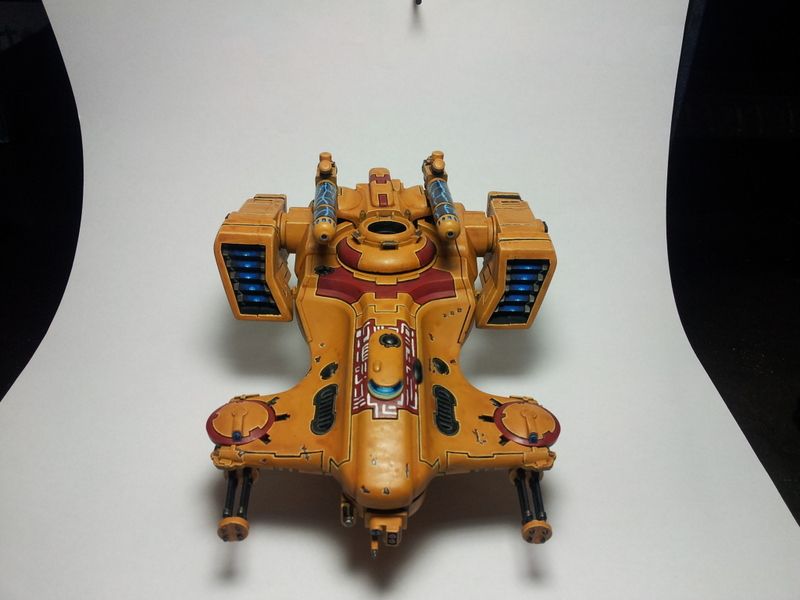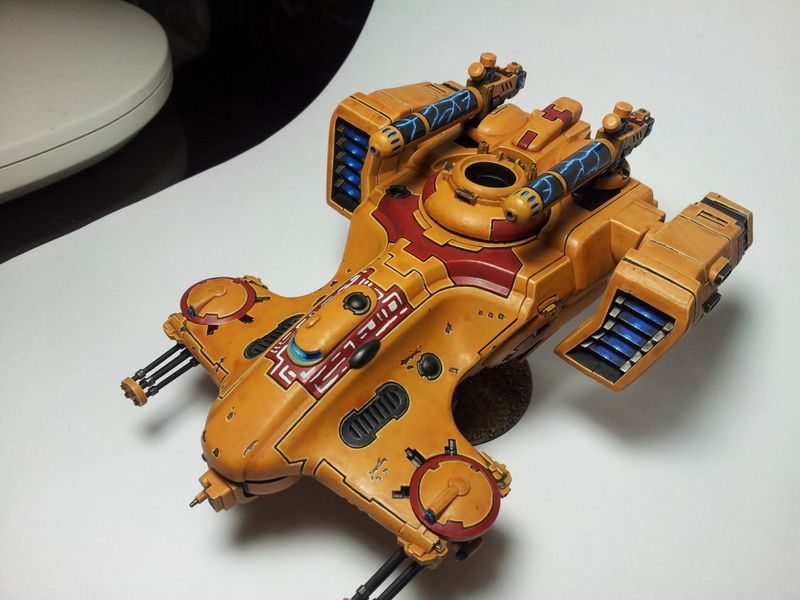 =============================================================
==DISCLAIMER==
IMPORTANT!
Throughout many of my fluff pieces I will be using various images to add visual stimulus. Many of these images ARE NOT PRODUCED BY ME. They are the works of others that I have either edited or used as is. Where possible I will credit the artist though many of them are found on blogs or gallery threads with no links to the original artist. If I have used a piece of your work please feel free to pm me and I will gladly edit my posts to either credit you appropriately or remove it at your discretion.
Key:
[1]
image owned by games workshop as found in Codex: Tau empire, Warhammer 40,000 rule book and various other publications
[2]
image generated using Tau firewarrior scheme selector produced by brother Argos of
http://www.bolterandchainsword.com
[3]
Image produced and owned by artist Gary Tonge. Visit his home page
HERE
for more of his brilliant work
[4]
Screenshot taken from Relic entertainments "Dawn of War" series of computer games
[5]
Artist unknown. if this is YOUR work please pm me and I will gladly credit you appropriately
[6]
image from fire warrior video game by Kuju entertainment
[7]
Cover art from the music group "disturbed"
[8]
image taken from myhdwallpaper.com