Bork'an 4th Escort Cadre
---
Fleet
The Bork'an 4th Research Kor'vattra consists of a single modified Lar'shi (Hero) cruiser La'Retha "Scholarly Warrior" accompanied by 2 Kir'qath (Defender) escorts. The La'Retha has been retrofitted to suit the research group's needs as a home port and as a micro-carrier. These modifications make the ship quite efficient as a self-sufficient research base in remote areas. Research groups are often in the field for long periods of time and therefore some of the ships' weapon and bay capacity is repurposed for extra fuel, ammunition, and research equipment. While the offensive capabilities of research Lar'shi cruisers are reduced, the ship can operate away from Tau supply ports for longer periods of time.
The fleet is under the command of Kor'O Tau'n Monat'Pel "Solitary Shark". O'Monat'Pel is tall like most Kor but is much more powerfully built than most. Despite his bulk he is quick and sharp. His intellect won him excellent marks in the fleet academy yet he was slow to make Kor'el. While he had an excellent mind for space tactics and course efficiency, he had little patience for his commanding officers and often ignored orders that he deemed sub-optimal.
He made Kor'el purely on circumstance while serving on the escort ship Or'es'Shi "Powerful Victory". During a perimeter sweep, Kor'el Vral "Undercut", notorious for micromanaging his crew, left O'Monat'Pel in command of the ship while he inspected the engine coils. Or'es'Shi came under attack from Be'gel raiders and the engines were targeted by fighta-bomba wings. A lucky rocket impact collapsed a portion of the engine bay, crippling El'Vral and incapacitating him for the duration of the encounter. O'Monat'Pel took command easily and defeated the orks with long range gravitic launcher strikes and Barracuda screens. El'Vral retired due to his wounds and it was decided that O'Monat'Pel was as good a candidate as any for the ship's command.
O'Monat'Pel participated in several class 4 and 3 fleet engagements with general success but his commanders grew increasingly wary of him. His habits of acting indepedantly during hostile engagements won him his name but proved to be a double edged sword: where his actions were seldom predicted by the enemy and caught them of guard, they were similarly unanticipated by Tau fleet commanders and caused confusion in their own strategems. He was awarded command of the 4th in order to keep him out of trouble, as his 'lone hunter' tendancies had little place in a battlefleet.
O'Monat'Pel does not begrudge his isolated position, and welcomes the chance to be in complete command. He has proven to be just as successful in small fleet command as in running a single ship. His talent for course efficiency and strategy has increased the 4th's success rate. The 4th is one of the most productive research fleets dispatched and their advances in Y'he (Tyrranic) research should prove invaluable when the Y'he strike again.
---
Escort Cadre
The 4th Shas originate from Bork'an and so they have some earth caste tendencies and curiosities. They have been known to modify or request alterations to their equipment by the earth caste researchers they escort. They also experiment with generally avoided tactics and skills such as close quarters combat and siege warfare. Windspear is a war hero to them for playing a part in saving their planet and they follow him unflinchingly.
Research cadres are a bit of a misnomer in that they do not follow the traditional size limitations of a cadre. A Lar'shi cruiser could hold a full contingent (6 cadres) in addition to its weaponry and figher escorts, but research Lar'shi cruisers only carry the rough equivalent of 2 cadres. The size allows the cadre greater flexibility and depth without devoting excessive fighting power to a purely protective element. Though the total number of Firewarriors in the cadre fluxuates between 80 and 100, the full strength of the cadre is very rarely deployed. In most cases, should a Fio team come under attack, approximately 30% of the cadre's Shas are deployed. This is generally enough to stall or eliminate any advance elements of an approaching enemy, and give the Fleet enough time to extract the Fio team and their equipment. They are mechanized for maximum insertion and extraction speed as well as for increasing their perimeter defense range.
As a pure reactionary force, the 4th EC heavily relies upon support technologies such as Drones, Markerlights, Air support and RDSGN's (Rapidly Deployed Shield Generator Network) to maintain superiority during hostile encounters. Units that can perform various battlefield roles are heavily utilized in escort cadres and highly specialized units such SDT's or Broadsides rarely see action.
---
Commander and Lieutenants
Senior Commander
Shas'O Bork'an Sha'is'Nen in The Greatest Enemy wrote:"Of all the evils that resist Tau'Va, none are so frightening as the Y'he. And when the Y'he comes in earnest, the only thing that will save us is a unity of purpose."
Acting Commander:
The Bork'an 4th Escort Cadre is led by Shas'O Bork'an Sha'is'Nen "WindSpear".
Features and Career:
In the early days of his career his comrades jokingly nicknamed him Kor'Shas for his height. O'Sha'is'nen is tall, slender, and his temperament is docile for a Shas. His lack of aggression, however, does not stem from cowardice, but rather from a highly protective personality. Though they would joke that he must have Air caste blood, they all considered him the most noble, loyal, and trustworthy member of the team. His objective thinking set him apart as a natural tactician, while his protective nature won him the respect and loyalty of his superiors and teammates. He was given an XV suit at an early age, eventually rose to 'Vre status and was given a full Ta'ro'Cha shortly before the Y'he struck Bork'an.
His name is derived from his inexplicable ability to read wind patterns, even during atmospheric imbalance due to orbital strikes or deployment. His talents were put to good use deploying aero-chemical pumps during the war, spreading toxic fumes engineered to exterminate the ever-evolving Y'he infestations during combat.
His love of Bork'an and his untiring devotion to her survival inspired the beleagered Tau defenders to great feats of resistance, but the Y'he advances continued. As the Y'he consumed his planet, O'Sha'is'Nen's quiet personality was awakened to anger. During the initial retreats, O'Sha'is'Nen's actions were borderline insubordinate as he led his team on near-suicidal strike missions to cripple and slow the Y'he infestation. By targeting synapse creatures and dropping aero-chemical pumps in critical locations, O'Sha'is'Nen turned Y'he assaults into confused, chaotic masses of uncontrolled beasts, preying upon one another and the Y'he hordes that followed behind them.
He was given full command of a hunter cadre and 'El status after the Y'he infestation was eventually halted. Finally, armed with the power of a full cadre, O'Sha'is'Nen unleashed his fury, built up from watching his planet burn, and cut through entire Y'he hordes to destroy Hive Cerebrates and spawning pools. The sudden offensives set the Y'he hive mind network reeling to respond. Unaccustomed to defending itself, the hive network was slow to act and O'Sha'is'Nen had scoured whole battle sectors before being forced to withdraw and recover.
Sensing the potency of O'Sha'is'Nen's cadre and tactics, the Y'he dispatched their strongest monstrocities to his sector in order to break the Tau offensive. In the ensuing battle, a Y'he Biotitan broke through the Tau lines and headed for the Tau support contingents. O'Sha'is'Nen did not hesitate. Carrying his customary brace of aero-chem pumps he and his team raced to intercept the gigantic beast. The crisis team targeted the Biotitan's poison sacks from the flank, ripping holes in the massive storage bladders. As they neared, the Heirophant's defensive tendrils lashed out. O'Shai'is'Nen's shield generator saved him, but his bodyguards were slain outright. Urging his suit to full speed, he smashed into the poison sack feet first and punched a hole in the weakened skin membrane. The concentrated poison ate away the robotic feet and shins, but before detaching himself O'Sha'is'Nen jettisoned the pumps from their thigh mounts into the poison sack. As his suit fell to the ground, beaten, corroded, and barely functional the Y'he poisons ate away the pumps, releasing their own toxins into the Heirophant's poison mix. The toxons circulated through the whole Heirophant's system just as the Y'he poison concentration would before being released to the air through it's emitters. The toxic cocktail, rapidly traversing the Heirophant's systems killed the biotitan in a matter of minutes, and halting it before its cannons could range the Tau support areas.
After the war, he recognised the threat the Y'he pose to the Greater Good and requested that he be assigned to a preventative action against it. When the research groups were formed, O'Sha'is'Nen was immediately called to serve as escort. He was paired with O'Monat'Pel; his intense focus for preservation against the Great Devourer is only matched by O'Monat'Pel's confidence and independant nature.
Tactical Tendancies:
As a veteran of a war where innovative technologies and prototypes helped win the war, he has a healthy respect for experimental weaponry and equipment. He is an Advocate of the Nen'em'Ka "Spear Thrust"(derived from Nen-spear, Nem-piercing, Ka-blow/hit) tactic and pilots an XV8-02 Iridium battlesuit, providing protection for his team members. He prefers to give his junior commanders actual command assignments with followup analysis and review, with as little "bodyguard" time as possible. He believes that commanders should spend little time mimicking their superiors and to let their full potential through. He is a firm believer that great commanders are born in battle and that even greater ones became great through their own will, not through exceptional teaching.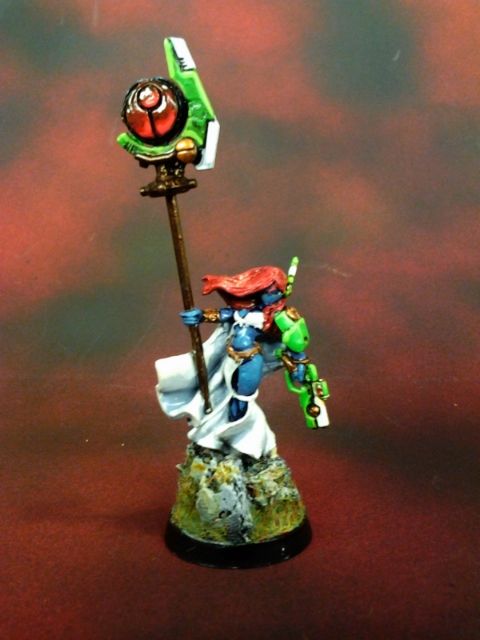 Ethereal Caste Representative/Operations Oversight
Ethereal Representative:
"Stone"
Features and Career:
Like most Ethereals, her actual history is not known outside of Ethereal councils and those she informs in confidence. What IS known is that "Stone" is accompanied by a single Shas bodyguard Monat'Shan "Army of One" a huge bulky Shas with a mindset perfectly suited to protecting the Ethereal. When he accompanies her to the battlefield he pilots the 4th's XV-107-2 modified R'varna battlesuit.
Young Ethereals are often assigned to smaller expeditions during their early years of deployment, sometimes even during their training. Though her names origins are unknown, the Borkan 4th often refers to her as their "foundation" as her name could imply.
She is well accepted in the Borkan 4th, though she has only recently joined their latest expedition, and they are a close-knit group of veterans. It is likely that her fearlessness in battle and her attractive physical appearance has something to do with how quickly she has fit into her role. However, Ethereals are mysterious beings and perhaps any Ethereal would fit in just as well.
Tactical Tendencies
: Fearless in combat, like most of the leadership caste. She does not, however, display an overly abundant knowledge of tactics and combat. She is better suited for diplomatic and logistical issues, yet places herself on the battlefield to serve as a visible and charismatic leader for the betterment of the combatants. This has proved beneficial in most cases, but O'Sha'is'Nen has made it a point to keep her off of the battlefield whenever possible, to avoid unnecessary risks to the 4th's Ethereal presence.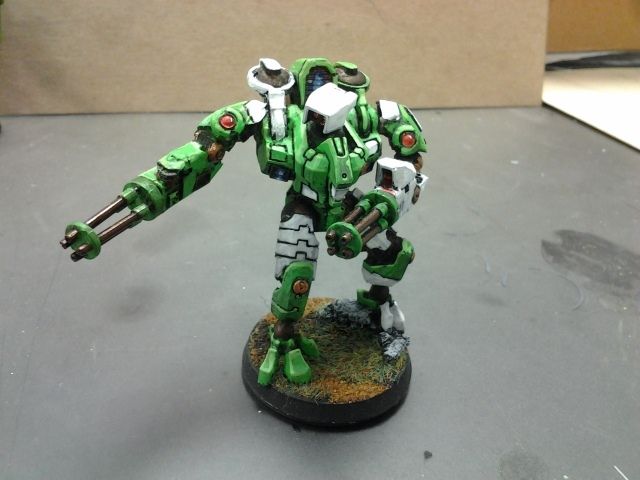 Senior Bodyguard/Mission Commander
Senior Bodyguard:
Shas'vre Bork'an Tak'Hui "Mystery"
Features and Career:
Vre'Tak'Hui is old, leathery, venerable, and quiet. He fought during the Bork'an Y'he wars and it turned him into a grim and silent fighter. The horrors of the Y'he leave scars that will never heal. In addition, his body is heavily scarred from physical wounds during the war.
At the time of the war for Bork'an against the Y'he, he was a line 'Ui. He fought under O'Sha'is'Nen during the Tau counter offensive but was heavily injured during action. When brought to the medical facilities behind the lines, the Fio surgeons were baffled by his survival. The corrosive toxins alone should have caused multiple organ failure: almost every Shas struck with the corrosive projectiles died shortly after examination. Something about his genetics slowed the corrosion and kept him alive. Besides the acid burns, he had several critical lacerations to his body and legs, severe blood loss, and mild hypothermia. How he survived the wounds was a mystery to the surgeons, hence the name "Mystery".
The old wounds affect Vre'Tak'Hui's speed and reflexes, however, after he advanced to XV pilot these handicaps were mitigated by the suit's compensation. Given his physical handicaps, he was unsuitable for experimental duty and his mindset made him unfit for command. His focus and loyalty made him an excellent candidate for bodyguard duty, even if he was not destined to lead cadres of his own. Regardless, he is O'Sha'is'Nen's most trusted advisors and protectors.
Tactical Tendancies
Vre'Tak'Hui is a straightforward and conventional leader. His tactics are simple but logical. When faced with a choice, he will choose the textbook course of action. This makes him predictable in combat simulations, but his actions are almost never a mistake, making him an excellent mission commander.
Junior Bodyguard
Junior Bodyguard:
Shas'vre Bork'an Korst "Reaper"
Features and Career:
Of an average build, relatively young for a Shas'vre, and high spirited. He was too young for combat during the Bork'an war, and was evacuated from the planet during the early stages of Y'he infestation. Like many refugees he was transported to the neighboring sept of Fal'Shia, and here he sought out combat training from any Shas willing to teach such a young Tau. Most turned him away, either too busy preparing for their own departure to the aid of Bork'an, or too proud to waste their time on such a youngling.
Eventually, while wandering through a marketplace, Vre'Korst found an aged Shas crafting ceremonial spears, similar to the weapon he'd seen an Aun carry but less colorful. The old veteran, named Shas'ui Kais'Nen "Skilled with a Spear", took an interest in Vre'Korst and agreed to teach him the ways of Firewarriors. In return, Vre'Korst would have to stay with him on Fal'Shia to master the little practiced art of "Spear Weaving". Ui'Kais'Nen had learned the art when he was young, from a similar ancient, who was passing his own skills on to the next generation. Normally only practiced by Aun caste, in tribute to the primal days when spears were the most advanced weapon the Tau possessed, "Spear Weaving" had all but vanished from combat doctrine.
Vre'Korst agreed to the terms and his training began. Though he was enrolled in a Fal'Shia Shas'la'rua, he always intended to return to Bork'an if he could. He rose to Ui status quickly, thanks to his indoctrination at such a young age, and was given an XV suit. Shortly thereafter, the EC's were formed and Vre'Korst put in for a transfer to a Bork'an EC. In the 4th, his skills were recognized by Shas'O Sha'is'Nen and he was awarded 'Vre status. Using his higher rank, Vre'Korst was able to have his old mentor also transfered to the 4th EC as a veteran advisor.
When not fulfilling his other obligations, Vre'Korst and Ui'Kais'Nen often train with the XV suit. They are currently attempting to transfer the Spear Weaving combat art into XV applications. They have found that an actual spear is less practical on a battlesuit, and have begun work on modifying the technique to utilize Vre'Korst's signature Plasma Scythe weapon designed by the Earth Caste in the 4th RG. Powerful energy weapons often lend themselves more to cuts than thrusts. Once mastered, the speed and strength of an XV turns the Spear Weaving technique into a fearsome and deadly weapon, further amplified by energy containment technology to create the Plasma Scythe. Whenever possible, the two commandeer an XV-9 for training, as it meets the speed and reflex demands better than a standard XV-8.
Tactical Tendancies:
Vre'Nen is eager to test out the Spear Weaving in an XV battlesuit. This makes him somewhat quick to engage and quick to react. Though this has great psychological effects on his prey, it leaves him open to underestimating his quarry and making mistakes. Promoting him to bodyguard status was largely an unpopular decision by EC command, but O'Sha'is'Nen is convinced that the young hot-head will be a great asset and, eventually, a great commander.
---
Battlesuit Rotations and Team Summaries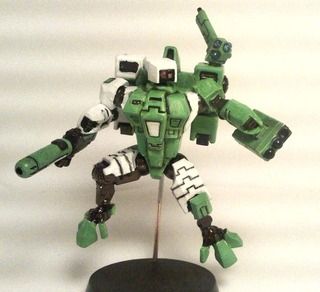 XV-8 Crisis teams in the Bork'an 4th do rotating duty on battlefield roles. Every team serves in a particular capacity until rotated to a new designation. This is intended as a type of extended training program for 'Ui and 'Vre that have already passed XV-8 initial training programs. The rotations allow each team to focus on honing their skills and teamwork in a particular area. A team is not rotated until the command staff feel that the team has sufficiantly mastered the current role. Once a team has mastered the 3 levels of rotation they are given a unique team name specific to their own accomplishments, much like a traditional Tau name. This tends not to matter, since by this time, the XV-8 pilots have almost all become Shas'vre and advanced to either Bodyguard or Experimental duty. Bodyguards are groomed for command of their own operations or cadres while Experimentals are given advanced battlesuit systems such as the XV-9 series.
XV-8 Crisis Rotation 3 "Pike"
Rotation Description:
Pike is the designation for 'extended range combat'. XV-8 teams operating under this designation are mastering the use of ballistic amplification techniques to increase their threat range, as well as the basics of drone control. Pikes are outfitted with Deathrain or Deathrain-D configurations and accompany armored columns to provide mobile heavy weapon support to combat areas that do not warrant the use of Hammerhead gunships. The lower stress and reduced mobility needs allow Pike teams to focus on accuracy and firing efficiency unimpaired by XV combat drugs or unstable jet maneuvers. New XV-8 teams are traditionally designated Pike, as the targeted skills are the simplest to master and backfield commanders can keep an eye on the team.
For symbiotic purposes, these teams are also usually equipped with Target Locks so that they can develop their abilities at directing their own weapons at one target while using their slaved marker drones to support the rest of the column.
Team Leader:
Shas'vre Bork'an Soo'is "Dancer." Dancer is young for an 'Ui, average sized and has few distinguishing features. He is exceptionally quick; on his feet, with his hands, and with a joke or laugh. He has a genial personality but is one of the most lethal in the cadre with a knife. He is the most open, of the team leaders, to new technology and tactics and embraces anything that might give him an edge over an opponent. Despite his talents, Dancer's teaching abilities are abysmal. He and his team are newly inducted into the battlesuit training program. His early advancement is, in-part, due to his inability to train his fellow Fire Warriors. His team's experience in storming enemy installations with close range weapons has made his transition into leading "Pike" difficult for him. O'Sha'is'Nen believes that "Dancer" must master long range combat before his career continues, .
XV-8 Crisis Rotation 2 "Fury"
Rotation Description:
Fury is the 4th's name designation for 'close range combat' teams. Fury teams are equipped with Heatwave or Sunforge variants. These XV pilots are developing jet maneuvers and responsive reflexes, so accuracy is not emphasized. These teams are generally dropped from Manta bays or Orca dropships at extreme altitudes to drop in close to the action and where they are needed most. In addition to the mastery of the new skills, Fury teams are also exposed to higher doses of combat drugs during action and they must become accustomed to the effects, better to utilize them in combat.
This sort of battlesuit role would traditionally be reserved for Monats that have lost their Ta'ro'cha, but Sha'is'Nen feels that operating battlesuits in close proximity to the enemy should be a well rehearsed skill, rather than attempted suicide. For this reason it is the second stage of Battlesuit Mastery in the 4th.
Team Leader:
Shas'vre Bork'an J'Shas'ka "Fist of Fire". Vre'J'Shas'ka is large of build and laid back in nature. Where his older sister Vre'J'Kles'Snae would respond in fury to provocation or jokes, he would simply laugh and ignore them. He is named being an avid pyro. As a young line warrior, he witnessed, firsthand, the cleansing effects of fire on the Y'he infestations. He is one of the few XV-8 pilots that maintains any sort of association with the XV-25 pilots, most likely due to their similarly relaxed personalities.
XV-8 Crisis Rotation 1 "Hammerfall"
Rotation Description:
Hammerfall is the final rotation before "graduation" from the 4th advanced training. By the time an XV-8 team reaches the Hammerfall rotation, they should be experts at precision shooting, as well as XV manuevers and close quarter operations. Hammerfall is where the two skillsets are combined to create a team capable of carrying out any mission given to them. The most powerful XV weaponry are reserved for the Hammerfall teams, as they are the most capable of weilding them. Plasma rifles are what crisis teams are ultimately trained to use in the 4th, so Hammerfall teams are generally Burning Eye-D, Helios, or Fireknife configurations. Pike teaches the pilot accuracy, while Fury hones reflexes and suit operation close to enemy units. The plasma rifle requires high accuracy, however, the weapon's range requires the user to operate close to his prey.
Hammerfall teams also tend to include a "Raven" to increase the team's accuracy while performing advanced jetpack maneuvres.
Team Leader:
Shas'vre Bork'an J'Kles'Snae "Bomb of Compassion". She is nervous, talkative, cautious by nature and prefers long range combat. She is the older twin of Vre'J'Shas'Ka but is smaller in stature. Vre'J'Kles'Snae is named for her borderline bi-polar personality. She is empathetic and motherly to things that are weaker, but can explode at the slightest provocation. Her volatile personality won her her name but also makes her a force to be reckoned with on the battlefield. She prefers plasma rifles for their destructive capabilities at longer range, but is the only pilot cleared to use the experimental Raven suit. She has taken to the Raven role well and is a testament to the heights that can be reached when putting the Purpose ahead of the Individual.
---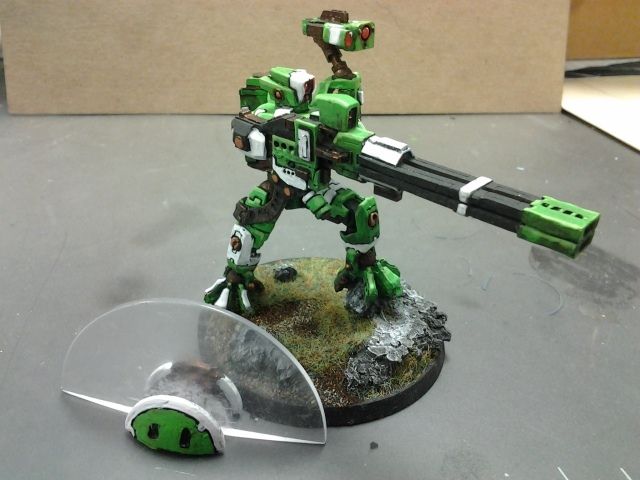 Broadside Team 1 "Deathblow"
Team Leader:
The 4th's one and only Broadside team is led by Shas'vre Bork'an J'Mont'ka "Hammerfist." A large Shas, but otherwise unremarkable. His keen eyesight served him well as a railrifle Pathfinder before being promoted to XV piloting. His proficiency with rail weaponry translated flawlessly to the Heavy Rail Rifle wielded by the 4th's XV88's. His talents make him an exceptional sniper when paired with the XV88's anti-tank weaponry, almost guaranteeing the instant death of his targets.
Team Summary:
The other two members are previous XV8 pilots that showed exceptional skill in the Pike rotation, but were unable to fully grasp the Fury rotation, making the slower XV88's their ideal combat placement. All three members prefer the potency of the Heavy Rail Rifle and Plasma Rifles, to the alternative missile loadouts.
---
Line Team Summaries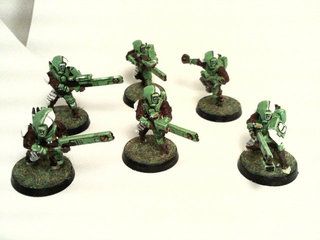 Fireteam 1 "Warhounds"
Team Leader:
The Warhounds are under the command of Shas'vre "Ox". He is a large Shas, oldest of all the 4th's line warriors, a strong advocate of Mont'ka and stubborn. His bulk and singlemindedness make him less ideal for XV-8 integration and his disdain for underhand tactics disqualify him from XV-25 use. He hates flying and swimming, preferring to have his feet firmly planted in the earth. Scarred and grizzled, he is always on the front line, inspiring the younger Shas with his stalwart figure and countenance. On occasion he is given tactical command of ground units, usually during routine defense or escort operations.
Team Summary:
Fireteam 1 is the most professional of all the fireteams. The toughest Shas are assigned to Ox, making Fireteam 1 a scrappy and resilient squad. His second in command is Shas'la Bork'an Ka'Mesa'Cea "Scarred One". Scarred One is the 4th's premier marksman. Under his tutelage, the Warhounds have become specialized in marksmanship and overlapping fields of fire, in addition to Ox's stalwart defensive formations.
Fireteam 2 "Sly Rodents"
Team Leader:
***UNDER REVIEW***
Team Summary:
The team's previous leader: Vre'Soo'is "Dancer" was advanced to battlesuit training, along with two of the closest members of the Sly Rodents. Due to Dancer's inability to educate his subordinates, only the most keen and naturally gifted Shas are assigned to the Sly Rodents, since they generally had to teach themselves or learn by observation. Currently, Shas'la Ol'ke "Grimface" and Shas'la Kak'Kles "Special Sand" are competing in special missions to prove their capability as a Shas'ui. With so many gifted Shas in the team, their combat prowess is a primary selection criteria. Grimface is known for his lack of humor which makes it difficult to connect with rank and file troopers. This naturally sets him apart as a possible leader, if not an outcast. Special Sand is what is commonly called a Jack of All Trades. Though almost never the winner of competitions or skill scores, he is consistently in the top 10%. This makes him reliable in the eyes of senior command and a possible leader for the team of generally exceptional Shas in fireteam 2.
Fireteam 3 "Misfits"
Team Leader:
The Misfits are commanded by Shas'Ui "Prettyboy". A Shas of regular build and age, a gifted tactician and attractive by Tau standards. His tactical prowess makes him a confidant and capable leader, but his good looks make him somewhat vain. He has a great career ahead of him should he survive long enough to see it. He is cleared for XV-8 use, but his superiors have forestalled his advancement in the hope that more time as a line Shas will bring humility, or perhaps an ugly scar to wipe away his vanity.
Team Summary:
As the most gifted teacher of the team leaders, Prettyboy is almost always assigned the least capable and inept Shas. Often the Misfits are less skilled marksmen, as accuracy is highly rated in their aptitude testing. Despite these disadvantages, fireteam 3 is quite successful under Prettyboy. Prettyboy recognizes and utilizes each member's strengths incredibly well and likewise recognizes and accounts for their weaknesses.
Due to the high level of camaraderie in his unit, and their adaptability to new situations, Prettyboy and his Misfits are the first choice for scouting operations. They often carry pulse Rifles and EMP grenades in order to stay prepared for any situation. Prettyboy is a firm believer in being prepared and giving himself as many options as possible during combat, as his team's strength lies in operating independently at a moment's notice, rather than stubborn defense or pin-point accuracy.
---
Scouting Elements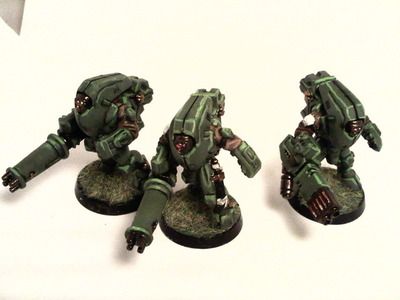 xv-25 Stealth Team 1 "Jolly Shades"
Team Leader:
Led by Shas'vre Bork'an Ho'kais. Vre'Ho'kais is of a regular build, old, and highly experienced. He was a pathfinder before being asked to operate an XV-15 and now an XV-25. He served during the Bork'an war, though not in the same theaters as O'Sha'is'Nen He has a knack for situational awareness and survival. He was always a distant Shas, before being assigned to the 4th and being paired with like-minded stealth operators. He fits well with the team and they look to him for guidance and leadership, despite having a laugh at his expense from time to time.
Team Summary:
The Jolly Shades name is derived from their dark "battle" humor. It takes a special kind of fighter to operate a stealth suit in necessarily close range to hostiles, and the Jolly Shades deal with the higher stress by making jokes. Most Shas that listen to their mission comm recordings are horrified by their ability to brush off killing and death with a dark chuckle and a crude remark about their comrade's poor accuracy. They are a grizzled and shabby outfit, largely avoided by other 4th Shas, and are seemingly immune to the psychological effects of warfare. Their specialized equipment and cliquish attitude does not mesh with a disciplined mechanized cadre very well but their utility is undeniable for certain situations, so the stealth team is always available and always ready.
Deployment:
O'Sha'is'Nen considers the Jolly Shades somewhat barbaric but recognizes the power of their team bond. The Jolly Shades are frequently deployed, even when a Crisis team might be better suited for the mission. It is the sort of challenge that the Jolly Shades thrive on, and O'Sha'is'Nen knows he will need tireless fighters like the Shades when faced with merciless foes such as the Y'he.
xv-25 Stealth Team 2 *Status: KIA*
Team Leader:
***ACCESS DENIED***
Team Summary:
Killed while escorting Pathfinder Team 1 to the ATT orbital. During their escort operations the ATT orbital came
under attack
by Warp Entities. No official report has confirmed their demise, but unconfirmed
reports
of Stealth Suits encountering Chaos Noise Marines are believed to be indicative of Stealth Team 2.
Pathfinder Team 1 *Status KIA*
Team Leader:
Shas'ui Bork'an Karra'shi *Status: KIA*
Team Summary:
The Bork'an 4th's one and only pathfinder team was completely destroyed during defense of the ATT orbital. They served with distinction and played a vital role in eliminating the station invaders. Shas'ui Bork'an Karra'shi received posthumous recognition for his role in purging
Reactor 2
, removing countless warp beasts from the orbital.
For the time being O'Sha'is'Nen is exploring alternative markerlight support in the form of marker drones. So there is no intention of drawing from the 4th's Firewarrior base to replace the lost Pathfinder team. Any covert or advanced operations usually assigned to pathfinder teams are now generally given to Prettyboy and the Misfits.
---
Experimental Equipment
Research groups are not only responsible for collecting data on uncharted systems, lifeforms, chemical compounds etc. They are also tasked with running battle simulations, live tests, and performance reviews on the newest Tau weapons and technology. The collective data logged by research groups in a myriad of different systems and environments gives Fio engineers the feedback needed to improve and standardize their designs. A single research group like the 4th encounters a far more diverse range of environments and life forms than a standard cadre, in a shorter amount of time. This ensures that the Fio'tak is that much more useful in different environs.
A research group is traditionally given two to three different fio'tak to experiment with, modify, and test. The 4th Bork'an EC currently tests XV-9 "Hazard" battlesuits in variable weapon configurations and XV-12 "Needle" propulsion suits.
Firewings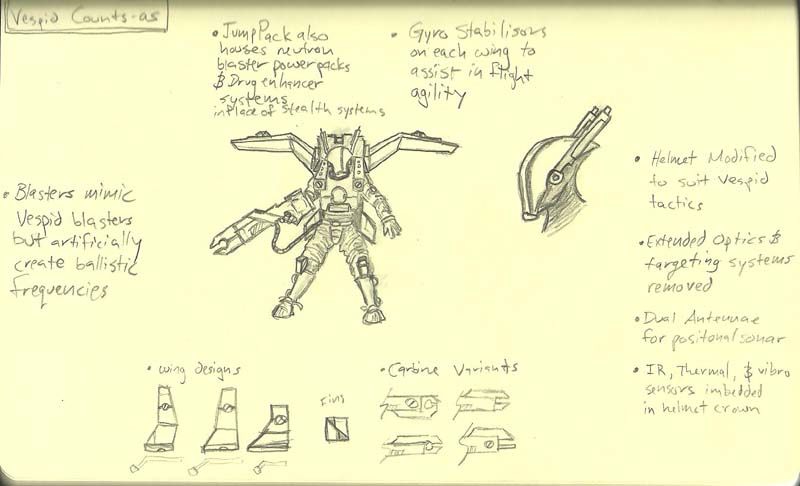 The Fire caste escort uses prototype XV suits and training to duplicate the tactical flexibility that auxillaries offer. Rather than test the resolve of hired mercenaries like the Mal'kor, the 4th employs specialized jump gear and a Tau modification of Mal'kor technology. These specially trained Shas are refered to as
Shas'la'eldi
"Winged Fire Warrior". They are deployed from Orca dropships or Manta missile platforms. Experimental XV-12 "Needle" Propulsion suits, based on the XV-25 system, give them the mobility normally only attributed to Mal'kor Stingwings at the cost of stealth field generators and heavier armor. To augment the Shas reflexes their jump suits are fitted with compact drug injectors. The Shas'la'eldi employ a Drone Assisted Vision System (DAVS), instead of conventional optics, that uses wave/reflection profiling very similar to Sonar. The lack of any optical sensors gives them an odd appearance and they are sometimes called "blind birds" by other members of the Cadre.
These specially trained Shas are somewhat isolated from the rest of the cadre. This is due to their extreme aggressive natures, and their operation in an element usually reserved for Kor caste members only.
Firewing 1 "Lightning"
Team Leader:
Led by Shas'ui "Quickstrike". Slight of build and middle aged, Quickstrike is one of the quietest, deadliest Shas in the cadre. He is exceedingly fast and very rarely loses close quarter sparring matches. Even Dancer, an expert knife fighter, admits that Quickstrike's title is well deserved. His reflexes and lethality made him an excellent candidate for lightning raids and he was among the first Shas offered the chance to join the experimental unit.
Team Summary:
Team "Lightning" excels at surgical attacks and so, when working in tandem with other firewings, they are the first to strike, crippling the enemy's ability to retaliate and leaving them in confusion before the second team arrives to finish them off.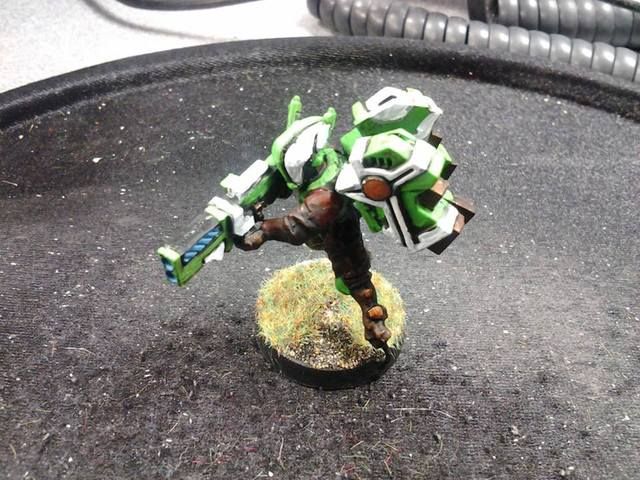 Firewing 2 "Thunder"
Team Leader:
The "Thunder" Firewing is under the command of Shas'ui "Shockwave". Shockwave's name is derived from the powerful attacks he delivers in sparring matches. Average of height and build, Shockwave learned early that by localizing all his weight and speed into his attacks, he was able to deliver more powerful punches and kicks than his larger comrades. He is somewhat older and is no stranger to experimental weaponry. He operated an XV-15 stealth suit and the newer XV-25's. He prefered the close work the stealth suits offered but the "Hit and Run" nature of the units did not fit his nature. His "All In" philosophy of attack set him apart from the usual stealth suit leaders, and ultimately saw him transfered to the Shas'la'eldi.
Team Summary:
Team "Thunder" is less skilled than "Lightning" at flight maneuvers or quick attacks, but they are ruthless and an excellent "finishing" unit, working well with Firewing 1's debilitating strike capabilities. Shockwave and his unit have a taste for close combat and are constantly asking Fio'la to upgrade their suits with close quarters modifications.
XV-9 Teams
XV-9 Team 1
Team Leader:
Rotated between team members at O'Sha'is'Nen's discretion
Team Member 1: Elsy'Elro'Che "Divine Singer"
Small and attractive, she sports heavy scarring to left side of her face. The scars are shrapnel and electric burns from her past encounters with Ork warbands when her suit was nearly incapacitated by a Warboss' Power Klaw.
Loves dancing and is exceptionally graceful. Despite her appearances and stature, she is incredibly tough and scrappy. Even with her good looks and grace, her voice is often the trait others find the most attractive about her, hence her name. Loves picking targets larger than herself and close range destruction. Few pilots excel at battlesuit movement, so she was eventually assigned to XV-9 operation. Previously she'd excelled at destroying hard targets with fusion blasters in a fusion drop team. Her love of dancing and inherent grace made her exceptional at maneuvering around vehicles for soft points. She immediately took a liking to the Fusion Cascade and it is her weapon of choice against all enemies. Even with the advanced mechanics and motion-ranges, she still complains that the XV-9 battlesuit cannot keep up.
Team Member 2: Mon'yan "Black-Minded"
Thin build, gaunt and somewhat manic. He is fascinated with new tech and previously piloted Heatwave XV-8's. Before being assigned to the 4th he was part of a unit that encountered Scarab swarms on a Necron tombworld. Against scarab swarms and uncompromising metal constructs, he adopted a like-minded approach to combat: total and complete eradication.
His specialty is the removal of large swathes of enemies at close range. His demeanor while killing incredible numbers of helpless enemies puts off some, but his results have never been in question. His name speaks of a dangerous soldier that has possibly adopted a grim view of the universe and an unhealthy liking to mass destruction. On several occasions he has exceeded his mandate and killed unarmed and fleeing enemy troops. Overall, his borderline bloodlust resulted in him being reassigned to an XV-9 in order to give him a better outlet, as well as keep him somewhat isolated from other troops. While useful, commanders would have a hard time if there were many of his kind in the ranks. Of the XV-9 weapons, he favors the Pulse Submunitions Rifle because it is the only weapon available that can cause destruction to a wide area. The PSR took getting used to after extensive use of Flamers, but he took to the mobile nature of the XV-9's instantly.
Team Member 3: Fian'Kai "Great Arm"
Oldest team member. Average build and height.
Though not from Bork'an itself, he was still a Tyranid War Veteran from the Bork'an War. He is from a nearby planet that was forced to defend itself against some of the Y'he invaders that scattered after the Splinter Fleet was broken up. He is a firm believer in the Mont'ka, down to his very bones, so his name was given to show he believed in great force. He was a stealth suit operator and was a part of the successful counterattacks against Y'he invaders approaching from nearby Bork'an. His successes paved the way for eventual XV-9 operation as he had extensive experience working very close to enemy units. Believes in volume of fire and doesn't trust the experimental and unpredictable nature of the other XV-9 weapons. He knows burst cannons and he has faith that enough shots will eventually kill an enemy, even with regenerative powers. Stalwart and stubborn, his inclusion has been problematic at times when retreat was more prudent. Only his profound respect for O'Sha'is'Nen has kept him from committing open insubordination when his own gut instincts go against his orders.
---
XV-107-2 modified R'varna Battlesuit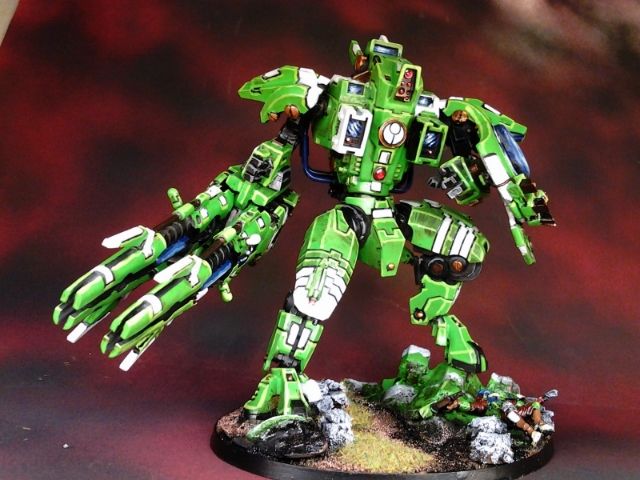 Shas'vre Bork'an Monat'Shan "Army of One"
Features and Career:
Like his Ethereal charge, Vre'Monat'Shan is a new addition to the Bork'an 4th. Past military services have been classified for the duration of his stint as an Ethereal bodyguard. He is given a wide birth among most of the 4th, due to his imposing size and seemingly simple disposition. His independent status naturally grants him a certain level of respect by the 4th, but also makes him less approachable.
Sha'is'Nen selected Vre'Monat'Shan to pilot the 4th's XV107-2 battlesuit. He was most likely chosen to make the Ethereal's induction into the 4th go smoother. His imposing presence in person translated well to the battlefield in the massive battlesuit. This experimental prototype battlesuit is a modification of the XV107-R'varna series. Often these 'one-off' prototypes that are unfit for mass production, end up as iconic pieces for their local cadres. It is an excellent example of what Fio engineers, working in tandem with Shas, can accomplish and is a defining feature of the 4th.
The XV107-2, unlike its cheaper 107 counterpart, is capable of being outfitted for almost any battlefield role. O'Sha'is'Nen usually deploys it with an enhanced Jetpack and the weaponry used by the XV104 series. This better suits his mobile tactics, but on occasion has been called to use the 107-2's massive Dual Pulse Submunitions Cannon to draw a hard line across an enemy column's advance.
XV-109-2 modified Y'vahra battlesuit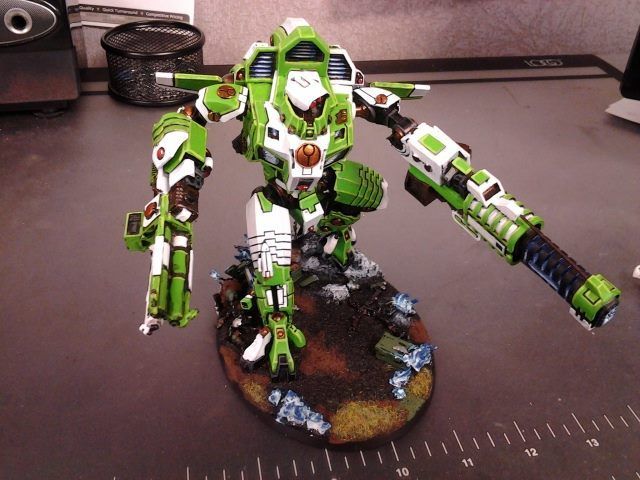 Rotating Pilots. See XV-9 Teams for Pilot information
Features and Career:
O'Sha'is'Nen was able to gain funding for production of an XV109 battlesuit for the Bork'an 4th. It was completed just before their most recent intelligence mission and assigned to the 4th's XV9 Hazard operators. The similarities in battlefield role and increased mobility made the XV9 pilots the most logical choice, and all are highly capable pilots. O'sha'is'Nen felt that rotating the pilots maintained a degree of humility and a competitive edge amongst the XV9 pilots. He has also found that he can select pilots best suited to his overall battleplan, for even these variables must be considered when planting the seeds of victory.
The XV109-2 features a greater degree of loadout flexibility than its original design. Like the XV108, it has been standardized to carry standard XV104 equipment and armour at the cost of its exceptional mobility.
---
Notable Operations
Socio-economic assimilation experiment [planet Vanope, Lopra system]:
The study of using small elite teams, dispatched from research cadres, to facilitate the social and economic breakdown of a planet. These forward teams operate in secret, eliminating specific targets and destroying the foundations of the planet's infrastructure through any means available. This covert operation has been dubbed "Sundown" and is the first of a two-step process for more peaceable assimilation of Imperial systems. The second step: "Sunrise," is the diplomatic offering of the Tau empire's aid to an anarchic and crumbling planet.
By using the planet to destroy its own structure, the Tau can be seen as the saviors when "Sunrise" is enacted and Por diplomats can offer the planet a brighter future in the Tau empire. In theory, this will prevent most animosity toward the Tau that usually lingers after a planet is conquered or turned over by the governing class. This experiment tests the feasibility, efficiency, and comparative results of these operations.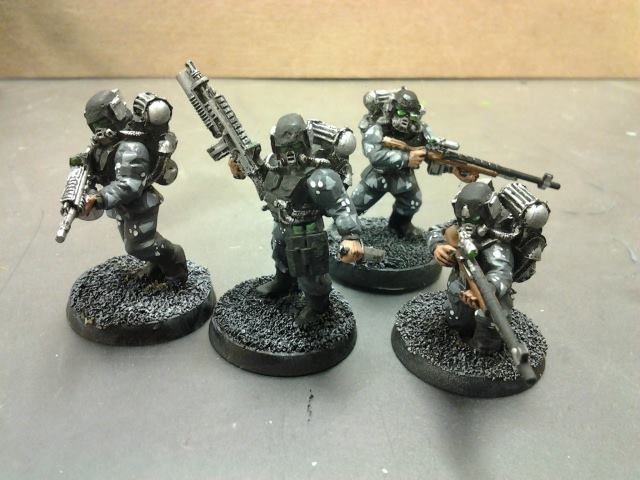 Night Jackal gang members led by Boss Vlamada "Knifehand". Hired directly from within Port Malad
Border skirmish [Dragonfire system]:
caught between other factions while collecting atmospheric and biological samples from a planet of interest, Shas'O Bork'an Sha'is'Nen was able to halt a growing incursion of warp daemons before slipping past Gue blockades to friendly Tau space.