Before I show were I'm going, I'd like to show where I've been. I"ve been painting my cadre for the last 18 months or so and have begun to assemble a modest force. As always comments and critism are welcome and any tips on how to advance my painting are more than welcome.
Currently my force is comprised of:
36 Firewarriors
12 Kroot
12 Stealthsuits
9 XV-8's (magnetized)
1 Devil Fish
3 Piranhas (magnetized)
1 Farsight
Here's a quick close up of my squad leaders (Gold trim on their shoulder pads helps them stand out). (fluff to soon follow) *Note: Each squad has the rim of its bases colored differntly for easy recognition.
I went a little crazy on eBay one night and somehow won all my bids and wound up with 9 crisisuits all at once so I needed a paint scheme that was simple and looked good. (At least I think it looks good)
I wanted Farsight to stand out from the rest of my cadre while still looking like a unified part of my force so I painted him a little different from GW. I'm quite fond of how he turned out although he doesn't see a lot of action these days. I"m hoping this will change soon.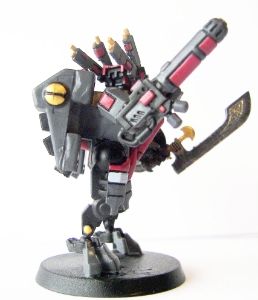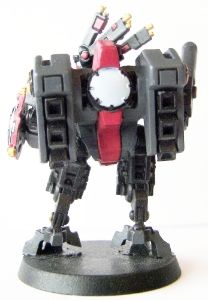 And a few of my vehicles... The Piranha's are much the same story as the Crisis Suits; one day there were none, then the next I seemed to have three?! How did that happen? I decided to make one of them a "lead" and painted his wings Space Wolf Grey instead of the usual blue. I've found SW Grey dries nearly pearlescent white and I try to use that color to denote command authority in my army. I actually really enjoyed painting the cockpit with all the buttons and instruments.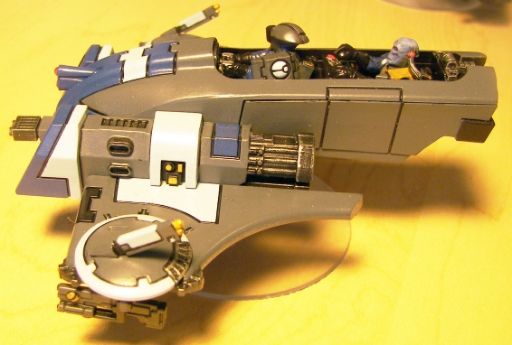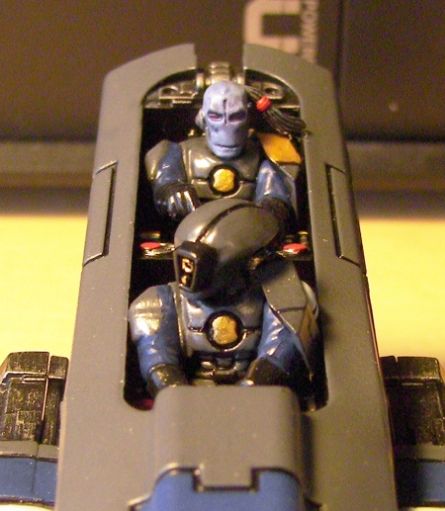 And finally my Stealth Suits. These were also eBay "rescues" they had come from multiple sources and had been crudely painted with thick multiple layers of paint. I felt like an archeologist scrubbing down therough all the layers after soaking them for a week in Simple Green. They're now an invaluable part of my force.
I'll try and get my next project uploaded tonight. I'm hoping to make this one my finest painted model yet and am excited to actually log my progress on it.