Greeting ATT,
After years of lurking and gleaning nuggets of info from ATT I am proud to present some of my work in progress as I continue to build my cadre for the greater good of the 40k universe. 5th edition Tau had a tough learning curve for me as I suffered many defeats getting used to game play and learning game mechanics. I think that many would agree the Tau are very unforgiving of error on the battle field and that it takes a skilled commander to master their synergy. Now with plenty of experience, help from ATT and better understanding of how games are played/won, i.e. Objectives and/or Victory Points I have been incredibly successful in my games with Tau. This recent success has finally inspired me to share my work with you and open myself to criticisms and suggestions offered by my highly knowledgeable peers (You ATT members!)
A Brief Cadre History
The Ethereal's Chosen are an elite group of Tau hand picked by the Ethereal Aun Dash from their home world to serve as his retinue in a campaign to bring more worlds and citizens into the greater good. While often met with the most hostile resistance the incredible ability of the Aun Dash has with negotiating with enemy forces often times has earned them temporary if not permanent alliances.
A Permanent Alliance has been formed with Pedro Kantor and his Crimson Fists to eliminate Ork threats when they arise.
A shaky alliance has also been formed with the Goff clans 'Ard Boyz who were forced to surrender and offered a deal by Aun Dash guaranteeing endless battle as well as a hefty amount of Daemon teeth in exchange for the green skin auxiliaries loyal to the Tau Commanders. Until now the alliance seems to be working well as the green skins are great in number and are always ready for battle.
As the Tau Empire continues to expand so too does the threat level continue to rise. Ork Invasions, Hive Fleets, Awakening Tomb Worlds, Daemonic Incursions, and the constant meddling of the Imperium have left the Tau with no other choice than to prepare for battle. In his great wisdom Aun Dash has a clear plan for victory: welcome as many friendly forces as possible and quickly silence the enemy.
The forces of the Greater Good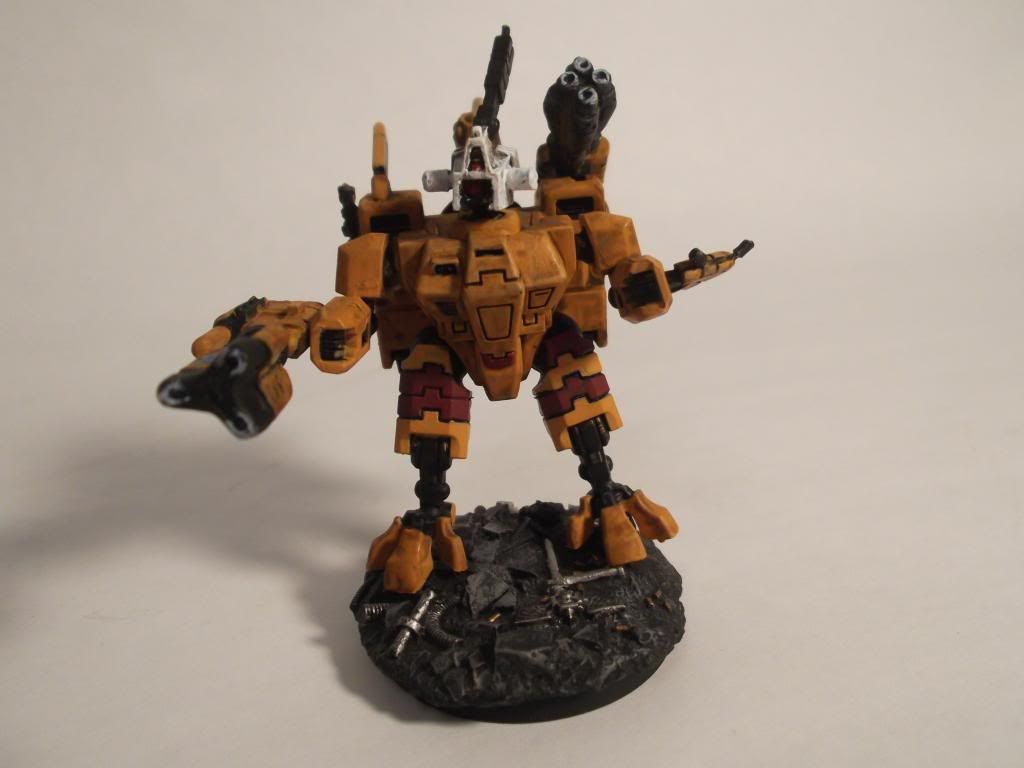 The acting battlefield Commander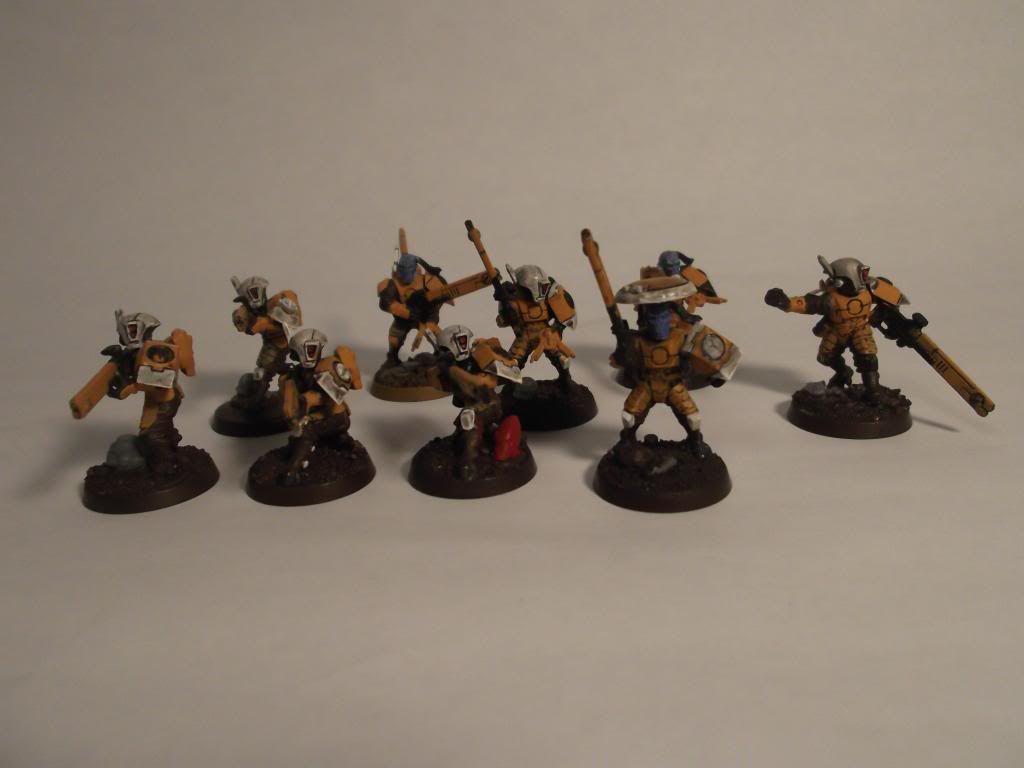 Honor Guard Fire Warriors
Pathfinder Rail Rifle Team with Devil Fish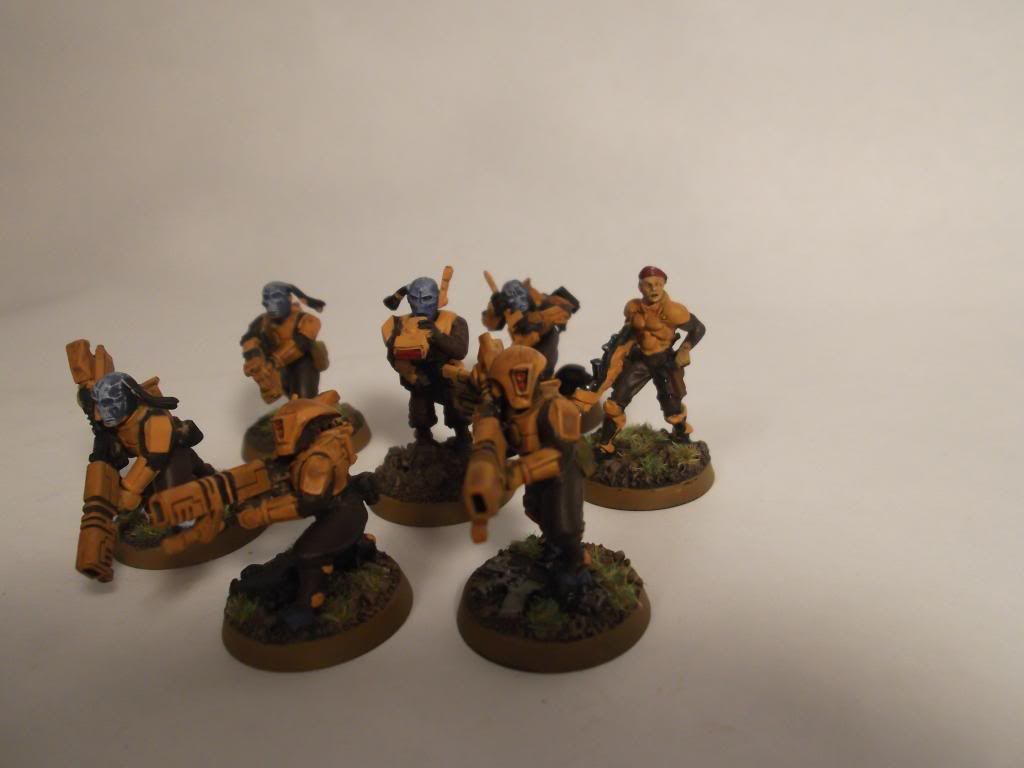 Pathfinder Ion Rifle Team
XV-25 Stealth Marker Team
Shas 'Ui Veteran with Marker Drone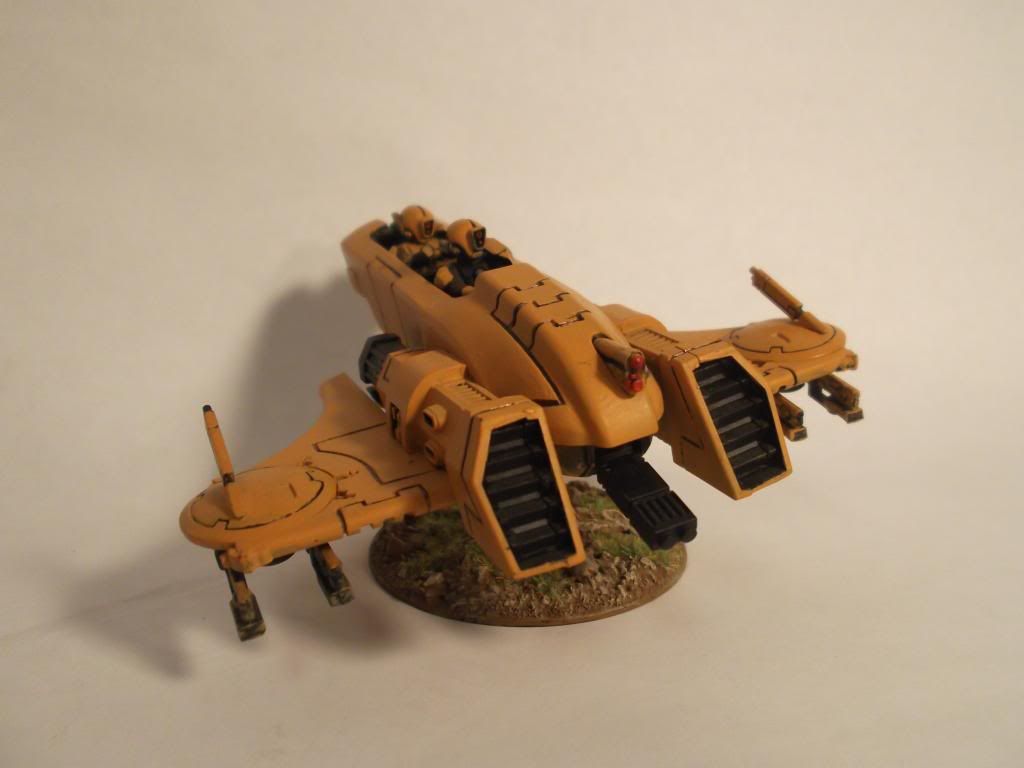 Piranha
Shas 'O Veteran Commander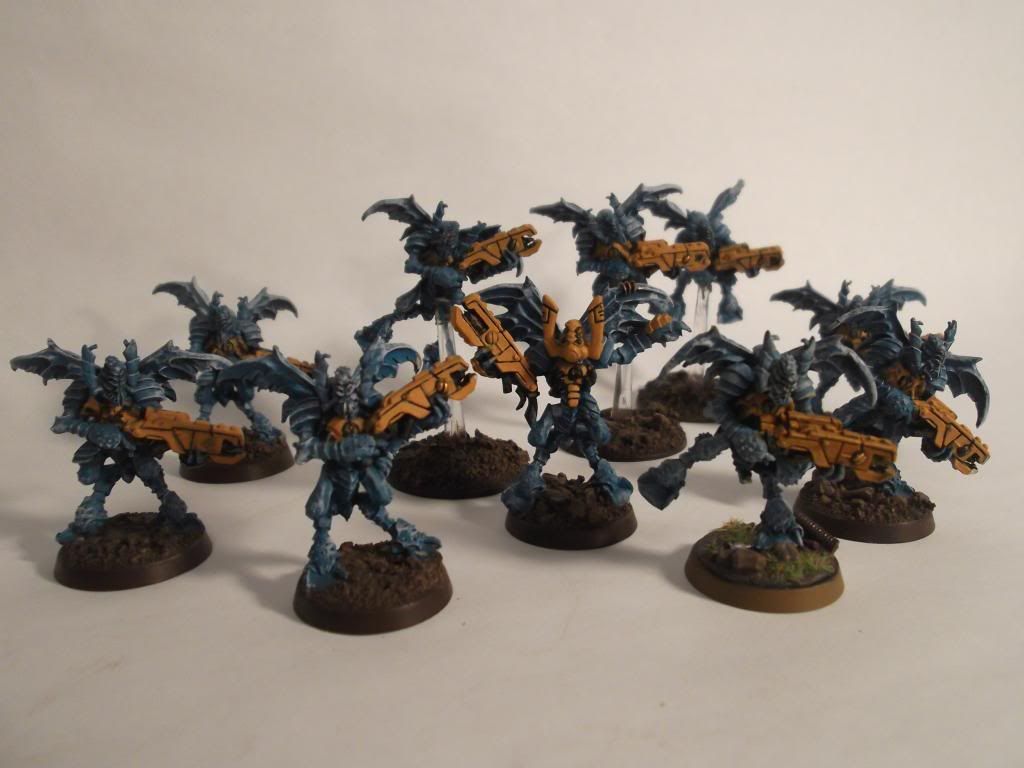 Stingwings (They don't see much use but I love the minis, all metal)
Fire Warriors
I look forward to finishing and painting all of my Tau army. The more I paint and play Tau the more I absolutely love them. Tau "own" the shooting phase and a cunning commander who takes advantage of terrain, deployment, and victory conditions can survive if not downright annihilate any opponent.
Things to come soon Riptide. I have been proxying this model with a battle scarred Gundam figure I've had lying around but am looking forward to the real thing. A very welcome addition IMO. As well as some XV-88s on the way!
Some things I need help on are finishing the models off like washing and highlighting techniques. My pathfinders are the closest thing to completion. I have washed them with a delvin mudd type wash, actually its Game Colors Sepia Wash to give the the grimy look and fill in panel lines in the armor then highlighted with Tau Ocher and then extreme highlight with a mustard yellow. I tried this technique with the XV-8 commanders but have mixed feelings on the result. I would care for a cleaner look on the suits but still want some battle grim in there too. Suggestions?
I have painted one D-Fish and Piranha with a brush and it took centuries. I'm on the fence about getting the airbrush to finish off my vehicles and for batch painting.
Thanks for reading and keep posted for the reinforcements.