So I've been getting a lot of questions lately about how to make some of the scenery I've been creating. It's all cheap, it's all very simple. None of it is ridiculously detailed or super high quality, but it's fantastic stuff for gaming on and if you damage a piece it's easy to fix/repair. I decided to start up a thread to show you all how I made some of it and showcase the rest. Hopefully this will answer most of your questions and inspire others with ideas of their own. As with most of my works, everything from A-Z is always a WIP. If you have any questions about details I may have missed feel free to ask and I'd be happy to answer. Having said all that, here it is.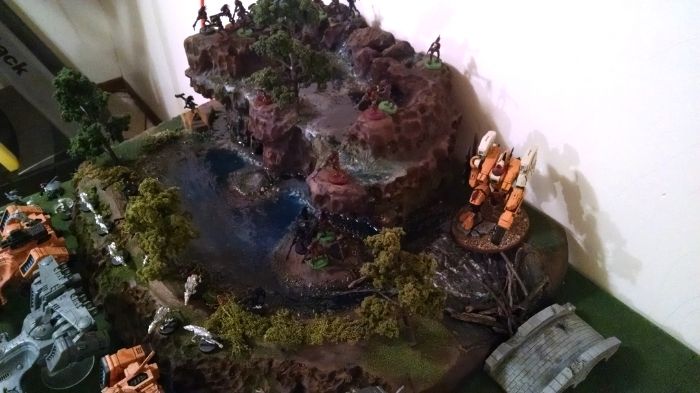 First piece: a How to on "The Waterfall" -
Supplies -
-You'll need polystyrene foam (it's always great to have a good mix of thickness. I use 3/4", 1" and 2"). This particular piece uses exclusively 2" foam.
Other supplies include :
-Lightweight Spackle (It's gotta be the fluffy stuff, because the rest don't sand as smoothly)
-Sandpaper (Be careful about the grit you choose. You don't want to shred the heck out of the dried Spackle or Foam)
-Glue (regular plain old white glue will work for this)
- Realistic Water (Woodland Scenics)
- Water Effects (Woodland Scenics)
-Flock
-Trees
- Hot glue gun
-Moss (You can buy some from the crafting section at a local Walmart or get the more expensive Woodland Scenics/sceneArama stuff)
-Dead-fall (Broken up sticks or dead-fall purchased from Woodland Scenics)
-Sand (I used sand from my kids sandbox, but any kind works as long as it varies in size)
-Tall dry brush/grass from Woodland Scenics (I've seen people use a lot of different alternatives to this as well)
-Hobby Knife
-Spoon (Or your fingers if you don't mind them being a little sore afterwards)
-Airbrush (GW Base-coat Flamer Air Gun works for this as well as higher quality guns, I used my Iwata brush set for this particular piece so I wouldn't have to clean my brush as often)
-Paints (Vallejo colors I used are Charred Brown, Dark Green, GW Scorpion green to mix with the realistic water, Black Ink or watered down Black, Parasite Brown, Filthy Brown, GW Shadow Gray -old stuff-, Stonewall Gray, Grey Base Primer)
-Matte and Clear Varnish
1- Creation process
a)
You'll need to cut the foam into 4 sections, making sure you decide on the shape of your waterfall long before you do any cutting. The first section should be fairly large, giving you plenty of space below the waterfall for a river/trees and other cool stuff relating to the scenery.
b)
The other 3 pieces will need to be about 1/2-3/4 the size of the 1st piece. This is your actual waterfall and will determine where the water is coming from, how neat it looks and where the drop off points will be. Each of the 3 pieces will need to be roughly similar in size, with each one slightly smaller than the next. Next you will need to glue all 3 pieces of the smaller ones together. (I would recommend the smallest being on top, the largest of the 3 being in the middle, and the middle size one on the bottom. This will give your waterfall that drop off effect while still giving you a point of origin the where water will come from. Once it dries continue to c.
c)
Now you'll need to take your hobby knife and cut around the pieces to make sure all 3 layers are flush at their connected points. This is the first step to getting rid of your layers showing. Once this is done begin to pick away at the foam to create rock-faces on all 4 sides. There are many ways this can be done but the best way that I've figured out how to do it is be using a spoon or picking at it with your fingers/nails to pull chunks away. you want to leave the layer's top and bottom surfaces alone, just pick at the sides to achieve the look you want. This will also help develop the shape of your drop-offs where the water will flow.
d)
Next you want to take and spackle the bejeezus out of the sides where your layers all split apart from one another. This will cover up the poor gluing job you just did (just kidding
) and cover up all the seams to make your layers blend in. Once it dries sand it down but be careful you don't rip it apart in the process since the lightweight stuff is very touchy. You'll want to sand to get rid of the big gobs streaks and what not that were left over that make it obvious you have spackle on it.
e)
Once this is done you'll want to pick pieces away on the top layer to create little holes/caverns in the rock layer on top where water has run off and created streams for it to flow from. This gives you the origin of the water flow and makes a great board edge. cleanup with spackle and sanding if needed. It also helps to spackle additional rock surfaces like I did to create more area and uneven ground so it looks realistic.
f)
Last you want to Glue the bottom of the 3 layers to your 1st piece (the big one) and do the picking away around the edges to create the desired rock effect. Use spackle to build up walls and create a river bed. Take the hot glue gun and glue around the sediment of your riverbed to help contain the realistic water you'll be adding later.
Now for the fun part...
2- Painting among other things
a)
Prime (I used Base Grey Vallejo Air Primer, works great)
b)
Base-coat with Charred Brown (Takes about a bottle and a half of the Vallejo, any alternative works fine too. There are cheaper paints for airbrushes out there, but I just don't care)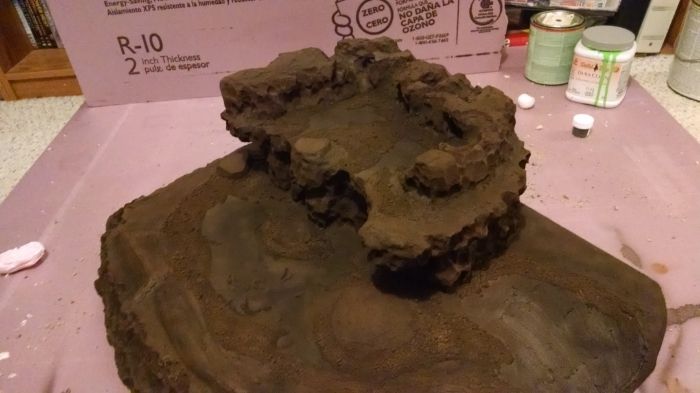 c)
Now you want to paint the Riverbed and Rock-face crevices with Shadow Gray. Be careful you don't over spray anyone spot, you want to blend the color into Brown Base coat the smoother the transition the more realistic the water will look (you can help this by mixing the brown with the gray to blend it in as you go, then continue to add more and more gray til its completely gray. The Rock-Face you only want to get the deep cracks and crevices with, to add a shade and a dark gray tone to some of the rock area, the more variants in earth tone colors on the terrain the more realistic the rock will look.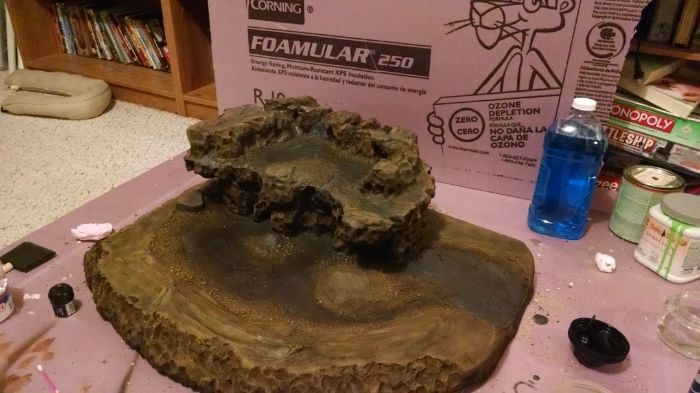 d)
At this point you're going to want to add the highlights and grays to the rock. Mix Parasite with Filthy Brown and lightly spray on a coat to your rock surfaces and the rest of the terrain NOT including the riverbed where you sprayed the gray. Go over the rock surface on varying areas (be random and very light) with Fortress Gray to highlight the variant Grays in the Rock-faces. You want to be spontaneous to achieve a natural discoloration in the browns. You can also add Shadow Gray or even lighter Greys or Browns to change your colors to add even more variants in the sediments, I found 9 different paints to be plenty so I didn't go any further than the Stonewall Gray.
e)
Finally you can lay down some watered down glue in the areas you want and Add flock to the entire terrain piece. I have about 10 different kinds and colors of flock, and no one is the wrong one. Feel free to experiment. At this step you also want to begin adding some moss and vines or whatever else you want to make it look more detailed.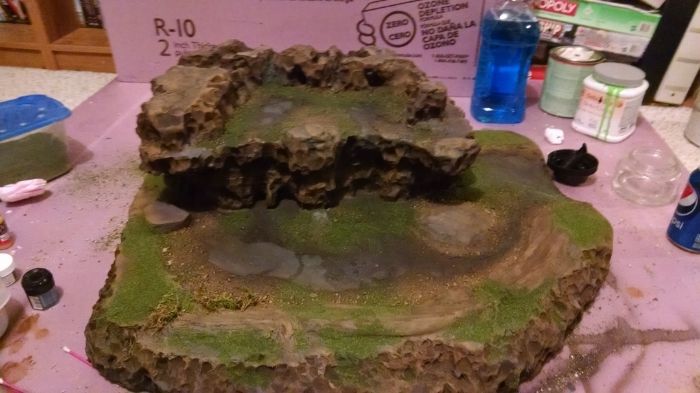 3- Water and what it can do for you
a)
You are now ready to do your first layer of Water, this will be plain clear stuff to give you a nice surface to work with. (Each layer takes anywhere from 8 hours-24 hours to dry depending on how thick the layer is. I did this over the course of a week, with about a day give or take 5 or 6 hours in between each layer just to be sure it was nice and dry before I went onto the next step)
b)
Once the 1st layer dries, your next layer you want to mix with some scorpion green. Don't over do it but you want enough to tint it a bright swampy looking green, and don't be afraid it will ruin the piece, when it dries it will blend in nicely on the edges of the water to make it look like algae/moss buildup you see in most rivers/lakes. I recommend pouring from your top layer, then letting it run down off the sides of your run-offs to add that waterfall draining effect. this will cover the sediment below and the green will focus almost entirely where the drop-offs occurred on the top layer. Be generous about it too. You don't want to have to spread it out with a brush like some tutorials suggest. The reason for this is because you want a nice settling effect with the paint, it'll dry much more natural if it isn't spread around with a brush.
c)
While you're waiting on this layer to dry, go ahead and continue to add greenery. You can do like I did and put some tall Dry-grass standing up around rocks peaking out of the water, even on the shoreline. The more greenery you add the more flaws they will cover up (un-sanded surfaces, place where paint may have missed, etc.). I used strategically places Q-Tips to hold up my Dry-grass in place, if you don't glue it down you'll need to rig something up to get it to stay up over the duration of the Realistic waters drying time. Once it's dry remove the Q-Tips/Rig and continue to the next step.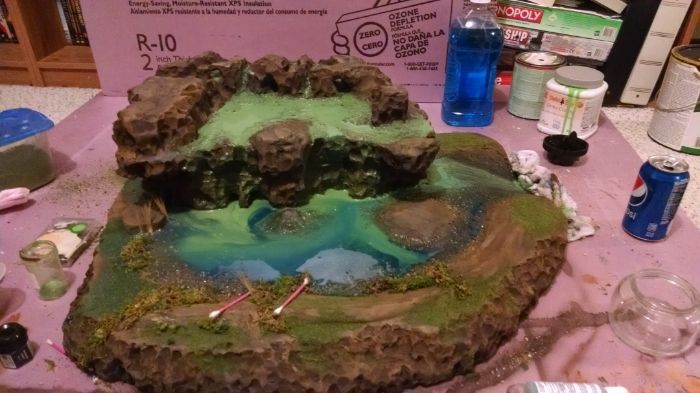 d)
Now it's time to add the next layer of water, a nice thick coat of Realistic water will give your River body and depth. You can also add a little blue (I used a very small amount of GW Enchanted Blue do darken up the deeper areas where the water sat). Spread it out with a brush or let it settle/even out itself. Once this dries you can do any last minute highlight paints or touch-ups to the flock/sediment and add whatever greenery you have left.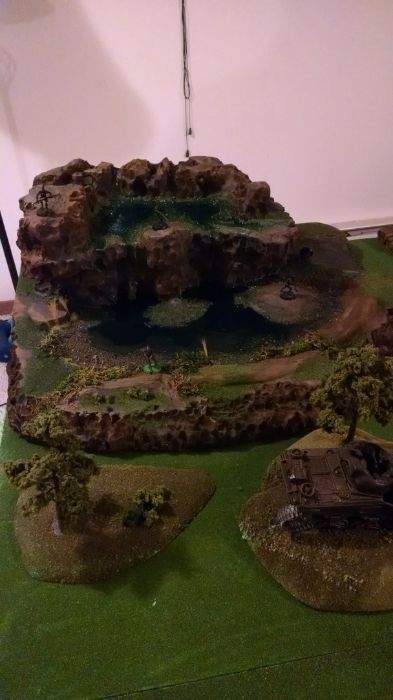 e)
Water Effects time! Now you can follow some of the other guides on youtube/BoLS/etc for heavy waterfall. I wanted mine to just be a slow run-off type waterfall, not a Niagara Falls hence why there isn't a ton of motion in the water on the final results. Having said that however, water effects is awesome stuff! It's a must with any live body of water in your terrain, since the effects are fantastic if done correctly. You want to get a bit on the end of a brush, and Dab at it getting little blobs out at a time. Then you just dab it onto the dried water surface where any and all running water is at. Still water won't need much if any since there's absolutely no movement in the water. Be generous about how much you use, the higher you stack the blob, the more live the water will look. This is great for making small waves or waterfall areas where the run-off or water flow will hit from the top over the edge and down to the bottom (it will dry clear so it helps to mix it with a very small amount of white paint to keep it from becoming completely transparent). There are a ton of tutorials on how to use water effects, and I recommend studying them, they helped me a lot.
f)
Once your water effects dry you can add the last layer of water effects. One more layer straight up to cover the Water Effects Matte nature will give it a shiny real watery effect and not just look like white paint/plastic painted over the surface. Let it dry then add your trees and you'll see the final project completed in all it's beauty. I learned being random with tree placement helps make it look more natural too. Strategically placed trees can help your army gain cover as well, so be smart about it.
4- Clearcoat/Varnish
The very last step of this project is to add a clearcoat so you can set your models without damaging your beautiful scenery. I took 2 layers of Matte Varnish hand painted with a large brush (spray is sticky and gets on your trees and in the River as well, so do it by hand!) and went over all the areas not covered with water. Then I went over with 1 layer of Gloss Varnish on the River/Water areas and the Riverbed Sediment to make it glisten nice and pretty. This won't hurt your Dried water effects, but it will give it more stability when you set any models on it (I do not recommend leaving any models in one spot for long as the Realistic water is designed to be playable, so your 25mm bases will settle and create circles in the water, effectively ruining it. Keep in mind if it isn't bad the rings tend to fade away after a period of time, but the bad ones never completely disappear. This is the reason for the Gloss varnish. It adds a more stable floor for your bases buying you more time and has less ply to create the rings.) Once the Varnish solidifies all you need to do is add some Dead-fall and you are ready to play with your completed piece of Terrain. Have fun!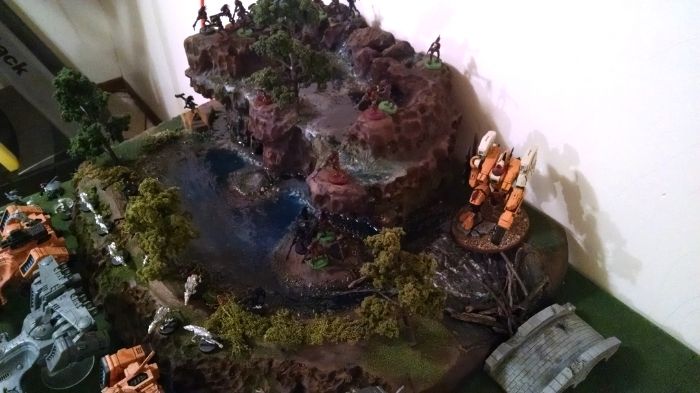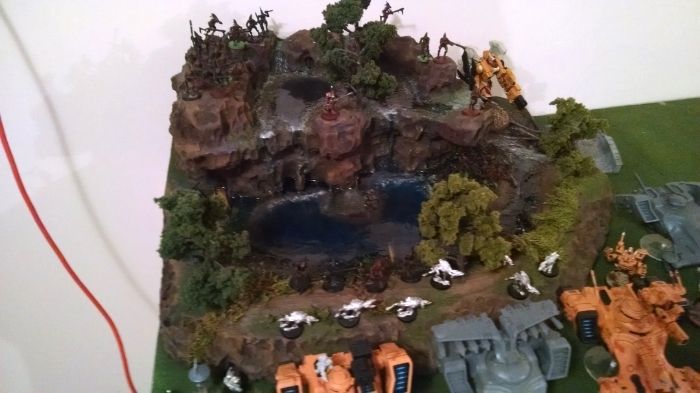 That's it for my first Terrain tutorial. Check back for more soon and feel free to comment or ask questions!
Thank you,
-Shock