Mission Briefing
Remnants of Sept N'dras
Core: Infiltrate, subjugate, adapt and assist.
Order: The detachment shall provide necessary support in conflicts of the greater good without hesitation.
Due to the recent events regarding the N'dras system the Detachment are considered a Nomad detachment till
further systems have been attained and a suitable system can be assigned.
Resources/Reinforcements: Resources are limited, thus extra care with current equipment is utmost important. Salvage and reuse.
N'dras Fio have shown a kles side in refitting and repairing current equipment, use that to your advantage.
As of reinforcements, there will be none.
Tau'va
--------------------
N'dras detachment
Commander:
Type:N/A
Name: N/A
Status: N/A
Stand in commander:
Type: Fireblade
Name: N/A
Status: Combat ready
Troops:
-First strike team:
SHAS'UI: Shas'Ui N'dras R'ka
STATUS: Refitting and gearing up
BIO: R'ka earned her name in battle throughout numerous campaigns with her love for her marksmanship. Her leadership and love for staying as far from the enemy might have been seen as cowardice to some other races but it was well within her tactics and understanding that a life, no matter artificial or not was not something to be wasted in vain. Her longest kill was at 1391 yards with the scope only, during a virus attack on her squads aiming assistant AI, thus her name was earned in combat.
-Second strike team:
SHAS'UI: Shas'Ui N'dras Doran'ro
STATUS: Refitting and gearing up
BIO: Doran'ro loved seeing how things worked, his interest for tinkering and resource management reminded his battle siblings more of an earth cast then a fire cast, but in the end this led to good things. Doran'ro resourcefulness often led him to sustain minimal wounds and casualties since he was nearly prepared for any situation a strike team could face, never backing down on carrying an extra 10 pounds if it would mean that they could avoid another body bag being carried back. Materials are scarse, but life is even more.
-First breacher team:
SHAS'UI: Shas'Ui N'dras Cova'myr
STATUS: Refitting and gearing up
BIO: As the first to step upon the battlefield he also leaves the battle field last within his team. Their ruthless up close and personal style earned him the name Cova'myr as his pulse blaster shattered the enemy's will, their formations and even their armor. It has had its toll on his body but also taught him a lot of lessons about war with other races. One being: If you can see their "eyes", their armor will shatter.
-Second breacher team:
SHAS'UI: Shas'Ui N'dras Lar'Ru'ro
STATUS: Cleaning, repairing and rearming
BIO: As one of the last remaining artificial bipedal drones they charged the forces of chaos in the last days and turned the tide. Their up close and personal style surprised Chaos in the terms that it was unusual when facing Tau especially by troops, and the fact that something on two legs still attacked them since they thought they had eradicated all life. Creating a shock and confusion amongst the enemy's. After the defeat of Chaos they were found by the remnants forces and enhanced their AI protocols.
-First auxiliary squad:
Kroots have been found.
Kroots was feasting on something dead...
Awaiting further information.
-Second auxiliary squad:
N/A
Fast attack:
-First Pathfinder
SHAS'UI: Shas'Ui N'dras Rra'Vah'cha
STATUS: Currently in training, designated marksman found.
BIO: The specialty to stay infiltrated, to stay out of sights was something Rra'Vah'vha learned as a small child, playing hide and seek with his friends. His unit specializes in marking the targets for their battle siblings and make sure that the strikes from the sky comes with precision. Even though preferring to light his targets up he never stays shy of bringing with him his favorite rail rifle, for those pesky guardsmen.
Elite:
-Primary xv-104
PILOT: Shas'Vre N'dras Elan'Korst'la
STATUS: Refitting and repairing onboard system after failed EMP detonation
BIO: After numerous deployments he proved his worth, standing against the hordes of the Orks, the Empire of man, the Forces of chaos even the mighty Tyranids he showed them no mercy, no signs of giving up. Controlling a heavy weapons platform he saw it as his duty to rain down fire upon the enemies of the greater good. Striking down hard and swiftly without taking one step back earned him his name as the sturdy reaper
Heavy support:
-Broadside team 1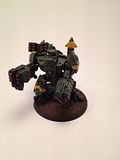 PILOT: Shas'Vre N'dras Oni'ka
STATUS: Refitting and repairing damages, combat ready
BIO: Earning their ranks and being promoted to pilot the Broadsider suits was a dream come true for the trio, from the same fire team they have been trained and battle hardened, specializing as a urban heavy support unit, they drop in and run along the buildings and rain missiles on painted targets, making sure to send their enemies to their respective deity one payload at the time.
-Primary Hammerhead
Pilot: ... drunk, found. Replaced with Longstrike
Status: Refitting and repairing damages, combat ready
Further resources and reinforcements within the detachment have been sought for.
Current status: Prospects found, Weapon systems from past infiltration missions are currently being refitted
End of report
-------------------
System analyze of retrieved her'ex'vre and weapon:
Refitting possible. Duplication is not.
Scarce resources and risk of detection will not allow another to be built
Refitting project: XV-8X ETA: N/A
End of Report
---------------------
So I have been working on this for a while by lurking this forum and gathering inspiration and knowledge in what I need to get things done.
I've managed to get the materials and enough units to get a small variety in play styles for the small 500pt skirmishes me and some friends play and hope to inspire
someone with my ideas and my odd creations. I've never worked with green stuff nor painted "professionally" before, but I did attempt to paint some Mutant chronicles figurines.
That said I hope to be able to add some fluff behind my cadre and hopefully some great images as time passes.
Currently I've only managed to paint 6 fire warriors so far and started on the next 6, but I've learned some very vital pointers in the process: Don't attach everything pre painting!
In any case.
Hope you all enjoy and C&C is highly appreciated
Tau'va