It has been over 10 long years since I last wielded my Tau in battle. Over a decade of occasionally glimpsing furtively at my once favourite hobby through shop windows as my string of ex-girlfriends dragged me past quickly. And finally by chance after watching a random Tau battle report on youtube... I have returned.
Digging up my old Tau collection... I cringed. Tau XV8 suits not in correct proportions (damn you gamesworkshop! From 3rd ed till now no new XV8s????!!!!), Painting over mold lines on my Fire warriors, Path finders and XV15s. Thick paint on several models.... it was time to refit them to 'Adult level' skill and patience. (I was 18 when I stopped playing).
First up. The core of my Army. The 12th Experimental Cadre.
My Commander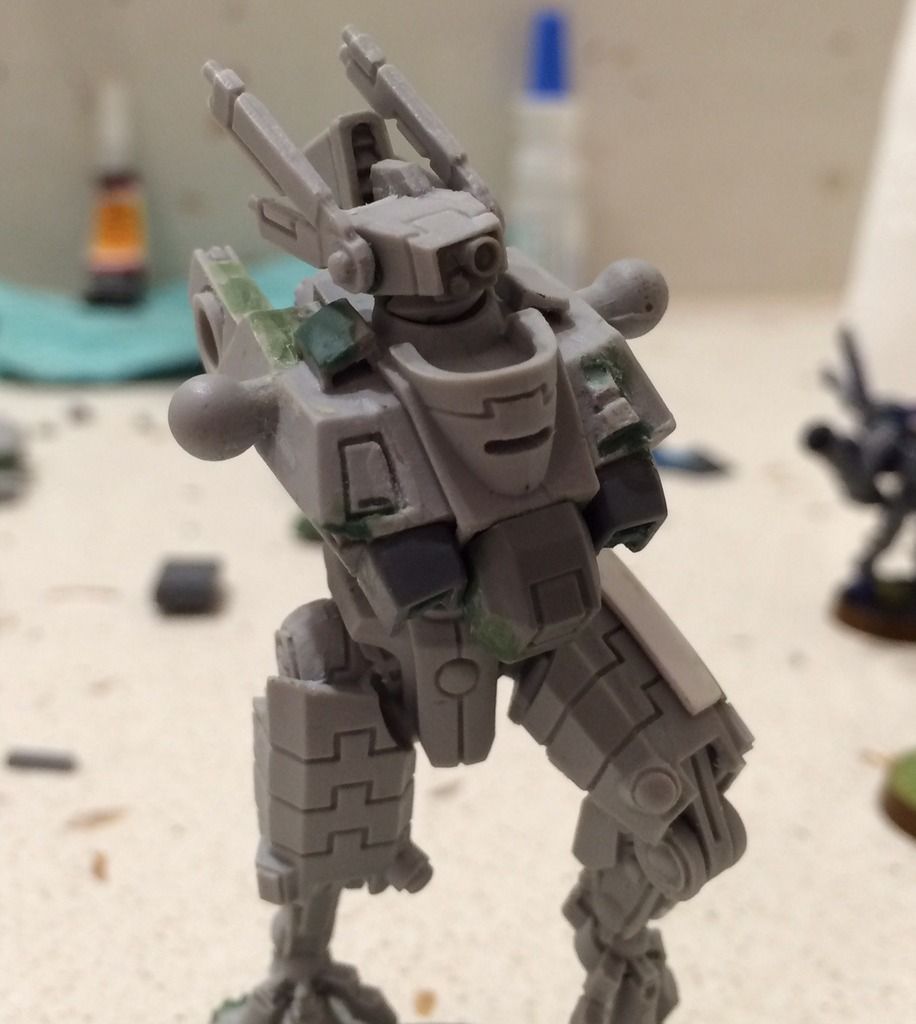 The currently only new addition of my army. With a steady hand and acquired skills over the years since I stopped playing, I have magnetised the weapons and arms as well as using plasticard and greenstuff much more cleanly. The battlesuit itself is an experiment based on a recovered XV8 wreckage from an old lost 1st sphere expansion expedition (of Tau'n) where the current Shas'el pilot was found. (Fluff to come soon elsewhere). Done some minor conversions, added a new lens for the 'head' as I didn't like how the head reminded me of the XV8s. Armoured the front plate and added vents for that Air caste influence and awaiting leg armour bits (from Forgeworld).
And next up is my Firewarriors. 2 full squads of 12.
Dressed in the old Tau'n colours, they are currently undergoing rest and refitting (in other words time to paint strip them, remove mold lines and paint a new colour scheme!) after years of arduous campaigning. They will be heading to a former Imperial held world (currently classified) and the only briefing they are given is that it is a volcanic ice world. Their current primary duty is to guard all the experimental equipment to be shipped from Tau'n to wherever.
Recovered XV8 suit(From Truescale project in modelling).
The plan is to create 5 more suits for the army. Currently awaiting some Earth Caste experimental parts (Forgeworld bits). Looking at these photos... help you notice the flaws you thought you got rid of... more greenstuffing and sanding to be done >_>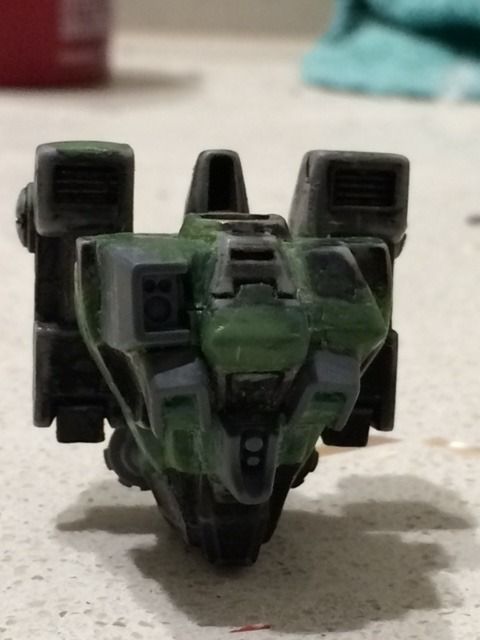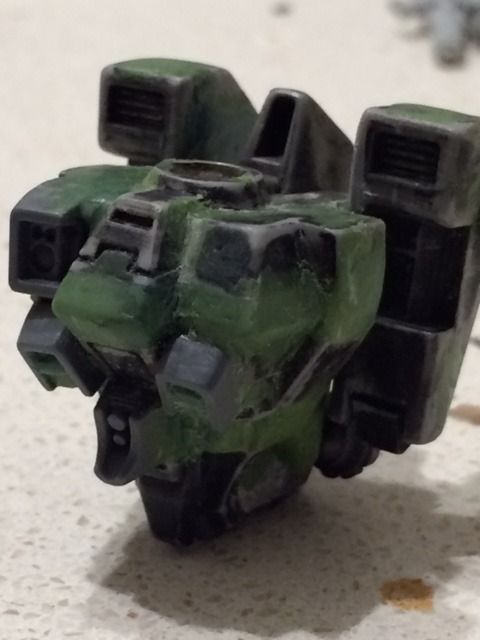 Future additions will probably include 3 Razorsharks (To symbolize the close association of Tau'n with the Air caste), an XV104 Riptide (on the way already!), and more than likely another Devilfish.
Current Vehicle Pool:
One Devilfish
One Hammerhead
Both to be paint stripped in preparation for new scheme.
And now...
The Detachment. The Tau'n 103rd Recon Cadre.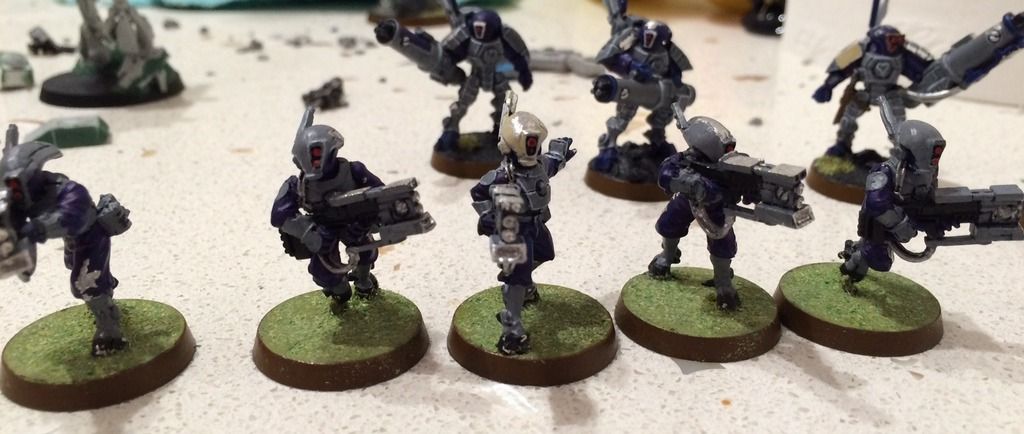 The Pathfinders led by Darkstrider the 100thmilliionTau-needtocomeupwithanameforhim-thateveryoneelseneedshim, is currently now floating in paint stripper, and once out of the bath, will be given conversions to make him Darkstridery. Future plans include buying the new plastic Pathfinder boxed set... much easier to convert than with hard metal...
I am toying with the idea with hessian material to make camo cloaks for the path finders. Maybe stiffen them up with PVA and glue them on. Any thoughts on the idea? Or has anyone else done it before?
The XV15s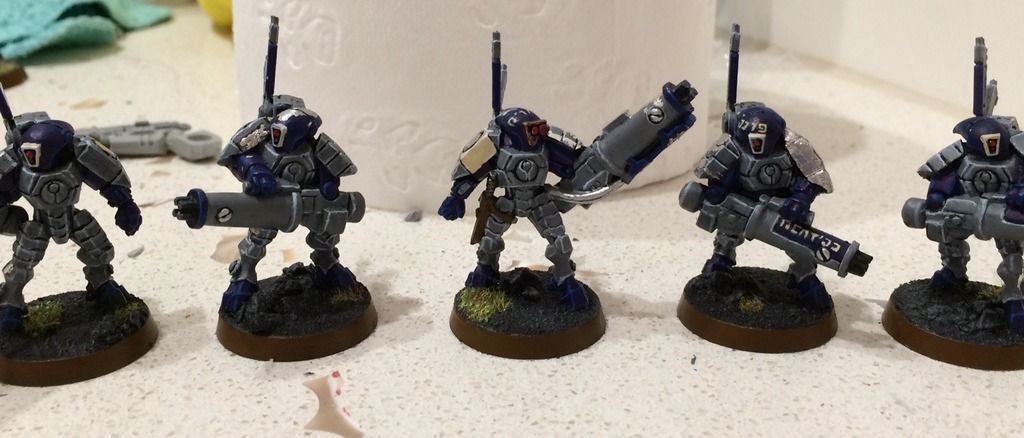 a lot of fond memories with this unit. Perhaps the only Tau in my region that luckily took off the last wound from a daemon prince/princess of Slaanesh in hand to hand combat. Although most of the unit was dead on the charge of the daemon, the sole survivor killed it with his burst cannon wielded like an impromptu spear... There will be some XV25s mixed into the unit to represent that the 103rd is a cadre always given new equipment last...
Future additions will include of course a troop choice. This will be a kroot carnivore squad but will be a Guevesa'la stand in instead with figures from Mantic games corporation marines(when i can buy them cheaply). Two krootox will be added but represented instead with the stripped down versions of the XV8s without armour. or something similar. Still in planning stage.
As for the colour scheme... I was thinking of white armour with either red or grey for the clothing bits. Thoughts?