Elevated Aun'O

Further investigation of Shas'O Ke'lshan Mon'Sha'is Lynu have resulted in no visible links to the renegade. However the commander's strong ties to Vior'La, and his increasingly heavy use of auxiliaries in much higher roles than is normal is troubling and merit's further investigation. However as this contingent is positioned for front line service my recommendation must be to suspend further external investigation and leave this duty to the assigned Ethereal.

Aun'El T'au Eoro
With
a new project
currently roaring in my head, I've decided to revitalize my tio've. Right now I'm planning 3 new broadsides, 2 more riptides (see stated project), and I've got repair work to do on some XV8s and possibly doing 3 more. I promise better camera work in the future.
Broadside team Gale, improvised equipment repurposed XV-89s rearmed with smart missile launchers and fielded in a support role
Honor Shas'El B'ar'res, Current stand in for O'R'alai
Contrary to standard procedure the Blackwind Contingent does not refer to it's auxiliaries by their species names, instead using honor rank according to an assigned caste upon anyone born under the greater good. El B'ar'res is one of a rare few examples of auxiliaries allowed to ascend to such a rank and one of only 2 Gue'la. However El B'ar'res' origins aren't readily apparent as he is sealed inside his battlesuit as a life support system. Ethereals of the contingent overlook this gue'la's use of equipment far over his station as it seems to be the only way to keep an effective weapon in the fight as well as serving as a moral booster for the auxiliaries.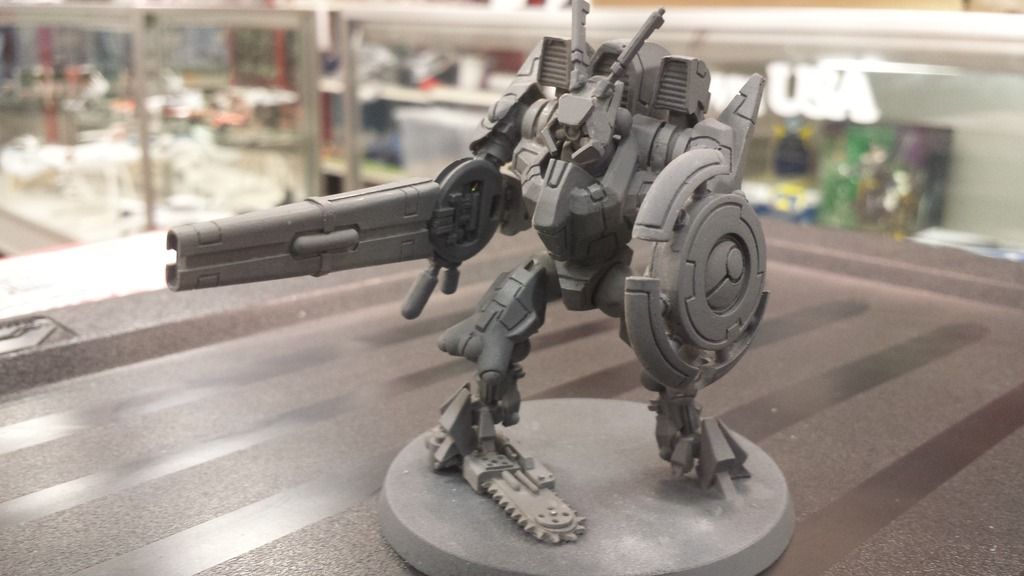 Bonus points if you get the reference in name and design.
Still not sure if I wanna run the crisis team in this planned cadre lists as Helios or Sunforge. if the latter I'm gonna need to build 3 new ones, if the former I'm still gonna need to engage in some repair work.
I'll get more pics of my other suits when I get a chance. Paint scheme is waiting til I can wrangle an airbrush.
Right now the entire collection consists of 46 firewarriors, 3 crisis suits, 2 commanders, 1 command drone (buff proxy), 3 broadsides, 16 pathfinders, 1 riptide, 6 stealthsuits, 1 skyray, and 1 hammerhead. Planned on the immediate side are a fireblade, 3 more broadsides, 2 more riptides, another 8 pathfinders, and an eventual project slated after the riptide proxies and also stated on the project page.
I'm thinking for my 2nd broadside team doing the XV-81s (SMS) with XV-89 parts (they have the same base chest) for the 2+ look. However for the heavy rail rifles I'm thinking pulse submunition rifles (remembering the hypervelocity sabot from O R'alai's weapon)
Also if anyone has 3 unbuilt spare firewarriors let me know. For some reason I'm short 2 and even though usually I just run one of my shas'ui as my cadre fireblade but I'd like to finally set up a permanent mini.