Hello gents!
I have been lurking around this sight for a while now, gotta say i love the forums and find the threads really interesting and occasionally rather insightful. So I've decided to post up my very first post and show you guys what I've been working on. Ive been collecting Tau since they're very first release all those many years ago, after doing the usual when you're young with lots of expendable income i bought far to many models far to quickly and found the amount of grey plastic waiting for my attention a pretty daunting task. So like many ambitious projects they went on the back burner and disappeared into the cupboard for many years.
In the meantime i began collecting Salammanders back when they had an Initiative of 3 and then re-painted at the beginning of 5th to Ultramarines and collecting many various imperial projects since. Then half way through 7th i was down my local club and was watching a game between a releatively new comer to 40k using his Imperial Fists playing a seasoned vet of many years using Eldar. Even though he knew it was only his second game the vet took upon himself to take a ridiculous list and pound the Imperial player into the floor. I felt really bad for the newbie and decided to A show him the ropes but also B challenge the vet to a game with the intention of doing the same too him, knowing my marines weren't up to the job and hearing about the Tau Empires current prowess, I unburied my box of Tau and got to work.
I decided to supplement my force with the Y'Varha and R'Varna plus bought and traded a load more new models for the army. In the twighlight of my Ultramarines day's i started to play around with airbrushing, tints and many different products or painting techniques. I was losing interest in my Ultramarines also because my painting level from the first Tactical marine i had painted to the current level I was then at had progressed and I didn't want to re-paint them all again and was getting pretty bored of power armour at the time. I decided i would do the best I could with the knowledge i had at the time and also aim to get the army painted for a local tournament, as without deadlines I found myself struggling to focus on completing in the army. I got my calendar off the wall, worked out how many units i had to paint and how much time was available to me before the tournament, allocating a week per unit and got cracking.
So far this is what I've achieved and i really enjoyed painting it. Now the army has grown even further and i intend getting it all painted and based.
[image]
[/image]
[image]
[/image]
[image]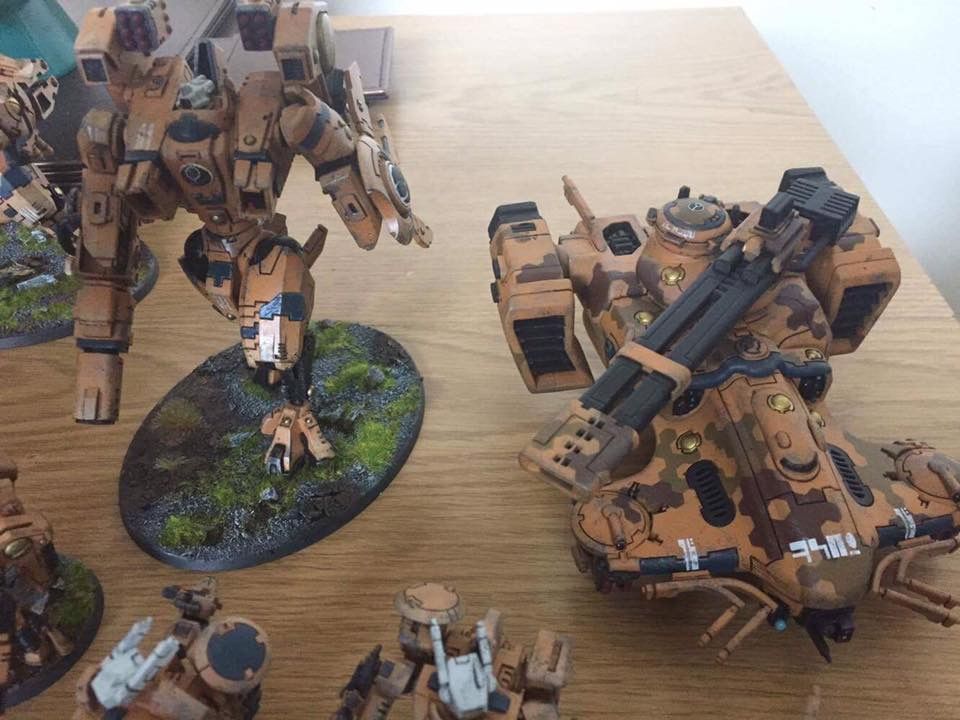 [/image]
[image]
[/image]
[image]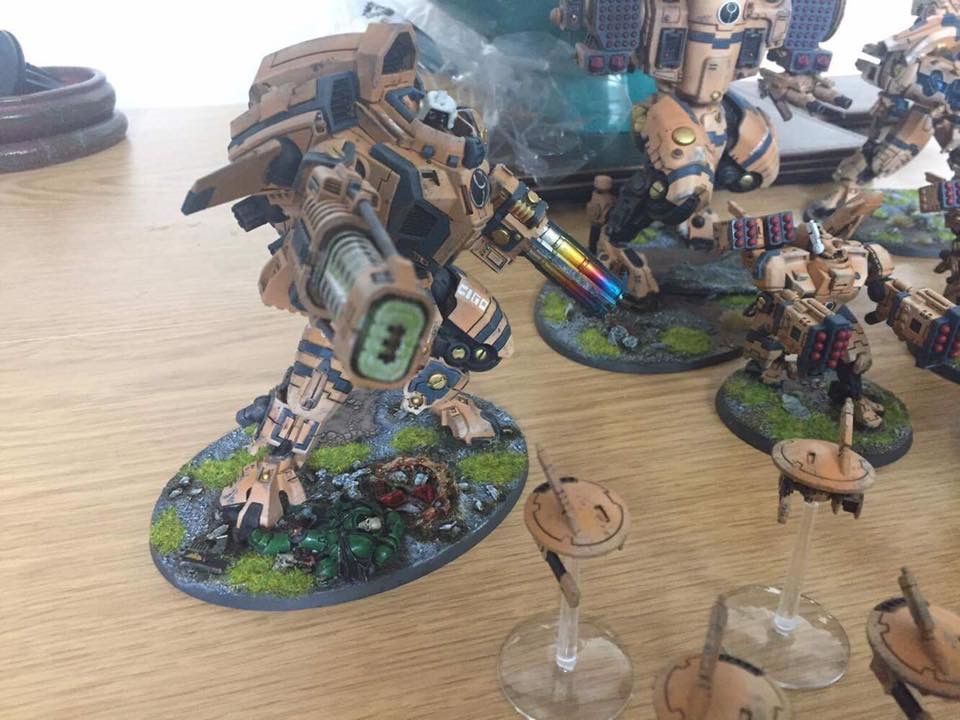 [/image]
[image]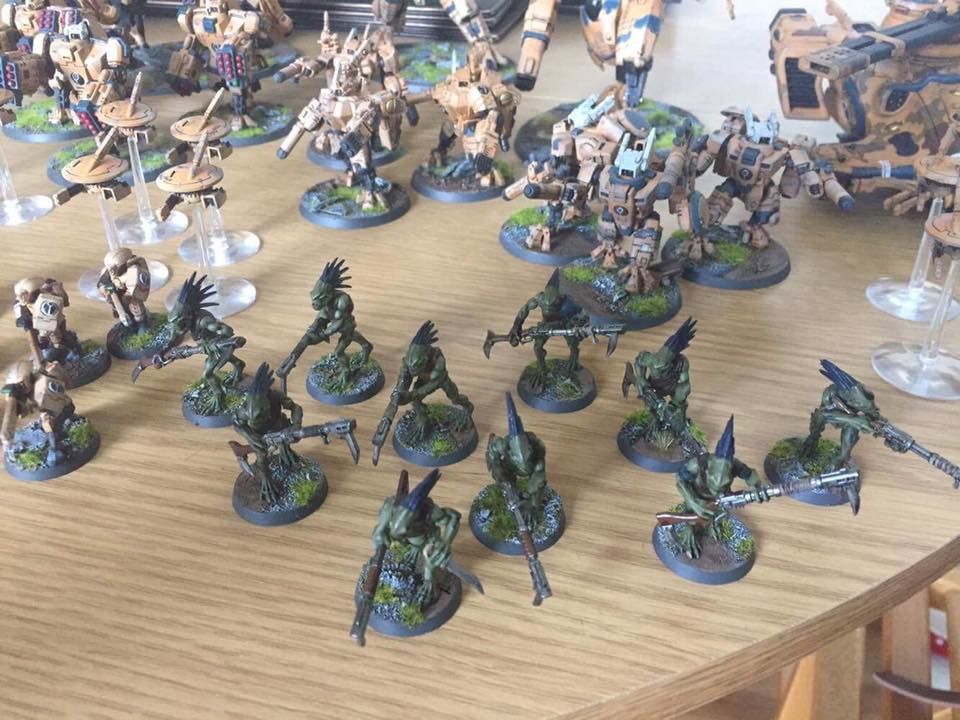 [/image]
[image]
[/image]
[image]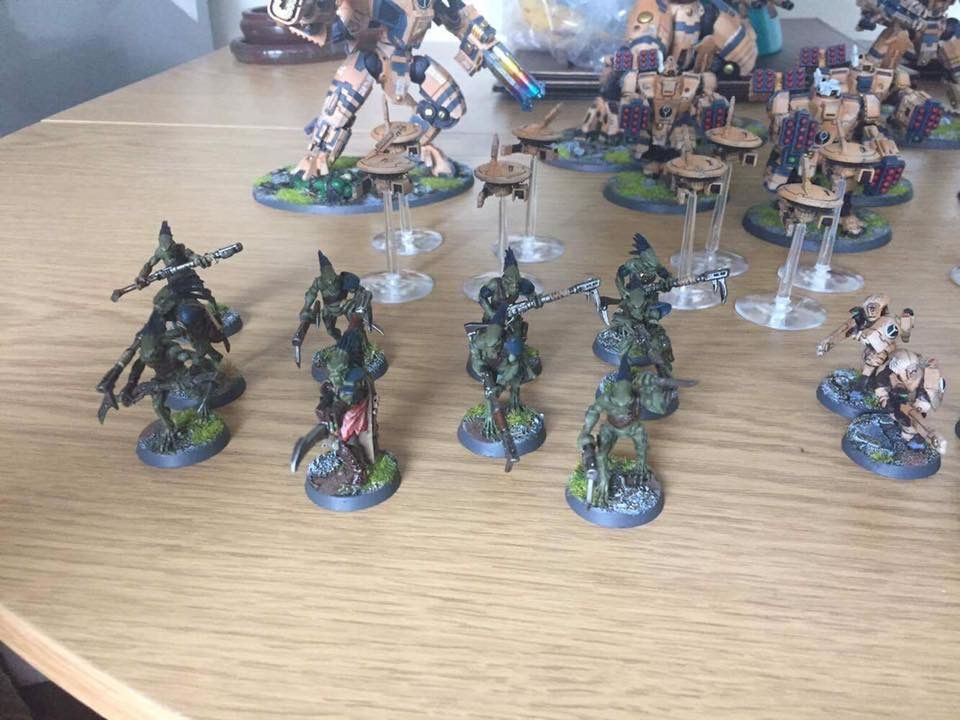 [/image]
So here's the core force of my army. Since these were taken I've also completed work on the AX Barracuda, a Commander and a couple of other projects. Now 8th has come along I've totally redesigned my list and have added many various units that i normally wouldn't even of thought about adding and i shall post pics of my upcoming projects up shortly (didn't want to bombard with images for my first post).
If anyone has any questions or comments or can think how i could improve further i would love to here form you. I'm currently thinking about adding more wear to those existing models using pigments and applying some line edging highlights San a bit more focused battle damage. Until the next post Tau'Va