Hi guys,
OK this is my first project blog, implemented mainly so that I can ask questions as to the best way to go about things during the process. This is my first major scratchbuilding project so it's sure to have a lot of questions!
----
So after my first game of Apocalypse on Monday night I'm really excited to play more. The problem is that my Tau army isn't exactly "Apocalyptic" - even if I field every model I can only ring up just under 2000 pts (Monday's game had both Jas' and my own armies combined). I wanted to add something suitably legendary, not just more battlesuits or hammerheads (I am painting my last battlesuit right now and am really sick of them!).
At first I thought that the solution would be a Tigershark AX-10. It's a whole 750 points of super cool looking Tau heavy flyer. But then I got to see the rules for it and was quite disappointed (I've got another thread somewhere here that was discussing that a little while back). I don't want this thread to turn into a "talk Zac into buying a Tigershark" thread so lets just say that I'm off the idea.
Whilst the Apocalypse game was great fun, there was one distinct thing that I thought was missing. Titans. Sure, we had a couple of baneblades and plenty of tanks on the table, but there was no single awe-inspiring unit to attract all that rediculous amounts of firepower
So I think to myself, "why not build a Tau titan". Now, I've read through my fair share of Tau titan debates and came up with the following solution: this won't be a Tau titan. It will be a Tau Superheavy Assault Walker. Basically take the broadside and scaling it up 100 times.
So can I ask that the fluff Nazis please refrain from making Tau titan legitimacy comments?
----
OK first things first. The main idea was to make something that would counts-as a Warhound. So a large Tau walker with 3 structure points, 2 void shields and a set of super carnage weapons. I was inspired by some concept art found here:
http://www.penemenn.com/bbs/view.php?id=co...=desc&no=35
and then set about sketching some ideas. I'll skip all of the initial crappy sketches (I'm not that great of an illustrator) and jump straight to this: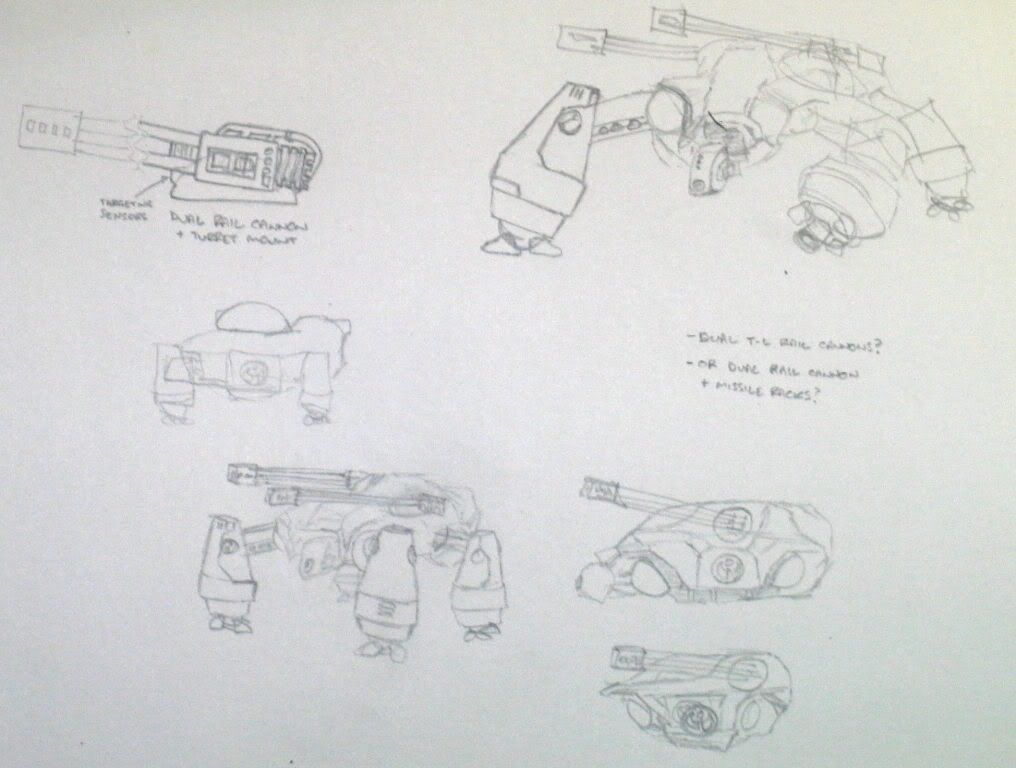 At this stage I had begun thinking about weapons and have pretty much decided on the following fitout:
- Dual rail cannon (counts as double-barrelled turbo laser destructor)
- Plasma missile launcher (counts as plasma blastbun rapid fire only)
I know that arming with two double barrel turbo lasers is best but I didn't want to be too cheesy. Plus I thought that the sketches with 2 sets of railguns looks a bit excessive. I think a single turret will look better than the two I had originally planned.
Oh and on the topic of void shields: Although the Tau do have a decent understanding of energy shielding (shield drones for example), they also know enough about the Warp for their starships to at least initiate a Warp dive. Based on this I would expect that they could replicate the Imperial void shield technology for their own use (they use a similar concept as a forward deflector shield on their starships). I suppose they would just name them differently. Any suggestions? Ether deflectors?
I'm very happy with my leg design and think it fits in with the Tau aesthetic well enough. The chassis will need a lot more refinement though...
I started drawing up the template for the legs in the CAD program I use for drawing PCBs at work. The idea is to do a plasticard framework in a similar style to this:
http://www.advancedtautactica.com/viewtopi...asc&start=0
Here is a picture of a cardboard prototype. Just for sizing. Dammit I forgot to photograph with a model! Oh well it's actually about 130mm long and 60mm diamter. I think the size is good and the ping pong balls will work well for joints. Just have to find out what glue to use on them.
Once the plasticard frame is done I'll fill all the gaps with auto filler or something and then smooth it all up. The idea is to just make the one leg and then cast the rest. Progress will probably be pretty slow as I have a very full time job during the week.
I need to get a new knife and a circle cutter before I can do too much work on the actual leg. Will order one on Monday. A bunch of materials like plasticard and polyfilla too....
Comments and suggestions welcome!
Zac