DREAMFORGE GAMES - Leviathan Crusader
A 'first impressions' review
Item Number:
DFG-LV-001
Price:
The retail cost for this kit is not yet known to me. I purchased mine through Kickstarter ($165 USD), which provided me the option to buy two models for a slightly discounted price and receive many extras.
Kickstarter page
Scale:
The scale is listed as 1/56th, with an additional indication of '28mm'. The box front also indicates the finished model will stand 8.5" or 215mm tall.
Available:
I got my example through the initial Kickstarter order (see link above). I have read that some stockists are currently receiving orders.
Notes:
Exceptional size, very well thought out packaging and carefully planned presentation, generous detail, instructions are a blend of line art and renders, glue and screw assembly (small screw driver provided in kit), incredible value.
Introduction:
The DREAMFORGE GAMES Leviathan Crusader model was previously available as a resin kit, but was not a financially feasible kit for most hobbyists. Mark Mondragon, creator, developed the Kickstarter to produce a plastic version of this kit as well as promote additional lines of infantry and vehicles for the Iron Core gaming system yet to be developed as of the time of this review. The Leviathan Crusader is meant (to my knowledge) to be used in the eventual table top gaming system.
The Product:
Upon opening the large (12.5"L x 9.5"W x 8.5"H!!!) box I found a round, beveled and inset plastic base sprue with a relief nameplate and brackets for supporting said plate. From mock up and early build photos, the name plate is meant to adorn the base should you wish to display your model for non-gaming purposes. This is a nice touch, one of those added bonuses that make this kit wonderful. I also found a fold out assembly guide/instructions with 39 steps. The guide is printed in full color on decent quality paper and compares favorably with most other kits in this genre.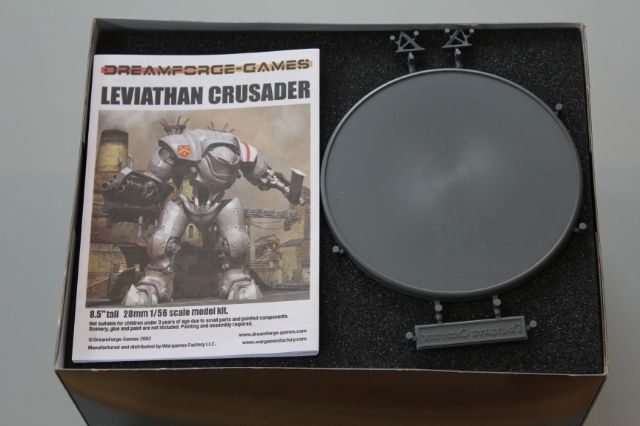 After removing the base, instructions and dark grey packaging foam (to separate and insulate the sprues - nice touch) there are two stacks of sprues sitting side by side in the box. Each stack is bound together with two elastics, presumably, to avoid jostling whilst in transit. Full points here for care taken. In my example an armor plate had come away form the sprue despite the care taken in packaging. This just goes to show that no matter how conscious the manufacturer is about shipping damage, these things can't always be avoided. No fault to DREAMFORGE here.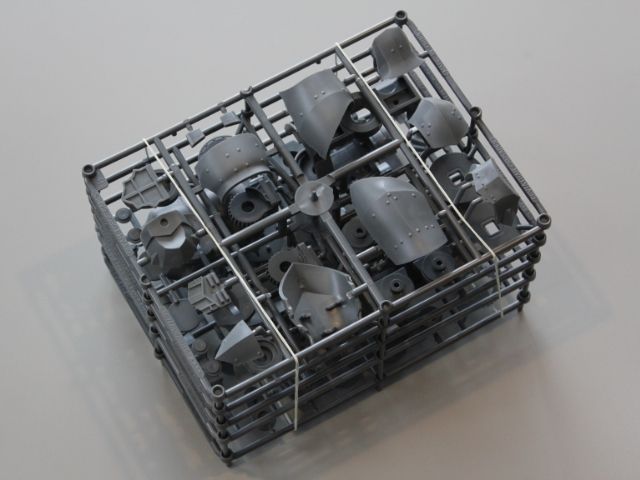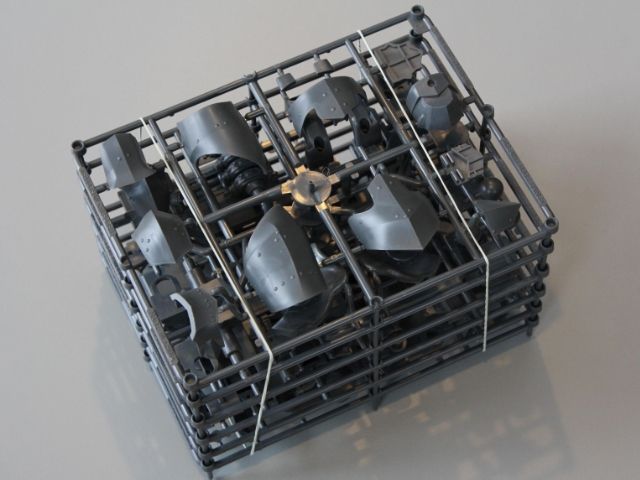 A small cardboard separation hides a transparent plastic container with lid which holds additional sprues, a small screw driver, and a baggy of screws to be used in assembly.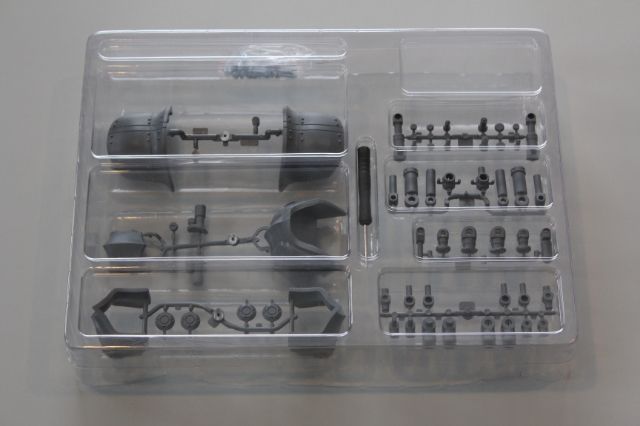 Building:
I will not be using this particular example for the intended purpose of gaming within the future Iron Core system. I will be modifying this example to stand in as an
Ad-Mech
Knight in games of 40K. I will not go into the building process as I will be covering that and planned modifications in a project log.
I will, however take this opportunity to highlight some details that make this kit an incredible value and an overall enjoyable purchase. For the price of this kit (roughly $85 USD) you get a 8.5" tall robot. This kit is very pose-able with moving parts and planned accessories that will not require magnetization. The level of detail and engineering fore-sight within this kit ranks it in amongst the upper echelons of hobby kit producers. I would avoid likening it to perfect gundam examples, but it surpasses any gaming model I have ever purchased. The consistency of detail and overall style are exciting and allow for a plethora of painting and weathering opportunities. The impressive quality of details is bolstered by the gargantuan size of the parts. The 'Vulkan Cannon' and sword arm included in the base kit dwarf most well known APC's from other manufacturers. The gun itself measures nearly 7". Riflled barrels, rivets, lenses, and intricate ammo belts are just some of the notable details that put this kit above others in its class.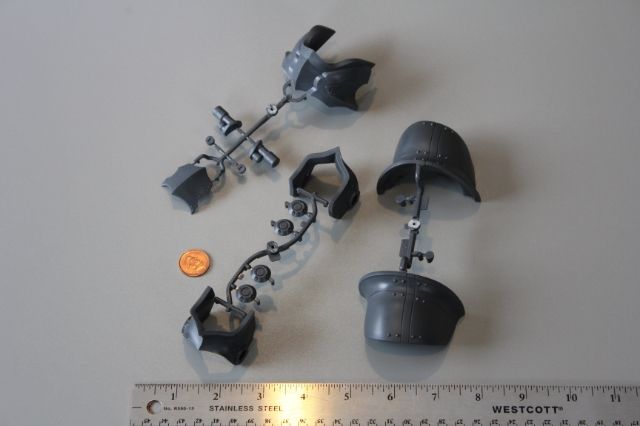 You'd better hang onto that penny—they don't make them anymore! -D&G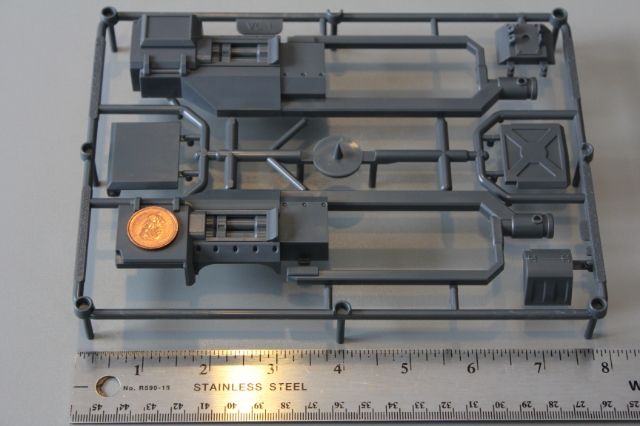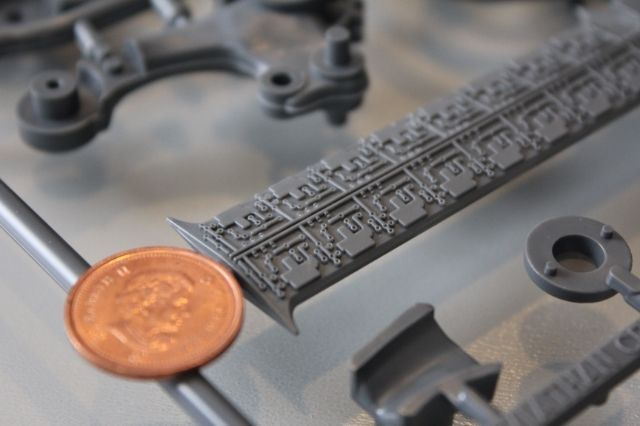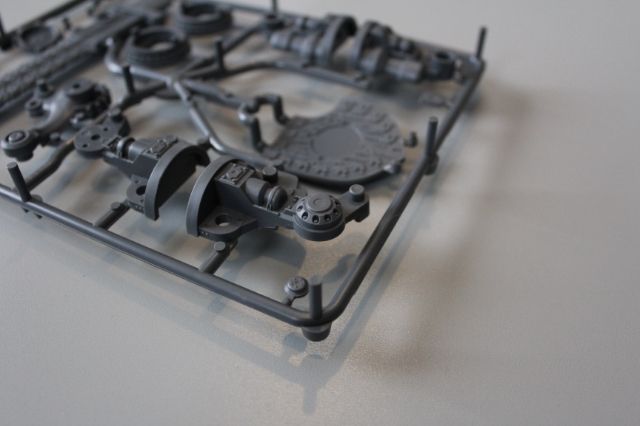 Options:
While only two weapons are provided in the base kit, DREAMFORGE has cleverly designed the arms to accept alternate guns and arm weapons with a twist and lock mechanism. You will be able to purchase additional arm variants (illustrated on the side of the box) and simply swap them out for your gaming/display pleasure. No other notable options are present, besides your own individual application of paint or customization.
Conclusion:
The hype surrounding the release of this kit for me was extremely exciting. So much so, that I prepared myself for a slight disappointment when my models arrived. This was not unfold however, and I am very happy to say that my expectations were met... and then promptly exceeded. I have only minor concerns regarding this kit, which boils down to personal preference and is easily amendable by simple modifications. I would highly recommend this kit to anyone, whether you be a collector who displays models, a 40k gamer looking for a Knight stand in, or a gamer who will want to use their Crusader in Iron Core games.
modelglue