Greetings today I want to tell you a little about the
TauCeti
range of Micro-Art,
Bases,
there are all necessary sizes of Bases for your
Tau
army and they fit surprisingly well into the
Tau
Range of GW, just like they where made for it.
They have the appearance of a ruined underground, like marble-plates with
TauCeti
letters engraved on them and there are multiple different pieces scattered over them, cables, pipes and pieces of wargear.
There are also Bases with only broken and engraved marble-plates in their
ruins
range.
I could not find any miscasts on the bases and only minor bubbles, but they have exclusively been on the bottom-side of the bases.
120mm oval base (sold single pack):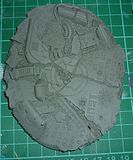 60mm round base (sold single pack):
40mm round base (sold in 2 pack):
25mm round base (sold in 5 pack):
Defense Line,
The
TauCeti
Defense Line looks amazing and will surely look great on the table, there is also an amazing Wraithbone Defence Line for those nasty Space-Elves.
Opposite to the Bases, there are a quite a few miscasts and more bubbles, some of the bubbles are huge, but they are apart from a few small bubbles also at the bottom-side of the pieces.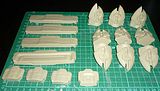 More opinions about the Defense Line can be found here
I am looking forward to paint those pieces and show you the bases under the feet of my Tau!