Greetings,
Given that the GW has not bestowed us with the Codex entries of the minor races fighting for the Greater Good yet, I've decided to take a shot and come up with a few entries that could possibly fit in a Tau army in a nice, useful and fluffy way. I'd be more than happy to hear your opinion, both on the concept and the playability of these units.
I believe most of you are already familiar with this picture.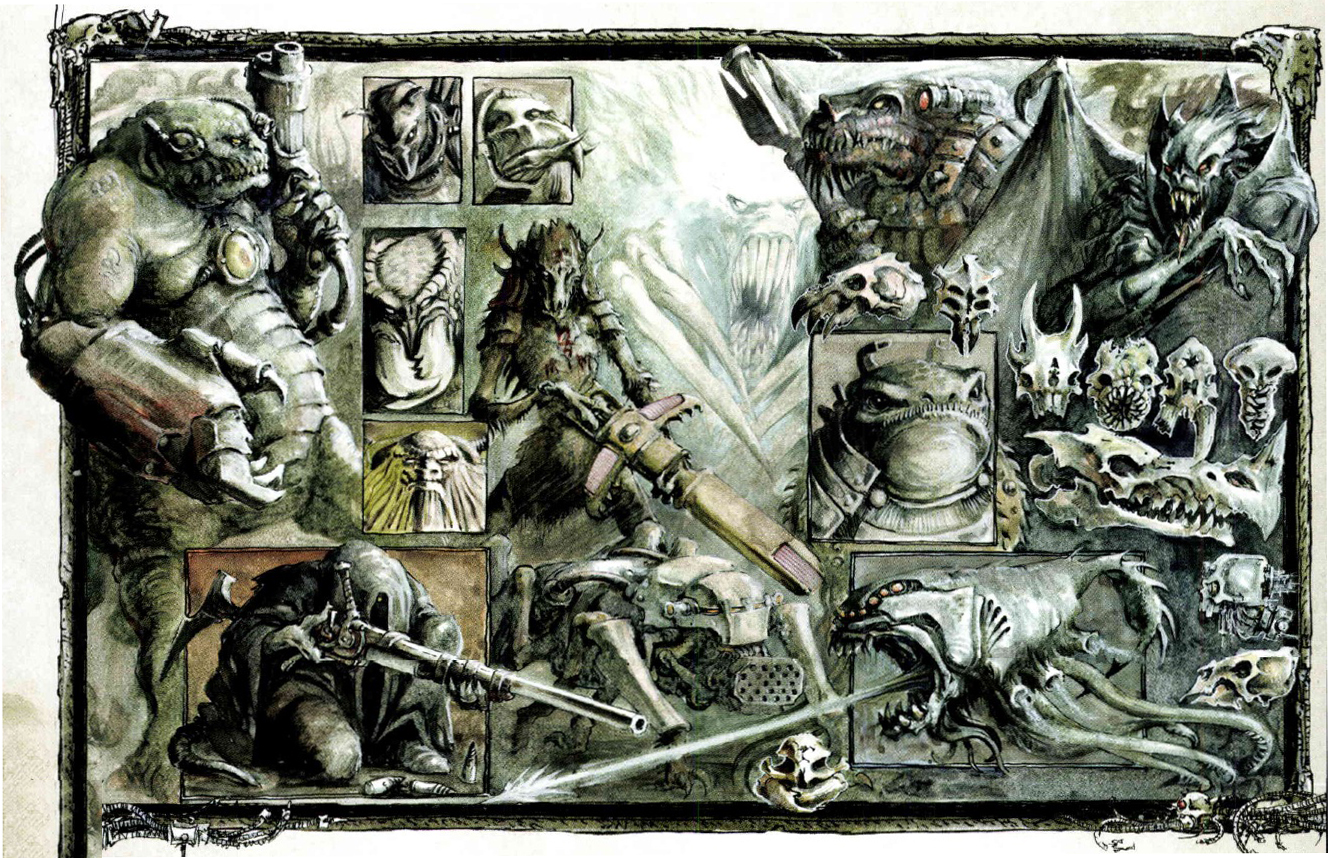 Morallian Deathsworn
Unlike my fellow Tau lovers in the other thread, I'm not that keen on the concept of samurai-apes. Instead, my image of the Morallians is the insectoid one in the middle of the picture. I like the fluff they came up with, though. The nation of extremely honorable and loyal beings indebted to the Tau Empire for saving them from the enemy raid. Based on the name, I believe they " had sworn to serve till their very death". I found it kinda pawky if the Morallians were a race much more "resistant" to death than Tau or humans, and their oath would mean even more than it would to the other species. Therefore, I've thought that while not really bulky, they ought to have regenerative abilities, which combined with their incredible morale, would make them incredible frontline troops. However, their strong belief in honour makes them shun armour. They'd make a sturdier substitute for the classic "Kroot konga line" at keeping the opponents at bay while the rest of the army falls back to increase the distance between them and charging opponents.
Statistics:
WS4 BS3 S3 T3 W2 I3 A1 Ld9
Save -
Weapons:
Morallian Reaper (pulse round): 18" S5 AP5 Assault 3, Pinning
Traits:
Ethernal Warrior, Fearless, Feel No Pain, It Will Not Die
Upgrades:
[SOON]
Unit of three - 45 points, 15 per model, 9 models max
Tarellian Dog-Soldiers Pack
One of the few non-codex minor races we know a bit more about. Even though they're slightly shorter than humans, as far as I know, I've always seen them as an aggressive, close-combat loving race. I feel like the name "Dog-Soldier" wasn't given to them merely due to their appearance, therefore in my vision they're used like a dog pack. To distract, bait, scare or even bite the prey, as the hunter comes to deal the finishing blow.
Statistics:
WS4 BS3 S3 T4 W1 I6 A1 Ld7
Save 3+
Weapons:
Pulse Carbine: 18" S5 AP5 Assault 2, Pinning
Close Combat Weapon: S User +1 AP5
Traits:
Hatred: Armies of the Empire, Moves Through Cover
Upgrades:
[SOON]
Unit of four - 60 pts, 15 per model, 8 models max
Hrenian Light Infantry:
As we do not know a lot about the Hrenians, I can use my imagination here a bit. I'm loosely basing them on real-life sharpshooters of the 18th century and their battle role. In my head, they are a humanoid, highly advanced race living on an arid, rocky planet, which forced them to focus on hunting and made them excellent at moving through difficult terrain. On the battlefield they'd be something between the fluffy pathfinders and the sniper drone team, given their long-range firepower combined with good mobility. I intend to give them a great variety of specialist weapons thanks to which they can serve both the anti-infantry and anti-vehicle purposes. Inherently fragile, the Hrenians can compensate their weaknesses with superior firepower, reflexes and agility.
Statistics:
WS2 BS4 S3 T3 W1 I4 A1 Ld7
Save 4+
Weapons:
Hrenian Rifle (ballistic round): 36" S5 AP4 Rapid Fire
Traits:
Fleet, Swift Reaction - At the start of your assault phase, pick one model from this unit. The picked unit is a lynchpin around which the rest of the unit will reform; remove all other models in the unit from the battlefield and immidieately set them up again within 3" of the lynchpin. This unit cannot move in the subsequent movement phase.
Upgrades:
[SOON]
Unit of five - 50 pts, 10 pts per model, 9 models max
Highlock Freemen Team
Elite Gue'vesa Auxilliaries hailing from the planet Highlock IV in the Jericho Reach. They are hardy, short and stocky men and women, heavily armed and heavily armoured. They serve as shock infantry for the Tau Empire. In my opinion the only equipment worthy of these Squat-ish warriors is the other dwarf-like weaponry, ion weapons designed by the Demiurg.
Statistics:
WS3 BS3 S4 T4 W1 I2 A1 Ld7
Save 2+
Weapons:
Ion Blaster (long): 15" S5 AP- Assault 1
Ion Blaster (medium): 5"-10" S7 AP4 Assault 1
Ion Blaster (short): up to 5" S9 AP2 Assault 1
Ion Blaster (ovrchrg): 18" S8 AP4 Heavy 1, Blast, Gets Hot!
Traits:
Death to Traitors: Any models from one of the armies of the Imperium gains the Preferred Enemy (Highlock Freemen Team) special rule when an opposing army contains such a unit.
Upgrades:
[SOON]
Unit of three - 60 pts, 20 pts per model, max 5 models
Galg Band
Back to the picture at the top - some of the people commenting this picture in the past have claimed that the frog-like xeno on the left is a Zoat, and the alien in the box is a Galg. I beg to differ. In my opinion, the alien on the left represents what the Galgs are best - the mercenaries, working for the highest bidder. I see them as a great (size of an Nob) creature, using heavy guns to destroy any obstacles it faces. In the army they'd fit the niche of heavy-weapons infantry. The one the pathfinders unsuccessfully try to fit, leaving us with Crisis Suits as the only viable choice.
Statistics:
WS4 BS3 S6 T4 W2 I3 A2 Ld7
Save 4+
Weapons:
Galg Cannon: 30" S7 AP4 Heavy 2
Traits:
Slow and Purposeful
Upgrades:
[SOON]
One model - 27 pts, max 6 models