So, I've got a joke for you: Who's got two thumbs and left his camera at home so he had to use his phone? *dramatic pause* This guy!
Anyway, bad jokes aside, I was able to test out my modified 1750 list against one of my regular opponents, a gent I've never beaten, but come close once or twice. Here's the lists:
Tau
Shas'el
-[Plasma, Missile, Shield, Stims, HW: Multi]

Shas'el
-[Fusion, PosRel, Shield, Iridium Armor, HW: DC + 1 SD]

XV8 Team
-[TL: Plasma, Shield]
-[TL: Missile, Shield]

XV8 Team
-[TL: Plasma, Shield]
-[TL: Missile, Shield]

Fire Warrior Team
-[1 Shas'ui w/ PR, BK, Photons]
-[8 Shas'la w/ PR, Photons]
-[1 DF w/ D-pod, Sensors, Multi, TA, SMS]

Fire Warrior Team
-[1 Shas'ui w/ PR, BK, Photons]
-[8 Shas'la w/ PR, Photons]
-[1 DF w/ D-pod, Sensors, Multi, TA, SMS]

Kroot Carnivore Squad
-[13 Kroot]

Piranha Squadron
-[Fusion, TA, Sensor Spines]

Pathfinder Team
-[1 Shas'ui w/ PC, ML, BK]
-[6 shas'l w/ PC, ML]
-[1 DF w/ D-pod, sensors, Multi, TA]

XV88 Team
-[1 XV88 w/ TmLdr, TA, HW: DC + 1 SD]

XV88 Team
-[1 XV88 w/ TmLdr, TA, HW: DC + 1 SD]

Hammerhead
-[Ion, Burst, D-pod, Multi, Tgt Lock, Flechettes]
Chaos Daemons
Fateweaver
-[Bolt of Tzeentch, etc]

Flamer Team
-[3 Flamers]

Flamer Team
-[3 Flamers]

Bloodcrusher Team
-[7 Bloodcrushers]
-[1 Bloodcrusher w/ Fury of Khorne]

Bloodletter Team
-[1 Bloodletters]

Bloodletter Team
-[1 Bloodletters]

Horror Team
-[9 Horrors]
-[1 Horror w/ Bolt of Tzeentch and Changeling]

Horror Team
-[9 Horrors]
-[1 Horror w/ Bolt of Tzeentch]

Screamer Team
-[4 Screamers]

Screamer Team
-[4 Screamers]

Screamer Team
-[4 Screamers]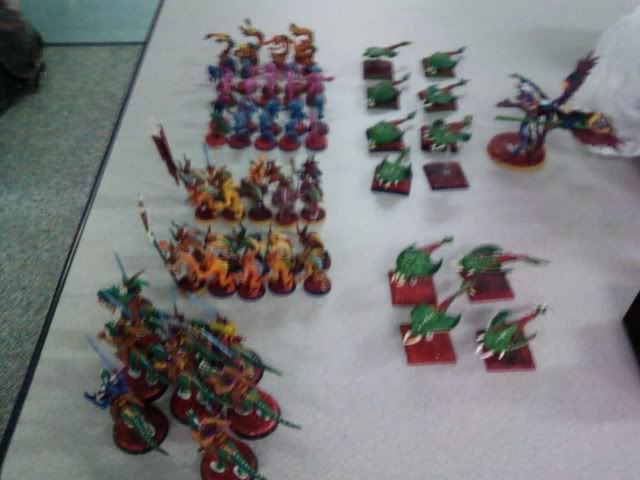 Once again, the mission was a capture and control, though this time the deployment was Pitched Battle. Here's a couple pics of the battlefield:
I won the roll to choose whether to go first or second, and promptly chose to go second, declaring my Piranha, Kroot, one squad of Fire Warriors and a Crisis Team with attached Fireknife Shas'el to be in reserve, with the latter deepstriking. So after deployment, here's the disposition of forces, from top of picture to bottom: Broadside at the very top, followed by one crisis team. Shield'el is in the wood by the objective, in preparation for the Kroot to come in from reserve and join him. To prevent a single turn death from Flamers, the Pathfinders are deployed in their Devilfish (yellow stripe) while the single squad of Fire Warriors are also deployed inside their Devilfish. Next down is the second broadside, also with LoS to his objective in case I have the opportunity to provide fire support for the Piranha. Last but not least is the Ionhead, providing a target, but hopefully a secondary/tertiary target that will allow me a turn or two of shooting before the Screamers take it down.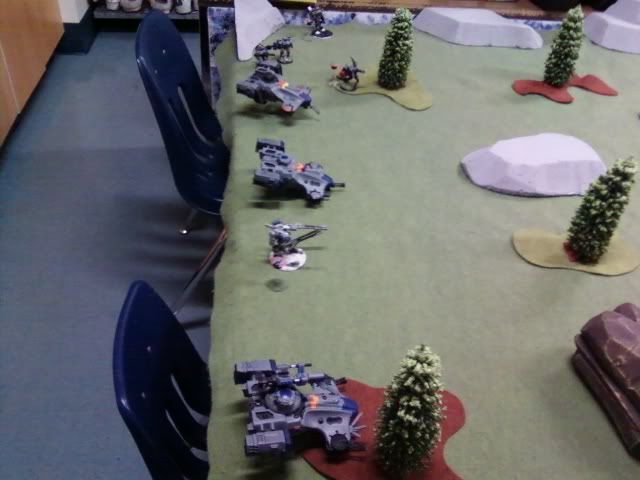 In the past, I've tried castling against this guy, and it never works, at least not for me. So, I've spread myself along the back edge in an attempt to force him to pick and choose his targets. It works...sort of.
Turn One:
He declares that the half of the army he is trying to bring on is the Fateweaver, both squads of Flamers, the Bloodcrushers, and two squads of Screamers. He rolls for it, and it comes up with his desired result. So I'm looking at some of the hardest models in the game to kill showing up on my doorstep on turn two. Figures. During the rolling, he proceeds to deepstrike with Fateweaver, landing dead-on. Then, he tries landing a squad of Flamers in my lines between the Pathfinder 'fish and the Broadside, scattering 11" off the table, and rolling a 1 on the mishap table. I breathe a small sigh of relief. There's three flame templates I'm not dealing with. Then he drops his Bloodcrushers, and they scatter ten inches, with the lead model sitting between Fateweaver and my Shield'el. He can't deploy the squad in a full circle without coming within an inch of my Commander, so he rolls on the mishap table...and rolls a 2. Four hundred plus points between the two squads, gone. Okay, I figure I might have a chance at pulling this off. Granted, I still have Fateweaver and four squads of troops to contend with, but I figure I can kill Fateweaver in a turn or two and then have enough left to concentrate on the rest of the army.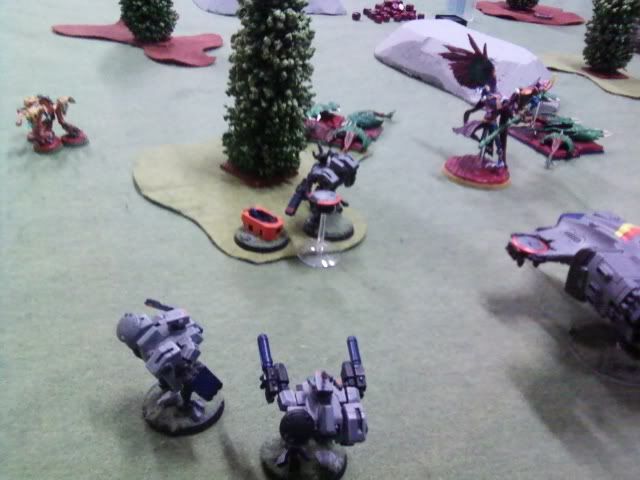 Okay...so now for shooting. He unleashes the Breath of Chaos on my Commander, shoots his Assault 3 weapon at my XV8 Team and fires the Bolt of Tzeentch at my mounted Fire Warriors. He does nothing to the HQ, wounds the Burning Eye (TL: Plasma) in the XV8 Team and blows up the Fire Warrior Devilfish, killing three of them in the explosion. They pass both Leadership and Pinning, so have the ability to help lay down some fire in my turn. The flamer squad that managed to land got enough shots to penetrate the armor saves of my XV8 Team, killing the Deathrain (TL: Missile Pod) suit, after which the remaining suit promptly decided it was beer thirty and made a beeline for the back edge of the board. Well crap. Now my backfield is looking a little bare...
Okay, now it's my turn. Let's see... what're my priority targets? Fateweaver and the Flamers. Okay, well, Fateweaver has a Space Marine save, invulnerable, with a re-roll. Flamers? They've got the same as regular Fire Warriors, but invulnerable. Alright. I should be able to take out the Flamers with a combination of drone/burst cannon fire from the Pathfinder fish and SMS from the XV88, right? Not so much. After some slight maneuvering, I'm ready to unload.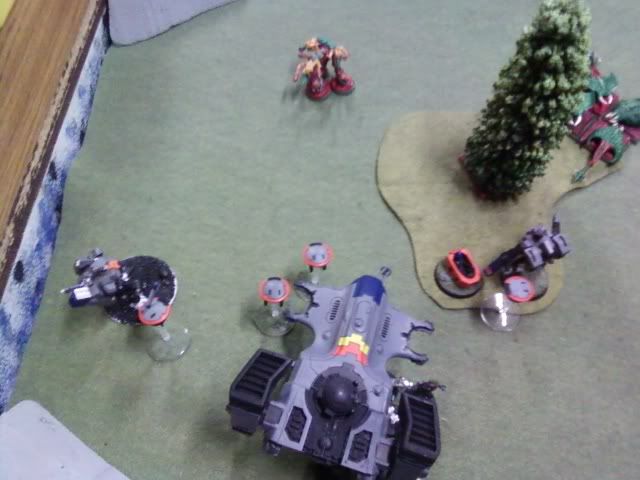 Two drones...nothing. Burst Cannon...1 wound, saved. SMS from the broadside...2 wounds, saved. Well, crap. Okay, nothing for it, I need to try to put Fateweaver down, or at least keep him busy so he's not shooting three different targets. I'm going to lose a bunch next turn, but Fateweaver is a priority target, there's no two ways around it. Pathfinder carbines...three wounds, saved. Ion Cannon...1 wound, unsaved! Two more to go. Pulse rifle fire from the on-foot Fire Warriors...six wounds, all saved. Crap. Okay, why not? Fusion Blaster hits...no wound! No surprise there. The burst cannons on the Hammerhead chew down two of the four Screamers that are going to assault it next turn. I might have a chance, especially with the Flechette Dischargers. With nothing else to do, I have to try and get that big-arsed model on my front step occupied and not shooting. Well, I've got this Shas'el with a 2+/4+ and a drone with the same, might as well. Charge!
Well, Dangerous Terrain checks all around for coming out of cover, and I don't get my drone's high initiative. Ah well. Fateweaver plinks me for a single invulnerable save, which the drone promptly fails and sputters to the ground, kaput. Hmmm. Alright, well with only two attacks, I might actually do this. Punch, punch, punch. I even do a pair of wounds! Surprise, re-roll invulnerable Space Marine Save! I Can't Fail It For Nothing Save! Grrrr.... I pass leadership and now I'm pretty sure the game is going to take a major turn for the worse, even if I am playing with an extra 200-ish points. Well, I assault move my Drones from the Pathfinder fish a couple inches forward, not giving him enough room to plant between the fish and the drones, but still enough reach to hit my Pathfinders with the flame template. It's like the worst of both worlds, but that's what I get for not concentrating on the Flamers.
Turn Two:
Turn Three heralds the arrival of the third squad of Screamers, one squad of Horrors (without Changeling) and both squads of Bloodletters. One squad of 'letters goes just out of the woods that contain his objective while the other mishaps and I get to deploy them; they rather promptly go in my far back left-hand corner, which comes back to bite me in the behind a little later. The Screamers go down on my far right flank, denying me a clean shot with my second squad of Fire Warriors to his objective. Yeah, like I'm going to go for that with all the firepower on my home station. Regardless, it's time to bring the hurt.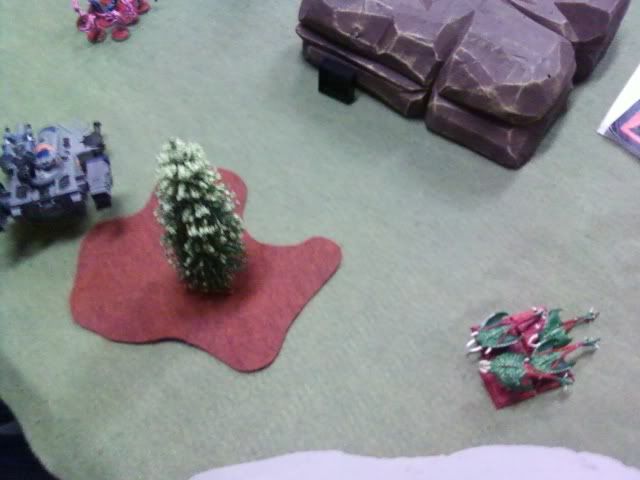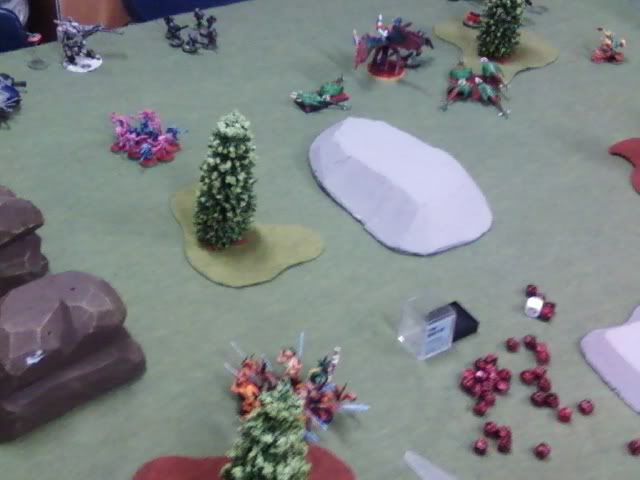 He toys around with a few ideas of how he wants to use the Flamers, and decides to jump them about four inches forward, leaving them in a good position. One squad of Screamers lines up on my Pathfinder fish, while the other lines up on the Hammerhead and the Horrors take aim at my right-most XV88. I brace for the results, because I know they're going to be bad.
Sure enough, the Flamers scorch my Pathfinders, but leave the drones intact and the Devilfish unable to move or shoot next turn. My XV88 miraculously survives umpteen bazillion shots from the Horrors (27 shots, actually), and the Bolt of Tzeentch from Fateweaver tickles at my Commander, who fails his invulnerable but passes his toughness test. Works for me. Now for Assault. Crap. The Flamers, having targeted the Pathfinders, are left with nothing to do. Screamers tear into my Pathfinder 'fish with aplomb, chewing it up and spitting out the pieces. My Hammerhead takes out one of the Screamers before they attack, though the other one returns the favor and stuns it, meaning it won't move or shoot for long enough for the darn thing to auto-hit. And now for the big one in the middle. My Commander and Fateweaver stare hard at each other, throwing the occasional punch. Fair enough.
Alright, now it's my turn. CALL IN THE KROOT! Hmmm, 2+, anyone? Yes please! 13 Kroot come trotting on licking their chops at that big, shiny ugly thing beating up on the guy who signs their paychecks. If he goes, they don't get paid. Well, might as well go save the boss, yeah? Well, while we're waiting, let's do some shooting. How about Drones and SMS at the Flamers...nope, never mind. Again with the whole no-wounding bit. Ah, well. That's what drone assaults are for. Lessee...what else? Oh, yeah! Fire Warriors, scoot and shoot! Those blue-pink things over there that tried to punk our broadside buddy! What, you had four misses out of 14 shots? Awesome! Let's see those wounds! How about...five. Hmmm, not so good, but they've only got a 4+, so I should kill a few, right? How's two sound? Well, it was worth a shot anyway. The broadside tries to save his Hammerhead drinking buddy so the Hammerhead can cause some damage next turn. He appropriately rolls three hits, zero wounds. Pure awesome-sauce.
Okay, how about those assaults?
The Drones
And the Kroot, Baptism by Fire!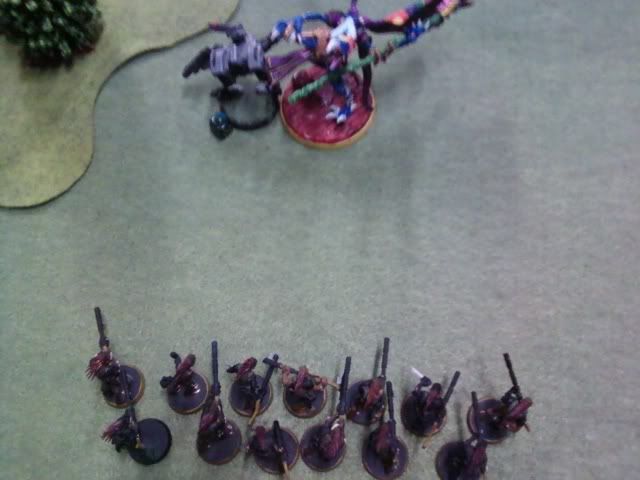 Right, well then. Drones win combat by one, woot! So the Flamers take an extra wound, failing their invul save. Even better! Drones rock in hand to hand, right? That was four attacks. How about the Kroot? How's 39 I4, S4 attacks to the face sound? Oh, wait. I need 5's to wound you. Well, take seven wounds, so there! Never mind, you saved all. Surprise, surprise. Well, Fateweaver completely ignores the Kroot and continues to try and beat up their boss (failing) and their boss tries to beat him up back (failing even worse). Combat with the Fateweaver tied at zero wounds. Below are the after-action pictures.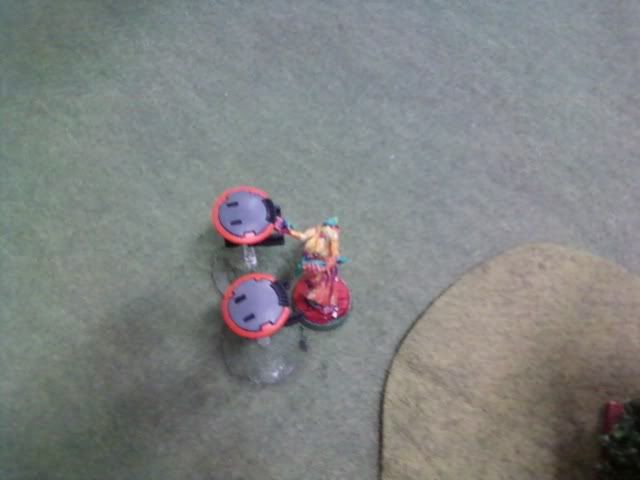 Turn Three:
Well, I'm gonna give you three guesses as to who came in, and the first two don't count. The last squad of Horrors decided today was their day and jumping into the fray sounded swell, thank you. Meanwhile, back at the ranch, pretty much no shooting entails, as everyone is in hand-to-hand or dead. Wait, I take it back. The squad of Horrors already on the ground returns fire against the Fire Warriors, wiping them all out but the Shas'ui team leader, who passes his Leadership check with flying colors. So, on with the combat, shall we? Yes, lets. Well, let's do the Drones and Flamer. Drones kick butt, once again, and win combat. Outstanding. Nothing new there, including the 1" consolidation move. The Horrors chomp up my Shas'ui and move on like nothing happened. And now onto the main event! Bolt of Tzeentch, meet the Shas'el! One failed toughness test later, and because he doesn't have a Spawn of Chaos model, my commander goes out the window. Off to a great start, yeah? Fateweaver then attacks the Kroot with two attacks, hitting with one and killing one model. Count 'em. One. Well, boys, they killed the boss. Looks like we're not getting paid. Tea and crumpits, anyone? Yeah, that sounds good. Meet you back at HQ, then? Yeah, that sounds about right. I rolled an eight on a leadership check I needed a six four. Well, we can't all be heroes, can we?
Hmmm, now what? Oh, I know! Reserves, now that my Pos Relay isn't on the table anymore. Commander and attached Elite squad? In like Flynn. Piranha? Absolutely. Fire Warriors that could possibly change the course of the game? Nope. We're sorry, your call could not be connected as dialed, please hang up and try again. Well, let's see what we can do with all these plasma and missile shots. Hmm, Fateweaver, you busy? No? Alright, here....
FREEM!
And another wound. Out-flippin-standing! Now it's a moral victory issue, because I'm pretty sure that there's no way I can win this...wait a minute. You know that Piranha? He's zooming merrily across the board, blitzing for the other guy's objective. I may not be able to hold my own, but darn it, I want to at least pull a draw. So, back to the task at hand. I have no assaults to make, so I plink a few shots at the Bloodletter squad that's slowly moving towards my objective. Yeah, remember how I said that comes back and bites me in the rear? Next turn is where it happens. Anyway, I unleash hell at the Fateweaver and his little Horror minions, killing pretty much nothing. Okay, assaults...wait, never mind, nothing
can
.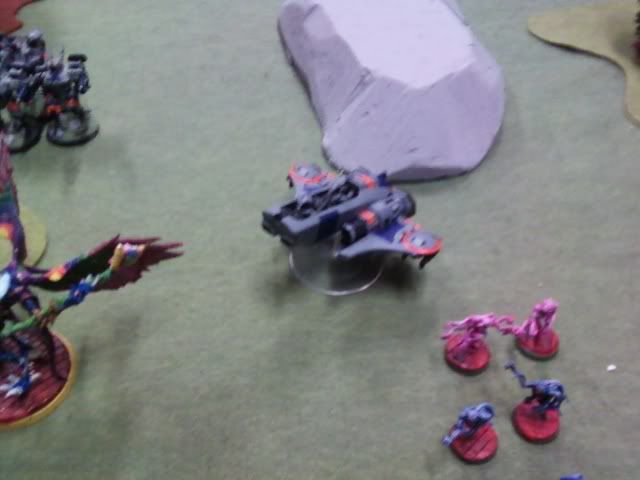 Turn Four:
Well, here's for all the marbles. Nothing to come in, but Fateweaver has some shots to throw around. He unleashes at my HQ with everything but his melta-style weapon, and fails to do anything to my HQ. Not bad, but too little too late. His melta-style takes a pot-shot at the Piranha, and misses. I don't have anything available to really shoot after that, so back to assaults! My opponent charges my HQ and buddies with Fateweaver, and we stand there looking punch-drunk at each other. He manages to plink my Plasma suit with a single wound, and does nothing to my HQ suit. I do a couple wounds in return, which he saves. The Horrors and Bloodletters inch closer to my own objective, pretty much ignoring my drones and broadsides.
On my turn, my last squad of Fire Warriors enter, giving me a small smidgeon of hope. I drop out at 6" and unleash SMS from three different sources as well as a burst cannon at the first squad of Horrors reducing it to two models. Thinking in terms of lessening return firepower, I choose to shoot at the Changeling's squad. I fail my forced leadership check and instead blow the crap out of my two drones, much to my dismay. With nothing else to do (besides move the Piranha to a spot to make a last-ditch move to contest his objective), we move on to assault. Fateweaver beats up on no one, while my HQ suit beats his face in, dealing the last wound to take him off the table! Unfortunately, my massacre roll is a flipping one, leaving me in prime assault position for the Bloodletters I deployed on the other side of the board. Talk about biting me in the arse. I can't even make it into the woods to force them to charge me through cover.
Turn Five
I don't have any pictures of the board for this turn because it was late, and the building we were in was getting ready to close. My Fire Warriors died to shooting from the Horrors right in front of them, my HQ was wiped from the board by the Bloodletters, and the Screamers left on the board all turbo-boosted back to his objective to spread out and prevent me from getting within 3" of his objective. My Piranha dropped drones and moved 12 inches to try and prep for a next turn dash if possible, and my broadsides tried to snipe some of the Screamers to give my drones a chance to assault and pull the Screamers away enough to get my Piranha in contesting range. The broadsides failed, however, and the game ended with the building closing.
=====
In consideration, there are a couple things I could've done differently. Namely, concentrate more firepower on the Flamers while still tying up Fateweaver in hand-to-hand. This was probably my biggest mistake, as those flamers wiped out my Pathfinders and a substantial part of my strategy (raising BS, lowering cover). My second-biggest mistake was not concentrating enough of my fire-power into wiping out whole squads. Looking back at the game, I'm pretty sure I subconsciously started to panic and starting shooting off in random directions, which cost me hugely late in the game.
Reflecting on my list, the Photon Grenades are getting dumped. Too many points for not enough return. I may use the points to buy SMS for either the Hammerhead or the Pathfinder Fish. I think deep-striking is out, at least when it comes to daemons. As for anything else, I'm not entirely sure. I don't know when my next playtest will be, but I'll be sure to post it up.
EDIT: One last thing. How's this for magic dice?