Welcome fellow Hobbyist,
as you might have seen
here
, I have recently purchased an already painted Devilfish.
The fact that it is already painted gave me the chance to try something out I didn't have the chance to try out before, to strip paint of a model.
For other ways to strip paint look
here
.
I chose to use Mr. Clean.
What you need: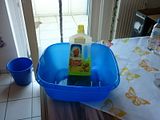 1. Mr. Clean
2. A small tub
3. Water
4. The painted modell(s)
Step 1: Fill the tub with water
Step 2: put the modell into the tub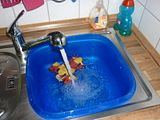 Surprise, the 'fish swims ...
Step 3: put some weight on the modell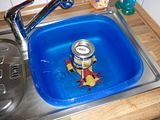 Step 4: add Mr. Clean
You can of course add Mr. Clean earlyer, I simply had forgotten to do it earlyer because I was busy taking pictures.
Step 5: let it soak for a couple of days (I think I had it in the tub for around five days)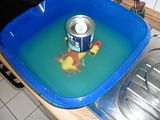 You know that it is ready, when you can scratch off the paint with your fingernail.
Fresh out of the tub maybe you notice the spot on the nose where I scratched to see if it is ready
Step 6: Removing the paint:
Tools: I used a modelling tool from GW, I read somewhere to use tweezers, just be sure that the tool is not to sharp, or you will scratch off plastic too.
Maybe I should use a hard bristled brush next time because it will get better into all the cracks and won't scratch the model that much. (Thanks to TheAmbit for this suggestion)

Here are some pictures to show the progress: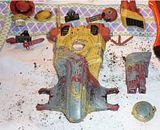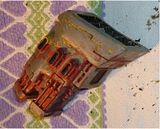 There are some places that will be hard to remove the paint off and the modell will have many smal scratches.
The Result: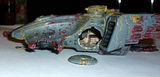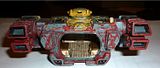 Conclusion:
This is the first time that I have stripped a model and I made a few mistakes (the modeling tool left a few scratches on the model) but I hope it helps you when you are going to strip paint.
Mr. Clean is a good and easy way to strip paint, the soaking will take a few days but the stripping itself will be done really quick and you will be able to re-paint the model in no time.