hey guys, I see we got a subforum for SW:A now. So since Tael said, get your project log posted, here is my project log. Nothing too fancy on the conversions honestly, because I was working on getting my team assembled up at the store on saturday before our local launch party. I did managed to convert up the bases for the team to make them feel more urbanized, using some bits from the space marine assault marine kit, as well as sprues and rhino top hatches.
So i worked up a color scheme, and this was my final choice, although I am still debating on the undersuit color now that painting has begun.
So i have decided to go with some pathfinders from the Ke'lshan sept world, I like the yellow accent color and I am going with a green scheme. The colors are basically incubi darkness base, kalabite green as the main coloring with sybarite green for the final edge highlights. However I am having a few issues on the scheme. I was going to go with a black undersuit but it looks dark, perhaps its my crappy lighting at home, as it may look better at the store. It could also be that I haven't gotten the black highlighted or the weapons painted, but right now, I am wondering if I should go with a tan undersuit over the black?
Also i am really stuck on hair colors. I couldn't find anything official other than most tau i have found painted tend to have black, white, or red hair (usually for the females), and since I sculpted some hair on my Team leader, she really needs a color for her mop top. I was thinking of a purple/lavender color, instead of the redish orange, but either would work. Which do you guys think would look best? I was thinking purple myself, just to avoid any christmas color clash, and the purple would still look good against the yellow sept markings.
Here is a close up of Shas'ui Kesira, team leader of my pathfinders.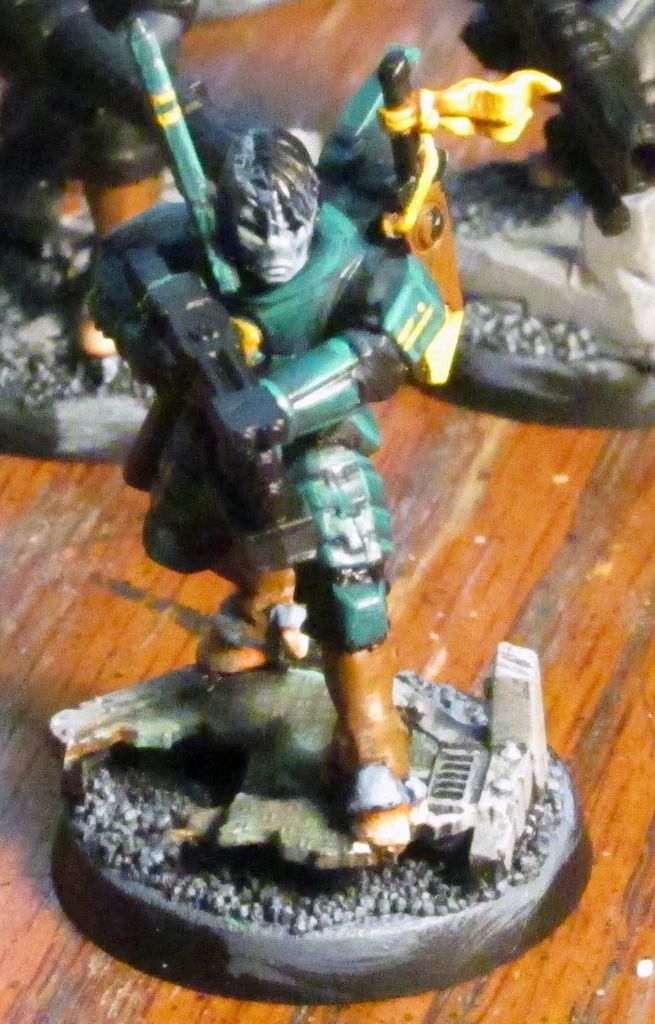 And a couple of shots of the rest of the kill team ( at max, not my actual starting team). I will post a list up tomorrow that I am starting off with.