Kroot Efficiency: Sniper Vs Pulse (When To Use Which Round)
---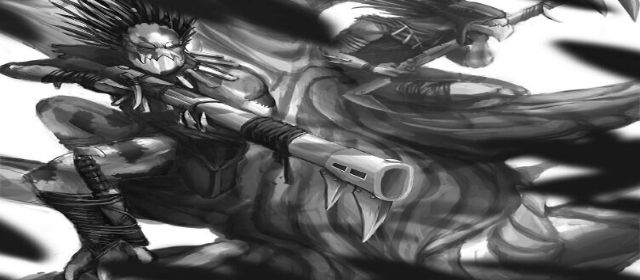 *Image credit to BrotherOstavia from DeviantART.
---
With the arrival of C:TE3, we have been swamped with a plethora of new rules, gadgets and gizmos. In amongst all of this, we as a community have been striving to find the best use for all of these new options. This article is designed to assist in the most efficient use of one new piece of wargear – Kroot Sniper Rounds. In particular; when to use them.
Note: by 'Pulse Rounds', I am referring to Kroot Rifle Pulse Rounds as listed in the Weapons Profile section of C:TE3, opposed to Pulse Rifles.
When I saw the cheap upgrade to sniper rounds in the Kroot entry, my initial thought was "Awesome!" But, when I began to use them in battles, I struggled to decide precisely when to snipe. Some of the issues I faced were; 'Am I better off potentially ignoring armour, or wounding on a three plus?" or "Am I better off Rapid Firing, or using the Sniper Rounds?".
As a fore note; although a large factor in this decision is the freedom of movement, I am only focusing on the pure statistics of damage caused in each situation. When deciding whether to move however, these results can be used to weigh the differences in potential damage with the resultant danger to the Kroot themselves.
The following variables have been analysed:
-
Sniper Rounds Vs Pulse Rounds.
- Variable Toughness.
- Variable Armour Save.
- Variable Range.
- Variable Cover and Invulnerable Saves.
- Variable Ballistic Skill.
- Vehicular Targets.
The Article is divided into five sections:
-
General
.
-
Cover and Invulnerable Saves
.
-
Ballistic Skill
.
-
Vehicular Targets
.
-
Quick Reference Sheet
.
The statistics I present are based upon a 10 man Kroot Carnivore Squad (with only the Sniper Rounds upgrade), shooting at variable opponents at variable ranges. The first section (General) deals with no cover saves or invulnerable saves. The second section (Cover and Invulnerable Saves) expands to deal with variable cover and invulnerable saves over certain common enemies (Geq, Neq, Meq & Teq). The third section analyses Ballistic Skills between 1 and 5 against both No Cover or Invulnerable Save targets and 5+ Cover or Invulnerable Save targets. The final section (Vehicular Targets) analyses the comparison between the two rounds against vehicles of Armour Value 10, 11 or 12.
It should be noted that the Sniper Rounds also have access to the special rules listed in the 'Sniper' entry of the USR section of the Rulebook. Additionally, sniper Rounds are subject to different movement restrictions to Pulse Rounds. Whilst these factors will affect the decision of which mode to fire in, they are not discussed here.