Hello Everyone,
Just joined up with ATT, am glad to be apart of the community and around fellow 40k players/hobbiest's that are so passionate about tau.
I made a promise to my friend robin that my first Zeno's army would be Tau. I recently got hold of a really, really good deal for three NIB Riptides. That essentially pushed my original start date for sometime next year to now.
Before I start any project I like to do a lot of research into the models, styles of schemes, conversions, popular basing options, etc.. I look at lots of forums and pictures.
AgentArrow's Riptide caught me eye and brought me to this great place. Hope to integrate several Tsunami Class Riptides into my force. Only will be a extra $40.00 per riptide...
Here is some work have don thus far on test drones, am practicing the scheme to hopefully get the colors to blend right. I don't like painting large models right away, so I practice on smaller models.
I determined my core scheme colors last month to be Blue, Orange, White and Metal. Once I determined that I began determining the base scheme for the models. I always make my bases, before making the model so having the scheme decided is a huge factor in my process.
Am currently working on the highlighting and testing out different way to achieve the best effect for my scheme.
I use Air and Hand brushes so is a lot of options on blending, highlighting etc.. I run ITC tournament scene very competitively on the battlefield. That means my painting has to be at high level quality as well to be competitive.
The goal of my Tau force on the Painting side is to be noticeably conversioned, Painted to Pro Commission painter standards, to be magnetized for WYSIWUG purposes and to be super fun to play.
When I do army I go all out, my first army is space marines and I have a lot of space marines 15k+ points. Tau will likely hit the same level if not more, but will look a lot better since am starting them as a much more qualified player.
Here is a look at what is on my hobby table right now.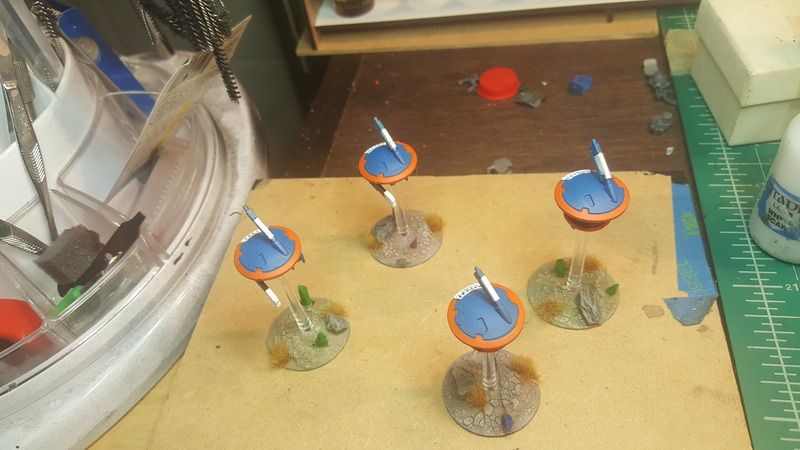 These drone have the basic four color applied, am now looking to do the blending/highlighting to make them pop more. I used the airbrush with tape,mold puddy to get the main colors on and touched up abit with a hand brush on these guys. Am concerned that i should of done further highlighting/blending with the air brush on the blue before applying the orange.
I have several unbuilt drone am looking to put together and try a different application approach for the highlights using the airbrush further.
Here is a closer look at my bases.
The Crystal colors are a salute to several of my favorite Video games.
Tiberium from Command and Conquer - Green Crystals
Minerals from starcraft - Blue Crystals
Ore from Starwars Battleground - Purple Crystals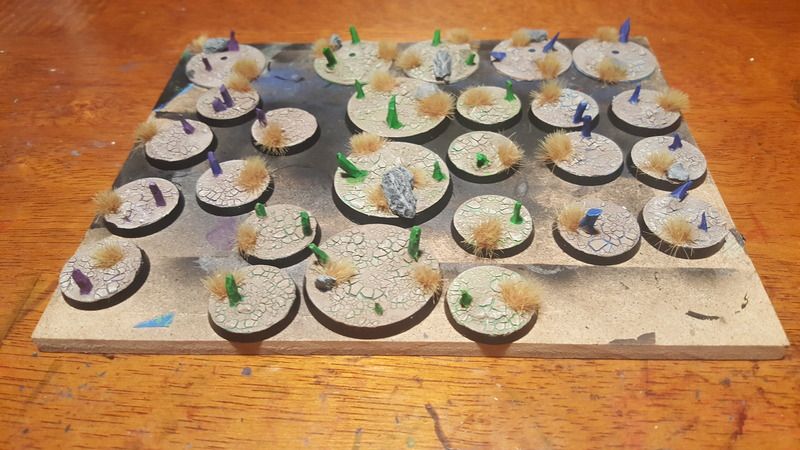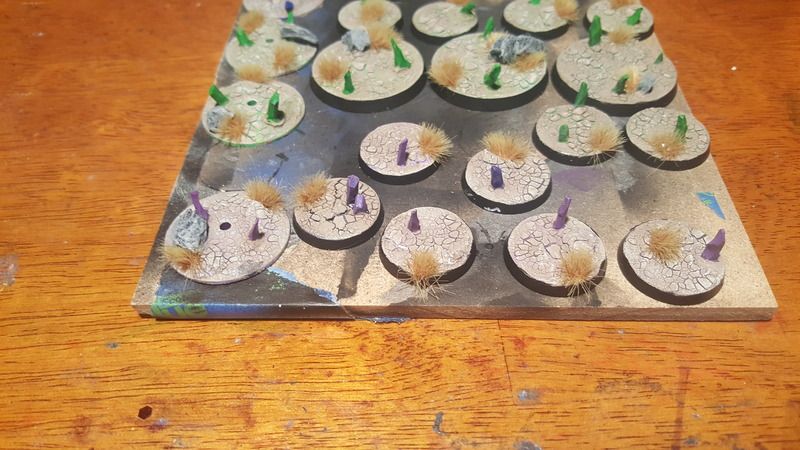 I tested this scheme out using several materials, blends, highlgihts etc... I feel I have gotten the schem to be very solid with about 12+ active paints on the base with a lot of debth to them. The only areas I so me adding to is some dead trees, other colored tuffs, and some battlefield debis. This will be done as I work with large bases and start creating cool stances for the models.
Will be working on more droner for abit, Then fire warriors, crisis suits and broadsides. The crisis suits are the ones I am looking into more for conversions, i have the stuff for my broadside conversion decided already. The Riptides are also decided as well at this stage.